Join us this September as we celebrate tradition, culture, music, food and nature.  ¡Viva Santa Fe! brings together a wide array of colorful and fun events during the month of  September Here are just a few events to enhance your ¡Viva! fever!
Que Viva La Fiesta
For the past 303 years, shouts of "Viva La Fiesta" have been echoed throughout the streets of Santa Fe. Fiesta de Santa Fe, September 11th through the 13th is the oldest, most colorful and vibrant community celebration in the nation. The week-long Santa Fe Fiesta honors the city's deep history and traditions with a unique blend of Spanish, Native American and American traditions. The Fiesta marks the Spanish re-colonization of Santa Fe and kicks off National Hispanic Heritage Month.
Burn Your Worries Away
How can I describe Zozobra to you? Well, he's a fifty-foot tall paper marionette, also known as Old Man Gloom (OMG). He is made of muslin and stuffed with shredded paper. Zozobra is an eerie, groaning character who appears to be part ghost and part monster. The Burning of Zozobra is a unique cultural event staged each year by the Kiwanis Club of Santa Fe. He was conceived to be part of Fiesta by Santa Fe's band of boisterous artists in the roaring 20's. Zozobra is the inspiration of artist Will Shuster. The event is now in its 91st year! Zozobra is a show-stopping highlight of Fiesta as he moans, flails and then goes up in flame. The chants of thousands of spectators fill  Ft. Marcy Ball Park—just a few blocks from the historic Santa Fe Plaza.. Fireworks light up the finale and as the gloom and doom of the crowds goes up in smoke.
Green Chile On My Cheeseburger? You Bet!
If you haven't tasted a green chile cheeseburger, September is the time to do it— particularly during Edible's Green Chile Cheeseburger Smackdown. Now in its third year, this delicious event takes place on September 10 at the Santa Fe Railyard Pavilion.
Restaurants will gather at the Santa Fe Farmer's Market at the Railyard, the competing restaurants, selected by thousands of public votes will prepare their green chile cheeseburger creations to compete for the honor of the 2015 Best Green Chile Cheeseburger in Santa Fe. Each burger is considered by a panel of judges who select the final winner. In addition, extra burger bites are cooked by each competitor for a public tasting and vote to determine the winner of the People's Choice Award.
Plan early for this event—last year's sold out!
Santa Fe Wine and Chile Fiesta
The ever popular Santa Fe Wine & Chile Fiesta takes places on September 23rd through the 27th Five days of events include food and wine, seminars, cooking classes, culinary walking tours, guest chef demos, guest chef luncheons, and both live and silent auctions.
Local Santa Fe, New Mexico culinary artistry is featured as many top Santa Fe chefs couple their skills with sophistication and wines of national wineries. This favorite Santa Fe event brings over 90 wineries to Santa Fe to partner with 75 of Santa Fe's best restaurants—together creating a delectable schedule of food and wine events. The Santa Fe Wine and Chile Fiesta culminates with the Grand Tasting at the Santa Fe Opera. All 75 participating Santa Fe restaurants and all 90 wineries serve samples of their best food and wine to those lucky enough to get tickets.
See You At The Concorso
The 2015 Santa Fe Concorso—the Southwest's premier gathering of more than 110 rare and exotic cars and motorcycles—will take place September 25 – 27 on the grounds of The Club at Las Campanas, 15 minutes from downtown Santa Fe. The Concorso is a three-day celebration of mechanical motion: seminars, an evening gathering at Hangar K at the Santa Fe Municipal Airport, a Mountain Tour for entrants, and culminating with a judged exhibition of "rolling works of art," including classic cars, racing champions and speed-record seekers, as well as legendary motorcycles.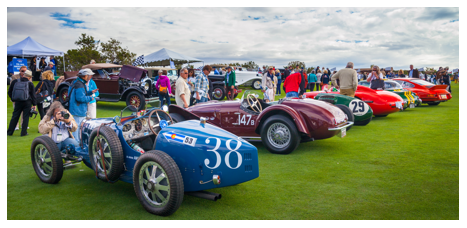 Scenic Scene-Stealer
The Santa Fe Thunder Half Marathon is New Mexico's fastest and most scenic half marathon. The 1,000 foot net downhill USATF-certified course provides spectacular views of the Sangre de Cristo and Jemez Mountains while dropping into the colorful Rio Grande Valley. You'll run past the Santa Fe Opera, Tesuque Village, Camel Rock and through the Tesuque Pueblo on your way to Pojoaque along a route that the area ancestors have run and walked for centuries.
Santa Fe Ski Basin Before The First Snowfall
Have you always wanted to ride a chairlift in autumn—before the first snowfall—in Santa Fe? Well here's your ticket for a mountain escape! Ski Santa Fe will run its Super Chief quad chairlift during weekends in September. The lift takes you on a slow, breathtaking ride high into the nearby Sangre de Cristo Mountains. The chair begins operations with the Labor Day holiday, September 5 through September 26, with music on the La Casa Lodge deck. For more information, visit the Santa Fe Ski Basin website.
I've highlighted just a few of Santa Fe's September events. The entire month celebrates the unique richness of the city's extraordinary past and even more extraordinary present. Plan today to visit any or all of these events in September. I'm sure it will have you shouting "Viva Santa Fe!"