Santa Fe is historically linked to the days of cowboys and gunslingers, covered wagons and pioneers. The city was built on adventure, action and excitement! Buildings on the Plaza and downtown Santa Fe offer visitors and residents the opportunity to step into character. Take a walk through downtown to see a film history that spans over 100 years and across more than 600 productions.
Recently, New Mexico was named by Trade Publications as one of the "Top Five" film locations in the entire world. Movies like "No Country for Old Men", "Crazy Heart", and "True Grit" have all been produced using the New Mexico landscape as a backdrop. TV classics like Breaking Bad—infamously known for its Albuquerque location—have even come to share the stage in Santa Fe. (Be sure to check out the New Mexico Film and Media Industry Conference, too!)
As our industry continues to grow, so does the opportunity to gain a unique understanding of filmmaking. In Santa Fe, you'll find everything from unique theatre experiences to live entertainment and film festivals. At the same time, film buffs can check out location sights, as well as stellar screening opportunities offered year-round. What's not to love about film in the Fe ?
From Manhattan to the Sheriff's Department
On the bustling campus of Santa Fe University of Art and Design, film students eagerly await the list of fall activities. At The Film School, you'll find two working film studios along with a state-of-the-art green screen (donated to the school by Tommy Lee Jones!). Not only do film productions use the green screen and extra studio space—both back lots to the SFUAD campus are currently being used as locations for two hit television series, "Longmire" and "Manhattan!" Drive past the back lot to Studio C to catch a glimpse of sheriff's cruisers, ambulances, rustic cabins, and maybe even the chance to say hello to Mr. Longmire himself! Cruise past the Greer Garson Theatre during "Manhattan's off months to see sights straight out of 1945! There is always something being filmed, indoors and out, that truly transports you to a different world. Each fall, the school hosts its own independent film series, Shoot the Stars, which features Hollywood actors performing in student-written and produced films.
Classic Cinema
Want to go on a tour of Santa Fe's film history? Download the "Filmed in New Mexico" pamphlet to guide you! Start your tour right after a show in town!
Cinema, Comfort and Class
The Violet Crown has been popular ever since its grand opening this summer in the Railyard District of Santa Fe. Order from their large menu of gourmet items and pair your meal with a crisp, refreshing beer from their ever-growing selection. Then, relax in the posh lounge while you wait for your movie. Movie-goers are advised to arrive at least forty-five minutes before their showing to fully enjoy the list of services and features available. Not done with your beer or delicious Chicago-dog? No problem! The Violet Crown allows you to take your food and drink into the theatre with you for optimal viewing pleasure. When your movie is over, walk around the historic Railyard District and be sure to stop by a trading post or two for a souvenir. The Violet Crown can only be found in Austin, Texas and Santa Fe, so be sure to catch a screening or two while you're in town.
Game of Films
Owned by Game of Thrones author and current Santa Fe resident George R.R. Martin, the Jean Cocteau cinema in downtown Santa Fe supports independent and locally made cinema and performances. Shows range from smaller films to flamenco dancing showcases and, on occasion, the theatre hosts actors and directors after screenings for audience discussions. All events are open to the public and can be found on the theater's events calendar. You might even be able to catch a movie with Mr. Martin himself!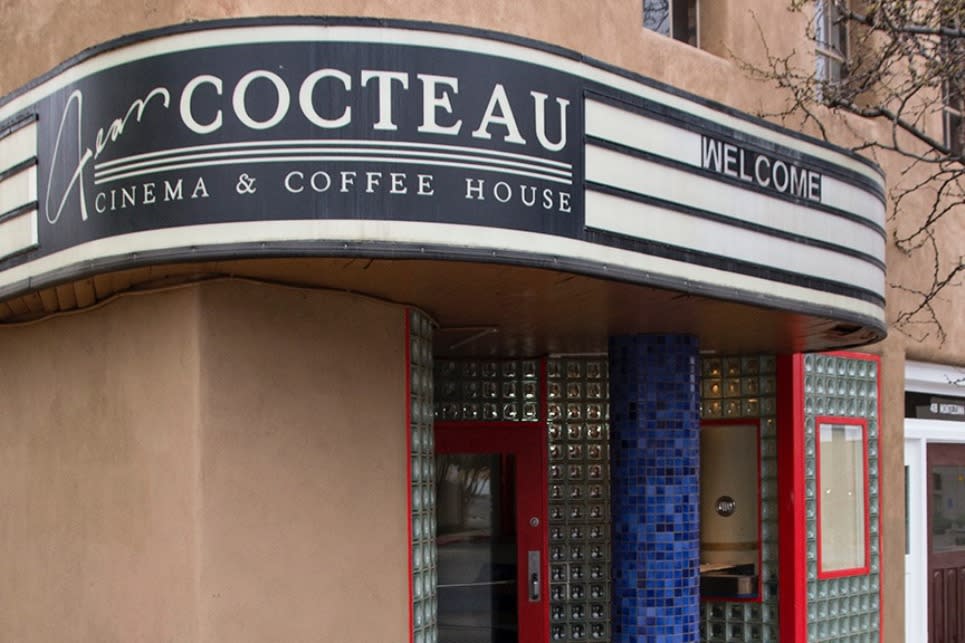 New Heights and New Sights
Drive out from the city and into the hills of Santa Fe to find yourself at the world famous Santa Fe Opera. With an open and seemingly endless view, the scenery is just as captivating as the show. Award wining actor Jeff Bridges shot the last few scenes of "Crazy Heart" at the Santa Fe Opera and once you visit, you'll understand why. Choose from any of the awe-inspiring shows happening during the season for an incomparable entertainment experience.
Independent Film In Santa Fe
The 2015 Santa Fe Independent Film Festival will commence on Wednesday, October 14, 2015 and close on Sunday October 18, 2015. SFIFF presents five (5) days of independent film screenings, community events and educational workshops. Currently venues include the Lensic Performance Arts Center, CCA, The Screen, and Jean Cocteau.
2015 is an exciting year for SFIFF because it marks the seventh year of a growing festival for independent film. SFIFF is committed to attracting a growing number of people who make and love films from all over the world to join this year's Fest and enjoy independent films and the unique charm of Santa Fe. Santa Fe IFF 2015 will continue growing excellence in independent film, diverse audiences, educational opportunities and community partnerships.
Are You Ready for Your Close-Up?
Everything from film festivals to film culture itself can be found in The City Different. Plan a trip to Santa Fe to feed your creative and cinematic side this fall! Who knows—you might even catch a glimpse of your favorite starlet. Need even more film action? Visit our website to find maps and tours of famous New Mexico films. Don't forget to request the Official Santa Fe Guide to help you plan your trip.