There are few things that announce the holiday season like the aromas of traditional New Mexican cuisine wafting from kitchens across The City Different. Here are a few of our favorite recipes that are sure to bring the spirit of Santa Fe's holiday season home.
Red Chile Sauce
Ingredients  (Makes about 3 cups):
1/4 cup vegetable oil
1/2 cup finely diced onion
2-3 teaspoons minced garlic
2 tablespoons all-purpose flour
1/2 cup pure ground New Mexican red chile powder
2 1/2 cups water or chicken stock
1 teaspoon Mexican oregano
1/2 teaspoon freshly ground cumin seed
salt to taste
Optional seasonings: freshly ground coriander seed
Heat the oil in a medium saucepan and sauté the onion for 3 to 4 minutes, until softened. Add the garlic and sauté 2 minutes more. Stir in the flour, the chile and slowly add the water, whisking to break up any lumps in the chile. Add the oregano and the cumin, and bring to a boil. Reduce the heat and simmer for about 20 minutes, or until the mixture has thickened slightly. Season with salt to taste.
---
Green Chile Sauce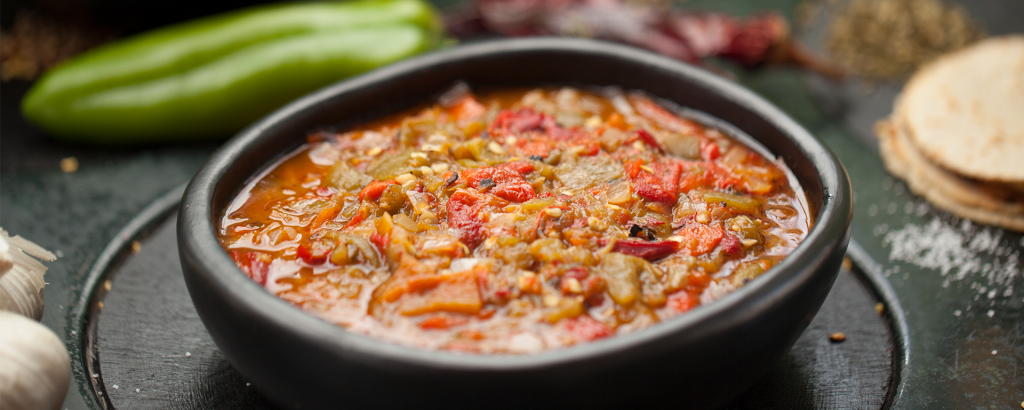 Ingredients (Makes about 2-1/2 cups):
1/4 cup vegetable oil
1 cup chopped onion
2 to 3 teaspoons minced garlic, to taste
1 to 2 tablespoons flour
2/3 cup mild roasted, peeled, chopped New Mexico  green chile
2/3 cup hot roasted, peeled, chopped New Mexico green chile
1-1/2 cups chicken stock
salt to taste
Optional seasonings: diced tomato, fresh cilantro, freshly ground coriander seed to taste
Heat the oil in a medium saucepan and sauté the onion until softened, about 3 to 4 minutes. Add the garlic and sauté 2 minutes more. Stir in the flour. Add the green chile, coriander seed (optional) and slowly stir in the chicken stock. Bring the mixture to a boil, reduce the heat and simmer for about 15 minutes. Season with salt to taste.
---
Posole
Recipe Courtesy of Cheryl Alters Jamison's "Tasting New Mexico"
Ingredients (Serves 8):
6 dried New Mexican red chile pods, stemmed and seeded
1 to 1½ lbs pork shoulder or loin, trimmed of surface fat and cut in bite-sized cubes, or 1 or 2 pigs' feet
Water
2 lbs frozen posole or 1 pound dried posole
2 medium onions, chopped
6 to 10 garlic cloves, minced
1 tablespoon plus 1 teaspoon salt, or more to taste
If you will be using frozen posole, first combine the chile pods with the pork in a Dutch oven or large pot, and simmer together in 4 quarts of water for about 30 minutes. Then add the frozen posole and cook about 30 minutes more.
If your posole is dried, add it with the chile, pork, and 6 quarts of water and simmer together for about 1 hour.
Stir in the onions, garlic, and salt and continue to simmer over a low fire until the posole is soft. Expect the remaining cooking to take another 30 minutes for frozen posole and at least 1 more hour if dried. Do not be surprised if it takes a bit longer.
Serve hot in bowls with some of the liquid, or drain it with a slotted spoon and serve it on the side with other plated foods
---
Carne Adovada
Ingredients (Serves 8):
1/3 cup peanut or vegetable oil
3-1/2 lbs. pork loin or butt, cut in 3/4-inch cubes
2 cups diced onion
2 tablespoons minced garlic
4 cups chicken broth or water
2 teaspoons ground coriander seed
2 teaspoons dried Mexican oregano
2 teaspoons chile Caribe
3/4 cup NM ground red chile, mild or medium
1 tablespoons red chile honey
2 tablespoons Sherry vinegar or red wine vinegar
salt to taste
Optional seasonings: ground canela, ground cumin seed, toasted ground chile seeds, toasted ground pumpkin seeds.
Preheat the oven to 350 degrees Heat the oil in a large skillet and brown pork in batches. Set the pork aside. Add the onion to skillet and sauté until golden. Add the garlic and sauté for 1 minute. Deglaze the skillet with 1 cup of the chicken broth, loosening the browned bits with a spoon. Place the coriander, oregano, chile caribe, red chile, honey, vinegar and salt in the workbowl of a food processor. Add the cooked onions, garlic and broth from the skillet and 2 more cups of chicken broth. Process until the mixture is thoroughly combined. Place the browned pork, the chile marinade and the remaining 1 cup chicken broth in an ovenproof pot or dish, stir to combine well, and cook for 1 hour or until the pork is tender.
Note: The traditional method for making this dish is to mix the marinade ingredients together and pour this over the meat. Cover the mixture and refrigerate overnight. Pour the meat and the marinade into an ovenproof casserole or pot and bake, covered, for 2 to 2-1/2 hours, or until tender. The method described above, although not so traditional, brings out the flavors of the onion, garlic and pork because the ingredients are caramelized or browned first. Whichever method you choose, the dish is full of flavor and will be a favorite. You can serve the carne adovada over chile rellenos, rice, wrapped in a flour tortilla as a burrito, or with beans and posole.
---
Chile Relleno del Cielo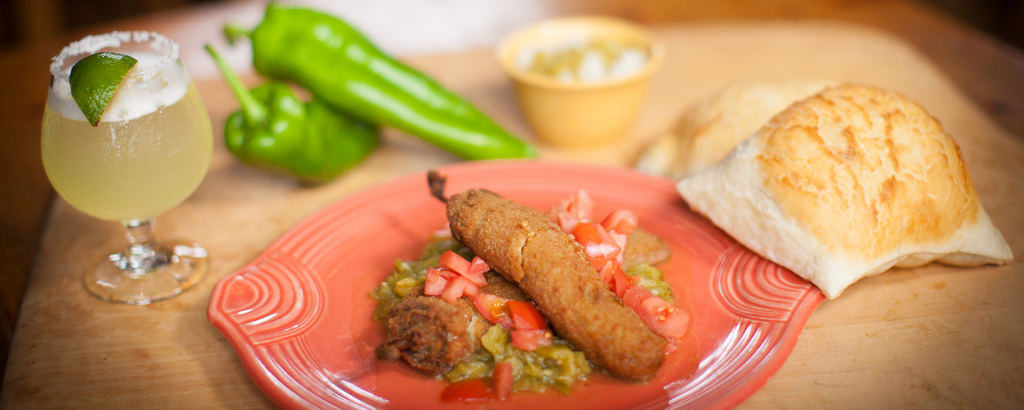 Ingredients (Makes 5 rellenos):
Chile:
5 whole Anaheim green chiles roasted and peeled
Mushroom Filling:
2 lbs regular white mushrooms
1 large white onion diced
1 quart heavy crème
Chile Sauce:
1 cup demi glaze
½ cup freshly prepared pinto beans
1 teaspoon fresh garlic
1/4 cup chicos ( dry corn )
Chile: Slice each roasted and peeled green chile down the middle and put aside in a dish.
Mushroom filling: In a sauce pan add 1 large diced white onion and mix over medium heat until sautéed. Add white mushrooms and heavy creme to the onion mixture and continue to cook over medium heat. Reduce the filling until it becomes mushy to the eye and then remove from heat and set aside to cool. Once filling is cool mix in Cuisinart mixer so it becomes finely mixed. Scoop the mushroom mixture into each cooled chile and set aside.
For the chile sauce: Combine demi glaze with pinto beans, garlic and chicos and cook over medium heat. Reduce until it become creamy.
Final: Spread about ¼ to ½ cup of chile sauce on a plate and then place one stuffed chile relleno with sliced side down in the center of the plate.
---
Green Chile Chicken Enchiladas
Ingredients (Serves 10):
3 cups red or green chile sauce (recipe above)
16 fresh com tortillas, about 4 inches in diameter
4 cups cooked shredded chicken
1-1/2 lbs. Monterey Jack or Cheddar cheese, grated
1-1/2 cups diced onion, or sliced scallions with green tops
2 cups shredded iceberg or romaine lettuce
1-1/2 cups diced tomato
1-1/4 cups sour cream
Preheat the oven to 350 degrees. Oil a 9x12 baking dish or pan. Spread about 1 cup of the sauce over the bottom of the dish and layer half of the tortillas evenly over the sauce. Top the tortillas with half the chicken and 1/3 of the cheese and sprinkle with half the onion (for milder onion flavor, use scallions). Repeat for second layer and top with the last cup of sauce and the remaining cheese. Bake 20 to 30 minutes, until bubbly and lightly browned.
To serve, spoon portions onto dinner plates, garnish with shredded lettuce, diced tomato, and top with 2 tablespoons sour cream. Serve with pinto beans and posole.
---
Biscochitos
Recipe Courtesy of Cheryl Alters Jamison's "Tasting New Mexico"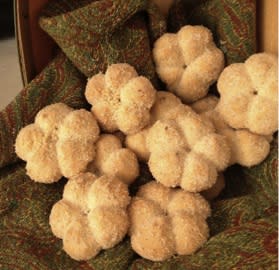 Ingredients (Makes 4 dozen cookies):
3 cups unbleached all-purpose flour
1½ teaspoons baking powder
1 to 1½ teaspoons ground anise
½ teaspoon salt
½ lb lard, softened
½ cup plus 1 tablespoon sugar
1 large egg
2 tablespoons sweet white wine, brandy, or rum, or apple or pineapple juice
¼ cup sugar and ¾ teaspoon ground cinnamon for the topping
Sift together the flour, baking powder, anise, and salt and set aside.
Beat the lard in an electric mixer, gradually adding the sugar, and beat until extremely fluffy and light, about 8 minutes. Don't shortcut this step. Stop the mixer every couple of minutes and scrape the sides of the mixing bowl.
Add the egg, followed by the wine, and continue beating.
Mix in the dry ingredients, adding about one-third of the mixture at a time. Stop the mixer as you make each addition, and beat no longer than necessary to incorporate the dry ingredients. A stiff pie-crust type of dough is what you're seeking.
Chill the dough for about 15 minutes for easy handling.
Preheat the oven to 350
Roll out the dough ¼-inch thick on a floured work surface and cut with a paring knife into a fleur de lis, or cut with a small cookie cutter. Avoid handling the dough anymore than necessary, one of the keys to the melt-in-your-mouth texture.
Transfer the cookies to ungreased cookie sheets.
Bake the cookies for 10 to 12 minutes, until just set and pale golden.
While the cookies bake stir together the topping.
When the cookies are done, cool for just a minute or two on the baking sheets, then gently dunk the top of each in the cinnamon-sugar.
Transfer to absorbent paper to finish cooling.
---
For more recipes from The City Different, bookmark our recipes page at https://santafe.org/Visiting_Santa_Fe/About_Santa_Fe/Santa_Fe_Flavors/index.html