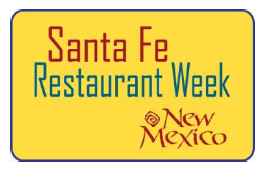 Looking for an guilt-free way to feel downright decadent? Feast on delicious, three-course meals for a mere pittance when the annual Santa Fe Restaurant Week returns February 24th- March 3rd, 2013.
Now in its fourth year, Santa Fe Restaurant Week kicks off a 24-day culinary celebration. In addition to value-priced dinners and lunches, people can expand their epicurean horizons through daytime cooking demonstrations, classes, and wine & spirits tastings. More than 50 Santa Fe restaurants will participate in the Sunday-to-Sunday culinary extravaganza, and several hotels will feature special Restaurant Week lodging packages.
"Few cities of this size can boast a restaurant scene that's as impressive or diverse as Santa Fe's, and Restaurant Week provides the perfect opportunity to explore new places and revisit old favorites," said Michele Ostrove, president of Wings Media Network, which organizes the event throughout the state. "You can learn from the pros during the daytime events, and indulge in fabulous food at incredible prices. It's the week that locals and many visitors look forward to all year."
Three-course, prix-fixe dinners will be offered in four categories: $25 for two for casual-dining restaurants, and $20, $30 or $40 per person, depending on the restaurant. Many restaurants also will be offering two- or three-course, value-priced lunches. Visit the Santa Fe Restaurant Week website to compare menus, sign up for daytime events, and register for the sweepstakes giveaways. Reservations can be made through the website or by calling the restaurant directly.  Make reservations today!
Plan your Recipe for Adventure at www.santafe.org