Join us this September as we celebrate tradition, culture, music and more. The City Different brings together a wide array of colorful and fun events during the month of September.
Santa Fe invites visitors and locals alike to celebrate the unique richness of the city's extraordinary past and vibrant present in ¡Viva Santa Feǃ—a month-long celebration of the best of The City Different. ¡Viva Santa Feǃ caters to all ages with live music, dancing, art, parades, outdoor activities, and our world-renowned Santa Fe cuisine.
¡Viva Santa Fe! loosely translated means "Long Live Santa Fe" or "Living Santa Fe". When Santa Fean's hear shouts of "¡Que Viva!" ringing through the streets, it's apparent that, the citywide extravaganza dedicated to Santa Fe's history and culture, has made its return. Here are some hot suggestions to get you in the spirit this September…
Meet Zozobra: The Fire Distinguisher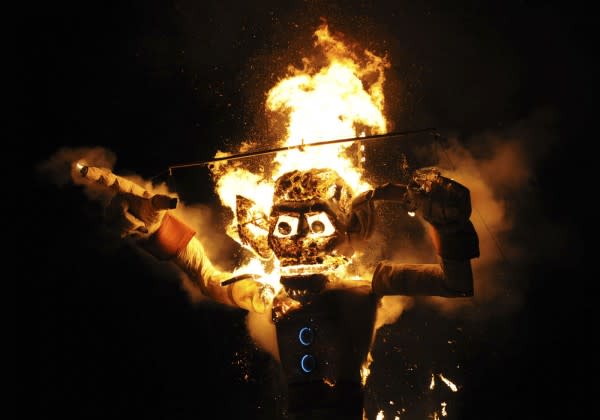 Get ready for Santa Fe's hottest party! The Original Burning man goes up in flames on September 2. (Photo courtesy of The Burning of Zozobra)
[blog_link url="https://burnzozobra.com/" text="Burning of Zozobra" date="2016-08-02"] is one of the most anticipated events of the Santa Fe calendar year. The 92nd annual burning is Friday, September 2 at Fort Marcy Park. Zozobra, the 50-foot, 2,000-pound marionette, also known as "Old Man Gloom," is stuffed with divorce decrees, bankruptcy filings, tax receipts and other paper manifestations of stress. Zozobra is then set ablaze by torches amid fireworks and ceremonial dances of ghosts and fire to dispel the hardships of the year and to banish any feelings of gloom or doom. Who doesn't need that?
Autumn Ride
Have you always wanted to ride a chairlift in autumn—before the first snowfall—in Santa Fe? Well here's your ticket for this fall mountain escape! [blog_link url="http://skisantafe.com/event/fall-gold-sale-labor-day-weekend/#.V5_BEsJTGUk" text="Ski Santa Fe" date="2016-08-02"] will run its Super Chief quad chairlift during weekends in September. The lift takes you on a slow, breathtaking ride high into the nearby Sangre de Cristo Mountains. The chair begins operations with the Labor Day holiday, September 3 through September 24.
¡Que Viva La Fiesta de Santa Fe!
As autumn approaches we will be welcoming the green chile harvest and indulging in a vivid celebration of our centuries-old heritage. The [blog_link url="http://www.santafefiesta.org/schedule-of-events/" text="three-day fiesta" date="2016-08-02"] marks the resettlement of Santa Fe by the Spanish in 1692. You'll see that a visit during ¡Viva Santa Fe! is a fall fantasy come to life. Santa Fe Fiesta takes place from September 9 – 11 . Make sure to visit the Santa Fe Fiesta Arts and Crafts Market from Friday through Sunday. The ever popular Desfile de los Nino's (Children's Pet Parade) takes place on Saturday at 9:00 am. When in Santa Fe do as the locals do and come out for the Historical/Hysterical Parade which starts at 1:00 pm.
Do Fries Come With That Green Chile Cheeseburger?
Here in Santa Fe we like to think we've got the best three-flavor combo of them all: green chile, cheese, plus burger equals pure savory deliciousness.
[blog_link url="http://ediblesmackdown.com/" text="Edible Santa Fe" date="2016-08-02"] will host the 4th Annual Green Chile Cheeseburger Smackdown on Friday, September 9. This is a competition that puts top chefs and restaurants head-to-head to compete for the title of the ultimate green chile cheeseburger. Fans vote online for the city's best and the eight establishments that receive the most votes will advance to the final cook-off. Chefs will fire up their grills at The Santa Fe Railyard and present their best burgers to the public and a panel of food critics for the chance to reign as the "Green Chile Cheeseburger Champ." Santa Fe takes chile and burgers seriously and everyone's invited to sample and [blog_link url="http://ediblesmackdown.com/the-contenders/" text="vote" date="2016-08-02"] for their Santa Fe favorite.
Santa Fe Thunder Half Marathon
The sixth annual [blog_link url="http://www.santafethunder.com/" text="Santa Fe Thunder Half Marathon" date="2016-08-02"] will draw runners from across North America on Sunday, September 18.
The point-to-point course starts in the heart of Santa Fe at historic Fort Marcy Park, follows the Old Taos Highway, and finishes at the Buffalo Thunder Resort & Casino in the Pueblo of Pojoaque. The USATF-certified course is a net 1,000 foot downhill run that features jaw-dropping views of the Sangre de Cristo Mountains while it dips into the colorful Rio Grande Valley. Runners will enjoy live music and entertainment throughout the route—a historical trail that the city's ancestors have utilized for over 400 years.
Take A Trip Into Renaissance Time
With September comes one of Santa Fe's most fanciful events, the [blog_link url="https://golondrinas.org/festivals/santa-fe-renaissance-fair/" text="Renaissance Fair" date="2016-08-02"] at El Rancho de las Golondrinas on September 17 – 18. You owe it to yourself to wander the grounds of this living history museum as locals in medieval garb pursue creative capers.
You'll witness jousters, fairies, a costume contest, jugglers, kid's games, craft and food vendors. Your attendance will help make this a memorable weekend of bedlam and buffoonery!
 A Week of Food and Wine? You Bet!
There's a different kind of bedlam when the big tent goes up at the Santa Fe Opera for the [blog_link url="https://www.santafewineandchile.org/" text="26th Santa Fe Wine and Chile Fiesta" date="2016-08-02"].  Fine wines and amazing cuising take center-stage September 18—25 with a long list of tastings, seminars, demonstrations and wine dinners at Santa Fe's best restaurants. Don't miss the Grand Tasting. I guarantee that once you partake in this truly grand experience, you'll come back annually for the taste of Santa Fe!
View Rare and Exotic Cars, Motorcycles and Bicycles      
The [blog_link url="http://santafeconcorso.com/about.html" text="2016 Santa Fe Concorso" date="2016-08-02"]  —the Southwest's premier gathering of more than 110 rare and exotic cars and motorcycles—takes place September 23 – 25 on the grounds of The Club at Las Campanas, 15 minutes from downtown Santa Fe. The Concorso is a three-day celebration of mechanical motion: seminars, an evening gathering at Hangar K at the Santa Fe Municipal Airport, a Mountain Tour for entrants, and culminating with a judged exhibition of "rolling works of art," including classic cars, racing champions and speed-record seekers, as well as legendary motorcycles.
"¡Viva Santa Fe!" comes just once a year, and when it does, we hope to find you here. Santa Fe is rich in culture, history, tradition and adventure. Enjoy these special events that help celebrate this diversity. Start planning your vacation now by ordering our free [blog_link url="http://santafe.org/Visitors_Guide/index.html" text="2016 Santa Fe travel guide" date="2016-08-02"] . There are also great [blog_link url="http://santafe.org/Visiting_Santa_Fe/Specials/" text="Deals and Specials" date="2016-08-02"] to help you plan your Santa Fe getaway.
If you're planning a trip during Labor Day weekend, be sure to read our blog, [blog_link url="http://santafe.org/blog/five-santa-fe-events-to-set-fire-to-your-labor-day-weekend-getaway/" text="Five Santa Fe Events To Set Fire to Your Labor Day Weekend Getaway" date="2016-08-02"]  for more travel inspiration!