[blog_cta type="guide" text="Order My 2017 Santa Fe Travel Guide" date="September_Events"]
Is summer's end your favorite time of year? If so, start making plans to visit The City Different in September to enjoy great weather, savor the bounty of local produce and participate in Santa Fe's liveliest local festivities. During our Fiestas de Santa Fe celebration, an age-old cry has been reverberating in the streets of Santa Fe—"Que Viva!"—translated it means "to live!"  We invite you "to live" in Santa Fe this September. Read on as we tell you what events you won't want to miss…
The Burning of Zozobra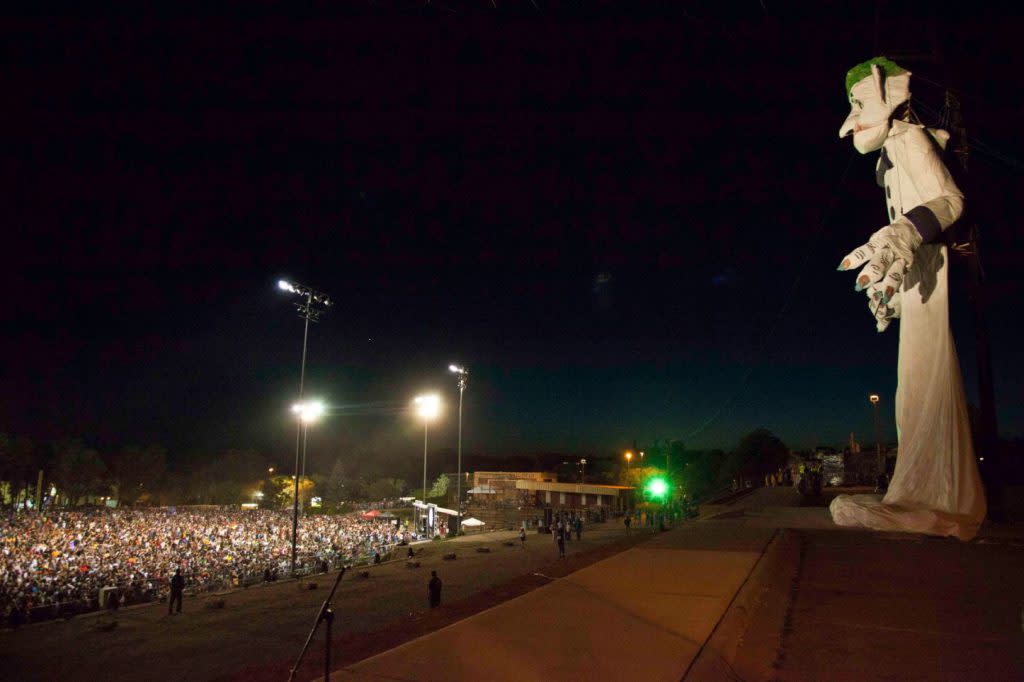 You'll hear thousands of revelers chanting "Burn him, burn him" when the show is about to begin.  (Photo courtesy of TOURISM Santa Fe)
Who is Zozobra you ask? Zozobra (Old Man Gloom) is a giant marionette effigy that is constructed and burned at the beginning of the annual Fiestas De Santa Fe's week long celebration. As his names suggests, he is the epitome of gloom, and by burning him, people destroy their worries and troubles.
This year will be the [blog_link url="https://burnzozobra.com/"  text="93rd Burning of Will Schuster's Zozobra" date="2017-08-01] and the event takes place the Friday before Labor Day, September 1, 2017. This is year four of the [blog_link url="https://burnzozobra.com/the-decades-project/"  text="Decades Project" date="2017-08-01] , bringing Zozobra back to the 1950's Rock n' Roll era! Gates will open at 3:00 pm. Official events begin with live entertainment at 7:00 pm.  Lights out at 9:30 pm. (weather permitting)
Harvest Festival
Autumn is a vibrant time to visit El Rancho de las Golondrinas! Taste syrup from a burro driven sorghum mill, help make cider by cranking a traditional apple press, and pick a pumpkin from the scarecrow-guarded patch. Children can stomp grapes by foot, make cornhusk dolls or roll their own delicious tortilla by hand. There's a lot to do at this [blog_link url=" https://golondrinas.org/festivals/harvest-festival/ "  text="long-running and acclaimed event" date="2017-08-01]! Consider visiting this living museum for a full immersion into autumn. The Harvest Festival was voted [blog_link url=" http://www.10best.com/awards/travel/best-fall-harvest-festival"  text="#2 Best Fall Harvest Festival" date="2017-08-01] in the nation by readers of USA Today. The Festival will be held on September 30 and October 1, 2017 from 10:00 am to 4:00 pm.
Fiesta de Santa Fe
On September 16, 1712 the first Fiesta council signed a proclamation declaring there should be a celebration to commemorate the anniversary of the 1692 reconquest of Santa Fe by General Don Diego de Vargas. Fast forward 305 years and the Fiesta de Santa Fe are still being honored and celebrated.  Visit the Fiesta website for comprehensive and detailed information for this year's [blog_link url= "https://www.santafefiesta.org/schedule-of-events" text="Fiesta activities" date="2017-08-01]. From a pre-Fiesta show on August 27 with plaza entertainment to joyous sounds of mariachi's gracing the Santa Fe Opera stage.  There are food booths on the Plaza where you can taste everything from green chile cheeseburgers right on up to cotton candy! But wait! There's more. There's an absolutely adorable Children's Pet Parade (Desfile de los Ninos) on Saturday September 9 that starts at 10:00 am.  The Historical/Hysterical parade on Sunday, September 10 is when all of Santa Fe comes out! The parade starts at 1:00 pm.  You won't want to miss any of these time-honored events.
Santa Fe Fiesta Fine Art and Crafts Market
This distinctive open-air [blog_link url= "https://www.santafefiesta.org/schedule-of-events/labor-day-arts-crafts/"  text="arts and crafts market" date="2017-08-01] features one-of-a-kind treasures from booths that line the historic Santa Fe Plaza. Select from unique hand fashioned jewelry, pottery, chic clothing, stylish leather, paintings, photography, handsome wood products, hand blown glass, and countless other items. You can meet the artist, discuss their work and take home a one-of- a- kind treasure. The Arts and Crafts Market takes place from September 2-4, 2017.
Santa Fe Wine & Chile Fiesta
The [blog_link url="https://www.santafewineandchile.org/"  text="Santa Fe Wine and Chile Fiesta" date="2017-08-01] is an annual five-day collection of events highlighting the culinary artistry found in Santa Fe, New Mexico's many excellent restaurants coupled with the sophistication of wines from wineries around the world.
By bringing 100 wineries to Santa Fe to partner with 75 of Santa Fe's best restaurants, a five day schedule of food and wine events is created featuring cooking demos, wine seminars, winery luncheons and dinners. The weekend culminates with the Grand Tasting at the Santa Fe Opera where all 75 participating Santa Fe restaurants and all 100 wineries serve samples of their best food and wine. The 27th Annual Wine & Chile Fiesta will be held from September 27 to October 1, 2017.
Well there you have it. "To live" is to be in Santa Fe at any one of these events!  Start planning your September Santa Fe adventure! Make it even more memorable by ordering the [blog_link url="https://santafe.org/Visitors_Guide/"  text="2017 Santa Fe Travel Guide" date="2017-08-01]. Pssst. Santa Fe holds many secrets to be discovered and we want to share them with you. Check out our [blog_link url="https://santafe.org/Visiting_Santa_Fe/Specials/"  text="Deals and Specials" date="2017-08-01] our Santa Fe businesses have to offer you!
Que Viva!