Al fresco! The words evoke the taste of what they promise. Dining outside is a welcome summer enjoyment, and we're blessed with a bounty of options in Santa Fe. The temperate air beckons, so I've made it my business to see what's cooking. Won't you take a trip outside with me for patio pleasures?
Their Casa Is Your Casa
Old-World style courtyard construction styles brought beautiful open-air designs to the New World. Nowhere is this more evident than Sena Plaza, whose flower-laden courtyard hosts La Casa Sena. Tucked under 100-plus-year-old trees (look at the trunk size), Sena Plaza is one of the oldest surviving Santa Fe haciendas.
The building speaks volumes about Santa Fe history, and dining here is laden with taste and tradition. The menu hews to rich traditional New Mexico flavors (hello, chile and chimichurri) while crisp white tablecloths and seamless service lend a lovely air of elegance.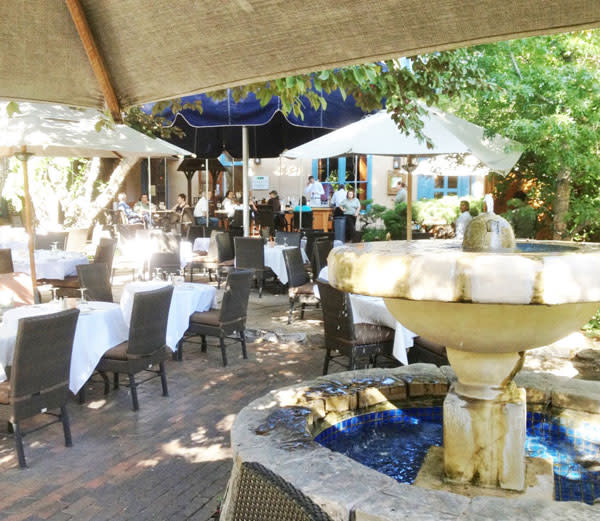 A Café Courtyard That's Unforgettable
Love of historic buildings and fabulous food inevitably lead to SantaCafe. The kitchen never stumbles in the historic Padre Gallegos home north of the Plaza. The Padre himself had some mid-1800's stumbles, having been defrocked for allegiance to the Bishop of Durango rather than New Mexico's Bishop Lamy.
Gallegos' gracious adobe home served as a boarding house, government offices and briefly, an Episcopal church. You can still look down into the home's stone-lined well. I'm particularly fond of spending happy hour in the cool courtyard, noshing on vegetarian spring rolls that thankfully never leave the menu. I always hope the green-chile lobster roll is available for a gal-pal lunch, and supping on succulent lamb-chops is divine.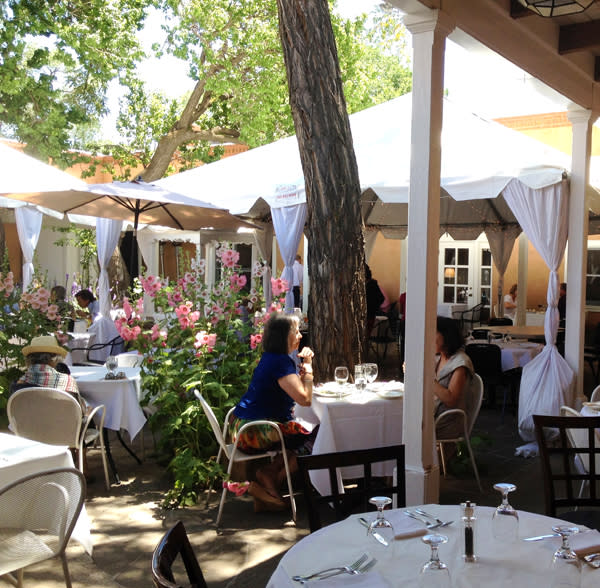 Meet for a Meal by a Master
Fabulous things happen when a great chef finds a home of his own. And Restaurant Martín is the perfect illustration. The husband-and-wife Rios team has a recipe for success that shows on the plate, especially outdoors. I'm a sucker for the smoked salmon eggs Benedict, a dish that never disappoints. James Beard-award winner Chef Martín's focus on freshness is pointedly assured with this bill-of-fare note: "Menu is subject to change due to Chef's creativity and the seasonality of ingredients." Be sure to leave room for dessert, because nothing says summer like house-made sorbet.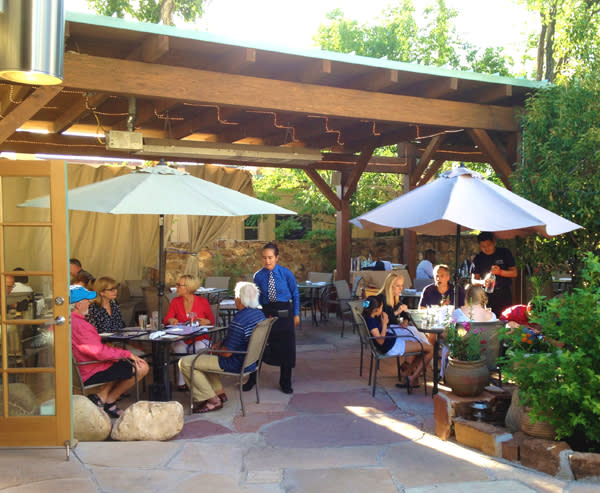 Art Hotel for Artful Outdoor Dining
I'm lucky — I live here. But you're lucky too when your hotel stay includes an ample patio and a terrific restaurant. You'll find both at La Posada de Santa Fe, and I'm always ready to meet for a meal by the Julia fire-pit. LaPo (its local moniker) may be best known for Julia Staab, the ghost who visits her former mansion, but for me, it's the six acres surrounding this art-filled hotel that make mealtime memories. The menu is a thoughtfully balanced mix of traditional, New Mexican dishes and classics like Filet mignon.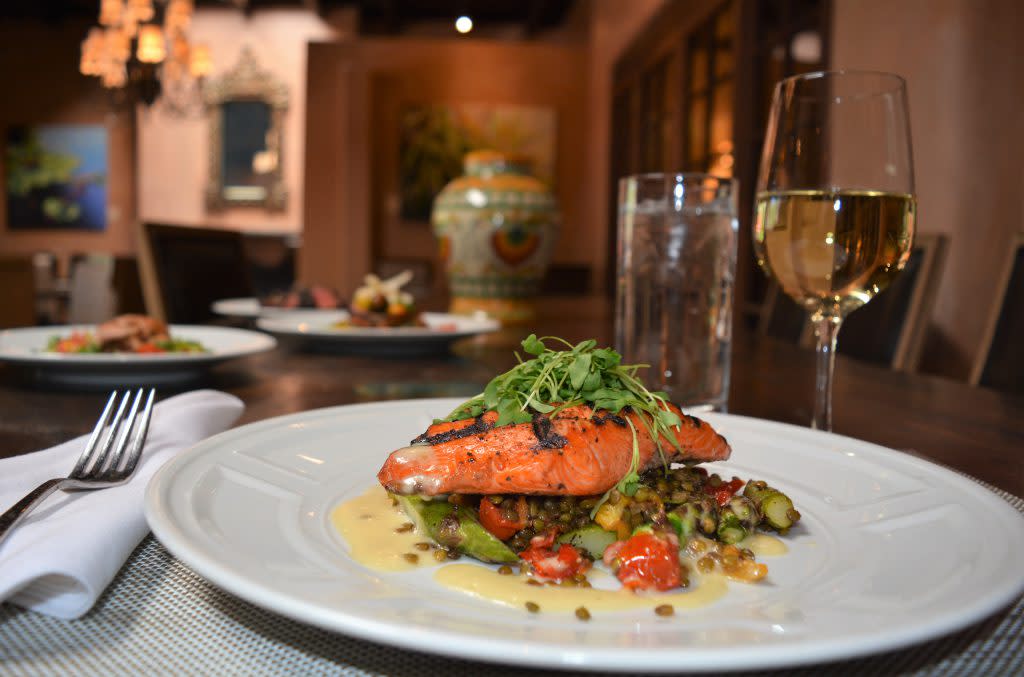 Include Dining Outside When You Dine Out in Santa Fe
There's simply no better way to enjoy our superb climate than to dine in it. I've probably made you hungry so I'll be kind and stop here, but Santa Fe's outdoor dining scene deserves in-depth discovery on your part. Azure skies yielding to glorious sunsets, cool evening descending, a good wine and dear friends together for a great meal — this memorable mixture guarantees all the smiles of a summer night.