THE CONVENTION CENTER
In the heart of downtown Santa Fe, the convention center is just as unique as "The City Different".

During construction, excavations revealed artifacts from ancient Native American pueblos that occupied the site, dating back to the 13th century.
We've taken extreme care in providing the latest in technology in our LEED Certified buildings, while providing an authentic cultural experience. The latest in high-speed internet access and green technologies join with the traditional to create a best-of-all-worlds experience for your attendees.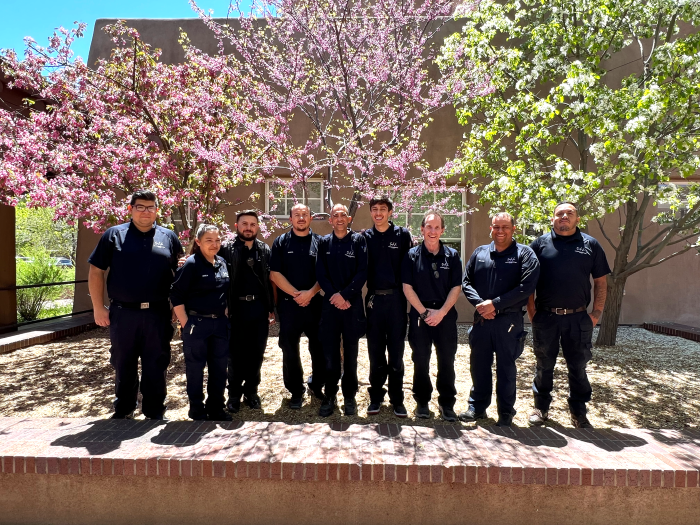 Our center includes:
40,000 square feet of customizable meeting space, including a 18,000 square foot, column free ballroom
Landscaped outdoor courtyard and terrace with spectacular views, perfect for stunning receptions and events
LEED Gold Certified as a green building
Underground, on-site parking
We want to help you design a custom experience for your group.
Floor Plan
The Santa Fe Community Convention Center offers 40,000 square feet of flexible meeting space, including a 18,000 square foot, column free ballroom. For smaller groups, choose a meeting space with a fireplace or our landscaped courtyard with spectacular views, perfect for your stunning event. Each space can be customized to fit your event's needs.

Start creating your memorable and authentic experience in Santa Fe.
INTERACTIVE VIRTUAL TOURS
Features:
Free Wireless / Internet Port(Cable Not Provided) Available Parking: Paid
Bus Parking: Onsite
Fully Handicapped Accessible - ADA Compliant

Services:
Audio Visual: Open Contract
Food/Beverage: Open Contract
Town Shuttle: Open Contract
Entertainment: Open Contract
Eighty-eight percent of the materials were salvaged and recycled from the demolition of the city's old convention center.
Seventy-five percent, by weight, of the waste generated on the site during construction of the convention center was recycled.
The new building was constructed on the same site as the former convention center.
The parking garage is underground at the new building and not developed in a different location.
The proximity of the Transit Center to the Civic Center promotes public transportation and bicycle racks were installed on the grounds of the new building to promote alternative methods of transportation.
A garden roof eliminates heat collection and provides natural insulation.
There are three 15,000 gallon water catchment tanks for landscaping irrigation set in the ground underneath the garage floor.
A sophisticated CO2 monitoring system installed in the garage monitors levels of CO2 and activates an exhaust system if safe levels are exceeded.
All of the exterior timber was reclaimed from the nearby Sierra Blanca forest fire.
All paints used on the project contain the lowest level of Volatile Organic Compounds available.
Exterior walkways are made from porous brick pavers to reduce water run-off.
There are three recycling areas located throughout the center.
There are skylights in the center's public spaces lowering electricity use.
Non-volatile carpet is used throughout the building.
All cleaning products are green.

It's easy being green. Contact us at about how greening your meeting can make a difference in surprising ways.
If you don't see what you need, send us a message at sales@santafe.org and let's talk.