Film & TV in New Mexico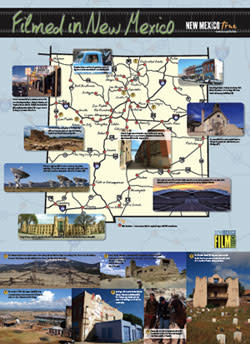 So many films and TV shows pass through Santa Fe and New Mexico in a year it's hard to keep up with what is shooting by whom and where. Click to download the New Mexico True Film Trails Brochure.

Visit Santa Fe Network to learn more about productions that were filmed or are currently filming in Santa Fe.

Notable locations in Santa Fe:
The following are just some of the hottest films and TV shows to be shot here in New Mexico:

Television
The Bachelor
Manhattan
Longmire
Breaking Bad
House of Cards
Films
Lone Survivor
A Million Ways to Die in the West
The Book of Eli
All the Pretty Horses
No Country for Old Men
The Homesman
Off the Map
The Avengers
Crazy Heart
The Men Who Stare at Goats
Transformers
Natural Born Killers
Cowboys & Aliens

To see more click here.