72-HOUR ITINERARIES
Santa Fe is a city for all seasons. Take an art, history, or culture tour, taste our range of culinary options, browse the shops, hike a nearby city trail, or relax at one of our many spas. These itineraries assume that you're arriving late in the day and staying for two full days. Adventure awaits in The City Different.
Explore the Heart of Santa Fe

Day One

Get settled in and though you surely want to explore right away, take a moment to catch your breath and replenish your body with plenty of water to help you acclimate to our 7,200-foot elevation. Here are some additional tips for enjoying yourself at high elevation. Many Santa Fe hotels have fine restaurants so you can enjoy dinner right where you're staying. Explore our Dine listings to find the perfect place for your first culinary experience in Santa Fe. Engage your server about the dishes on the menu as you can learn a lot about the Santa Fe culture through a brief exchange about our food. 

Day Two

After breakfast, get acquainted with downtown Santa Fe on a guided tram or walking tour. You'll get a great overview of Santa Fe's history, culture, and architecture as you navigate the winding streets in and around the downtown Plaza with a knowledgeable guide sharing stories about the famous buildings, the significant events, and the colorful people of Santa Fe's past who helped shape this dynamic city. 

Try a traditional New Mexican lunch served in one of Santa Fe's downtown restaurants, where you'll likely be asked the question, "Red, green, or Christmas?" Here are some tips on how to answer.
Following a memorable lunch, consider some shopping on the Plaza, still the cultural center of The City Different. Purchase a custom hat, buy authentic Native American jewelry directly from the artist, or discover a one-of-a-kind sculpture or piece of art. Our boutiques and galleries welcome you to find something special to remind you of your stay.

Feeling ready for some relaxation? Visit one of Santa Fe's luxurious hotel spas to enjoy a hot stone massage, an herbal body wrap, or a hot tub soak. You'll have no problem finding one!

Ready for dinner? Choose from an array of acclaimed restaurants, serving everything from traditional New Mexican cuisine to global fusion. Then take in a concert, play, or other performing arts event happening around town. Check our Events Calendar for a list of opportunities to get out and about. You'll head to bed feeling inspired by all that Santa Fe has to offer, but you're not done yet!

Day Three

Following breakfast, spend the morning exploring the fascinating museums of downtown Santa Fe. The Georgia O'Keeffe Museum is a good place to start. It's small and easily seen within an hour, showcasing the works of the country's most famous female artist. Then head over to the New Mexico Museum of Art, where you'll discover paintings by traditional and contemporary Southwestern artists. Nearby is the New Mexico History Museum, a cutting-edge museum that explores our region's history in a multi-media environment. Part of the history museum, the Palace of the Governors, is the country's oldest, continuously in use public building and is worth visiting for its fascinating history. And the IAIA Museum of Contemporary Native Arts is the country's only museum for exhibiting, collecting, and interpreting the most progressive work of contemporary Native artists. 

Rest those museum legs with a delicious lunch at a restaurant chosen from our Dine listings. Or find a spot using one of our handy self-guided tours, which include the Santa Fe Margarita Trail, the Craft Beer and Spirits Tour, Santa Fe Food Truck Tour, Coffee Lovers Tour, and the Chocolate Trail. 
Then take to the streets to enjoy some of the city's fascinating historic sites on foot. Visit the Loretto Chapel, with its famous "miraculous" staircase and The Cathedral Basilica of St. Francis of Assisi, built between 1869 and 1886 in the French Romanesque Revival Style.

After seeing the sites, head up to the Bell Tower Bar at La Fonda on the Plaza where you can enjoy panoramic views of the sunset as you relax with a Santa Fe-style margarita. Then enjoy one more amazing Santa Fe dinner before your trip draws to an end.
---

Relax and Rejuvenate


Day One
Santa Fe is known as a sanctuary for the body, mind, and spirit and this itinerary ensures that by the time you leave, you will be utterly relaxed and blissfully rejuvenated. Settle in and fill up your water bottle. You'll need to consume more water while you are in Santa Fe as the city is situated at 7,200 feet. If you stay on top of your water intake, you'll feel great. Your hotel likely has a very fine restaurant, so take it easy and enjoy your first dinner close to "home." 

Day Two

After a delicious breakfast, go to one of Santa Fe's acclaimed spas, such as the Japanese-inspired Ten Thousand Waves, which is just minutes from downtown and located on the edge of the Santa Fe National Forest. Enjoy an extraordinary massage followed by a peaceful soak in an outdoor hot tub with a sauna and bathroom of your own, surrounded by fragrant pine trees. The resort also features an izakaya-style small plates restaurant and lodging. 

After your massage, there's no better way to further unwind than by getting into nature. Drive further up into the mountains of the Santa Fe Ski Basin and enjoy a leisurely hike of a slight incline among aspen trees on the Aspen Vista Trail. There's an inviting picnic area, so consider bringing a light lunch or snacks to replenish yourself while taking in the views. Then head back down to town and give your body a treat by taking a yoga class, a Pilates class, or another type of exercise class that you'll find in our Classes and Workshops listings.

Now it's time to indulge in a city tradition of artisanal chocolate. Take The Chocolate Trail to sample handcrafted chocolates and chocolate elixirs so unique, you won't find them anywhere else, including some confections infused with our famous red and green chile.
Take some time before dinner to relax your body, mind, and spirit, then dine in style at one of Santa Fe's fine restaurants before taking in a concert, play or other performing arts event held at the Lensic Performing Arts Center. Check our Events Calendar to see what's going on while you're here.

Day Three

After breakfast, it's time for another day devoted to spas. Just 20 minutes from downtown is Ojo Santa Fe, where you can not only get your body glowing with an herbal wrap or hot stone massage, but you can soak in spring-fed thermal outdoor tubs or swim in the largest saltwater pool in Santa Fe, meander the 77-acre property, and try lunch at their farm-fresh restaurant Blue Heron. 
Now you are ready to head back into downtown Santa Fe and perhaps you'd like some restorative views. If you've some energy and love a good sunset, try the short and paved stroll up to the Cross of the Martyrs. Stop along the way to read the plaques detailing Santa Fe's history. At the top, you'll see all of the places you've visited and the sunset will likely put on a show. If you're ready for a Happy Hour with a view, try Rooftop Pizzeria & Draft Station—the views are more urban and up close. Great for people watching and architecture gazing!

Next, consider a cooking class in the technique of our Northern New Mexico cuisine or another cuisine, like Spanish or Thai. With three schools in town (Santa Fe School of Cooking, Las Cosas Cooking School, and Open Kitchen), you can surely find a class that works for your interests and your budget. In one of the many hands-on classes, learn how to roast chiles, make paella, or a great barbeque sauce and then enjoy your efforts over a glass of local wine or craft beer! 
---

An Outdoor Adventure



Day One
Get settled at your hotel, and then organize your personal gear for your following day's adventure. A full water bottle and a high SPF sunscreen are requirements in our high-altitude region. A quick and delicious dinner nearby is your best bet so you can get a good night's sleep and be prepared. Check out our Dining Guide for ideas.

Day Two

Be sure to eat a hearty breakfast at a restaurant, as today you'll be riding the thrilling rapids of the mighty Rio Grande. Charter any of Santa Fe's experienced river rafting companies for a full day on the river and you'll be in expert hands, plus have all the gear you need for your great adventure. After the ride is over, return to Santa Fe for a mellow end to an exciting day. Relax over dinner at a nearby restaurant and then rest up for your next big day of adventure. Check our Dine listings to find a restaurant close to where you're staying.

Day Three

After eating a delicious breakfast, stop at one of Santa Fe's local grocery stores to pick up snacks and a healthy lunch for your trip to the Santa Fe Ski Basin, where you'll find an array of trails to hike for the day. Try the popular Aspen Vista Trail, with beautiful views of the aspen trees that turn golden in the fall. You can also rent mountain bikes and bike the Aspen Vista Trail.

If you'd prefer to play golf rather than hike the mountains, you'll find plenty of beautiful, award-winning golf courses. Check our Golf Courses section for ideas on where to play.

You could also spend the day fly fishing in the mountains. Charter a fly fishing trip with one of Santa Fe's outdoor adventure companies and you'll be an expert by the time the lesson is over.

After your day in the mountains or on the golf course, a trip to one of Santa Fe's spas will help out any tired muscles. Then enjoy an excellent dinner at one of Santa Fe's acclaimed restaurants, which you can choose from our Dine listings. If you still have energy left, enjoy a concert, play or performing arts event listed in our Events Calendar.
 
---

Art Lover's Journey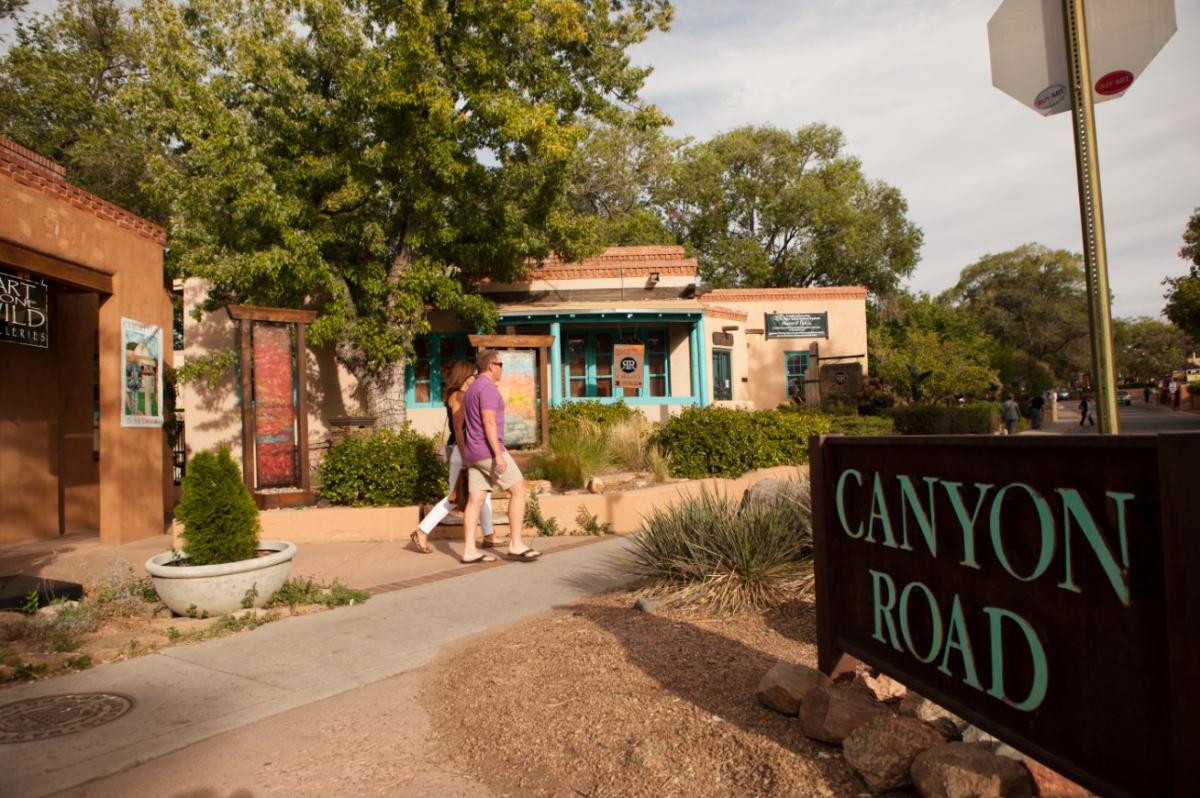 Day One

Get settled and remember to drink plenty of water to acclimate yourself to the 7,200-foot altitude. In fact, do not ever refuse water when it's offered to you in Santa Fe! We want you to feel great and active while you are here. Perhaps take a little walk to stretch your legs and orient yourself. The persistent Pueblo- and Territorial-style architecture you see is the result of a style preservation plan that The City Different codified in the early 20th century. Then relax over dinner in one of Santa Fe's acclaimed restaurants. Nearly all will serve some type of New Mexican dish. 

Day Two

Perhaps you knew that Santa Fe was ranked #7 in a money.co.uk study of "The 10 Best Cities in the World for Art Lovers" and recognized for being the world's best city for galleries and museums? Well, after a hearty breakfast, it's time to get out and see Santa Fe's world-famous art! Start with Canyon Road, a half-mile-long stretch of famous galleries and boutiques. You'll explore contemporary and traditional galleries that are filled with an impressive array of works by local, national, and international artists. You'll see everything from paintings to photography, sculpture, textiles, ceramics, jewelry, and more. Take your time on this celebrated street devoted to arts and crafts.

When it's time for lunch, you'll find several restaurants on Canyon Road amid all the art. Or make the short drive up to Museum Hill, where there is not only a great cafe with extraordinary views, but four world-class museums and a botanical garden.

Then relax over a delicious dinner in one of Santa Fe's acclaimed restaurants, followed by some live music in a Santa Fe nightclub or other venue. Also check out the performing arts schedule in our Events Calendar to see if there's a concert, play, or other event you'd like to attend. The City Different's offering of Flamenco performances is quite impressive! And the immersive art destination of Meow Wolf's House of Eternal Return is open late on weekends and often hosts unique musical acts.

Day Three

After breakfast, head over to the eclectic and vibrant Railyard District, with its contemporary galleries, art spaces, and parks. Visit SITE Santa Fe, a contemporary art museum that hosts exciting exhibits of local, national, and international artists. There is always something new to see in this dynamic district, including the Santa Fe Farmers' Market, open on Tuesdays and Saturdays from early morning to noon.
Take a lunch break at the Farmers' market or in one of the Railyard restaurants, then continue to explore this district, which also includes the Guadalupe Street shops.

Finish up your afternoon in the downtown Santa Fe Plaza, where you'll find more galleries devoted to Native American art as well as contemporary and traditional arts of the Southwest. And you absolutely cannot miss the Native American Artisans Portal Program, where you can meet the artists behind an ever-changing array of handcrafted items includes pottery, some textiles, and jewelry made of traditional materials such as turquoise, coral, and silver. 

Before it's time for dinner, make time to watch one of our spectacular sunsets from the top of the Cross of the Martyrs, an outdoor park on the northeast side of Paseo de Peralta. Then head out to dine in style at one of our celebrated world-class restaurants, where the food itself can be a work of art.
---
As you consider this itinerary or build one of your own, the Official Santa Fe Visitors Guide can be an important resource. Also, our Accommodations section will hook you up with a place to call home during your visit, and the Dine section can direct you to our acclaimed restaurants—advance reservations are a wise idea in this town, popular among foodies!
This week-long itinerary (The Beatles' version of "Eight Days a Week" that is) of things to do in Santa Fe and the area was put together by Anna Tenaglia, the innkeeper at Hacienda Nicholas for the past seven years.