Road Trips
Did somebody say road trip? Take some time to discover the magnificent landscape and diverse cultures surrounding the city. When you stay in Santa Fe, it's so easy to hit the road for day trips to nearby Taos, Abiquiú, Chama, Los Alamos, Madrid, Pecos or Las Vegas which are just a hop, skip and a jump away.

What a great opportunity to sit back and relax. Enjoy the ride and take in the magnificent landscape via your car window. Better yet, pull off on the side of the road to enjoy the view and snap a few photos for the folks back home.

Speaking of photo opportunities, there are ancient Indian ruins and traditional pueblos to explore as you wind through high mountain towns, sleepy valley villages and 19th-century mining areas. On the road, you will gaze upon the same majestic red rock country captured on canvas by Georgia O'Keeffe, one of America's greatest painters. Follow in the footsteps of pueblo ancestors, Spanish settlers, fur trappers, mountain men and American pioneers as you travel these fascinating scenic roads and byways near Santa Fe, in the heart of northern New Mexico.

See the collapsed crater of a volcano that erupted a million years ago. Experience the living legacy of Los Alamos, where scientists from around the world secretly created the first atomic bomb during World II's Manhattan Project. Next stop could be Taos Pueblo's multi-storied architecture built more than a thousand years ago or the "other" Las Vegas to admire the Victorian architectural gems.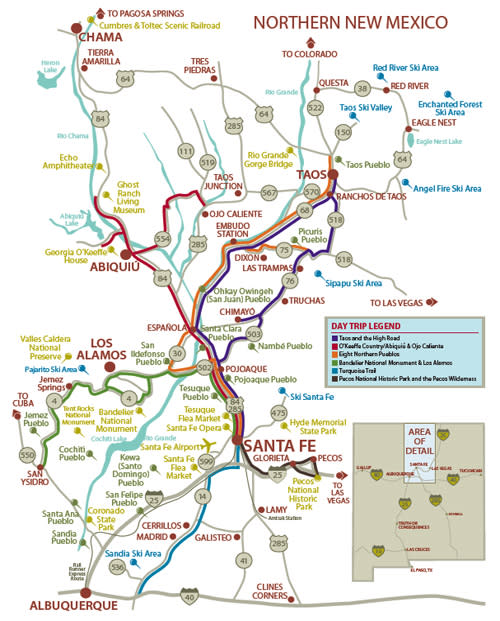 Download a LARGER PDF of Road Trips Map

Day Trips

This is only a small slice of what there is to see and do in northern New Mexico. For more information and a way to order a state Vacation Planner check the New Mexico Department of Tourism site.

Click on our Tours section for a comprehensive list of companies leading guided tours in Santa Fe and its surroundings.

Explore the links below to learn more about sites worth visiting near Santa Fe.