8 Days in the Santa Fe Area
These 8 wonderful daylong itineraries were created by a longtime local innkeeper, and they have been vetted and tried by many a guest to the Santa Fe area. Activities include touring Santa Fe museums and galleries, enjoying the award-winning cuisine, a day trip to Taos, visits to ancient Indian ruins, pampering and relaxing treatments at local spas, a chance to get to know the area's most famous artist, as well as some beautiful hikes. Choose among them and build your own memorable visit to the Santa Fe area.
Plaza Area and Downtown Museums
Loretto Chapel and Canyon Road
Bandelier and Tsankawi Ruins, Valles Caldera
Chimayó, Taos Pueblo, Taos
Museum Hill, Meow Wolf's House of Eternal Return
Tent Rocks and El Rancho de las Golondrinas
Historic Pecos Pueblo and a Hike to Cave Creek
Georgia O'Keeffe's "Greatest Hits" Day
---
Plaza Area and Downtown Museums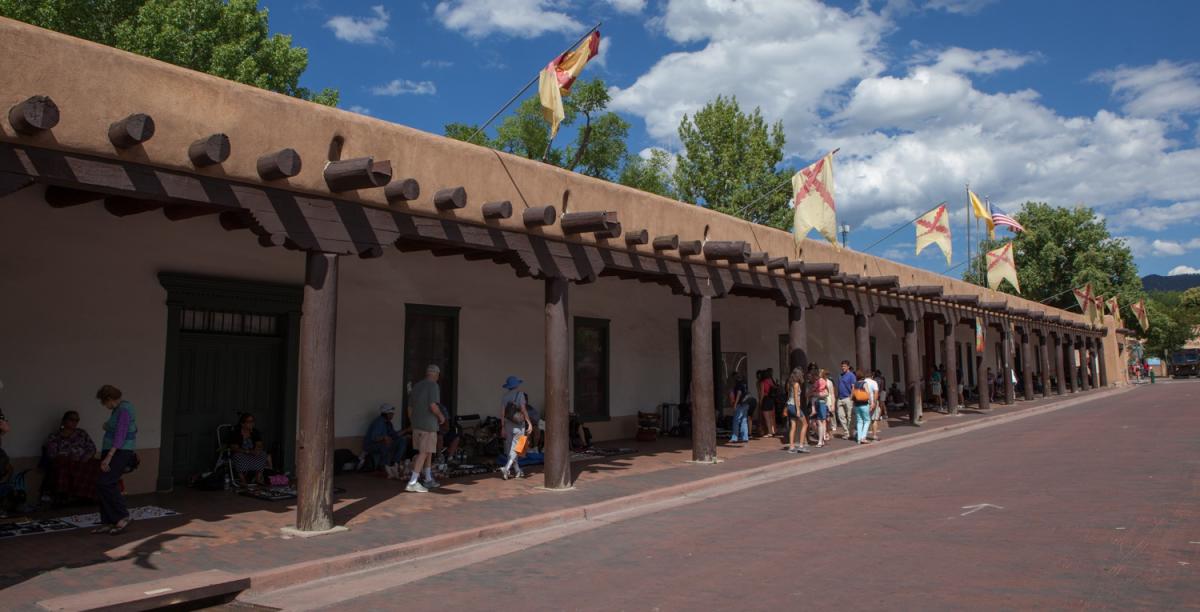 Explore the Plazaǃ Start with a stroll down Palace Avenue to the Plaza and stop at the Palace of the Governors, dating to 1610, the oldest public building in continuous use built by the Spanish for government administration, it now houses two museums. One ticket allows access to both the original museum and the New Mexico History Museum. Make sure to connect with Native American artists who sell their own work daily underneath the portal of the Palace of the Governors. You can really learn a lot about the ever-changing array of handcrafted items, including pottery, textiles, and jewelry made of traditional materials such as turquoise, coral, and silver in a conversation or two. All pieces are made by the seller or their family, and you can feel confident you are getting high-quality work for a good price since they are selling directly to you. Take some time to explore further as downtown Santa Fe features hundreds of shops where you can find unique clothing, jewelry, art, and an assortment of souvenirs.
Then head for lunch at The Shed, a family-owned establishment, and longtime favorite among locals and visitors for authentic New Mexican cuisine. "What makes it New Mexican?" you may ask. Red and greenǃ Chile makes life worth living for many Santa Feans. Not only is it packed with flavor and vitamin C, its heat ingredient capsaicin has anti-inflammatory properties, can increase your metabolism, and plays a role in many pain relief medications. Green chiles are grown primarily in the southern portion of the state, and arguments abound as to what region grows the best. Most of the hottest (and tastiest) come from Hatch, New Mexico but fine varieties grow in Socorro. Many, however, would argue that the best red chile comes from Chimayó. Try a dish with Christmas, which means you get both red and green chile. Tomasita's is another great spot featuring Northern New Mexico fare. Both are stops along the famous Santa Fe Margarita Trail, which will guide you to more than 40 signature margaritas in The City Different.
After lunch, consider another small downtown museum—the New Mexico Museum of Art. It features great works by many New Mexican artists, including woodcuts by Gustave Baumann, who made his home in Santa Fe beginning in the early 20th century. Another important museum is just yards away, and visually remarkable for its colorful exterior pillars: The IAIA Museum of Contemporary Native Arts is the country's only museum for exhibiting, collecting, and interpreting the most progressive work of contemporary Native artists.
Now that you are culturally saturated and ready for a libation, head over to the historic La Fonda Hotel. Situated on the corner of the Plaza, the site is that of the city's first inn (La Fonda means inn in Spanish) sometime around 1607. In 1925, the building was purchased by the Atchison, Topeka and Santa Fe Railway, which leased the property to the Fred Harvey Company, and it became a Harvey House, one of many in a chain known for their high standards, fine dining, and "Harvey Girls," a staff of exceptionally well-trained waitresses. Check out the beautiful lobby as you head for the bar. During warmer months, enjoy a margarita on the rooftop of the Bell Tower, with its memorable views of the entire downtown. Now, for dinner, walk to Cafe Pasqual's. This is one of my very favorite Santa Fe restaurants. The food is great, the atmosphere cozy, and the walls are adorned with lively Mexican murals. Reservations are definitely recommended during the high season. Year round Pasqual's is packed with locals. Consider sitting at the community table to engage in interesting conversations with regulars. The mood here is casual and comfortable, but great attention to detail puts this Santa Fe institution in a class by itself.
---

Loretto Chapel and Canyon Road

After breakfast, put on your walking shoes and amble downtown to the Loretto Chapel, built in 1873 for the Sisters of Loretto to house their girls' school. Beyond the breathtaking beauty and uniqueness of the Gothic exterior, step inside to see the famous "miraculous staircase." When the original architect of the building died prior to completing the project, leaving the choir loft in accessible, the Sisters prayed to St. Joseph, the Patron Saint of Carpenters, and either he himself or a skilled individual sent by him, built the spiral staircase with neither glue, nails, nor any visible means of support and two 360-degree turns. When finished, he disappeared without pay or thanks. A true miracle! Today, the church is a private museum and a popular site for wedding ceremonies.
Afterward, head for Canyon Road—'the art and soul of Santa Fe.' You will notice Pueblo- and Territorial-style architecture as you stroll the half-mile length of the street, with 100 galleries displaying paintings, sculpture, jewelry, photography, clothing, and antiques. The area grew as a mecca for artists beginning in the 1920s, with the presence of Los Cinco Pintores (Spanish for the Five Painters)—Fremont Ellis, Will Shuster, Willard Nash, Jozef Bakos and Wladyslaw "Walter" Mruk—a group of friends and Modernist painters who eschewed the constraints of traditional academic art. Ever struggling financially, they are rumored to have helped one another build adobe homes on nearby Camino del Monte Sol, which earned them—along with the collective avant-garde artist persona—the nickname "five nuts in mud huts."
One of their ideas was to "bring art to the public," in part because at that time it was rare to sell work outside of a museum. They utilized the front of their homes as studio space, displaying their art on the sidewalks, a tradition carried on by the galleries that line Canyon Road street today.
After the meander up Canyon Road, you have the choice of settling in for a cup of tea at The Teahouse or for a more serious libation across the street at El Farol, a popular spot housed in the same adobe since 1835. Specializing in tapas and Spanish food, the atmosphere is comfortable and friendly, and in the later hours the bar area fills with locals who love to talk and kick it up to live music on the tiny dance floor. Fridays and Saturdays, reserve your spot for the Flamenco Dinner Show.
If the idea of tapas appeals to you, but you are not in the mood for a wild evening, you might prefer the delectable menu at La Boca. These tapas are inspired by the flavors of Spain and the Mediterranean. The creative blending of flavors and ingredients make La Boca a favorite dining choice for locals and visitors alike.
---

Bandelier and Tsankawi Ruins, Valles Caldera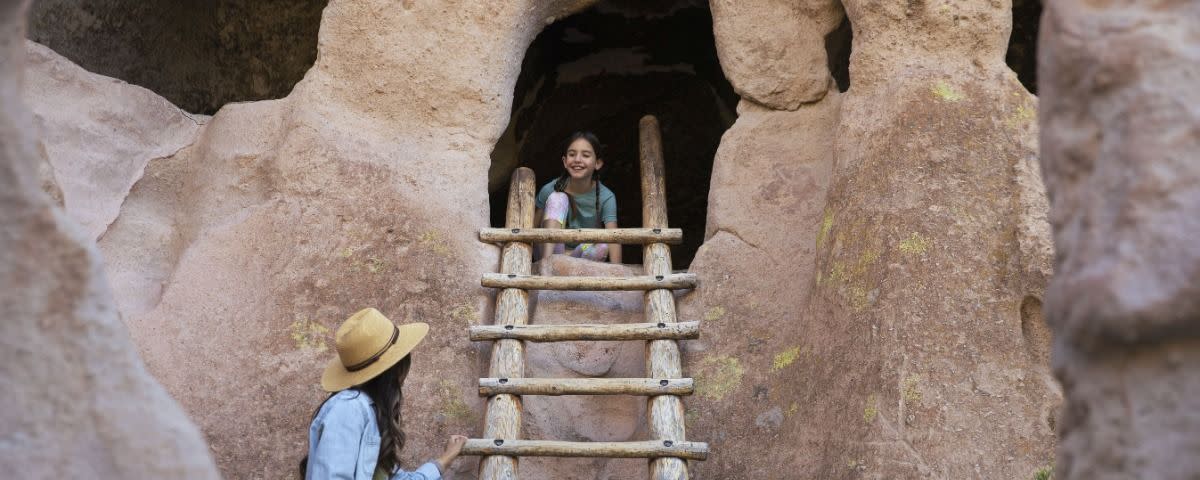 After breakfast, you're off for a fascinating trip to Bandelier National Monument, a vast site once occupied by the Ancestral Pueblo people from 1150 CE to 1550 CE, and named for Adolph Bandelier, a Swiss-American anthropologist, who researched the cultures of the area and supported preservation of the sites. Get an early start as there is much to see and do on this nature-packed, ancient history-steeped outing. You may want to pack a picnic lunch for this itinerary, choosing from the deli at Kaune's Neighborhood Market or delicious sandwiches and cookies from Sage Bakehouse. Your drive to Bandelier is a very scenic 45 minutes. Because of the Monument's popularity, visitors arriving between 9 am and 3 pm will shuttle from the White Rock visitor center to the Bandelier's visitor center. From there, try the Pueblo Loop Trail, a 1.4 mile loop trail through archeological sites. Ladders along the trail allow visitors to climb into cavates (small human-carved alcoves). The Main (Pueblo) Loop Trail takes you past features of the once vibrant community, such as Big Kiva, Tyuonyi, Talus House, and Long House. Imagine living here as the Anasazi Indians did, hauling wood, water, and babies up to your cave dwelling on the side of this magnificent cliff.
You have many choices where to venture next. There are a range of hikes from short to long. Definitely engage the visitor center staff so you spend your time exactly how you'd like. 
You may also choose to drive back towards Santa Fe, stopping at the Ancestral Pueblo of Tsankawi, which is also within the park. Tsankawi's 1.5 mile loop along the mesa has some incredible petroglyphs and cavates. One caveat—this trail is unpaved and more rugged than the aforementioned hike. It is also a fairly well-kept secret, so you may be one of the only visitors, adding to the quiet mystery of the place.
Now, the best kept secret of all. From here, drive 18 miles through Los Alamos to Valles Caldera National Preserve. Research indicates that approximately 1.25 million years ago, a volcano erupted, creating this 13-mile wide circular depression. This is a unique experience for viewing beautiful vistas and the potential for wildlife in an uncrowded setting of a collapsed crater. Activities include cross-country skiing, snowshoeing, fly fishing, equestrian trail riding, hiking, and many ranger-led programs like stargazing and full moon walks.
After all this fresh air and exercise your thoughts may now turn toward your empty stomach. Heading back to Santa Fe, stop a few miles north of the city for dinner at Gabriel's, located just off Highway 285. Serving an authentic mix of modern and classic Mexican and Southwestern dishes, Gabriel's is charming both inside its thick adobe walls and on the patio. Don't miss the tableside-made guacamole wherever you sit! 
---

Chimayó, Taos Pueblo, Taos
Get an early start as this day trip to Taos via the "High Road" is packed with things to see and do. Head north on Highways 84/285 and take exit 503 toward Chimayó to visit El Santuario de Chimayó, a National Historic Landmark and included in the National Register of Historic Places. This "most visited church in New Mexico," completed in 1816, is also sometimes known as "Lourdes of America," a popular pilgrimage destination. Unlike the more commonly found Spanish-style churches of the state, with their huge, ornate and gilded interiors, this simple shrine is built of adobe (mud bricks) and has a quiet spirituality. Behind the altar and the storied and miraculous crucifix that led to the construction of the church, is a small room that features El Pocito, a hole filled with a never-ending supply of "healing dirt." In the sacristy of the church you will see testimonials to past miracles, including discarded wheelchairs, crutches and braces, as well as fascinating homemade shrines. Take a baggy with you, as you are allowed to help yourself to some of this dirt. Chimayó is also known for its weavings. Stop at Ortega's Weaving Shop or Trujillo's Weaving Shop to learn more about this timeless art which has been practiced here for generations.
Drive on toward the next town of Truchas to enjoy some spectacular mountain views. This picturesque town, nestled high in the hills, was also the location for the film The Milagro Beanfield War, based on the book of the same name by Taos author John Nichols. Onward toward Taos, you will pass through a town called Penasco, and if your stomach is grumbling, I would recommend stopping at Sugar Nymphs Bistro, housed in the town's vibrant community theater space.
Continue on to Taos, enjoying all of the views, and head straight for the Taos Pueblo (closed temporarily due to the COVID-19 pandemic), designated both a UNESCO World Heritage Site and a National Historic Landmark. Continuously inhabited by the Tewa-speaking Native Americans for more than 1000 years, it is also the largest multi-story Pueblo dwelling in the US. Taos Pueblo has some very distinct and highly burnished pottery and incredible silver jewelry, as well as moccasins, boots, and drums. In my opinion, the best time to visit this or any New Mexico Pueblo is during Feast Days, which occur throughout the year, from the Turtle Dance of January 1 to the Corn Dances in June and July, and the Deer Dance of December 25. These events include everyone on the Pueblo, from the oldest grandmother to the youngest toddler. All come forth to the plaza dressed in full regalia and perform dances and other tribal rituals. The drum music and spiritual chanting are quite mesmerizing. You can also sign up for a guided tour of the property to better understand the inhabitants' ways of life. Definitely call ahead as you make your plans.
Now you are definitely hungry! Try The Burger Stand, casual and tasty, and always ready to serve a burger just the way you like it. Another great spot is Orlando's for some consistently excellent New Mexican fare in such a lively atmosphere you may never want to leave!
Next stop is the Taos Art Museum at Fechin House, the past residence of Nicolai Fechin, a Russian-born portrait painter who moved to Taos in 1927. The interior was painstakingly and lovingly remodeled and Fechin himself planned the window openings to celebrate the light of his new land as well as carved the columns, stair rails, vigas, doors, and furniture that composed his new home. His daughter Eya called it "a Russian house evolved out of New Mexico mud." ​The space is on the National Registry of Historic American Homes and the State of New Mexico Registered Cultural Properties..Fechin's paintings of Native Americans are very highly regarded, as is his handmade furniture.
Next door is the Harwood Museum of Art, on the National Registry of Historic Spaces, which opened in the 1920s and features works by the Taos Society of Artists, who were among the museum's founders.
Before you head back to Santa Fe, take the short drive to the Rio Grande Gorge for a spectacular view from the bridge 650 feet above the river. A mile or so beyond the bridge, be sure to check out the Taos Earthships, a 600-plus-acre community of self-sufficient homes built with natural and recycled materials and designed to operate off the grid, using solar and wind power, water catchment systems, and other sustainable means. Beyond clever, these homes are built to challenge what's possible.
Travel back to Santa Fe on Highway 68 following the Rio Grande. Along the winding road and through the canyon, sate your curiosity and pull over to sample what New Mexico offers at various vineyards and farms.
---

Museum Hill and Meow Wolf's House of Eternal Return

Get a full dose of art on a spectrum, beginning a visit to Museum Hill. Many maps make it appear to be within walking distance, but it is actually about a 5-minute drive from downtown. There are four museums to choose from: The Museum of International Folk Art, The Wheelwright, Museum of the American Indian, the Museum of Spanish Colonial, and Museum of Indian Arts & Culture.
My favorite is the International Folk Art, which features a permanent exhibit wing of more than 100,00 pieces of folk art, donated by designer and architect Alexander Girard, who spent his later years in Santa Fe.
A real treat is the International Folk Art Market, bringing together 150 artisans from far away villages in Africa, Asia, South America and Russia, to name just a few of the 60 countries from which these individuals hail. The largest folk art festival in the world, this market brings a wide array of beautiful crafts, jewelry, clothing and art, as well as international music, dance, and food.
The Wheelwright and Indian Arts & Culture Museums showcase antique Native American art, including pottery, beadwork, and jewelry. The Spanish Colonial Museum features objects from throughout the Spanish Colonial World. The museum itself, a historical building designed by renowned architect John Gaw Meem in the 1930s in the Pueblo-Spanish Revival Style, is worth a visit on its own merit.
After a light lunch at the conveniently located Weldon's Museum Hill Cafe, perhaps you've set up a spa appointment for yourself that focuses on relaxing and restoring your weary traveling feet!
Next, get ready for a veritable funhouse: 70+ rooms of immersive art at Meow Wolf's House of Eternal Return. This is the OG of the now multi-city franchise, which at its core is the mysterious story of a fictional family's disappearance. With your adventurous spirit, explore for hours and interact with everything you see. This is NOT a 'Do Not Touch' museum. I repeat, this is NOT a 'Do Not Touch' museum. Located on the southside of town, Meow Wolf admits guests via timed entry ticketing, so definitely plan ahead. 
This evening you may want to try the upscale but very comfortable Santacafé, which occupies the historic Padre Gallegos House, built in the mid 1800s. A sophisticated and knowledgeable staff serves consistently delicious contemporary cuisine. Reserve a seat on the patio if you can to enjoy the night skies and garden atmosphere. The bar is elegant and lively.
---

Tent Rocks and El Rancho de las Golondrinas

Start this outdoor adventure with a hike in Kasha-Katuwe Tent Rocks National Monument (which in the spring of 2022 is closed due to rehabilitation measures), where you will walk among mysterious, cone-shaped, teepee-like formations called hoodoos, the products of volcanic eruptions that occurred 6 to 7 million years ago and left pumice, ash, and tuff deposits. Be sure to carry water and wear sun protection such as a hat in addition to SPF. This is not a strenuous hike, but you will need decent walking/hiking shoes to navigate the invariably sandy and rocky surfaces. Another hiking opportunity closer to Santa Fe with some intrigue of its own is the Cerrillos Hills State Park, which features 5 miles of easy to moderate trails, peppered with mining history highlights. If the interpretive signs don't captivate you, the views of distant Sandia, Ortiz, Jemez, and Sangre de Cristo mountain ranges surely will. Be sure to grab "grub, Wild West style" at the Black Bird Saloon and make a bit of time for the Casa Grande Trading Post, where, no joke, there is not only a small petting zoo, but a mining museum, and you can purchase authentic Cerrillos turquoise.
Then you are off to El Rancho de las Golondrinas (Ranch of the Swallows). Now a living history museum on 200 acres, it was an important paraje or stopping place along the Camino Real that facilitated the trade between Mexico City to Santa Fe. You will find colonial buildings dating back to the 1700s and during many special annual events, guides dress in period clothing and recreate 18th-century ranch life with demonstrations of sheep shearing, blacksmithing, and candle making, among other activities. Events include the Renaissance Faire, the Fiesta de los Niños, June's Herb & Lavender Fair, and the fall Harvest Festival.
After this full day of activities, enjoy a casual dinner at Mucho Gusto, a consistently good Mexican restaurant, whose dishes feature a less spicy-heat than the New Mexican cuisine you've been consuming, so you can give your palate a rest. The restaurant itself is small, cozy, and adorned with colorful paintings of native Peruvian women, all by local Santa Fe artist Elias Rivera.
---

Historic Pecos Pueblo and a Hike to Cave Creek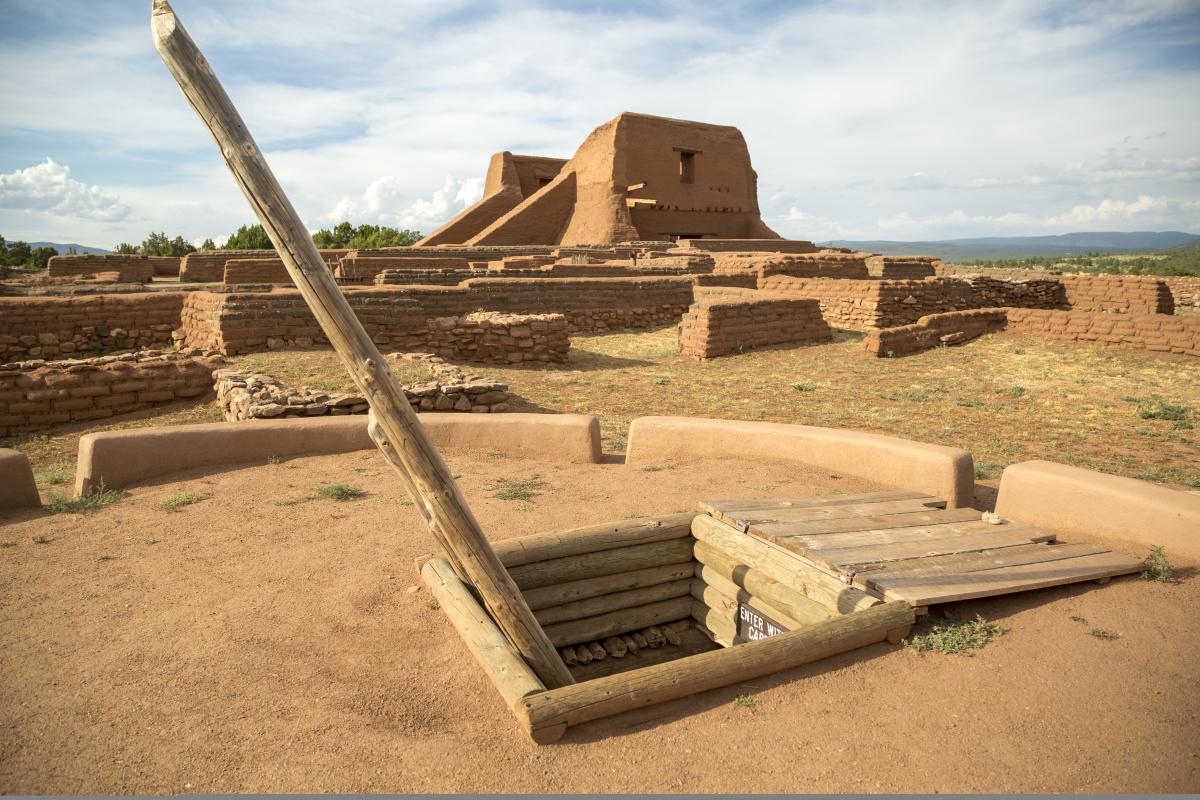 Enjoy a great breakfast and pack a hearty lunch because this is a full day, with a walk through ancient Indian ruins, followed by a hike to a beautiful mountain cave.
Begin at Pecos National Historic Park and plan to spend about an hour to an hour and a half exploring the park, which, beginning in 1450, was the site of a large settlement of various Pueblos and called Pecos Pueblo. It grew to be a lively trading destination.
Take the self-guided Ancestral Sites Trail that begins at the visitor's center, and winds through Pecos Pueblo and Mission Church. Included is a kiva, the ancient ceremonial center of the Pueblo Indians. Also in the park is a preserved site demonstrating the Glorieta Pass Battlefield, where, during the American Civil War, the Union, with the help of the Federals, thwarted the Confederates desire to control the area.
Make sure you are well hydrated and fed for this next part of the itinerary–a well-marked 5-mile out and back hike to a few caves in the Pecos National Wilderness. It's advised that you and your fellow hikers are in reasonably good shape, have a map, water, and snacks in tow.  From the town of Pecos, drive about 22 miles to the Panchuela Trailhead (closed in the spring of 2022 due to fire danger), where you'll pay a nominal fee to park. The relatively easy trail follows Panchuela Creek to Cave Creek without much elevation gain. There's at least one river crossing which is generally managed over downed logs, but be prepared to get a little wet. The caves are about 2.5 miles in on your left. In the spring and early summer enjoy wildflowers, and in the fall, golden aspens.
After all this activity, you will be ready for a hearty and casual dinner. I suggest a spot on the edge of Santa Fe—Harry's Roadhouse, an upscale truck stop/diner, extremely popular with the locals. It is very casual, with a wonderful back garden for outdoor dining in warmer weather. The menu concentrates on basic, comfort food—meatloaf, ribs, enchiladas, pizza and pasta. Save room for the big selection of desserts. Harry's is especially famous for its pies. Oh, and it's a stop along the 40+-stop Santa Fe Margarita Trail, so you might want to try their signature cocktail, and be one margarita closer to a fun participation reward.
---

Georgia O'Keeffe's "Greatest Hits" Day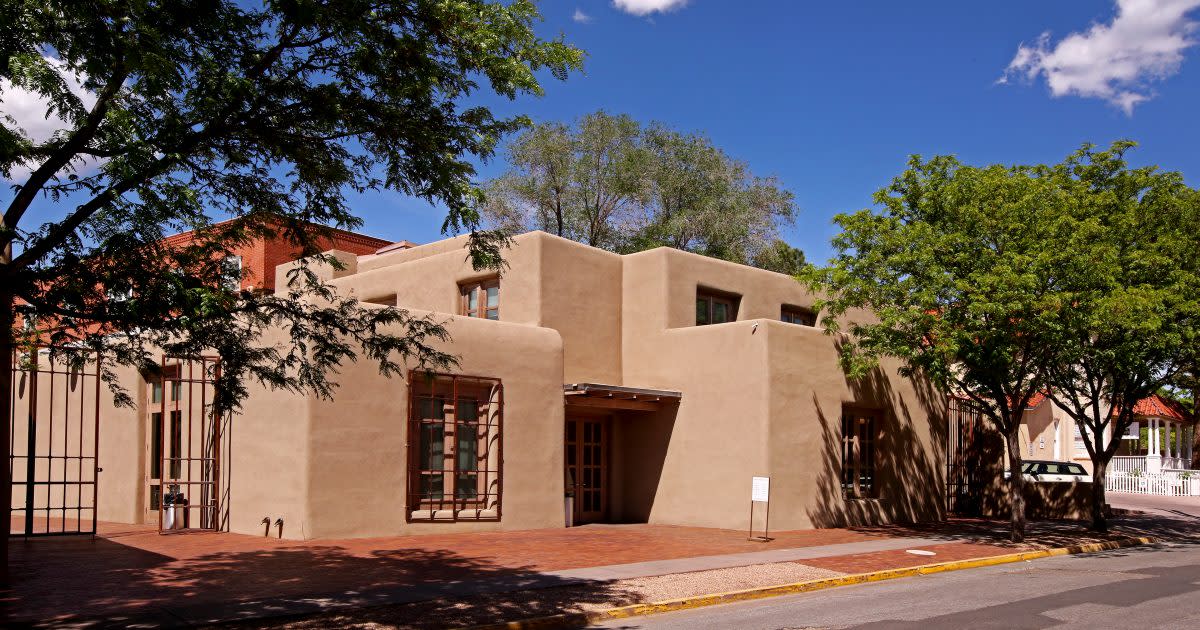 This day is devoted to Santa Fe's most illustrious artist, the incomparable Georgia O'Keeffe. Because this is such a full day in the dry environment of Abiquiú, I recommend booking a facial or massage for the late afternoon/early evening to rehydrate your skin and work out the kinks from your day of touring. You will want to book your spa appointment in advance, and more important, you will want to book your tour of the O'Keeffe Home & Studio in Abiquiú and/or tour at Ghost Ranch Education and Retreat Center, a 21,000-acre property O'Keeffe purchased in 1940, now operated as a non-profit. Visit both websites and plan ahead. Your drive to Abiquiú is about an hour.
Consider a quick stop at San Ildefonso Pueblo. Displayed there are some works of Maria Martinez, the most celebrated makers of the revived "black-on-black" style of pottery. She died in 1980, but her children continue her artistic tradition, producing many fine works themselves.
After that diversion, you are on your way. Either before or after your O'Keeffe tours, make a stop at Bodes General Store. Here you can munch on one of their award-winning green chile cheeseburgers or deli sandwiches. Or, you can sip a latte, buy live bait, get some holiday decorations, Spam, camping supplies, a bottle of wine, groceries, or hunting ammunitions. Bodes, opened in 1890 as a general store, post office, stagecoach stop, and jail, has something for everyone, including gas!
As you head straight back to Santa Fe, being sure to take in the breathtaking scenery along the way, including Abiquiú Lake, the red geologic formations, and the Chama River
Need more Georgia? You might want to stroll down to the Georgia O'Keeffe Museum, a small museum dedicated to the Modernist artist's legacy, housing a fine permanent collection of O'Keeffe's work that represents the many periods of her career. Now that you have seen where she painted, viewing her works will be that much more interesting.
Thank goodness that it's time for your spa appointment now as your body/face will be appreciative of the soothing hands of your therapist!
To round out your "O'Keeffe Day," you might try dinner at an acclaimed Italian Sassella, next door to her museum. Housed in a historic building that harbored Union officers during the Civil War, the restaurant is named after a small town in Italy, known in part for its wine made with the Nebbiolo grape. The executive chef Christian Pontiggia hails from the region.
---
As you consider this itinerary or build one of your own, the Official Santa Fe Visitors Guide can be an important resource. Also, our Accommodations section will hook you up with a place to call home during your visit, and the Dine section can direct you to our acclaimed restaurants—advance reservations are a wise idea in this town, popular among foodies!