FAMILY ADVENTURES IN SANTA FE
The City Different cannot wait to welcome you and your family. Plan ahead by checking out our accommodations and our extraordinary cuisine!
There are a ton of ways to make great memories in Santa Fe. We know it's best to keep the young ones engaged, so why not plan a bit with our guide, organized by the temperament of your kiddos!
Your kids love indoor fun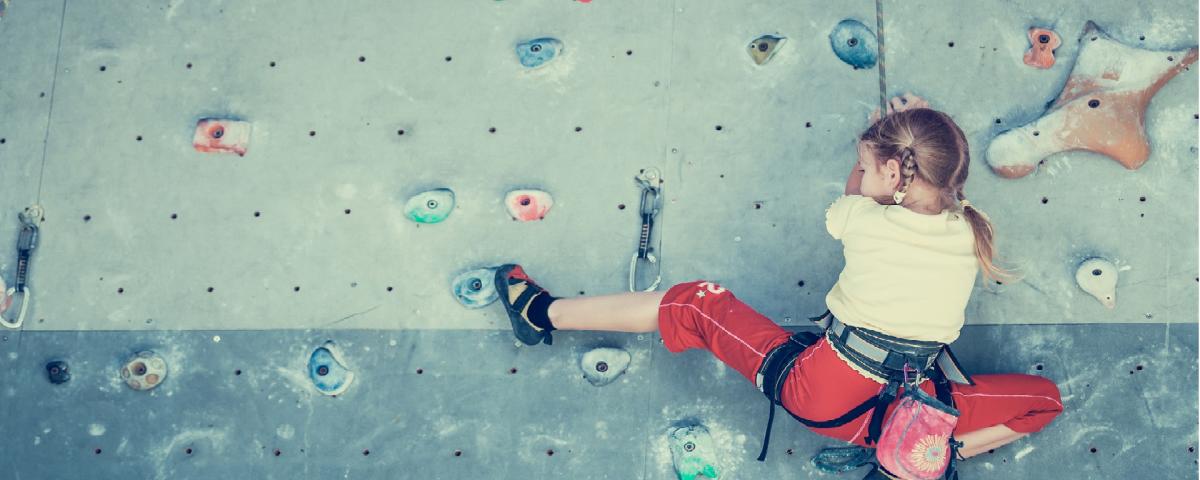 Climb the Walls
Adventurers of all ages can climb the brightly colored walls at the Santa Fe Climbing Center. Day passes, rentals, and instruction are available.
Swing from the Ceiling
LiggettVille Adventure Center dominates when it comes to fun and variety—a ropes course and a zip rail for tykes and older kiddos, plus a climbing area. And all of that jazz amid a delicious food court in Santa Fe Place Mall environs.
Skate the Banks
Do you have a ripper, a rider, or a racer? Skate School could be the spot for your boarder. The no-frills indoor facility offers lessons and emphasizes the fundamentals and safety and fun. If your kiddo is already schooled, check out these parks: downtown at DeVargas or southside at General Franklin E. Miles.
Play all Day
A pretty obvious destination for your kiddos 10 and under: the Santa Fe Children's Museum! Plan a multi-hour stay, exploring the many immersive exhibits, inside and out on their 1.5 acres of space. Take note of their special days. 
Swim, Swoosh, and Skate at the GCCC
At Genoveva Chavez Community Center, the city's public recreation facility, there are hoops, an ice skating rink, and a sloped-entry Leisure Pool (featuring slides, toilet bowl, and lazy river plus a few slides) to occupy and delight your active youth. Affordable entry fee, snack bar, and rentals. 
Roll with the Fam on Four Wee Wheels
Go old school and take the fam rollerskating at this funky Santa Fe fave–the alien-themed (yup, you read that right) Rockin' Rollers Event Arena. Skate rentals, snack bar, and fun game diversions.
Team Up to Get Competitive and Sporty
Your family could spend at least half a day at The Alley Lanes, new and muy modern, just a 10-minute walk from the Plaza. With bowling, billiards, darts, bocce, shuffleboard, an arcade, AND great food and a full bar, you might want to stay all day. Tons of specials, too.
Find a Fun Fam Film
There's nothing like relaxing in front of a good family movie, particularly when there's food and drink involved, all of which you can find at the Railyard District's Violet Crown Cinema or Jean Cocteau Cinema.
Socialize with Bugs!
Warm up to a variety of live reptiles and invertebrates and even touch or hold the ones at the Santa Fe Reptile and Bug Museum. Peruse natural history exhibits and check out the gift shop, featuring mounted insects, toys, fossils, t-shirts, and more!
Your kids love to explore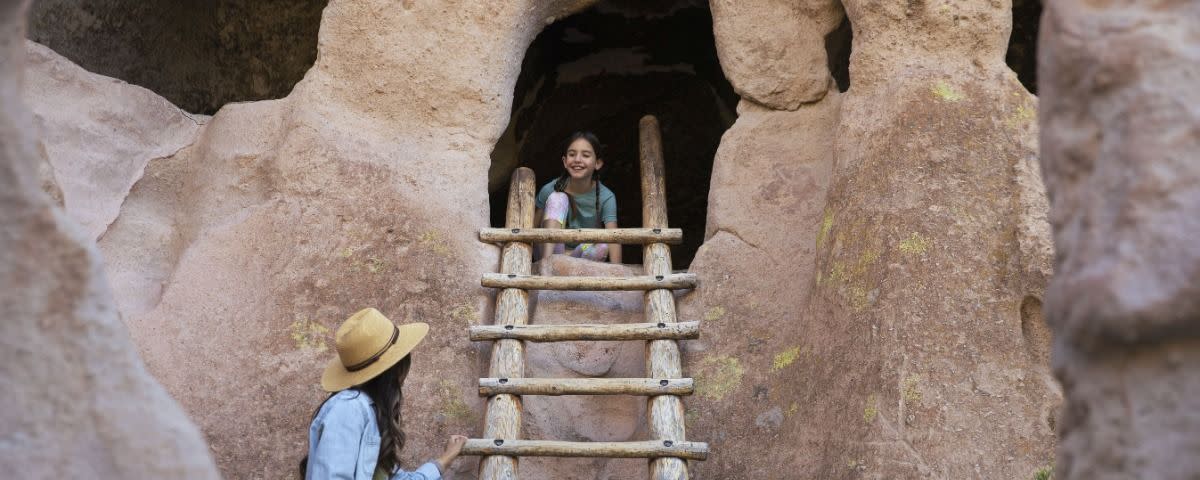 Ramble the Ancient Rocks
Regardless of your kiddos' interest in ancient history, Bandelier National Monument's petroglyphs and rock cliff dwellings are pretty cool. Thanks to the National Park Service for preserving the evidence of the Ancestral Pueblo people from 1150 CE to 1550 CE.
Loop Along a Nature Trail
You do not have to call it a hike—just an easy walk 'round a 1.3-mile loop at the Santa Fe Canyon Preserve. There are plenty of opportunities to pause and some great interpretative signs along the way.
Hire an Adventure Guide
If you'd call your kids (and yourselves!) rugged, consider a guided day trip in our great outdoors with Santa Fe Mountain Adventures. Their longtime guides can enhance your experience with extensive knowledge of the flora, fauna, and history of the area. 
Discover Our Natural World
A delightful spot for picnic, play, and general discovery is at the Randall Davey Audubon Center. Be sure to ask the friendly volunteers at the visitor information center any questions about the nature trails and opportunities for bird and wildlife sightings. Don't miss the Nature Discovery Area, including a treehouse and a seed library.
Ride a Fat Tire
Is your child a burgeoning mountain biker? The 25 miles of dirt trails at La Tierra Trails are in consistently excellent condition, and you'll never lose your way with the maps at every juncture. Any of the three different trailheads are a great option. For the beginner, pump and practice at Alto Park.
Slip-Slide-Sled Away
If there's ample snow on high, try sledding at Hyde Memorial State Park or Black Canyon Campground, 15 to 20 minutes from downtown.
Shred the Slopes
Spring skiing at Ski Santa Fe is pretty glorious. Great temperatures, terrain for all levels, rentals, instruction, and two cafes with beautiful decks for soaking up that wonderful spring sun.
Tee it Up at the Links
The 9-hole Great 28 at Marty Sanchez Links de Santa Fe is a perfect little course, featuring eight par 3s! You'll have spectacular views the whole time. The Pro Shop will rent you a cart and a decent selection of clubs. Adjacent is a delicious cafe with TV screens, a bar, and ample outdoor seating.
Angle Our Waters
Spring can be a great time to wade in nearby waters in search of fish. With guidance and equipment from The Reel Life, your family will have an excellent time.
Park and Play for an Afternoon
Our small capital city sports no shortage of playgrounds, parks, and recreation centers offering options for tennis, basketball, and swimming, or just plain swinging from the monkey bars. Nicknames of some faves include Alto, Ft. Marcy, Frenchy's, Patrick Smith, Railyard, Salvador Perez, Ragle, and SWAN.
Ride the Historic Rails
One of the newer attractions to Santa Fe is Sky Railway. Choose from among a variety of themed adventures aboard these restored and decorated train cars hailing from the early 1900s. Completely entertained, you roll along the tracks to Lamy, New Mexico and back.
Go on a Scavenger Hunt
Here's something your kids—and the kid in you—will love: a scavenger hunt, designed by the locals at Discover Santa Fe. Get to know The City Different with clues and hints and suggestions for deeper exploration.
Get Some Quick Views (and History)
For a quick walk and some grand views, park near the Plaza and climb up to the Cross of the Martyrs. Along the way, there are placards describing The City Different's fascinating history.
Your kids are artistic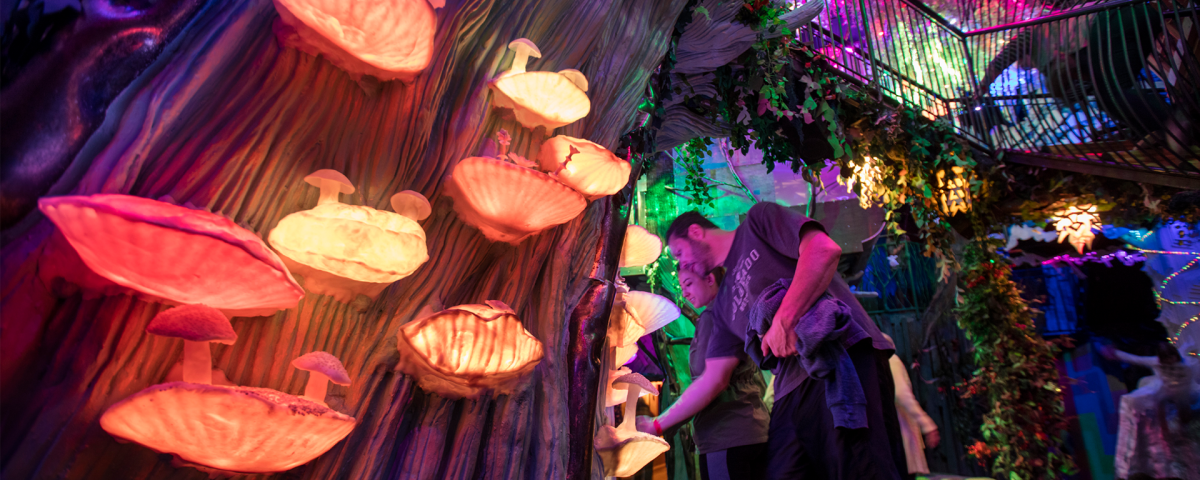 Immerse Your Fam in Story
The original Meow Wolf is a must see and do. Carve out several hours for romping through the House of Eternal Return, a permanent art installation of more than 70 rooms of interactive, hands-on art. Kids under four are admitted for free.
Observe Flora Amid Sculpture
Local flora may not be intriguing to your kids, but when it's mixed and married with massive sculptures along curvy pathways at the Santa Fe Botanical Garden, it can be very exciting. Open weekends during the Spring.
Fly like an Acrobat
There's nothing like the circus and at Wise Fool New Mexico, your kids can get a little glimpse with instruction on acrobatics, trapeze, gymnastics, and more. Spring break camp runs March 14 through 18, 2022.
Add Some Art
With 20 museums to choose among, you are likely to find one that the whole family can enjoy. The Museum of International Folk Art is a kids' fave for the permanent exhibit of Alexander Girard's collection of folk art and the Tree of Life play area, and a parents' fave because children 16 and under are admitted for free.
Find the Best Books
Located in the Railyard District, independent bookstore Bee Hive Books is a sweet stop for a selection curated just for your reader. Check online for storytimes and workshops.
EXPLORE MORE THINGS TO DO