Parks and Recreation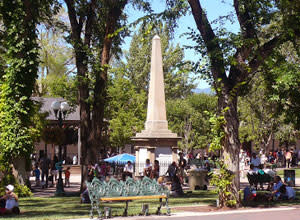 Whether you're an avid fan of fishing, horseback riding or simply relaxing beneath a shady tree in a peaceful park, you'll find plenty of ways to enjoy recreation in Santa Fe.

At the Genoveva Chavez Community Center, the city's largest recreational facility, sign up for a class in kayaking, ice skating, yoga, Pilates, cycling and more. Swim laps or take a water exercise class in the 50-meter pool. Play hockey or twirl on the ice during the public skating time on the ice arena. Drop in for a game of hockey, volleyball, basketball or indoor soccer.

Santa Fe offers more than 50 scenic parks, from neighborhood rose parks to historical and athletic parks. Play a game of tennis on one of the city's outdoor tennis courts or enjoy a leisurely stroll with inspirational views of the Sangre de Cristo Mountains.

Click here for more Santa Fe Park and Plaza maps.