With the sun shining daily in a bright blue sky and dramatic sunsets nightly, Santa Fe summers are simply the best. But as end-of-season beauties like tall, yellow native sunflowers bloom and wave in the breeze, it's obvious that summer is about to give way to fall. And that's fine with us, because it means the hillsides and valleys are about to turn daytime into glorious shades of autumn that rival our evening colors.
Fall Foliage is a Fantasia of Color
Santa Fe leaf-peepers are about to be rewarded. Our colors are as distinctive as they come, with native trees turning shades of crimson and aspen-covered mountaintops drawing the gaze upwards to a host of golden hues. With some pre-hike research, it's easy to find trails that fit your eyeballs and level of expertise. The Santa Fe National Forest's aptly named Aspen Vista offers a moderately challenging four-mile trek up a well-marked road to an 11,000-foot summit with awesome 360-degree views. You can do it on your own, but going on a guided hike with Outspire or Santa Fe Mountain Adventures adds a plethora of fascinating botanical, geologic and historic notes to the adventure. Either way, wear good footwear, bring water, and most important, have your camera fully charged because the unforgettable scenic panorama means many stops along the way.
 Skedaddle Up to the Santa Fe Ski Basin for Scenic Excellence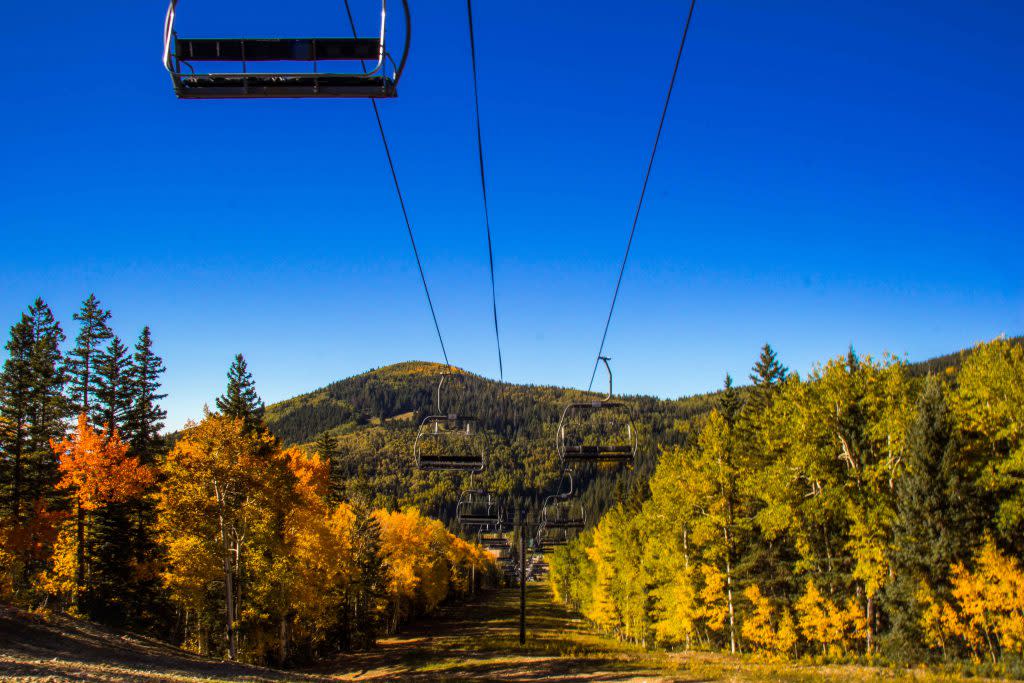 Discovering all the scenery an autumnal heart could desire is a breeze with an eye-popping trip by car up to the Santa Fe Ski Basin. Rounding each curve brings yet another breath-taking vista, and the views just keep coming. The Ski Basin is hosting some fun fall family activities too. The Ski Shop rolls out a blowout sale on last year's goodies with a beanbag toss and a kids' treasure hunt to spice up the action. The Beer Garden will be open on the weekends and there's live music to accompany the brew and the beautiful vistas.
And once you get up to the top of the mountain, opt for a bird's eye view by climbing aboard the Ski Santa Fe Super Quad Lift. This inspiring ride runs through October 14, and grants you the advantage of seeing the whole panorama from a completely new and utterly fantastic perspective.
Picture Memories of Santa Fe at the Canyon Road Paint Out
Attend the October Canyon Road Paint-Out! With more than 150 artists lining this historic street on Oct. 20-21, it's a snap to score a work of art that will remind you of the warmth of Santa Fe when the depths of winter hit. Creating artwork en plein air (working outdoors onsite) gives an immediacy and freshness that perfectly captures the creative essence of the City Different. You'll find artists working in media of every sort up and down Canyon Road, along with how-to demonstrations, gallery openings, musical performances and refreshments along the way. And there's even a festival parade from the Santa Fe Public Schools Music Education program on Saturday afternoon.
---
Fall is such a great time of year to travel. Santa Fe has so much to offer in don't-miss moments. Once you're here, Santa Fe's golden magic will surely work its spell on you. Order the 2018 Santa Fe Travel Guide now or browse our deals and specials to help you plan your next trip to Santa Fe.