The concept of "taking the waters" is nothing new. For centuries, people from all walks of life have sought refuge in natural, mineral-rich water for ailments ranging from arthritis to zinc deficiency. Here, in Santa Fe, restorative waters abound. From an outdoorsy rustic adventure to a deluxe pampered spa experience, Santa Fe and the surrounding area have much to offer. As if the Land of Enchantment could squeeze in any more magic, a visit to one or all of these places will deepen your appreciation for what locals have known all along—water is powerful medicine. Come see for yourself!
---
Ten Thousand Waves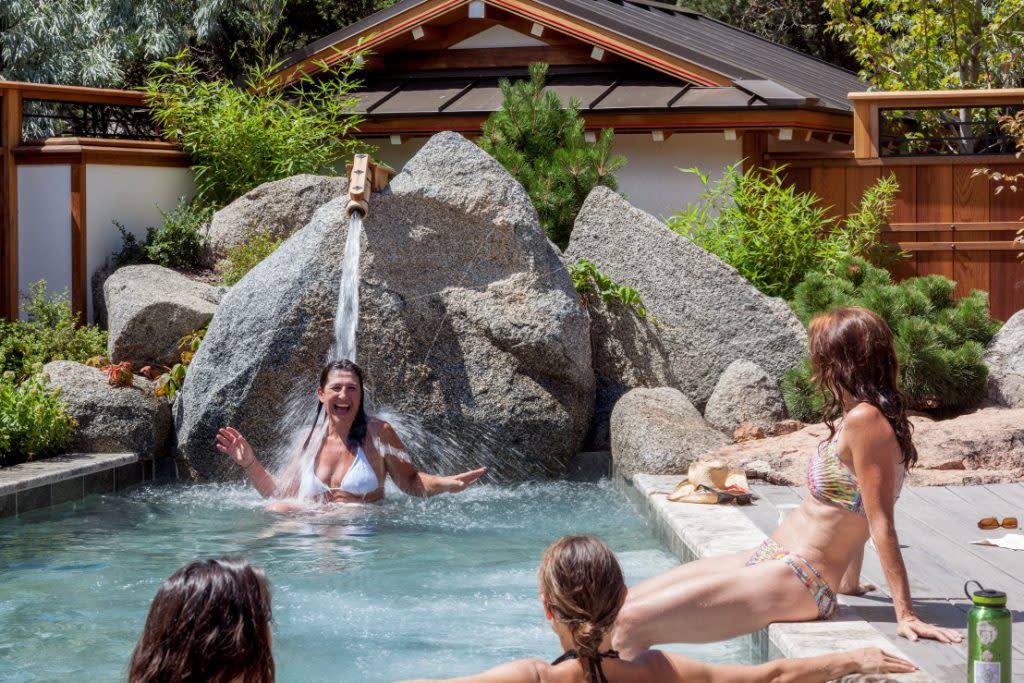 The crème de la crème of soaking experiences lies only seven miles from downtown Santa Fe. Ten Thousand Waves is a world-renowned Japanese-style health spa and retreat, surrounded by 20 acres of piñons and junipers. Soak in one of their private reservation-only outdoor tubs, styled after the great hot spring onsen of Japan, and complete with sauna, shower, and bathroom, or partake of one of their illustrious spa treatments. Just walking into the reception area is a feast for the senses—the sound of water, the earthy smells of sandalwood and lavender emanating from the products in the gift shop, and the sparse woodsy decor all combine to immediately relax the body. Lodging is available in the tradition of the Japanese ryokan, just a short walk from the spa. And you'll definitely want to reserve a spot at izanami, offering upscale izakaya fare—small plates served in a casual atmosphere with the most extensive selection of premium Japanese sake within a thousand miles! 
---
Ojo Santa Fe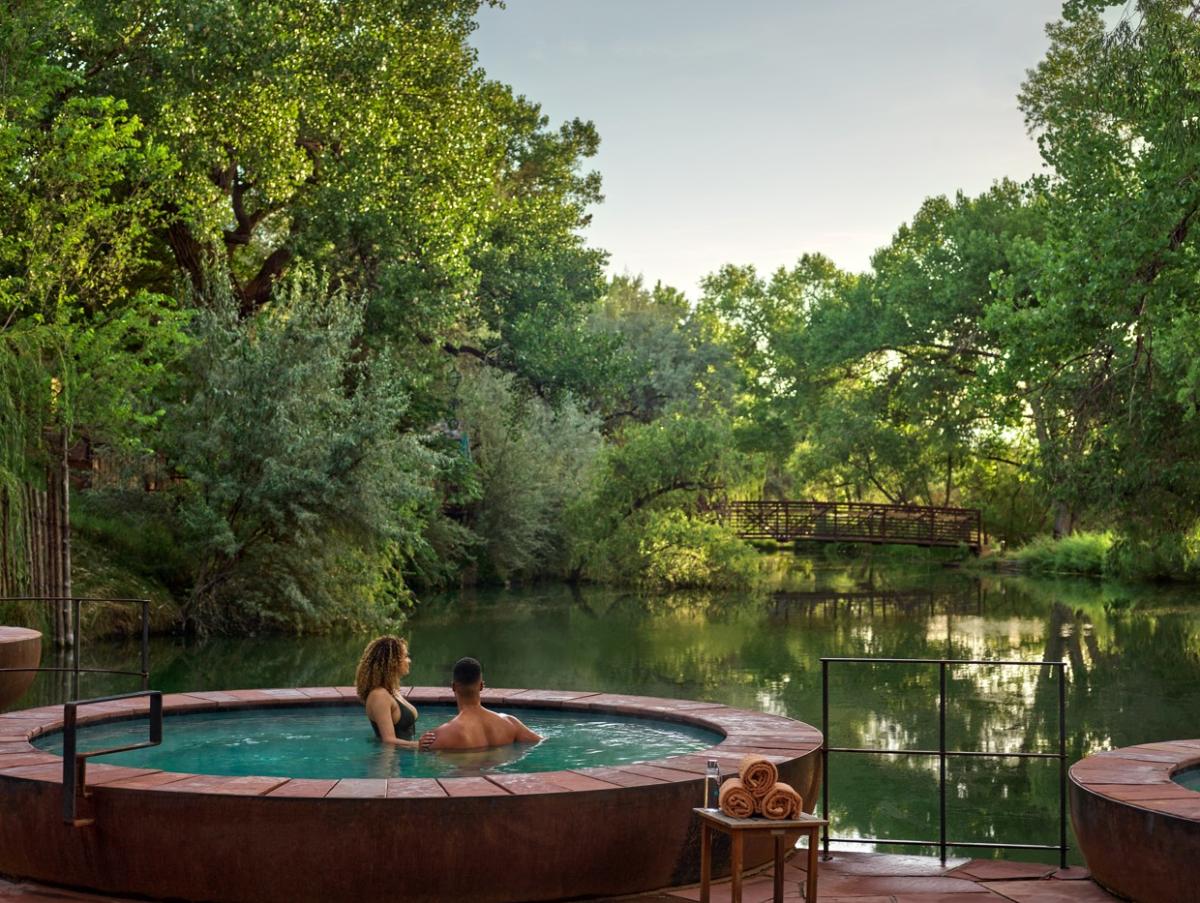 Just 20 minutes from downtown Santa Fe, you can luxuriate in bucolic tranquility at Ojo Santa Fe, a 77-acre property, lush with cottonwoods, grassy lawns, and an expansive pond. Stay overnight or enjoy a day pass, which gives you access from 10 to 10—just enough time for you to explore the many spring-fed thermal pools and the seasonal salt water pool. Soak in private, intimately by the pond, or hang out poolside in one of the shady hammocks. Add a body treatment to the mix to amp up the serenity. And definitely reserve your appetite for the farm-fresh menu at Blue Heron Restaurant, where you can hope to enjoy a table overlooking the pond. Pro tip: Take advantage of the generous policy to sip and snack while soaking—Sages Café & Lounge has a great selection of items.
---
Ojo Caliente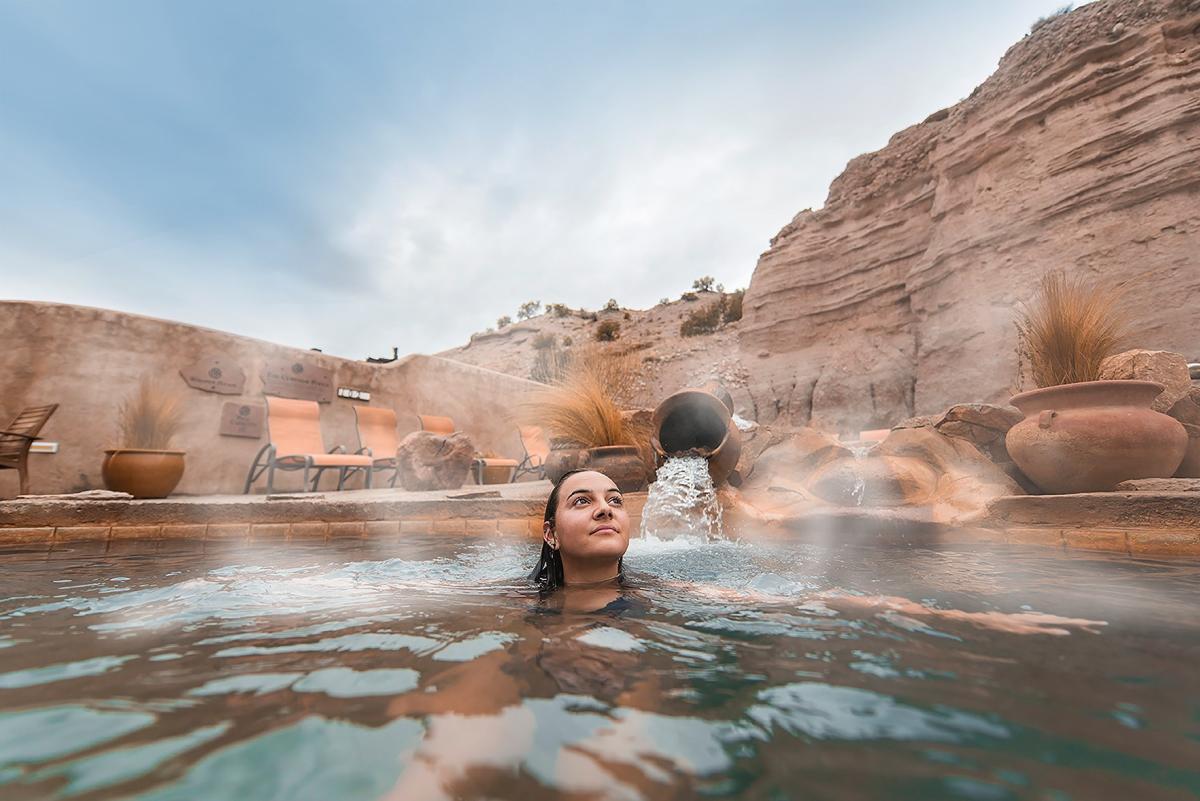 Photo courtesy of Ojo Caliente

Sister to the other ojo (Spanish for hole) and only about an hour north from Santa Fe is the oasis known as Ojo Caliente (hot hole), one of the country's oldest health spas, nested between the rugged desert cliffs and a cottonwood-lined bosque. If the glorious red rock surroundings and wafting aroma of piñon don't immediately begin to calm you, then a dip into one of the many steamy pools will. Get yourself a day pass and you are granted access to all pools, ranging between 80 to 106 degrees Fahrenheit. Each pool flows with pure mineral water straight from their hot spring, so you must try them all, including Lithia, Iron, Soda, and Arsenic, and the Mud Pool, plus a large and cooler outdoor pool, great for kids. Don't forget to add a body treatment at the spa and a meal at the farm-fresh Artesian Restaurant to your day's itinerary or stay overnight in one of Ojo Caliente's various accommodations, including an historic 1,600-square-foot adobe home. 
---
Jemez Springs Bath House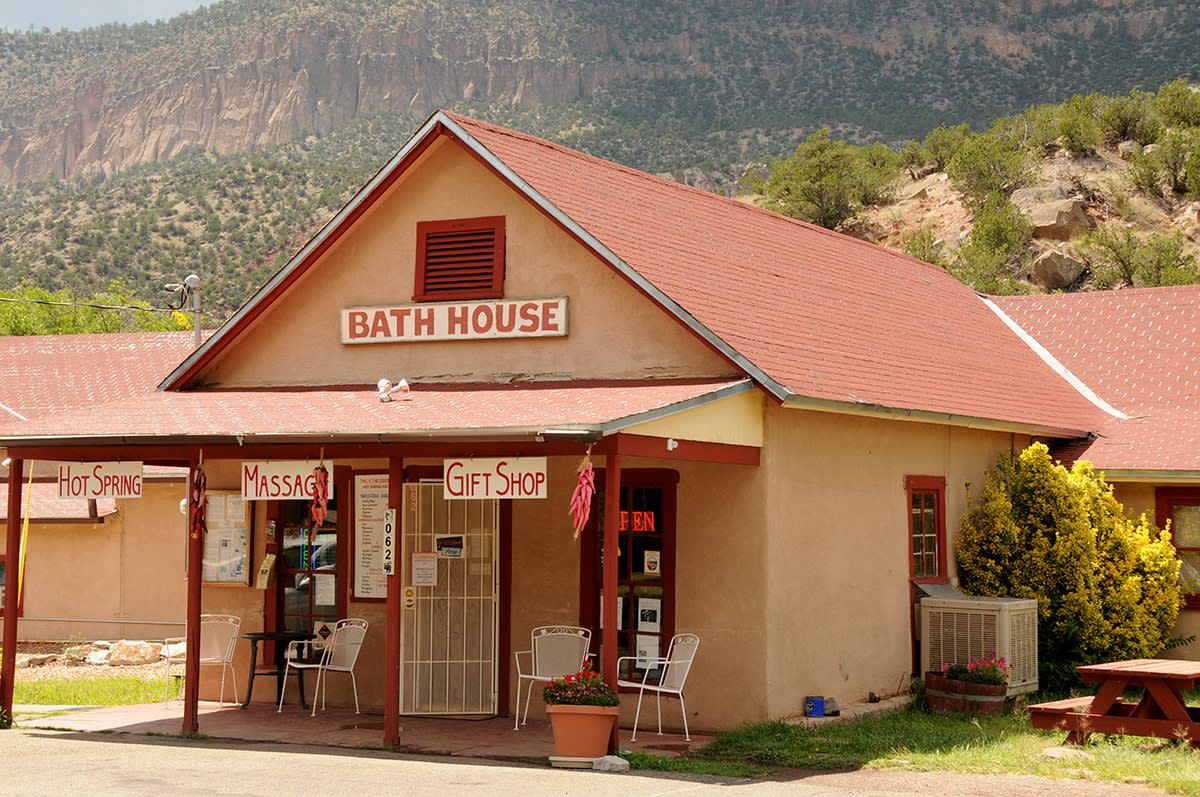 (Photo courtesy of Jemez Springs Bath House)

If you desire delving into a bit more adventurous soaking, the town of Jemez Springs is just 1.5 hours northwest of Santa Fe. After the awe-inspiring drive, you will find the charmingly funky Jemez Springs Bath House, established in 1876. There are no frills here, just simple but large individual soaking tubs located within the village-owned bathhouse. While the vibe is decidedly less cosmic than other hot spring spa settings, the water is filled with the age-old healing properties of the minerals, and soaking here will leave you relaxed and calm. There's a generous menu of massage and body treatment services to round out your experience.
---
Jemez Hot Springs
The mineral-rich Jemez Hot Springs is a lovely hidden gem situated on private property about four miles from the village bath house. The setting is tranquil and inviting, with the Jemez River running close by. A limit of 30 walk-in guests are permitted at a time in the three sweet, non-sulphur pools, whose water ranges from 98 to 105 degrees Fahrenheit, and originates from deep beneath the Valles Caldera National Preserve, about 17 miles up the mountain. Lodging is available on the property and nearby, perfect for small, peaceful group getaways. 
---
Spence Springs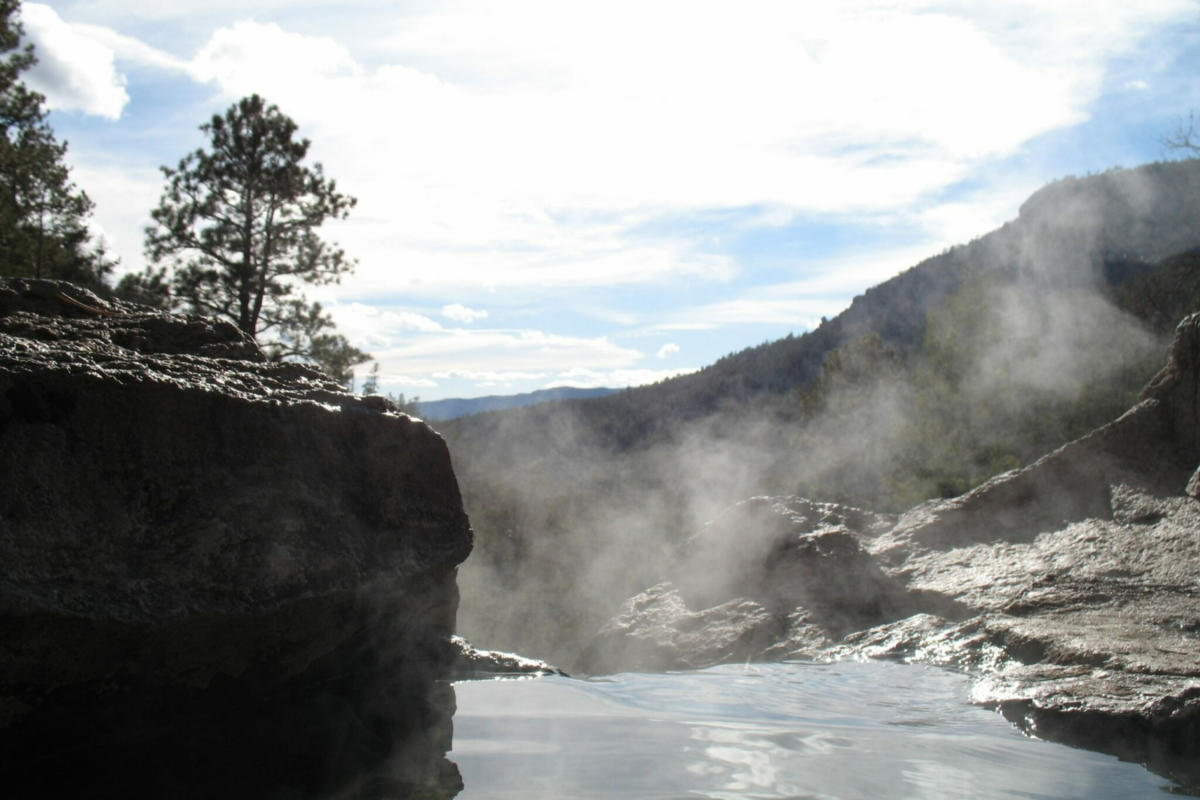 Photo courtesy of Charles Kiyanda

If you are up for a bit of a more challenging soaking experience, Spence Springs might be the place for you. Located off NM 4, there is a gravel lot for parking, and then about a 15-minute hike up some moderately rocky terrain. 
The springs consist of two pools carved into the rock, with the upper pool being a few degrees warmer as it feeds into the lower one. Each pools only holds 8 to 10 comfortably, so the experience here is fairly dependent on those around you. There are no changing rooms, cotton robes, or scented lotions up here, and sometimes no bathing suits—just the purity of the water running wild, as it was intended.
---
In-Town Spas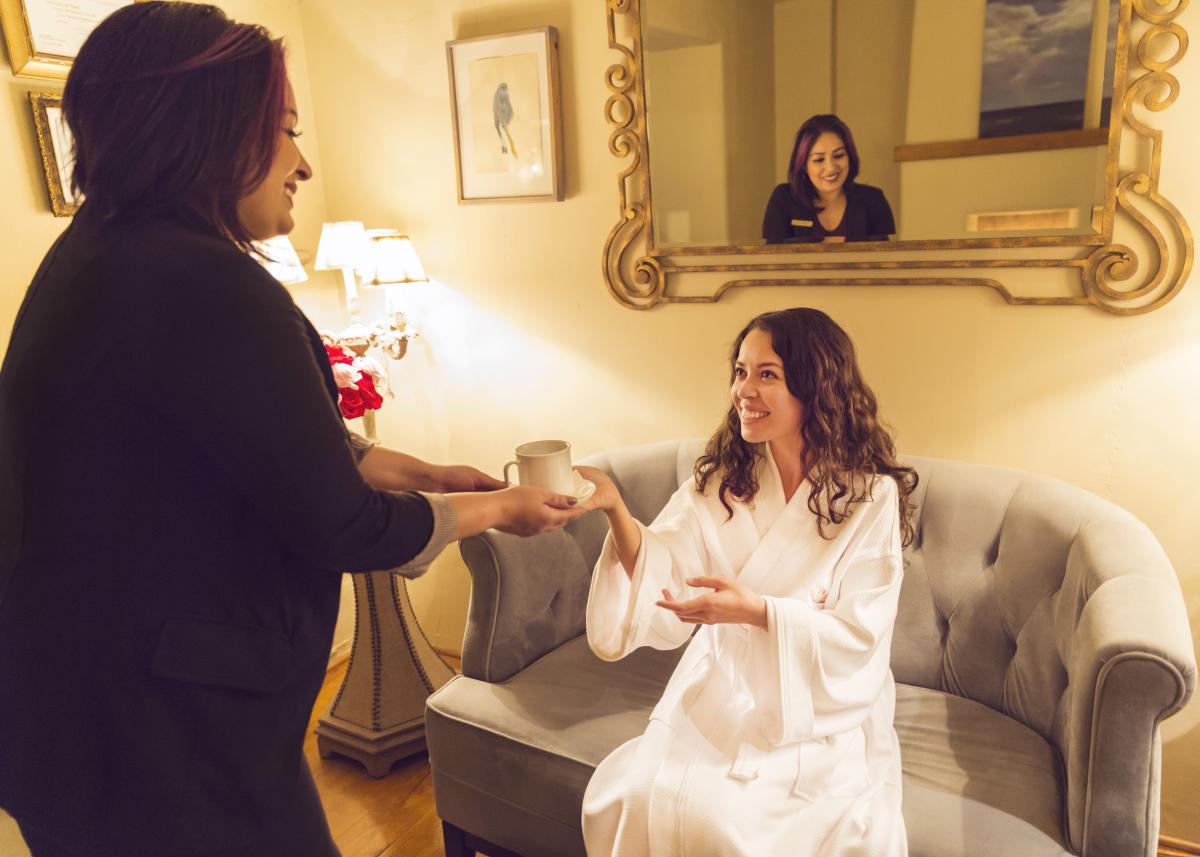 (Photo courtesy of The Spa at Loretto)
If you're staying within the city limits and want a close-by spa adventure, Santa Fe boasts some of the most inventive and wholly original spas and treatments, specifically tailored to incorporate the healing properties of our special corner of the world.
Spa Sage at La Posada features the High Desert Header, which utilizes ginger root and arnica oil. 
The Spa at Loretto offers the 4 Elements Ritual, designed to connect you to the spirit of New Mexico, beginning with a Native American smudge blessing.
Nidah Spa located in the Eldorado Hotel, offers the Kansa Facial and employs an Ayurvedic Kansa massage wand made with the healing metals of copper, tin, and zinc.
The Spa at Hotel Santa Fe offers many treatments specific to the Land of Enchantment. The Squash Blossom Body Scrub & Wrap contains pumpkin extract and malic acid to smooth away any rough areas of your skin, plus a brown sugar scrub and wrap—delish!
Do yourself a favor and experience the transcendent power of water. Whether on a solo journey, a romantic getaway, or a family vacation, Santa Fe and environs offer ample opportunity to soak your bones, take in majestic beauty, and maybe, just maybe, be healed.
---
Get a taste of The City Different! Order your Official Santa Fe Visitors Guide now or browse our deals and specials to help you plan your next trip to Santa Fe.