It's only natural to imagine all sorts of divine culinary treats when you think of Santa Fe. Still, in a city jam-packed with inventive and world-renowned restaurants, there are some days when only a hamburger will do. Fear not, burger obsession is perfectly normal, especially during May, which is National Hamburger Month.
True, Santa Fe is best known for chile and New Mexican delicacies, but I'm here to petition that the City Different be crowned "Hamburger Heaven." From lamb to prime rib, buffalo to veggie, there is a burger for every palate. Here's my official Santa Fe hamburger greatest hits list. Dig in, and then share your own favorite burger discoveries. It's all good.
Veggie Burger Comes Home: Del Charro
Del Charro Saloon at the Inn of the Governors is tops for fulfilling your meat-free burger needs. This festive tavern is a favorite amongst locals for reasonably priced, uncomplicated food and well-crafted margaritas. The atmosphere is energetic and fun, with a warm and welcoming vibe. The veggie and grain burger is a bargain at $5, but I suggest adding on the green chile and avocado to enhance the deliciousness. This is by no means a bland patty, and you get the satisfaction of a burger without the guilt. They don't skimp on portions or flavor here, plus Del Charro serves food until midnight.
Grab a Seat at the Local Diner: Plaza Cafe
I love a genuine diner, and the Plaza Cafe has that quintessential charm. Cozy booths, a black and white tile floor, swivel bar stools, and an atmosphere that is alive and bustling all combine to make this family owned restaurant a beloved institution. Located directly on the Plaza, this haunt has been dishing up fine traditional New Mexican, classic American, and Greek fare since 1947. If you are on the burger trail, take the path that leads to the incomparable turkey basil burger. The herbs and spices, along with the perfect hints of fresh basil, make this dish a standout. Juicy, lean, and mouthwatering, I can almost guarantee that you will be craving this impeccable burger, and, if you're like me, trying your best to recreate it at home. While out strolling the Plaza and taking in the sights, be sure to pop into this Santa Fe treasure.
Southwest + Mediterranean Meet Half-Way: Joe's Dining
Joe's goes several steps beyond traditional diner fare to offer a great selection of locally sourced meats, cheeses, and vegetables, and it pays off. This restaurant, located in a neighborhood shopping center just a short drive from downtown, is a great local hangout, but the flavors and Mediterranean-influenced entrees are fresh and inspiring. Roll on in and order Joe's award-winning creation: the Greek lamb burger. Local, organic lamb is grilled on an open fire mesquite grill, and then topped with feta and Kalamata olives and a side of tzatziki. Can you say "opa!"? This is a creative and delightful burger, harmoniously accompanied with homemade sweet potato and russet chips. Do not miss this inspired dining experience.
Where Green Chile Rules the Roost: Staab House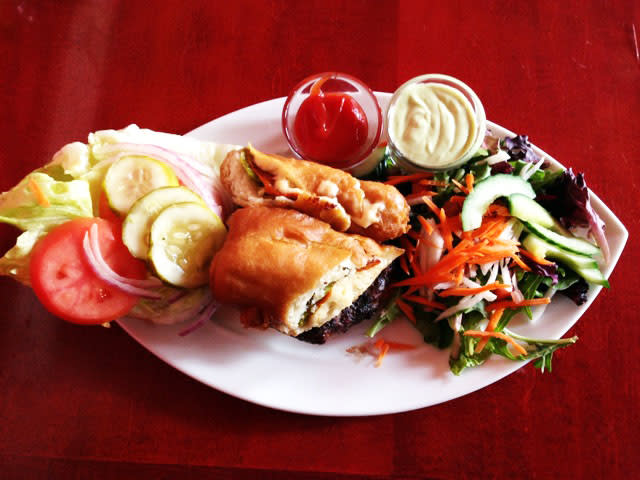 Santa Fe and Green Chile have a long and fiery relationship, and when it comes to burgers, things only get juicier. Case in point, The Staab House–an authentic, timeless saloon located just steps off the Plaza–where locals and fortunate visitors can experience the culinary fusion of succulent Kobe beef and smoky New Mexico green chile.
Alongside the cozy, red-walled dining lounge, a secluded patio welcomes diners, happy hour compadres, date-night couples, and serious burger enthusiasts. The quintessential Santa Fe burger at the Staab House? Without question, the Green Chile Relleno Kobe Burger. No, that is not a typo. This brazen burger features a freshly made green chile relleno (what could be more authentically Santa Fe than that?) reclining with come-hither confidence atop a perfectly grilled Kobe beef patty.
Dressed with traditional garden-fresh green veggies, ripe tomatoes, and nestled into a pillow-soft bun, this burger is a divine exercise in contradiction: subtle and bold, sweet and spicy, traditional and innovative. But no matter how you describe it, chances are you'll find room for the Green Chile Relleno Kobe Burger on your burger bucket list.
Dressed-up Burger, Laid-back atmosphere: Five Star Burgers
The art of "chill" is perfected just 5 minutes from downtown Santa Fe, where friends, families, outdoor adventurers, and rowdy sports fans gather to experience burger nirvana at the aptly named Five Star Burgers. Here, the daily options – and there are plenty – are listed on a chalkboard, and the servers are on a first-name basis with the smiling burger faithful who pour in for lunch, happy hour, and dinner.
Don't let the casual atmosphere fool you. Five Star Burgers is serious about their burgers. Perhaps the greatest testament to this is an item you won't find in a run-of-the-mill burger joint: the Five Star Crab Burger.
Lighter but no less flavorful than beef or game options, the Crab Burger satisfies both your adventurous and less-carnivorous side all at once. Delicate crabmeat and a secret blend of spices create a tangy patty that is basted with a sweet chile sauce – you are in Santa Fe, after all – and grilled to mouthwatering perfection. Tucked in a fresh wheat bun, and served with crispy slaw and tartar sauce, the Five Star Crab Burger brings big flavor and an offbeat twist to the Santa Fe burger landscape.
Buffalo Done Right: Harry's Roadhouse
Just a short way down Old Las Vegas Highway waits another beloved eatery, Harry's Roadhouse, a Southwestern-styled funky oasis that's always hopping. From blue corn pancakes to Thai curry, this place has all of the bases covered. Their most popular item, though, is the locally raised, simply yummy La Mont's buffalo burger. For the uninitiated, buffalo has a bit of a sweeter taste than beef, and is usually less greasy because of a lower fat content. This is a "healthier" burger and you can feel justified in cleaning your plate, even those perfectly crafted hand-cut fries.
No matter what your taste is, adventures await you on your search for the perfect Santa Fe burger. Traditional to innovative, lean and healthy to decadent and indulgent, it won't take long for you to find the patty of your desires. Explore and enjoy "Hamburger Heaven" for yourself. I'd love to see pictures of your favorite burgers so post them here.