It's never too early to start thinking about your family's 2017 Spring Break getaway, especially with all the free things Santa Fe has to offer kids!  Santa Fe businesses have joined forces again for [blog_link url="https://santafe.org/Spring_Break/" text="Kids FreeFest Spring Break 2017" date="2017-01-10"] , the 2nd Annual city-wide initiative that welcomes families throughout March and the middle of April by providing kids 12 and under with complimentary lodging, meals, spa and culturally immersive activities in The City Different. Experience a different kind of Spring Break this year in one of the world's most award-winning destinations for families seeking adventure, relaxation, and genuine culture and experiences.
Santa Fe's Kids FreeFestSpring Break 2017 includes a variety of lodging offers, treasure hunts, spa treatments, and sport and outdoor adventure. There's also free art classes, museum exhibits, Flamenco classes, an Easter egg hunt—and of course some very delicious meals and including our famous Northern New Mexico cuisine. Here are few Kids FreeFest Spring Break 2017 suggestions for your family to consider.
Visit one of Santa Fe's Most Unusual and Exhilarating Museum
The Museum of International Folk Art has gained national and international recognition as an accredited museum that is home to the world's largest collection of folk art. The exhibition galleries will have a special appeal to children of all ages with interactive activities and docent-led hands on art making activities. Kids under 16 are admitted free.
If you're looking for other culturally-immersive experiences, be sure to check out other participants that include The New Mexico Performing Arts Society presenting a J.S. Bach concert for you and your family to enjoy. You'll also want to join Fifth Generation Trading Post owner Jed Foutz at this Santa Fe gallery for a special treasure hunt experience. All who come in and use the password "kachina" will get a piece of turquoise and have an opportunity to learn about Kachina dolls.
Ahoy! There Are Treasures At The Drury
Treasure hunting is always a fun way to have the children learn and discover. The Drury Plaza Hotel Santa Fe will be giving kids a Treasure Quest upon check-in,  a map of items to search for around the hotel. If they find every item, they receive a small treasure! The Kid's Quest package also includes a 10% discount at the hotel. Did we mention kids also stay free? Free hot breakfast, free Wifi, and free popcorn and soda round out the package.
This is just one of many amazing lodging offers during Spring Break. Check out the other specials for Inn at Santa Fe, Rosewood Inn of the Anasazi, Four Seasons Resort Rancho Encantado, La Fonda on the Plaza, Casas de Guadalupe, Eldorado Hotel and Spa, Hotel Santa Fe, Inn of the Governors, Santa Fe Sage Inn and The Inn and Spa at Loretto, Courtyard by Marriott, La Posada de Santa Fe, and [blog_link url="https://santafe.org/Spring_Break/" text="Santa Fe Springbreak" date="2017-01-10"]
Buy Two Lift Tickets, Get One Free
If you're looking for a family outdoor activity with the family, Ski Santa Fe should be on your list! The ski area has great terrain from beginner slopes to small bowls. Learning to ski is fun and on Wednesdays in March, children will be able to obtain a free lift ticket at Ski Santa Fe when two adults purchase two.
Another outdoor activity that would interest your children could be a free skateboard lesson at the Skate School! Kids get a free private skateboard lesson with the purchase of any complete board. Ten Thousand Waves is also letting kids under four feet in free when an adult pays for a private hot tub! Free kids must be 4 feet or under and accompanied by an adult.
Outdoor activities always bonds the family! Be sure to check out even more offers at [blog_link url="https://santafe.org/Spring_Break/" text="Kids FreeFest 2017" date="2017-01-10"].
 Spend Time With Your Children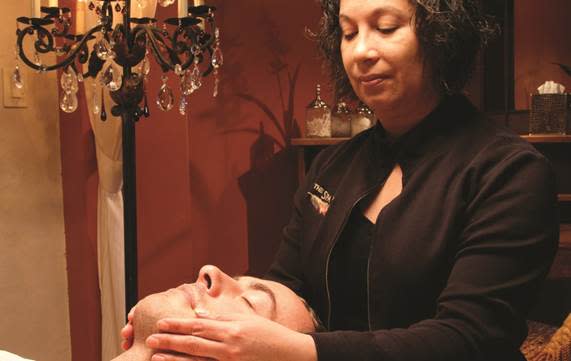 Attention Dads! Submit yourself to a massage and/or facial at The Spa at Loretto. (Photo courtesy of The Inn and Spa at Loretto)
Here's a great opportunity for dads, moms and kids to spend quality time together by pampering the entire family with relaxing spa services. The Spa at Loretto is offering a free manicure for children under 12 with the purchase of an adult 50-minute or more spa service. Hilton Santa Fe Buffalo Thunder will also offer a mani or pedi at Wo' P'in Spa for your child with one adult purchase. The Four Seasons Resort at Rancho Encantado will offer a 50% percent off a custom Teen Facial when you book one adult facial.
Bestow the enjoyment of spa and wellness to your children. It's a lesson they'll cherish as they get older. Check out more spa and wellness offers at [blog_link url="https://santafe.org/Spring_Break/" text="Kids FreeFest 2017" date="2017-01-10"].
Who Doesn't Love Hamburgers?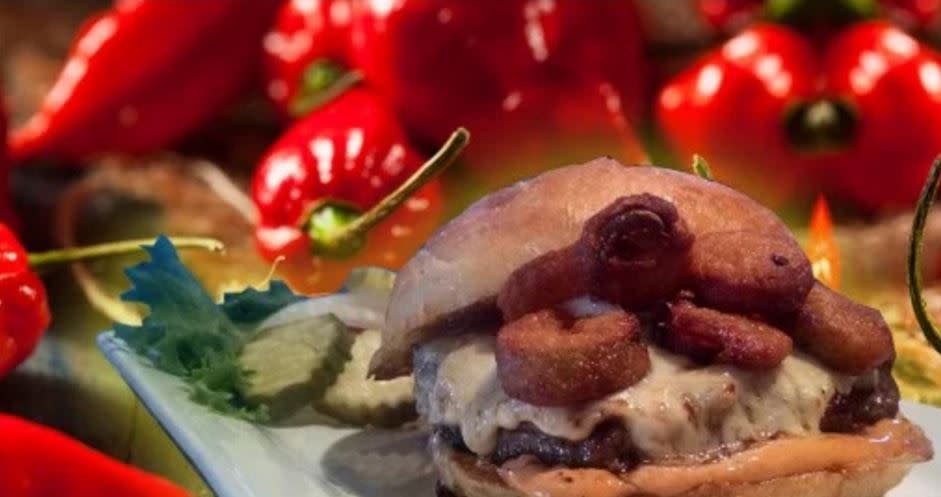 Five Star Burgers has been providing all Natural, hormone and antibiotic free Beef since 2008. (Photo courtesy of Five Star Burgers)
Five Star Burgers is a local chain that uses only the freshest ingredients and will be offering free kids meals with a drink to children 10 and under. You'll want to bring the family and sample their signature hamburgers, salads and sandwiches. Five Star Burgers will off a free kids meal for children 10 and under.
Kids can also eat free at the following Santa Fe restaurants: Inn at Santa Fe, L'Oliver, Rosewood Inn of the Anasazi, Terra Restaurant and Hotel Santa Fe. Ten Thousand Waves will be offering a menu drink at Izanami Restaurant.
This will be a truly different and unforgettable Spring Break for your family. To check out all of the  deals and the expanding list of participating partners, please visit  [blog_link url="https://santafe.org/Spring_Break/" text="Kids FreeFest 2017" date="2017-01-10"].  After you check out the deals, order the new [blog_link url="https://santafe.org/Visitors_Guide/" text="2017 Santa Fe Travel Guide" date="2017-01-10"] for more ideas for your family getaway. We hope to see you real soon!