The first weeks of October are high times in New Mexico, especially for balloon pilots and their friends! The Albuquerque International Balloon Fiesta began in 1972 with only 13 hot air balloons and has blown up (pun intended) into the world-class festival it is today. This year, more than 600 balloons will launch from a 365-acre dedicated park. Due to a stellar 43-year safety record, visitors can amble among the balloons – which come in every shape and color combination imaginable – for up-close views and a chat with the pilots and crew.
The glorious October weather also plays a starring role, with cool mornings giving way to glorious autumn sun. Early risers catch the Dawn Patrol and the evening balloon glows offer an incredible opportunity to admire these majestic "sailboats of the air." Balloon Fiesta is definitely a bucket-list event, and approaching it from Santa Fe is the insider's way to get the best of everything.
Make Santa Fe Your Home Base for Balloon Magic
Albuquerque hotels will be bursting at the seams Oct. 4-12 during Balloon Fiesta, as the Duke City (Albuquerque's nickname) welcomes more than 100,000 visitors for this signature event. Those in the know head north to grab a great hotel deal in the City Different. From intimate B&Bs to luxurious spa resorts, Santa Fe offers a tranquil respite from the lively action down south. What's more, you can't underestimate the bounty of dining possibilities in our renowned culinary destination.
Early morning launches mean the drive to Albuquerque includes an unforgettable sunrise over the Sandia mountain range. And after the balloons touch down, you can take the scenic drive up the Turquoise Trail to rendezvous for lunch in Madrid at the Mine Shaft Tavern, one of eight finalists in this year's Green Chile Cheeseburger Smackdown.
Stroll and Shop to Your Heart's Content
Take the afternoon to wander legendary Canyon Road and you'll find colors that rival those seen in the balloon ballet above. A self-guided Canyon Road art walk is a must-do for every Santa Fe visitor. No surprise — Santa Fe's 250 art galleries uphold our reputation as the arts capital of the Southwest. Regrouping for refreshments is a snap; simply stop at Caffe Greco for a potent Lavazza espresso or head to The Teahouse for a cuppa. You can even wind your Canyon Road day right into evening with dinner and live music at El Farol.
Going home with Balloon Fiesta souvenirs is fun, but shopping the Santa Fe Plaza is still numero uno in my book. Whether it's silver, turquoise or stylish southwest clothing, you'll find a multitude of choices, from Native American vendors under the portal at the Palace of the Governors to shops showcasing leatherwork or lacy lingerie. Galleries thrive here too, with renowned Native artists like Allan Houser and the Namingha clan ensconced on Lincoln Avenue. And food? The only problem is choosing where … carnitas from Roque's stand or a visit to The Shed, tucked in the colorful courtyard of Sena Plaza.
The Best of Fall Grows in Santa Fe
Santa Fe boasts a bonus during the first weekend of Balloon Fiesta Oct. 4-5 since El Rancho de las Golondrinas ends its annual series of festivals with the most popular event of all: Harvest Festival. This living history museum takes you back through New Mexico regional heritage with bread baking in hornos (beehive-shaped outdoor ovens) and grapes crushed by hand. This is your opportunity to learn how to string a chile ristra, the ubiquitous autumn décor hanging from portals and porches all over the state. I can't think of a better way to celebrate the arrival of fall than a day at Golondrinas!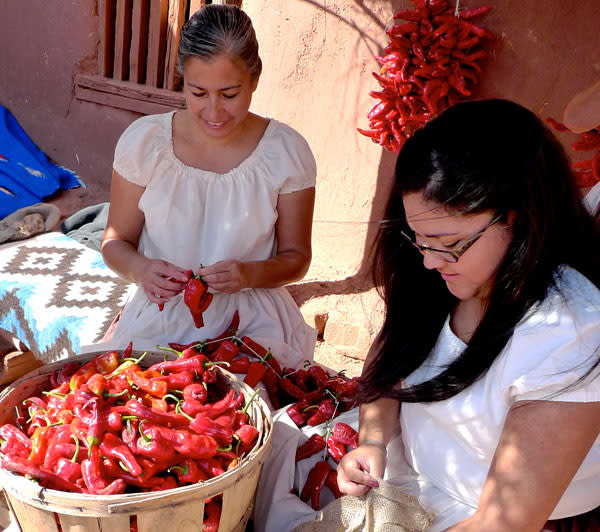 Look Up at the Skies then Look North to Santa Fe
The ideal launch pad for your Balloon Fiesta adventure, Santa Fe offers all of New Mexico's beauty with a fraction of the crowds – it's hard to argue with that prescription for pleasure. Go ahead and get high on Albuquerque's aerial artistry and let Santa Fe provide the spot for a perfect landing.