On October 12, 2017, Santa Fe lost one of its avid and colorful local ambassadors, Billie Frank. Billie was a travel writer and blogger who in conjunction with her husband Steve Collins wrote and published, "The Santa Fe Traveler," a blog that was read by many in Santa Fe, in New Mexico and even around the United States. Billie was a concierge at two of Santa Fe's finest hotels for four years and her background in sales, marketing and customer service were evident throughout  her respected travel blogs.
She had great love for The City Different and in memory of her spirit and literary gifts, we are reposting a blog from March 11, 2017, that showcases that love. Billie's sense of place in Santa Fe is honored and deeply admired by her friends, colleagues and those who were lucky enough to meet her.
5 Things That Give Santa Fe A Unique Sense of Place
From "The Santa Fe Traveler," March 11, 2017, by Billie Frank (reposted with permission from Steve Collins)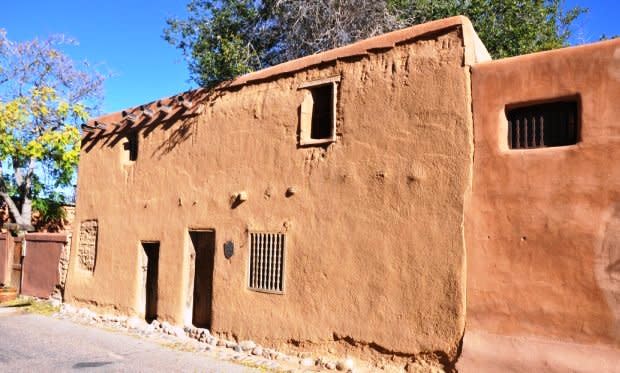 The Oldest House in the USA (Photo courtesy of Steve Collins)
Appropriately, the city has recently been awarded first place in the Sense of Place category in the National Geographic World Legacy Awards. Their criteria for Sense of Place: "excellence in enhancing cultural authenticity, including using vernacular architecture and design, support for the protection of historic monuments, archeological sites, indigenous heritage, and artistic traditions." That really nails The City Different. Depending on your interests you'll find lots of reasons to visit the city and discover the special qualities that give Santa Fe a unique sense of place.
We arrived at our conception of Santa Fe's sense of place through years of sharing the wonders of our adopted city with visitors, first as concierges and later as tour planners, tour guides and bloggers. Our definition is a bit broader than National Geographic's; we think it really captures Santa Fe's magic. Here are the five things we think give Santa Fe a unique sense of place.
History
Santa Fe has a rich history. It's the oldest (and at 7,000 feet above sea level the highest) capital city in the country. First settled in 1610, a decade before the Pilgrims arrived at Plymouth Rock, it was first a Spanish territory, then part of Mexico, a US territory and finally in 1912, a state. While indigenous people have probably been in the area for thousands of years, the first documented settlements in Santa Fe date to between 1050 and 1150 AD. The city is home to three of the oldest buildings in the country: the oldest house, San Miguel Mission (the oldest church) and the Palace of the Governors (the oldest government building in continuous use). Territorial Governor Lew Wallace wrote Ben Hur there.
Culture
Santa Fe was formed by three distinct cultures: the Pueblo people, who lived here from around 1000 AD, the Spanish who arrived in the late 1500s and the Anglos who began to arrive with the opening of the Santa Fe Trail in 1821. They continued to arrive during the Territorial period which began with the 1848 Treaty of Guadalupe Hidalgo and extended into statehood. Each of these cultures has left strong marks on the city's culture.
No visit to Santa Fe is complete without a visit to one of the ancestral pueblos. Within an hour of Santa Fe you can visit Bandelier National Monument, which includes the Tsankawi cliff dwellings, the Puye Cliffs on the Santa Clara Pueblo and Pecos National Historical Park. The Taos Pueblo, a designated UNESCO World Heritage Site, with its famous pueblo-style buildings dating back over a thousand years, is about a 90-minute drive north.
You'll find rich examples of Spanish culture at El Rancho de las Golondrinas, a living history village dedicated to replicating life in Santa Fe during the Spanish Colonial period (1598 to 1821). The annual Spanish Market held in the historic Santa Fe Plaza each July celebrates New Mexico's Hispanic heritage as does Fiesta each September.
The Anglo heritage is reflected in the introduction of commerce in the early 19th century as well as the territorial influences in architecture.
Art
Today, Santa Fe is known as an art Mecca. It's said to be the third largest art market in the country behind New York and Los Angeles with over 200 galleries in this small city of 82,000.  The galleries represent a range of mediums including painting, sculpture, fiber arts, photography, jewelry, metal art and glass. The range of genres represented at the city's galleries include American Indian art, Spanish Colonial art, folk art, Southwestern art, Asian art, western art, contemporary art and photography. There are also a host of museums.
Some of the city's rich art heritage reflects the three cultures mentioned above. The local pueblos were known primarily for pottery but the local indigenous art culture embraces other traditional mediums (and some contemporary ones as well). Galleries and shops feature Zuni fetishes, Hopi kachinas and Navajo silver and turquoise jewelry and weavings. Indian Market, the largest show and sale of American Indian art, held at the end of August each year, brings collectors and others from around the country and the world.
The Spanish are represented by their Colonial Arts that developed out of the need to make their own household items as well as religious icons. Until Mexico achieved independence from Spain in 1821 everything brought to Santa Fe had to arrive via the Camino Real. Imported goods were undependable and expensive. The Spanish Colonial art tradition embraces a myriad of genres including furniture making, weaving, carving and painting of religious icons, tin work and straw appliqué. The annual Spanish Market held at the end of July showcases this New Mexican art form.
The first Anglo artists, attracted by the other-worldly landscape, the light and the unique natural palette, arrived towards the end of the 19th century. The Museum of Fine Arts (now the New Mexico Museum of Art) opened in 1917. A continual stream of artists has been discovering The City Different ever since.
Food
Santa Fe has a diverse food scene. Its Farmers Market is nationally known and a magnet for locals including chefs. The state is known for chile and come sometime in August, depending on the growing season the scent of roasting green chile permeates the air at the market and around the city. It's roasted in supermarket parking lots and various parking lots round the city. It's a heady aroma! There are food emporiums including a cheesemonger, a pickle maker, a spice shop, a dedicated honey store, and stores specializing in locally produced foods. There are a host of chocolate shops, four of which comprise the Santa Fe Chocolate Trail with a few new additions opening in the last few years. There are brewers, distillers, bars that specialize in craft cocktails, the Santa Fe Margarita Trail, food events and of course restaurants.  There are hundreds that cover a host of cuisines from the local Northern New Mexican fare to Asian to new American. Many of the city's chefs have embraced the farm to table movement and locally-raised and produced food and beverage are found on menus all over the city. There are restaurants, food trucks and stands for every taste and every budget.
The Great Outdoors
It's no accident that Outside Magazine is headquartered in Santa Fe. The founder, Larry Burke fell in love with it. The city and surrounding area offer a plethora of outdoor options including hiking, mountain biking, climbing, skiing, snowboarding, snowshoeing, horseback riding, hunting, fishing, rafting, kayaking, stand up paddle boarding, hot air ballooning, geocaching and llama trekking. While there are four seasons, even in winter you can get out on the golf course and shoot a round. No matter what time of year you visit Santa Fe there will be loads of outdoor activities to choose from and businesses that offer the activities, guides or equipment.
We've lived in Santa Fe for over 13 years and we love it. It offers us just about everything we need to enjoy life. I've often said Santa Fe has everything but the ocean and on a windy day in the right spot if you close your eyes, it feels like you're at the beach. If you're looking for a place to relocate, to spend your next vacation or hold your next conference, check out our city and discover the things that we (and National Geographic) believe give Santa Fe a unique sense of place.
To make Santa Fe your next travel destination, order the [blog_link url="https://santafe.org/Visitors_Guide/index.html" text="2017 Santa Fe Travel Guide" date="2017-10-24"]. Make your Santa Fe adventure even more special by checking out our great [blog_link url="https://santafe.org/Visiting_Santa_Fe/Specials/" text="Deals and Specials" date="2017-10-24].