Make the Most of Your Post–Hibernation this Spring in Santa Fe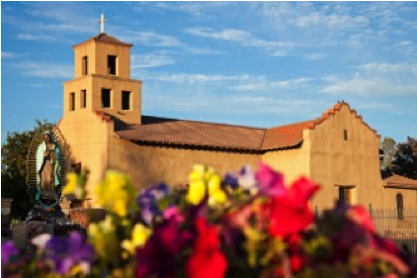 Abandon your cozy seat by the fire and finish up your gourmet hot chocolate, because spring has arrived in the City Different! It's time to go out, get active, and explore more of what makes Santa Fe so magical. Let the city's creative spirit awaken yours from hibernation and explore the rich traditions of Santa Fe's many cultures. Here are some ways to make the most out of a springtime trip to this wondrous and surprising city.
DIY Month
At a modest size of 37.4 square miles, and internationally recognized as a premier art market, Santa Fe packs in more creativity per square foot than anywhere else in the country. Get inspired by more than 250 art galleries, museums, and centers, and five art schools.
You'll need those creative juices flowing as Santa Fe celebrates DIY Month in March, a creative tourism journey that gives you the chance to spend all or part of a trip taking workshops from experienced artists and artisans. It's okay if you're not an O'Keeffe. Classes cater to all artistic explorers, from beginners to aficionados. Fulfill a dream, refine a skill, or fall into something completely different. Want to tap into your inner artist? Take an expressive painting workshop with artist Cathy Carey. In this five-day class, limited to a small enrollment, you'll learn techniques to loosen up your drawing and painting, capturing the feeling and fluid movement of Matisse and Van Gogh, and build a new connection to your work.
The Land and Light photography workshop teaches you the skills you'll need to capture the majesty of Santa Fe with a lens. Walk this enchanted land with photographer Craig Varjabedian, photographing unique environments in an atmosphere of adventure and discovery. It's a great way to explore the diverse culture, architecture, and landscape of northern New Mexico while upping your shutterbug game.
Personally, I can't wait for the Glass Ristra workshop, a luxurious creative workshop brought to you by Bridges to Santa Fe. Held in a gorgeous home gallery, you assemble your own red, green, or Christmas glass ristra, while dining on red and green chile appetizers served on artisan-rendered glass platters.
That's just a small sampling of the exciting do-it-yourself offerings. Transforming photographs with beeswax, traditional tinwork, Japanese papermaking, spinning wool, and many more possibilities await.
Bead Fest Santa Fe
Align the do-it-yourself spirit with do-it-for-yourself results at Bead Fest Santa Fe. Perfectly suited for both jewelry making novices and experts, Bead Fest is four days of discovering the latest techniques, tools, and tips. Take one of the 95 different workshops offered by jewelry artists from around the country, or shop at more than 150 booths and tables with everything you need to craft your own amazing creations. I'll be going to behold the beautiful work on display, and, just maybe, end up with an amazing piece of my own design.
Aspen Santa Fe Ballet
After all that making and creating, make sure you're getting a balanced cultural intake. Along with the visual arts, Santa Fe is also a vibrant city of the performing arts. At the end of March, you can catch the dual-city Aspen Santa Fe Ballet as they return home for a program featuring Jiri Kylián's poignant Return to a Strange Land, Alejandro Cerrudo's striking new ballet Last, and Trey McIntyre's seductive Like a Samba. Not sure if ballet is for you? Give this group a chance. Just don't be surprised if you spend the entire performance at the edge of your seat. I asked ASFB's director of marketing Jennica Lundin about the upcoming shows. "It's not traditional ballet but way more contemporary," said Jessica. She also told me that two of the three pieces would be performed on pointe, where the dancers perform entirely on their tiptoes. "Performing on pointe shows that our dancers' technique is rooted in classical style."
Santa Fe Japanese Cultural Festival
Go from nimble dancers to nimble swordsmen at the sixth Santa Fe Japanese Cultural Festival. Nothing feeds creativity like knowledge and experience, and I can't think of a more exciting mental meal than a large serving of Samurai culture. Witness master swordsmen demonstrating their skills, Taiko drumming from Grammy winner Koji Nakamura, and a Grand Samurai Performance from Japan's Nobuyuki Sato. You can also feast on Japanese food (yum), enjoy workshops (this city is workshop crazy), a silent auction, and – you guessed it – arts and crafts. It wouldn't be a Santa Fe event if it didn't involve creating something.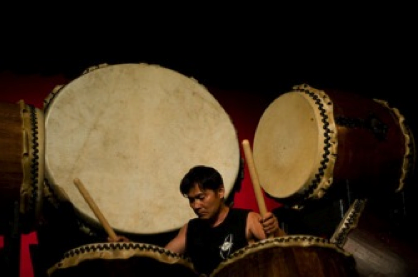 Santa Fe in Bloom
All of this culture can wear a person out. Make sure you leave yourself some time to enjoy and relax in Santa Fe's natural beauty. Spring is a time when the outdoor world of Santa Fe turns into a collage of blooming plants. Why not try out some of those newly acquired photography skills on the blooming Aspens, tulips, poppies, and more. If you want a peek at some gorgeous gardens, the Santa Fe Garden Club is offering Pequeno Tours, private tours of some of Santa Fe's finest homes and gardens. The Pequeno Tours start in mid-April and with spring temperatures in the 50s and 60s and plenty of sunshine, being outside in the fresh air of Santa Fe — named cleanest in the country by the American Lung Association — just feels great.
Start your Creative Season
Spring in Santa Fe is truly an inspiring time. Whether you want to jumpstart your own artistic renaissance or just recharge, there's more than enough to wake your sense of adventure from its winter slumber. With all the opportunities to create and explore, there's no time like spring to experience all the creative energy, diverse culture, and natural beauty that Santa Fe has to offer.