With its formidable, winding alleys, stately adobe facades, and love of all things chile, Santa Fe could justifiably be accused of exuding a somewhat manly – dare I say macho –air.  But hold it right there, bro-meisters. Being Women's History Month and all, I not so humbly draw your attention to just a few of the women who shaped Santa Fe. I'm talking about genre-defying artists, social advocates, nationally recognized preservationists, and legendary rabble-rousers who left their indelible footprints in our beloved city.
Santa Fe women embody the best of both frontier spirit and cultural élan-presiding proudly in that place where local color meets Louboutin. Let's celebrate their cultural legacy by proudly sharing their stories, and inspiring the next generation of history makers.
Confession moment: not too long ago my grasp of women's cultural history went about as far back as Mary Tyler Moore. A coffee-talk with Dorothy Massy of Santa Fe's Collected Works Bookstore encouraged me to dig deeper. "Santa Fe has a long history of nurturing creative thinking," she says. "To this day Santa Fe is a mecca of creative expression not only for women, but for all individuals." I was intrigued. And burrowing into a stack of non-Kindle volumes in our surprisingly charming public library, founded by the Women's Club and Library Association 1896, I quickly discovered an inspiring truth: the legacy of Santa Fe's most influential women is alive and permanently on display all across the city I love.
With a few fascinating field trips under my belt, I offer you this nonacademic guide to doing Santa Fe right – that is, enjoying this colorful city through the lens of landmarks and icons Santa Fe's monument-worthy women literally put on the map. Much like Santa Fe women's history itself, this guide is a work in progress. Read it, share it, add to it. Before you know it, you'll be that interesting dinner party guest who starts a conversation about Santa Fe County's first living history museum–hint: founded by a woman. Or the colorful character who invokes the name of Santa Fe's most notorious gambler at your next game night–fyi: she charmed priests and judges alike.
SANTA FE CELEBRATES NOTABLE WOMEN AT EVERY TURN            
Georgia O'Keeffe
Santa Fe's most famous visual artist was actually born and educated in the Midwest. Early in her career, however, O'Keeffe discovered the spiritual allure of Santa Fe and the surrounding landscape. For more than 20 years she visited the area to work, explore and seek inspiration. Today, Santa Fe proudly boasts the only museum in the world dedicated to an internationally known American woman artist–The Georgia O'Keeffe Museum.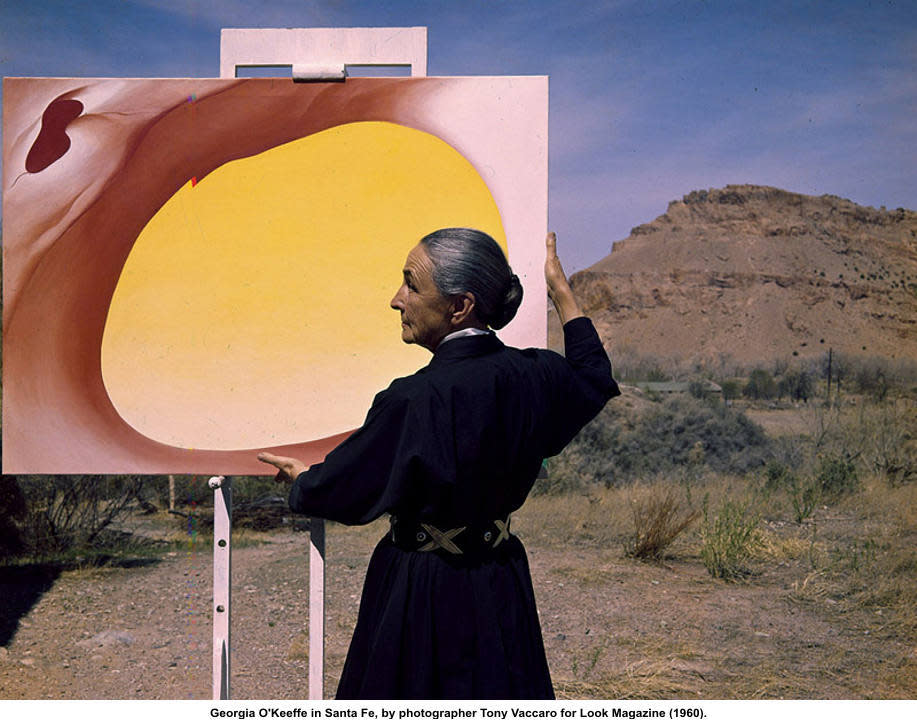 Stroll to the eponymous Museum, just steps from the historic Plaza to enjoy the single largest repository of O'Keeffe's work in the world. The Museum is open 7 days a week from 10 AM to 5 PM, and on Friday evenings until 7 PM.              
Pablita Velarde
Born at Santa Clara Pueblo, Velarde is an internationally acclaimed painter considered one of the founding mothers of Native American art.
Experience Velarde's iconic depiction of Pueblo life by visiting the Pablita Velarde Museum of Indian Women in the Arts, just three blocks from the plaza. For a full immersion into the landscape and legacy that shaped Velarde's vision, trek nearby Bandelier National Monument, where a young Velarde completed murals and paintings commissioned by the Work Projects Administration.              
Laura Gilpin
Ansel Adams called Gilpin, "one of the most important photographers of our time." Dramatically capturing photographic images of Southwestern cultures and landscapes, her pioneering use of platinum and palladium printing earned international recognition.
Let Gilpin inspire your Santa Fe journey. Awaken your creative spirit, and enhance your photographic or printmaking skills at one of Santa Fe Photographic Workshops' weekly instructional seminars. Novices welcome. (Take it from a novice.)              
Maria Gertrudis Barceló – AKA Doña Tules
A noted gambler and courtesan, Barceló operated a gambling house and saloon on Burro alley. She traveled up El Camino Real from Sonora, Mexico in 1815, and ruled the social set with a golden fist.
Trace Barceló's adventurous footsteps in downtown's Burro Alley, a charming, European-flavored walkway just three blocks West of the Plaza. Grab what many locals (including me) consider Santa Fe's most decadent pastries in Burro Alley Café, and imagine yourself in untamed 19th century Santa Fe.              
Mary Cabot Wheelwright
Transcending barriers of class and culture, Boston art heiress Mary Cabot Wheelwright adopted Santa Fe as her home, and devoted her life to the preservation of Navajo spirituality. In honor of southwestern native culture, Wheelwright created the Wheelwright Museum of the American Indian.
Wander just 2 miles South of the Plaza for a cultural journey unmatched in authenticity and quiet power. Experience what the Museum describes as "…an opportunity to sense the beauty, dignity, and profound logic of Navajo religion."              
Mother Magdalen and the Sisters of Loretto
The Sisters of Loretto arrived in Santa Fe in 1852. In January, 1853 they established Our Lady of Light Academy, later known as the Loretto, the first school for young women in the Territory of New Mexico.
Do the Sisters proud by thinking global and reading local. Visit Collected Works, Santa Fe's oldest independent, woman-owned bookstore, located just blocks from the plaza on the corner of Galisteo & Water Streets. Browse an extensive collection of books on local travel, Southwest and Native American culture and much more, then relax Santa Fe style in the local-is-better coffeehouse featuring organic, locally-roasted coffee and tempting treats.              
Sisters of Charity
Enduring a hardscrabble environment and unstable living conditions, the first Sisters of Charity arrived in New Mexico Territory in 1865 with the mission of serving all peoples regardless of race, religion or ability to pay. Today's St. Vincent Hospital and Orphanage and St. Elizabeth Shelter for the Homeless endure in testimony to the power of their spirit.
Live the Sisters' mission in Santa Fe by embracing our multicultural roots. Visit Museum Hill, a cultural "neighborhood" housing the Museum of Spanish Colonial Art, the Museum of Indian Arts and Culture, the Museum of International Folk Art, and the Wheelwright Museum of the American Indian.
Celebrate Santa Fe Women Every Month of the Year
Santa Fe celebrates our most prominent women's cultural contributions every day of the year. Discovering the deep-down influence Santa Fe's notable women have had on our city, I am humbled by their ingenuity, dedication, heart and love of Santa Fe, a town that's never been afraid to show its feminine side.
Mom, Abuela, Daughter, Sister, Girlfriend, we celebrate YOU this Women's History Month. And for all you who happen to be in this colorful corner of the world, I hope you'll let the richness that is Santa Fe inspire your journeys – near and far.