Perhaps it's the light. At 7,200 feet above sea level, light does pretty magical things to a place. Or the landscape: expansive, sprawling desert-but-not-quite-desert. Maybe, just maybe, it's the mud that's turned into adobe. Regardless, Santa Fe, nestled among the mountains of northern New Mexico, has inspired generations of artists from O'Keeffe to Oliphant, McCarthy to Martin.
But it's not just turquoise jewelry and Western paintings you'll find here, no. As its name implies, The City Different creates art experiences - no matter your preference - that are truly, authentically all its own.
Here's how we'd recommend you get started.
---
Day One: Canyon Road and Museum of Indian Arts and Culture
Ask any local where to start your art journey in Santa Fe and, odds are, they'll tell you to begin at Canyon Road. The half-mile stretch of pavement houses more than 100 galleries, artist studios and public art installations ranging from the contemporary to the quintessential. It's a one-stop-shop to behold the works of painters, photographers, sculptors and craftsmen, and walk among historic adobes.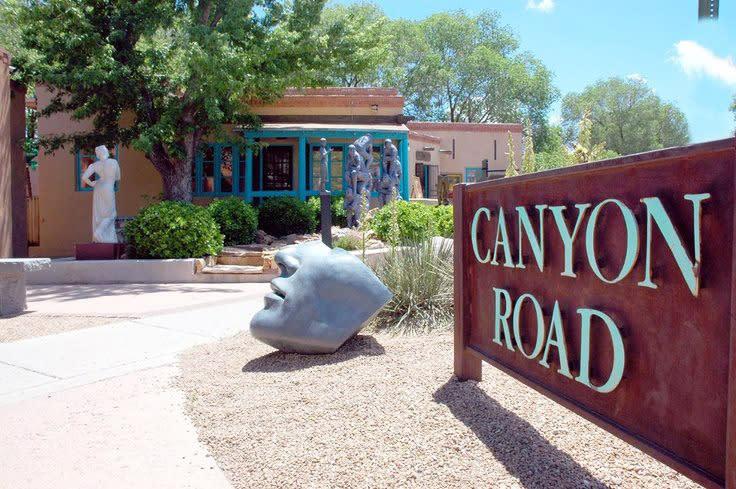 After a leisurely lunch at one of Canyon Road's restaurants, hop in the car and head over to Museum Hill. Among the four museums here, the Museum of Indian Arts and Culture is the one we'd recommend stopping into first. Not only does it have an impressive selection of Native art (it's one of the largest museums on the hill), but it's a great way to orient yourself and better understand the stories of the people of the Southwest. If you're interested in taking a tour, call ahead to make sure they have docents available that day. They will guide you through the main exhibit and provide a deeper understanding of the pieces. From May to October, the museum is open Monday through Sunday from 10 a.m. to 5 p.m. November to May, it is open Tuesday through Sunday from 10 a.m. to 5 p.m.
Continuing your visit of Museum Hill, you'll find some other fantastic examples of historical and cultural art. Consider stopping into the Museum of International Folk Art, Museum of Spanish Colonial Art, Wheelwright Museum of the American Indian or the Santa Fe Botanical Garden
---
Day Two: Meow Wolf's House of Eternal Return
Somehow a single question has become synonymous with Santa Fe: How you been to Meow Wolf yet?
For the uninitiated, Meow Wolf is an "immersive art installation" where visitors enter and discover that nothing is as it seems. A refrigerator that you can walk through. A washing machine that leads to another world. Trees that glow in the dark and make sounds when you touch them. It's all housed in a 20,000-foot abandoned bowling alley in Midtown.
It's the brainchild of an anarchic collective of artists who call Santa Fe home. Frustrated by the lack of access to consistent opportunities to showcase their work, they created an interactive art experience that's hard to compare to anything else. The more than 70 installations - all born from the minds and talents of different artists - follow a non-linear storyline and encourage wandering, touching and exploration. With so much to discover, visitors can spend a few hours or an entire day visiting The House of Eternal Return. They are open Sunday through Thursday from 10 a.m. to 5 p.m. and Friday and Saturday from 10 a.m. to 8 p.m. They are closed on Tuesdays. 
---
Day Three: The Railyard, Axle Contemporary, SITE Santa Fe and Santa Fe Clay
Begin your day at the historic Railyard. Here, more than 13 acres of open space have been developed to include a park, plaza and pedestrian promenade where water-harvesting and other environmentally innovative systems are in use. Aside from the variety of galleries and public art visitors can discover, The Railyard also hosts a weekly farmers market and 12-screen movie theatre.
After wandering The Railyard, drop in at Axle Contemporary, a mobile art space that can often be found nearby (check their website axleart.com for location info.). Housed in the back of a custom retrofitted 1970 aluminum stepvan, this "art gallery on wheels" was co-founded in 2010 by artists Matthew Chase-Daniel and Jerry Wellman. The monthly exhibits include installations, performance art, photography, painting and, occasionally, sculpture.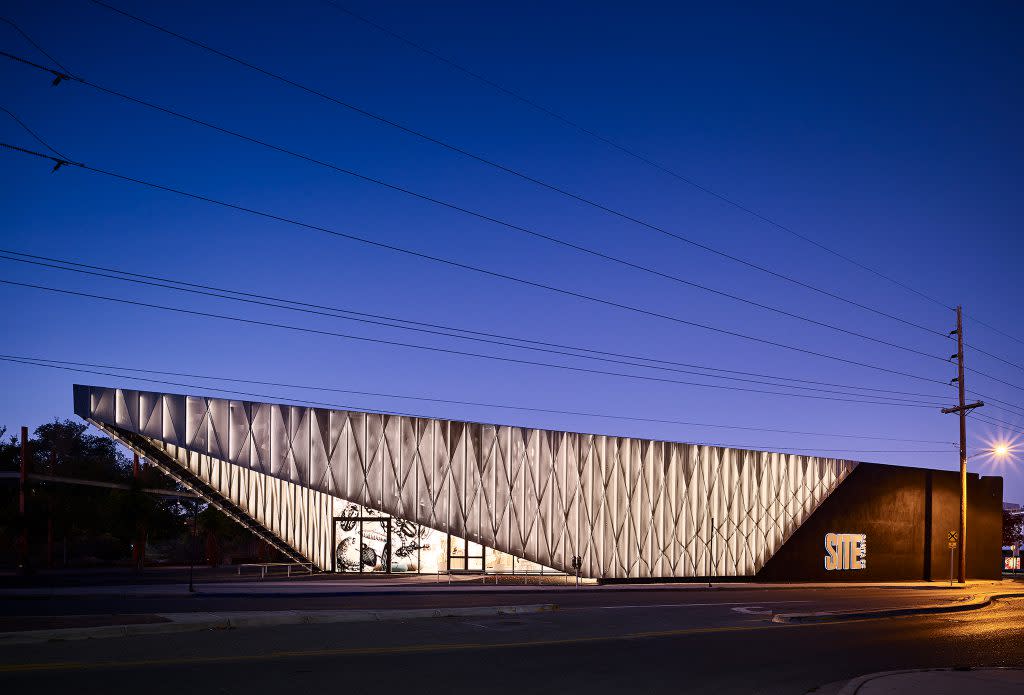 Grab a bite to eat before heading over to SITE Santa Fe. Before entering, get your iPhone ready - the building in which the gallery is housed is a piece of art in and of itself. Inspired by how visitors might experience the works of art inside, SHoP, a firm known for its innovative architecture, designed the space to evoke drama, unity and elegance. The exhibits in SITElab are open from 10am to 5pm, Monday through Wednesday, and all exhibits are open Friday and Saturday. There's free admission all day on Friday and between the hours of 10am and noon on Saturday.
Before wrapping up your day, consider a visit to Santa Fe Clay, a world-class art gallery housed in a 11,600 square-foot warehouse. Inside, you'll find private art studios, a large workroom and store, where visitors can purchase ceramic dinnerware, mugs or bakeware to take home as a souvenir. Have more time? Their annual schedule of hands-on classes offers a unique opportunity for students of all ages to learn or refine their pottery skills. Santa Fe Clay is open Monday through Saturday from 10 a.m. to 6 p.m. and Sundays from noon to 5 p.m.
---
Day Four: Georgia O'Keeffe Museum and The Palace of the Governors
No visit to Santa Fe is complete without paying homage to one of the area's most well-known artists. Though the Georgia O'Keeffe Museum isn't actually where she painted her famous works of art (you'll have to go to Abiquiu for that), it's still a necessary stop during any art lover's pilgrimage. The museum, itself, only takes about two hours to explore, but includes more than 3,000 of O'Keeffe's storied works. It is open Saturday through Thursday from 10 a.m. to 5 p.m. and Fridays from 10 a.m. to 7 p.m.
A short 5-minute walk from the museum is The New Mexico History Museum. Opened in 2009, the museum includes permanent and temporary exhibits that span the early history of the Native American people, the Spanish and Mexican influence on the area, and travel and commerce that took place on the historic Santa Fe Trail. The museum also serves as a great starting point to explore other parts of the campus, which includes the Palace Press, the Fray Angelico Chavez History Library and Photo Archives, and the Palace of the Governors.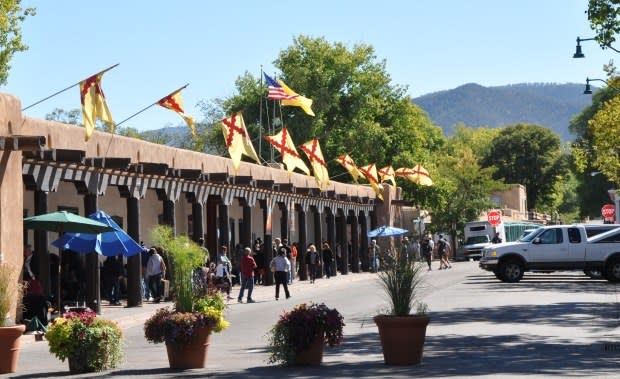 Though it's currently closed for renovations, The Palace of the Governors should most definitely be on your list of things to do in Santa Fe. Every day, dozens of New Mexico artists from the surrounding Pueblos set up mini shops beneath its portal. It's here that they sell handmade art, crafts and jewelry through the Palace's Native American Artisan Program. This is a great opportunity to speak directly to local artists about their craft and support their work.
With such a variety of museums, galleries, public art and art experiences, one thing is certainly clear about Santa Fe - it's an excellent place for an art lover. So, whether you take our recommendations to heart or craft your own art-focused getaway, we're sure you will leave inspired, energized and in love with the rich diversity of The City Different.