Santa Fe is a 400-year-old historic city that is ever changing. We want to make sure you are  in the know about all the latest happening in the City Different! Read on to find out What's New in Santa Fe.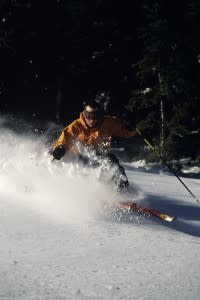 Skiing
New Ski Area Base Lodge: Ski Santa Fe, located 16 miles from downtown Santa Fe, will open a 12,000 square foot expansion to La Casa Lodge base facility this winter. The new addition will increase the size of the rental shop, add new seating space in the food service area, expand menu options and add additional retail space. The area offers a dedicated children's ski school and terrain for all abilities. Ski Santa Fe's scheduled season for 2012-2013 is Thanksgiving through Easter.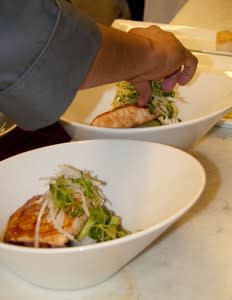 Restaurants and Dining 
New Chef at Rancho Encantado.  Four Seasons Resort Rancho Encantado Santa Fe welcomes Andrew Cooper as its new executive chef. Cooper arrives from the Four Seasons Hualalai on Hawaii's Big Island.
Chef of the Year Award.  Chef Carmen Rodriguez of La Posada de Santa Fe Resort & Spa was named Chef of the Year by the New Mexico Restaurant Association. Rodriguez was chosen not only because of his fine cuisine, but also because of his many contributions to the Santa Fe community and his efforts to encourage more Hispanic chefs.
Sweetwater Harvest Kitchen: First time restaurateur Fiona Wong and longtime culinary professional Soma Franks open their new health food café and wine bar. The restaurant will focus on using as much locally sourced farm to table food as possible, serving breakfast, lunch and dinner Monday through Saturday.  1512 Pacheco in Pacheco Park.
Cave Wine Bistro: Opening soon, this intimate space will feature an eclectic menu and an extensive wine list with more than 125 wines by the glass alone. Plans call for keeping the kitchen open late every night at the bistro's convenient location in the Plaza Galeria facing the Santa Fe Plaza.
Momo & Co. Bakery and Boba Tea Bar: An entirely gluten-free and mostly vegan bakery and teahouse that opened this fall. Baker Leslie Thompson, a native of New York, has met the many challenges of not only baking without flour, eggs and butter but doing so at Santa Fe's 7,000 foot elevation. She joined with boba tea fan Carola Kieve, who created an all-natural version of boba tea, to open the Johnson Street storefront. The bakery also offers gluten-free and vegan entrees including pizzas, sandwiches, soups and salads.
The Real Butcher Shop.  Pollo Real has been a popular staple at The Santa Fe Farmers market for years, providing customers with tasty, naturally raised poultry and eggs. Now the farmers are taking the next step, opening a butcher shop that will feature their own products and also naturally raised, grass finished and heritage meats and charcuterie from New Mexico and Colorado. The results promise to be delicious. The store opens around the first of the year.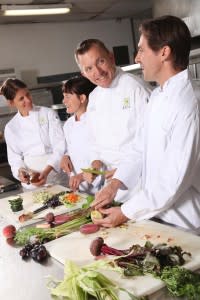 Cooking Schools
Santa Fe School of Cooking Moves.  The Santa Fe School of Cooking is in its expansive new location at 125 North Guadalupe Street. The beautifully renovated building, a former Packard dealership, has a cool retro/modern/New Mexico vibe and houses two kitchens and a large outdoor patio. Santa Fe chef and restaurateur Tracy Ritter is Director of Cuisine.
Santa Fe Culinary Academy Opens.  The Santa Fe Culinary Academy, on the top floor of the downtown Plaza Mercado, is open and teaching classes. Fall classes include everything from basics classes for home cooks to continuing education for restaurant professionals. In January, the academy will welcome its first full-time class of aspiring professional chefs. A student restaurant will allow them to polish their craft. Santa Fe native Rocky Durham and Tanya Story are executive chefs and co-founders.
Museums & Openings
Santa Fe's newest museum.  The Pablita Velarde Museum of Indian Women in the Arts is a national museum honoring the work of Native women from North America. Named for the first female student in the first Santa Fe Indian School art class, Pablita became the first Native women to paint full time as a career. The museum features the work of Native painters, potters, sculptors, weavers, jewelers, dancers, musicians, filmmakers, poets and writers.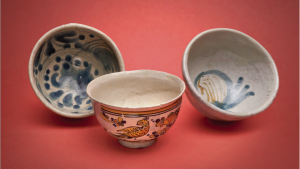 New World Cuisine. A major new exhibit titled New World Cuisine: The Histories of Chocolate, Mate, y Mas, at the Museum of International Folk Art, explores our food's many fascinating historic, cultural and geographic connections. The exhibit, which opens this December 9 and runs until January, 2014, will feature more than 300 objects related to the gathering, preparation, serving and storage of food. The histories of chocolate and mate are of particular interest and are illustrated by the many decorative cups, sippers, stirrers and pots used to make the popular beverages.
Hands on Santa Fe
DIY: A Creative Journey. In March, 2013 Santa Fe Creative Tourism and Santa Fe's lodgers collaborate on a month of creative experiences combining workshops and classes taught by local artists with savings at participating accommodations. Discover Santa Fe through a hands-on class in painting, glasswork, writing, photography, folk art and more during this month of personal expression in Santa Fe.
In the News
Top Choice in Conde Nast Traveler. For the twenty-first year in a row, avid travelers who subscribe to Conde Nast Traveler magazine ranked Santa Fe as one of the top cities to visit in the United States. Santa Fe ranked fourth in the travelers pick, behind Charleston, South Carolina, San Francisco, California, and Chicago, Illinois. The popular survey, which is widely used by people planning vacation travel, polled more than 46,000 readers.
Additionally, five Santa Fe hotels were included in the Conde Nast survey's Top 25 Hotels in the Southwest. Number one on that list is the Inn of the Five Graces. The Inn and Spa at Loretto was ranked fifth, Rosewood Inn of the Anasazi tenth, Hotel Saint Francis twentieth, and La Fonda on the Plaza twenty-first.
Travel + Leisure magazine also picked out Santa Fe for its many charms, ranking it the second best city in America overall during its annual American's Favorite Cities 2012 poll. The results included voting Santa Fe a #1 Cultural Getaway in addition to praising the city's shopping, romantic side, museums and galleries, food, cleanliness, environmental friendliness and historical sites.
For more information visit www.santafe.org
Sign up for Monthly New & Updates