Santa Fe Gift Guide
MAKE YOUR SANTA FE DREAMS A REALITY – SHOP SANTA FE NOW FOR AUTHENTIC GIFTS AND EXPERIENCES FROM THE CITY DIFFERENTǃ

From the comfort of your own home, share your love of Santa Fe and shop online with local artisans, musicians, businesses and experiences.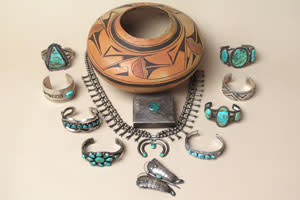 Come into Steve Elmore Indian Art located in historic downtown Santa Fe, NM. We are presenting the best antique Native American art we can find with special interest in pottery by Nampeyo, historic Pueblo pottery, antique Navajo and Pueblo jewelry and painting, 20th century Pueblo Paintings, early Hopi Kachina dolls, and Native American basketry. Visit our Gallery or Online.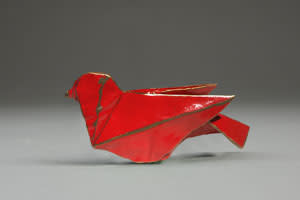 Sculpture Gardens at Kay Contemporary Art on Canyon Road is much beloved. Inside you will discover a 300 year old adobe with Contemporary art.
Purchase our special gift offer: "Bird In Hand-red" by Santa Fe sculptor Kevin Box. $325. This miniature painted red bronze sculpture is a favorite gift with art lovers who appreciate brilliantly creative, origami metal sculpture. Contact our friendly galleryǃ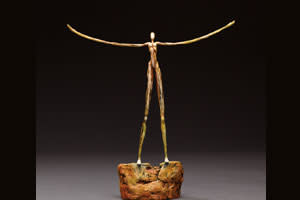 Located on Santa Fe's historic Canyon Road, Winterowd Fine Art features contemporary fine art paintings and sculpture, many inspired by nature.
Purchase our special gift offer: "Bliss" a bronze sculpture by Santa Fe artist ALEX WATTS. $1350. Alex Watts sculpts in bronze, This elongated and emotive figure shares the joy of life. And you can share it now too. Contact us for "Bliss"ǃ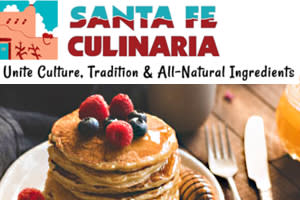 Our delicious, specialty pancake mix is on the menu at Santa Fe's historic La Fonda for over 12 years. Available in 3 delicious flavors, Blue Corn Pinon, Plain Blue Corn & Blue Corn Cranberry. All begin with a blend of finely ground organic blue cornmeal, unbleached spring wheat, organic oat flour & organic soy flour - delicate texture & unique flavor. Order Now, We Shipǃ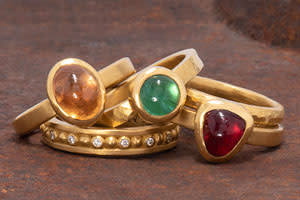 The Golden Eye™, located in downtown Santa Fe, specializes in fine handcrafted jewelry paired with exotic gemstones, pearls, and diamonds, all handmade by local artisans. Our rings, earrings, necklaces, bracelets with our satiny finishes on 18 and 22 karat gold, for both women and men, evoke a classic, time-honored look. "Jewels for the King and Queen in all of us." View Our Fine and Unique Selection.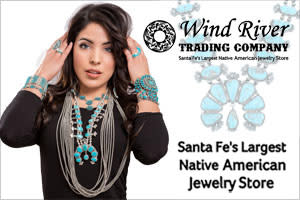 Santa Fe's Largest Native American Jewelry Store: Specializing in Museum Quality Native American Jewelry & Exquisite Fine Gold Jewelry. In the heart of Santa Fe, you'll find Wind River Trading Company, known for quality authentic handmade art and fine jewelry. Locally owned and operated, we have been in the serving Santa Fe for over 43 years. All for you Online – Shop Nowǃ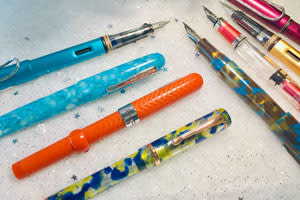 Inspired by my life in Santa Fe, I've curated a precious collection of fountain pens to help transport you to the Great American Southwest. These pens are made in the USA. Come, take a trip...Enjoy turquoise, coral, the colors of the mountains and sunsets ~ gifts made for women, men, writers, visionaries and travelers alike. Heirloom gifts for all ages, various prices. Write On with usǃ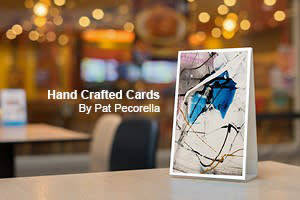 Original 5x7-inch paintings by Santa Fe artist, Pat Pecorella, on card stock with envelopes, ready to send to your favorite peopleǃ Or remove from the cards and matte/frame them for display. It's a cost-effective way to beautify your home or office. Available at her online store - 3 cards for $55. Pat Pecorella's Paintings are currently showing at Stern Contemporary on Canyon Road.
FS2 Supply Co. is a lifestyle brand celebrating culture and all things New Mexico. Our products are designed with meaningful concepts reflecting our love of New Mexico and its people. We take great care in selecting quality materials as well as sew our uniquely messaged apparel tag on each garment. We invite you to "Be the Culture". Shop our website for our complete product lineǃ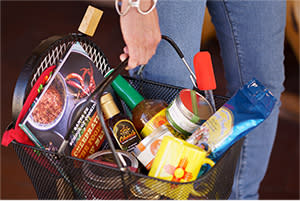 Located in historic downtown, The Santa Fe School of Cooking is an internationally acclaimed, recreational culinary school and market specializing in foods of the southwest for 30 years. We offer an array of Southwest Cooking Classes year round. We're famous for our Santa Fe Restaurant Walking Tours, Online Market and other Specialty Cooking & Southwest Food Events. Shop our Online Market and All Offerings.
Gustavo Pimentel performs New Mexican Musical Spanish Art on his "Pimentel" Guitar. In addition to Spanish New Mexico music he plays classical, jazz, and popular music for events. Gustavo also teaches classical, pop, jazz and Spanish guitar, all ages are welcome. He is playing every Friday, 6-9pm - Rosewood inn of the Anasazi, Santa Fe. Book Now and Purchase CDs.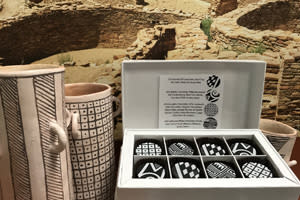 Our Chaco Pottery Shards Chocolate Truffle Collection features 4 chocolates made with local ingredients, packaged with a storycard on the discovery of cacao in Chaco Canyon, in 3 sizes. Santa Fe's only bean to bar craft chocolate company & produce drinking elixirs based on MesoAmerican & European history. International Chocolate Awards Winnerǃ Buy nowǃ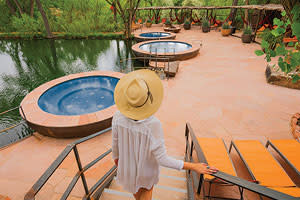 Your choice of accommodations at the Ojo Caliente sister property, Sunrise Springs. The Soak + Stay package includes unlimited soaking in our natural spring-fed Repose Pools, saltwater swimming pool and new hot tub. Enjoy dining options, yoga, spa services, a playful lift with a visit to our Puppy Patch or Silkie chickens. Hydrate with nourishing spa treatments & leisurely soaks in our historic spring waters.