A listing of Atomic Summer Events in the places where it all began,
organized by Recursos de Santa Fe, City of Santa Fe, and Los Alamos County.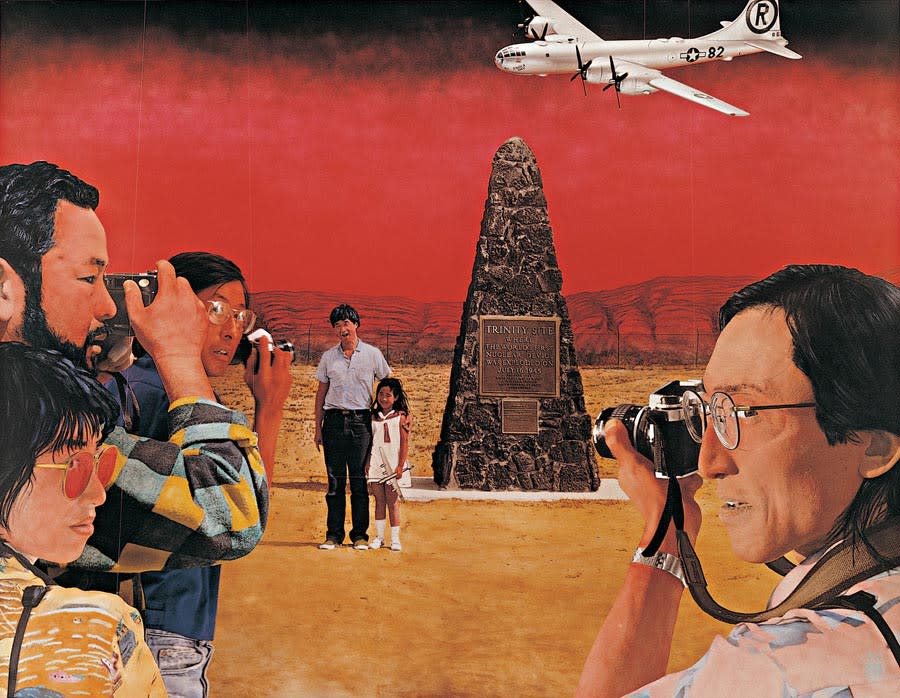 OPERA
DOCTOR ATOMIC
The opera Doctor Atomic was composed by John Adams, with libretto by Peter Sellars.
The work focuses on dramatic events leading up the test of the first atomic bomb, known as the Trinity Test.
SCHEDULE
July 14, 2018
Opening night of Doctor Atomic 8:30pm

July 18, 2018
Doctor Atomic 8:30pm

July 27, 2018
Doctor Atomic 8:30pm

August 2, 2018
Doctor Atomic 8:00pm

August 7, 2018
Doctor Atomic 8:00pm

August 16, 2018
Doctor Atomic 8:00pm
RELATED EVENTS
FILMS, EXHIBITIONS and LECTURES
May 26 - September 9, 2018
New Mexico Museum of Art
Patrick Nagatani: Invented Realities
nmartmuseum.org
June 7, 2018
Los Alamos Historical Society
Wonders Are Many
Screening of a film about the making of the opera Doctor Atomic.
losalamoshistory.org
June 17, 2018
New Mexico History Museum
Discussion of Oppenheimer's Chair and The Meeting. Discussion with Meridel Rubenstein.
nmhistorymuseum.org
July 8, 2018
Lensic Performing Arts Center
Presented in association with Creative Santa Fe
Tech in the West Conversation: A Disruptive Futures Dialogue
creativesantafe.org
July 12, 2018 5:00 - 8:00 pm
Center for Contemporary Art Cinematheque
Wonders Are Many
Screening of a film about the making of the opera Doctor Atomic.
ccasantafe.org
August 6, 2018
In Remembrance of Hiroshima
August 8, 2018
Recursos de Santa Fe and
La Fonda on the Plaza
Discussion with Dr. Gregg Herken, John E. Haynes, and Jim Fitzpatrick. Valerie Plame, former CIA agent and author on espionage, will moderate the discussion. 6:00pm at La Fonda on the Plaza in the La Terrazza Ballroom at La Fonda Hotel. $10 at the door, no pre-registration
June 3, 2018 - May 31, 209
New Mexico History Museum
Atomic Histories: Remembering New Mexico's Nuclear Past
Oppenheimer's Chair and The Meeting by Meridel Rubenstein.
nmhistorymuseum.org
June 14, 2018 - 7 pm
Recursos de Santa Fe and
La Fonda on the Plaza
Trinity Test
John Hopkinds, Jim Hopkinds, and Ellen Bradbury Reid will discuss what really Happened.
7pm. $10 at the door no reservations required recursos.org
lafondasantafe.com
July 6 - August 18, 2018
Phil Space
Land of Enchantment: Atomic Summer
Tony Price Exhibition at Phil Space
philspacesantafe.com
July 11 - 15, 2018
Presented by Los Alamos Main Street
ScienceFest
losalamosmainstreet.com
July 27 and August 2, 2018
Los Alamos History Museum
Secret and Scenic: Oppenheimer's Los Alamos
losalamoshistory.org
August 7, 2018
Los Alamos History Museum
Los Alamos goes to the Opera
losalamoshistory.org
August 9, 2018
In Remembrance of Nagasaki
SCHEDULE
July 13, 2018
New Mexico History Museum
Panel Discussion

July 14, 2018
Lensic Performing Arts Center
Richard Rhodes, author of The Making of the Atomic Bomb
SYMPOSIUM
TECH AND THE WEST
SCHEDULE
July 13, 2018
New Mexico History Museum
Panel Discussion

July 14, 2018
Lensic Performing Arts Center
Richard Rhodes, author of The Making of the Atomic Bomb