Note: As the contemporary art scene in Santa Fe continues to bloom, we are excited to share the article "Incredible Art Experiences You Can Only Have in Santa Fe, New Mexico" from Alexandra Marx via Matador Network. 
Santa Fe has a long history of being an art destination known for its turquoise jewelry, Western paintings, and bronze sculptures, but The City Different has a surprise for you.
We're talking art parties lasting into the early hours of the morning and secret, invite-only gallery openings. Seriously—these brazenly nontraditional arts experiences deserve to be as synonymous with Santa Fe as the movie biz is with Hollywood. For some time now, The City Different has been quietly ranked as one of the largest arts markets in the US, with small, independent artists thriving here. When compared with the art markets of New York and LA, Santa Fe easily stands as an unparalleled beacon for collaboration and innovation in contemporary art.
Check out these seven art experiences if you want to see the present and future of mixed media and performance.
---
    1. Meow Wolf's House of Eternal Return
After establishing a local presence in both music and other harder-to-define ventures, the Meow Wolf arts production collective opened what they call an "immersive art installation" at the House of Eternal Return. It thoroughly departs from the traditional museum model in its bold use of interactive space. If you're a little hazy on what all this means, don't worry—keep reading.
Maggie Thornton, a local artist at Meow Wolf, is one of the names to look out for. She splits her time between visual arts and sound for the installations, working in mostly "vinyl, plastics, and shiny stuff." While her chosen art forms are certainly a departure from the traditional art that has drawn visitors and collectors to the city for decades, she and many area artists don't really see it that way. "Meow Wolf is a counterpoint to much of the galleries, but there's compatibility between the two scenes," she explains.
The fully interactive experience they've created at the House of Eternal Return pushes the envelope of what is possible for an exhibition space—an idea that quickly garnered national attention before opening its doors in 2016, thanks to city initiatives and backing by business partners like George R. R. Martin. (The Game of Thrones author also supported the reopening of the historic Jean Cocteau Cinema in 2013).
The House of Eternal Return is truly fun for the whole family, and for music lovers as well, with an ample post-10pm lineup of eclectic performers. Tickets must be purchased in advance. 
---
     2. The Center for Contemporary Arts
A more tenured space is the Center for Contemporary Arts, often known as CCA among locals. With an exhibition space that has a constant rotation of visual artists (CCA is known for their awesome collaborations) as well as regular show times of independent and documentary films, CCA blends creative conversation with the idea of the Hollywood blockbuster—there's no reason spaces like this shouldn't see the same attendance movie theaters do.
Filmmakers from all over the world often show and discuss their films at this tiny, easy-to-miss venue tucked away at 1050 Old Pecos Trail. Keep an eye on their calendar—show times run every day, annual passes are available for film enthusiasts in the model of traditional museum memberships, and the exhibitions are constantly updating with never-before-seen works from emerging artists.
---
      3. Shidoni Arts Gallery & Sculpture Garden
Slightly outside of the city proper, technically in the pueblo of Tesuque, Shidoni towers as a testament to the huge staying power of creativity in the Santa Fe region. The sculpture garden seems to be intentionally out of the way, requiring visitors to follow the winding Bishop's Lodge Road along the edge of Santa Fe National Forest. But the chance to stroll the grounds that host these abstract and whimsical structures is well worth the journey.
Opened in 1975, the gallery's sculptures are a mixture of so many styles and modes of expression that the only obvious commonality seems to be that they're free-standing structures. Even if you come outside the normal hours for its in-house exhibit (Tuesday–Saturday from 10am to 5pm), you can still walk among the pieces outside, some of which tower like mountains, some with the fragility of pinwheels (metalworking at its finest).
---
      4. form & concept
form & concept seeks to create a space to "challenge the perceived distinctions between art, craft, and design" with a heavy implication that no such boundaries exist. Functioning as a gallery space, presenting workshops and lectures, and hosting artist residencies, the facility also advocates for artistic expression within the city at large—for example, by putting out a call for design ideas when a downtown plot becomes available for beautification. There's always something surprising to keep you thinking.
---
      5. SITE Santa Fe
SITE Santa Fe is housed within an architectural structure that's a piece of art in and of itself. SHoP, a firm best known for its innovative and sustainable buildings, designed the space, taking into account how SITE's exhibits might be experienced. When the exterior lights illuminate the textured aluminum siding, the effect is profound—the outside seems just as much an artistic piece as what lies inside.
SITE aims to push the boundaries of standard curatorial practices. And in a show of belief in emerging artists, SITE accepts unsolicited materials from creators twice per year. Open Thursday through Sunday. 
---
    6.  Santa Fe Botanical Garden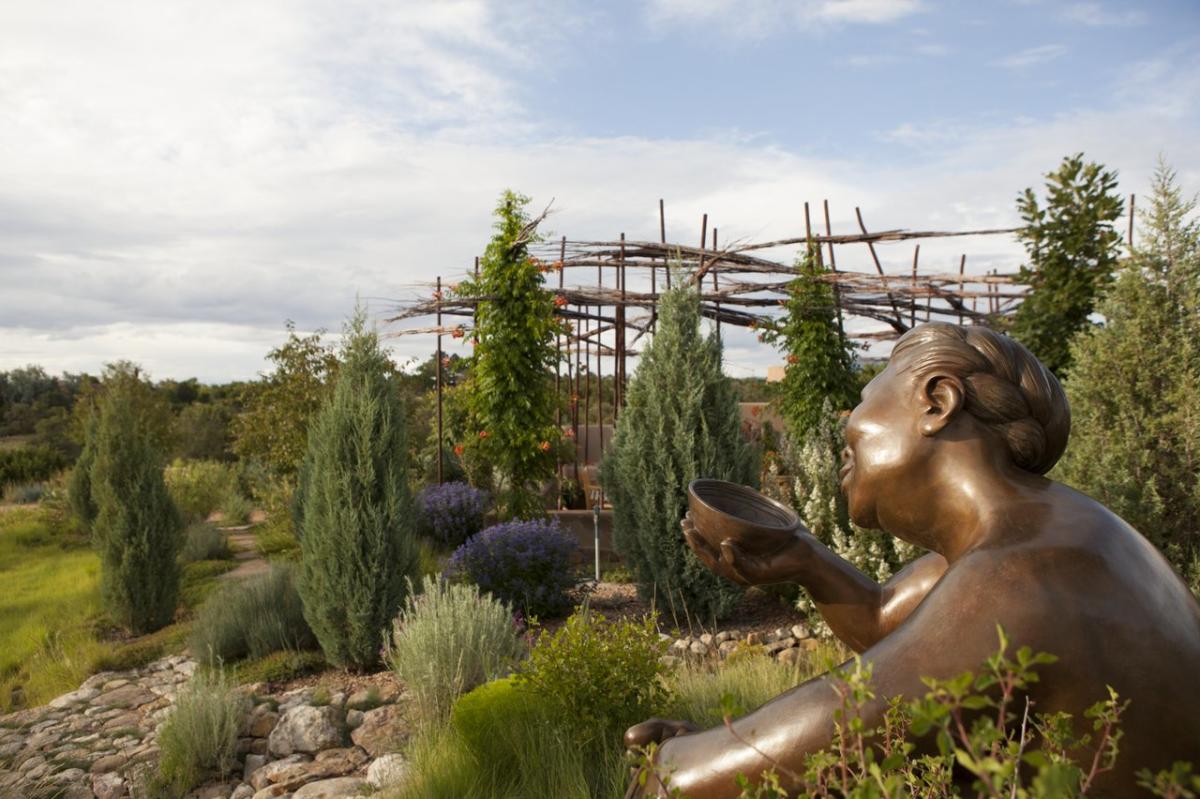 (Photo courtesy of TOURISM Santa Fe)

When you picture Santa Fe, you're probably thinking shades of red, golds, and some adobe thrown in for good measure. But while Santa Fe is certainly set in high mountain territory, that doesn't mean there is a lack of green. The City Different comprises acres and acres of striking local landscape at its most verdant and plants as colorful as many of the city's art museums.
But what makes the Santa Fe Botanical Garden an "experience" are the events it hosts and how they tie into the community. Check out Glow—generally during the month of December—to see the garden lit up with thousands of lights and lasers against the backdrop of the winter's chilly white, or the solstice and equinox celebrations, or get tickets in advance to Shakespeare in the Garden. Then there's Community Day, where students and New Mexico residents get in free. The accessibility of the garden—and the focus on the community—couldn't be more suitable for a come-as-you-are city founded around the arts. And there are more and more sculptures incorporated into the property each year.
---
    7.  CURRENTS New Media Festival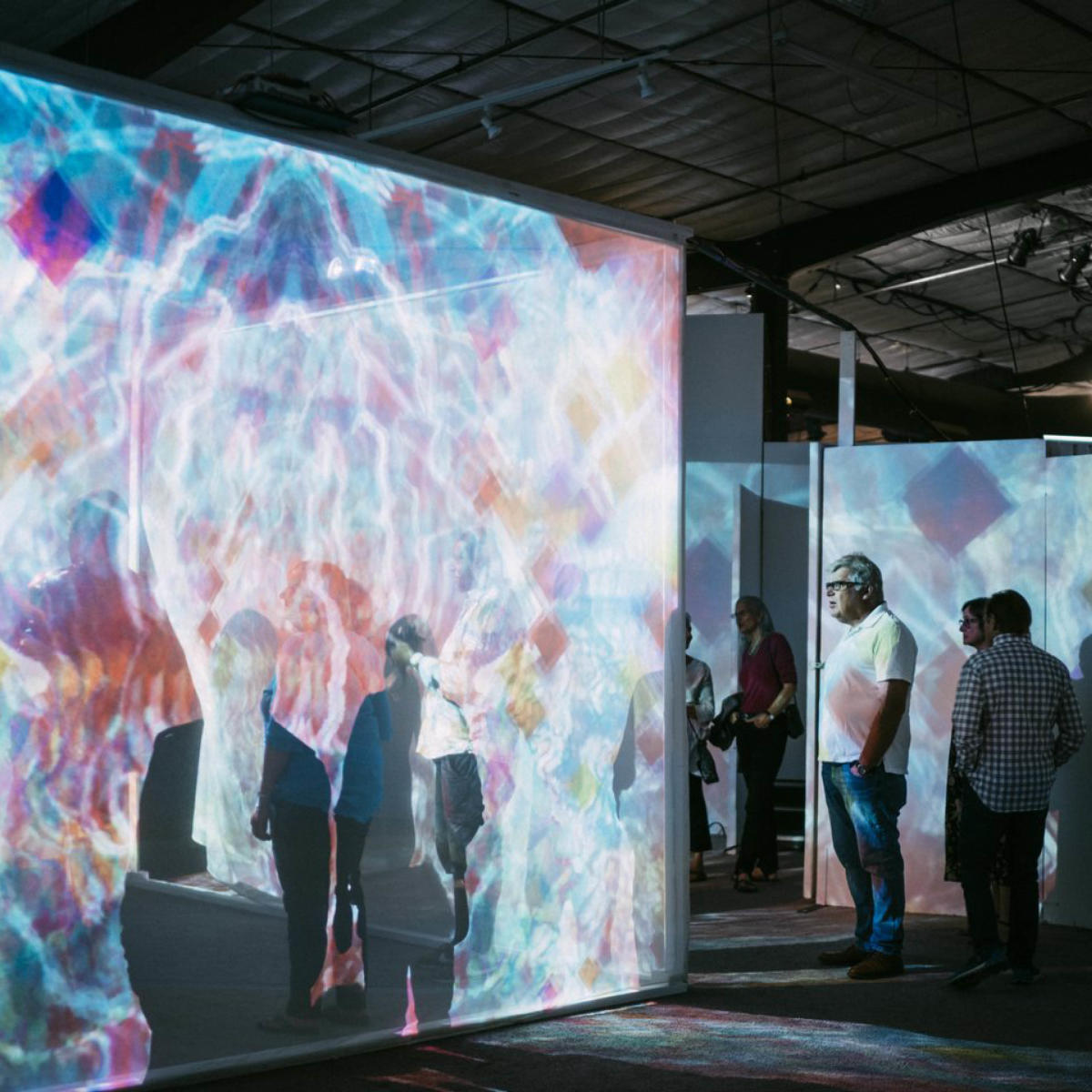 (Photo courtesy of TOURISM Santa Fe)

Strategically headquartered in the burgeoning Railyard Arts District, the annual CURRENTS New Media Festival promises to be back in June of 2022 with work of established and emerging new media artists from New Mexico and beyond, showcasing interactive and non-interactive installations, multimedia performances, virtual and augmented reality environments, single channel video, animation, experimental documentary, robotics, wearables, and 3D printing. Sound unreal and kind of futuristic? 'Tis! Fortunately, the Festival lasts more than a week, so you have the opportunity to revisit this or that thing that you saw or experienced to try to wrap your head around it!
---
With such an abundant number of choices, you'll want to craft your own art experience getaway. We're sure it'll be one of your most artistic adventures to date.
Order your Official Santa Fe Visitors Guide now or browse our deals and specials to help you plan your next trip to Santa Fe.