Each year, thousands flock to New Mexico to visit our southern neighbors and experience the Albuquerque International Balloon Fiesta. This phenomenon in its 51st year, October 7–15, 2023, is the largest ballooning event on earth, the most photographed event on earth, and the largest annual international event held in the United States.
Albuquerque hotels can fill quickly for the week of the event, but bear in mind that lodging in Santa Fe is always an option. This way you can enjoy both the Balloon Fiesta AND Santa Fe, just 60 miles to the north, where you can find great lodging deals. In Santa Fe, temps are a bit cooler, the air a bit crisper, and the colors a bit more vivid.
Again this year, TOURISM Santa Fe is offering a daily shuttle that will run to and from Balloon Fiesta Park with the purchase of an advance roundtrip ticket of $55 per person (+ processing fee). Click here to purchase your roundtrip shuttle ticket. 
Click here to purchase your separate tickets to Balloon Fiesta.
Here are a few recommendations to help you experience the Balloon Fiesta in a whole new way, The City Different way.
View the Aspens from on High 
You can experience much of the Balloon Fiesta's thrill early in the morning. The Mass Ascension launches of 500+ balloons are not to be missed, occurring at approximately 7 am and lasting until about 9 am. The shuttle will return you to Santa Fe between 10:30 and 11 am, and you will find plenty of ways to fill the day. October is a great time to get outdoors! Take in the golden aspens shimmering in the breeze at Hyde Memorial State Park. Then, enjoy an aerial view of the fall foliage from the Ski Santa Fe Super Chief Quad Chairlift ride the weekends of October 7 & 8 and 14 & 15, 2023. Bonus: Other fall activities at the ski basin include a classic car show, an Oktoberfest celebration, live music, an 18-hole disc golf course, art-making, and a tasty grill with cold beverages to round out the fun! 
Enjoy the Many Flavors in Town
Take your adventure from the mountains to the patios with the Santa Fe Margarita Trail. Your adventure begins with purchasing the Margarita Trail Passport at any TOURISM Santa Fe Visitor Center or downloading the app via Google Play or the Apple App Store. Tantalize your taste buds at participaing Trail restaurants and bars with your choice of more than 40 margaritas—you're bound to find a favorite or two! Bonus: Show your Passport to receive $1 off each location's special Margarita Trail cocktail.
Get Cultured at More than 15 Museums and Historic Sites
Immerse yourself in the art and culture that only a 400+-year center of history and artistic innovation can deliver. Consider Museum Hill, which offers four world-class museums, all in a single location. If you plan on visiting multiple museums, save considerably on admission with the CulturePass. For just $30, the CulturePass allows one visit to each of the state's 15 museums and historic sites. The pass is good for 12 months after first use, so you have plenty of time to take full advantage. Perk alert: Should you have children traveling with you, bear in mind that all kids age 16 and under are always free at these museums.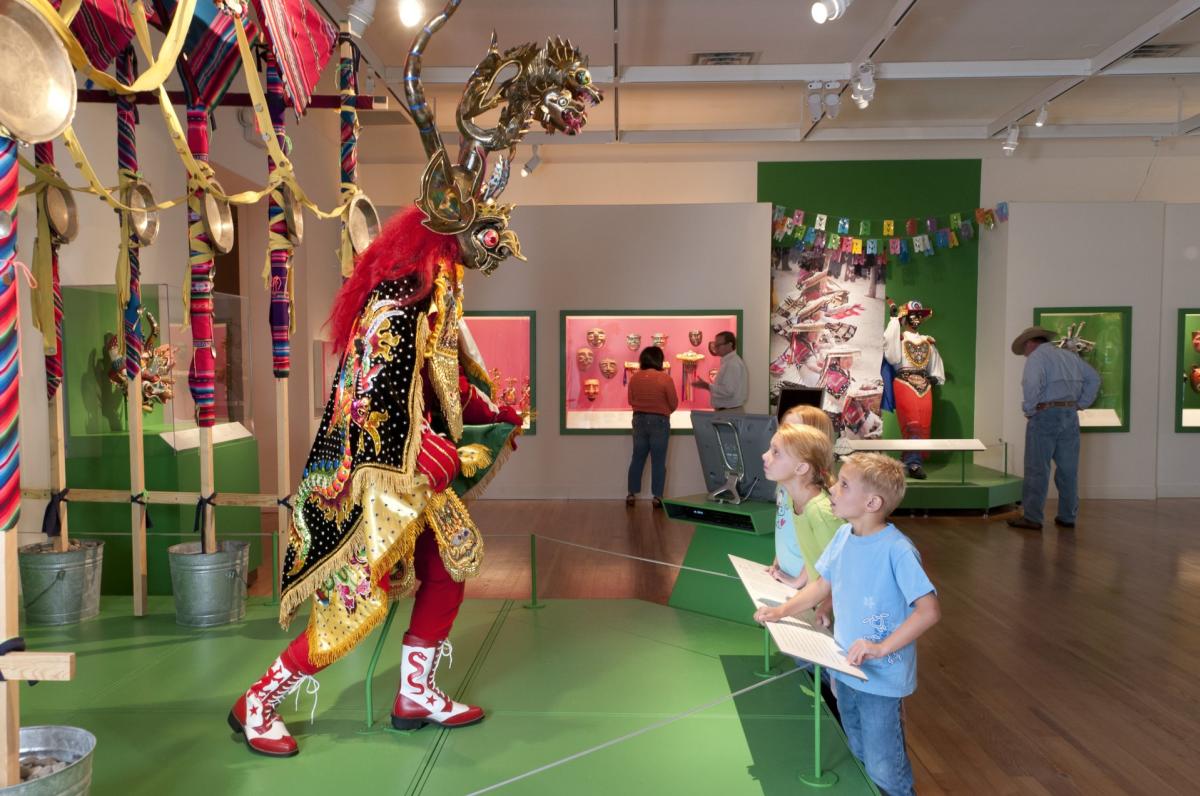 Kids marveling at the Museum of International Folk Art. (Photo: Kitty Leaken)
Celebrate Our Rich and Vibrant History
October is also a great time for events in The City Different. Since 2016, the second Monday of October has been proclaimed Indigenous Peoples' Day, in honor of the 23 Tribes, Nations, and Pueblos whose influence is evident throughout the region. Santa Fe is deeply proud to embrace its rich cultural diversity and the prolific and profound contributions that its First Peoples brought and continue to bring to Santa Fe. In honor of these contributions, there are traditional dance and drum performances on the historic Santa Fe Plaza daily throughout the weekend of October 7–9, 2023 from 10 am to 4 pm. Also take part in celebrations at the Institute of American Indian Arts and at the Santa Fe Indian School for the actual holiday, Monday, October 9.
Participate in the Fall Harvest
Additionally, October is the time to celebrate the bounty of the harvest. Visit New Mexico's top living history museum, El Rancho de las Golondrinas for the 51st Annual Harvest Festival, October 7 & 8, 2023. Taste syrup from a burro-driven sorghum mill, help make cider by cranking a traditional apple press, or pick a pumpkin from the scarecrow-guarded patch. For the children, there will be grape-stomping, cornhusk doll making, and rolling their own delicious tortilla by hand.
---
Get a taste of The City Different! Order your Official Santa Fe Visitors Guide now or browse our deals and specials to help you plan your next trip to Santa Fe.