Nestled in the hills just south of Santa Fe, sits the Village of Cerrillos, an official "ghost town" whose streets welcome day‐trippers year‐round. Ghost towns exist all over the world but there's something that makes those in America uniquely enchanting and even romantic. While the majority of abandoned towns across the country were paved over to make way for suburbs, Cerrillos found a second life.
Accessible from State Highway 14, Cerrillos is part of the historical [blog_link url="http://www.turquoisetrail.org/" text="Turquoise Trail National  Scenic Byway" date="2017-01-17"]. With just over 200 residents, its old world charisma far surpasses its size.
Cerrillos earned its name in the 1600's when the area was settled by Spanish cattle ranchers who gave the nearby hills the name Los Cerrillos, meaning little hills. The mineral boom of the area did not occur until the mid-1880's when miners began extracting gold, silver, lead, zinc and most notably turquoise from the soil.
In 1889, distinguished Tiffany & Co. jeweler George F. Kunz gained notoriety in Paris for a collection featuring Cerrillos turquoise. Kunz later announced that that particular shade of turquoise was considered "gem quality" – namely, the famed Tiffany Blue which is still featured on their iconic boxes. In 1889, it was reported that New Mexico's production of turquoise was valued at $1,600,000, most of which came from the Cerrillos Hills. Today some small private mines in the area are still worked, mostly by hobbyists.
The remaining buildings that line the old streets of the town resemble those of a movie set, and in fact, these streets been featured in over a dozen films including "The Nine Lives of Elfego Baca", "Young Guns" and John Wayne's "The Cowboys". Cerrillos is still home to some stocked stores, including the interesting [blog_link url="http://www.casagrandetradingpost.com/" text="Casa Grande Trading Post and Mining Museum" date="2017-01-17"], which allows visitors to take a piece of locally mined turquoise home with them.
Another don't miss gem of Cerrillos is the [blog_link url="http://www.turquoisetrail.org/stops/detail/turquoise-trail-sculpture-garden/" text="Turquoise Trail Sculpture Garden" date="2017-01-17"], which displays carefully curated pieces that complement the scenery. Be sure to request a guided tour from the remarkably friendly staff members and have a chance to meet the artists who create this imaginative and sizeable origami‐like sculptures.
Though from a distance the terrain may appear sparse and desolate, up close the tranquility of the surroundings is soothing. Take a stroll through the terrain of [blog_link url=http://www.emnrd.state.nm.us/SPD/cerrilloshillsstatepark.html text="Cerrillos Hills State Park" date="2017-01-17"] and enjoy spectacular views of the Sandia, Ortiz, Jemez and Sangre de Cristo mountain ranges. The year-round State park offers five miles of trails, where you'll cross paths with hundreds of years of mining history and excellent picnicking spots. The park also hosts many nature‐based events throughout the year including star gazing, bird watching and landscape photography.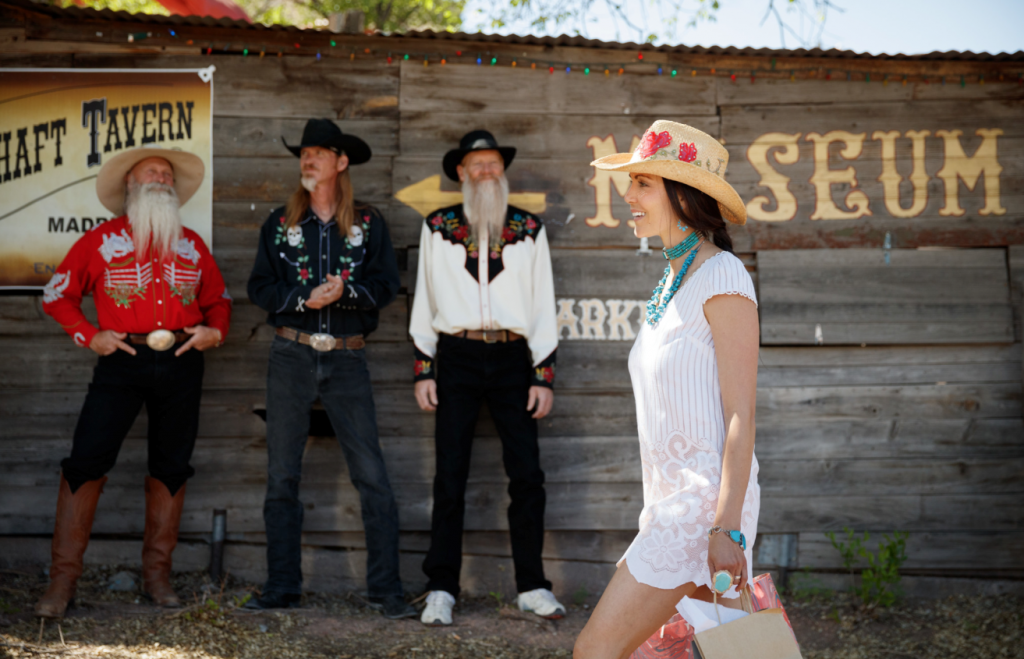 Photo courtesy of Santa Fe County
You can also head a couple of miles South for a bite to eat and a drink to sip on at the [blog_link url="https://www.themineshafttavern.com/" text="Mine Shaft Tavern" date="2017-01-17"] one of New Mexico's oldest saloons. Established in 1899, The Mine Shaft fits right into the quirkiness of the Town of Madrid and is a local favorite, offering plenty of New Mexico craft beers, flavorful dishes, a unique atmosphere and friendly service. Musical appreciation is a must in the area and the tavern hosts plenty of quintessential folk and country bands numerous nights a week.
Visitng Cerrillos this year  will allow you to take in some of the area's most beautfiul scenery and historical sites. Plan your getaway now by ordering the [blog_link url="https://santafe.org/Visitors_Guide/index.html" text="2017 Santa Fe Travel Guide" date="2017-01-17"]. There's always [blog_link url="https://santafe.org/Visiting_Santa_Fe/Specials/" text="deals and specials" date="2017-01-17"] happening so make sure and be sure to check these out.
This blog was written in partnership with [blog_link url="http://www.santafe.org" text="TOURISM Santa Fe" date="2017-01-17"]  and [blog_link url="http://santafenmtrue.com/" text="Santa Fe County" date="2017-01-17"].