Every August, approximately 800 Native American artists from across North America gather on the historic Santa Fe Plaza for Santa Fe Indian Market, a celebration of Native art, heritage, and culture. And this August 2023, Indian Market celebrates its 101st anniversary!
Produced by Southwestern Association for Indian Arts, whose mission is "bringing Native arts to the world by inspiring artistic excellence, fostering education, and creating meaningful partnerships," Indian Market is the largest and most prestigious juried Indian art market in the world. Native American artisans and their work are the main draw, but there is far more going on than just great shopping! Make your Indian Market experience a robust one. Events run Wednesday, August 16 through Sunday, August 20, and some are ticketed.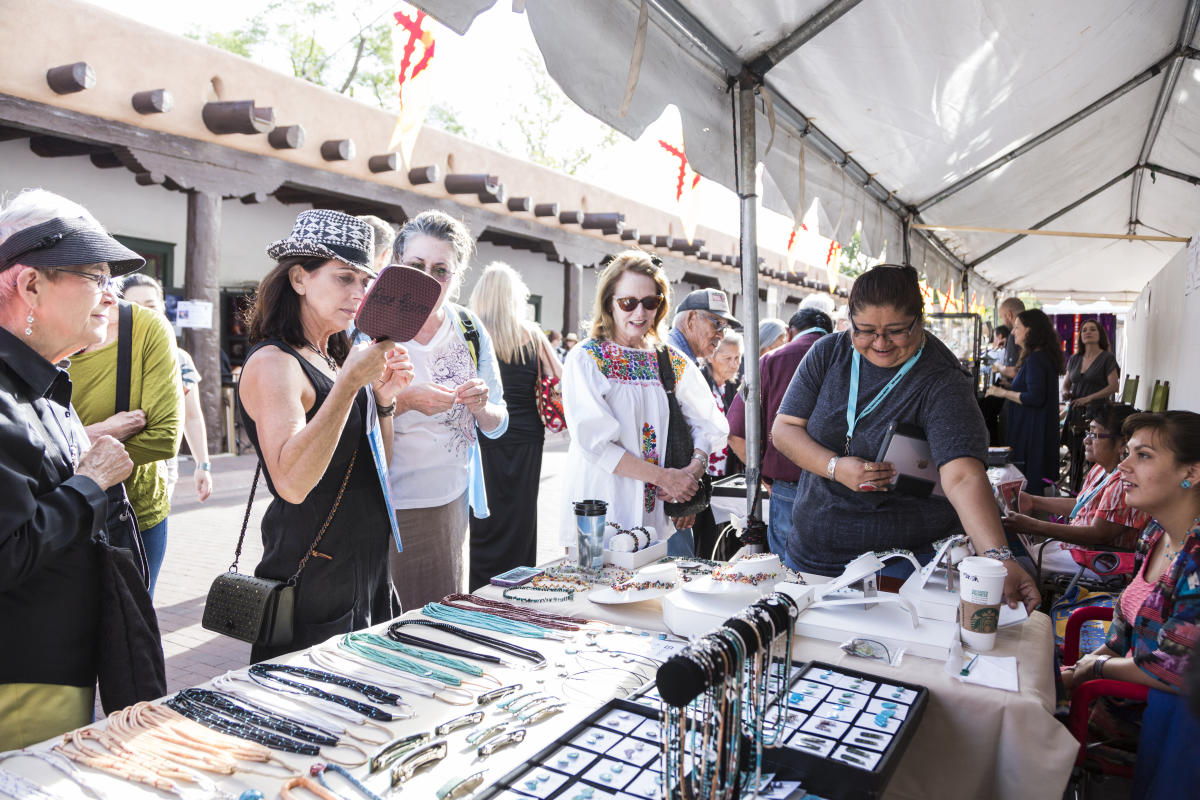 Shopping Saturday and Sunday on the Plaza at Jeanie Reano's booth (Photo by Gabriella Marks)

1. The Art
The 800 or so juried artists hail from more than 250 Nations in the US and Canada and from a long lineage of traditional arts and teaching. Because the Indian Market artist application process requires adherence to strict guidelines on production and materials, you can expect high-quality authentic pieces in a variety of juried mediums, including pottery, basketry, jewelry, painting, sculpture, wood carvings, and textiles. The Saturday and Sunday markets are free and open to all on the Plaza from 8 am to 5 pm. 
---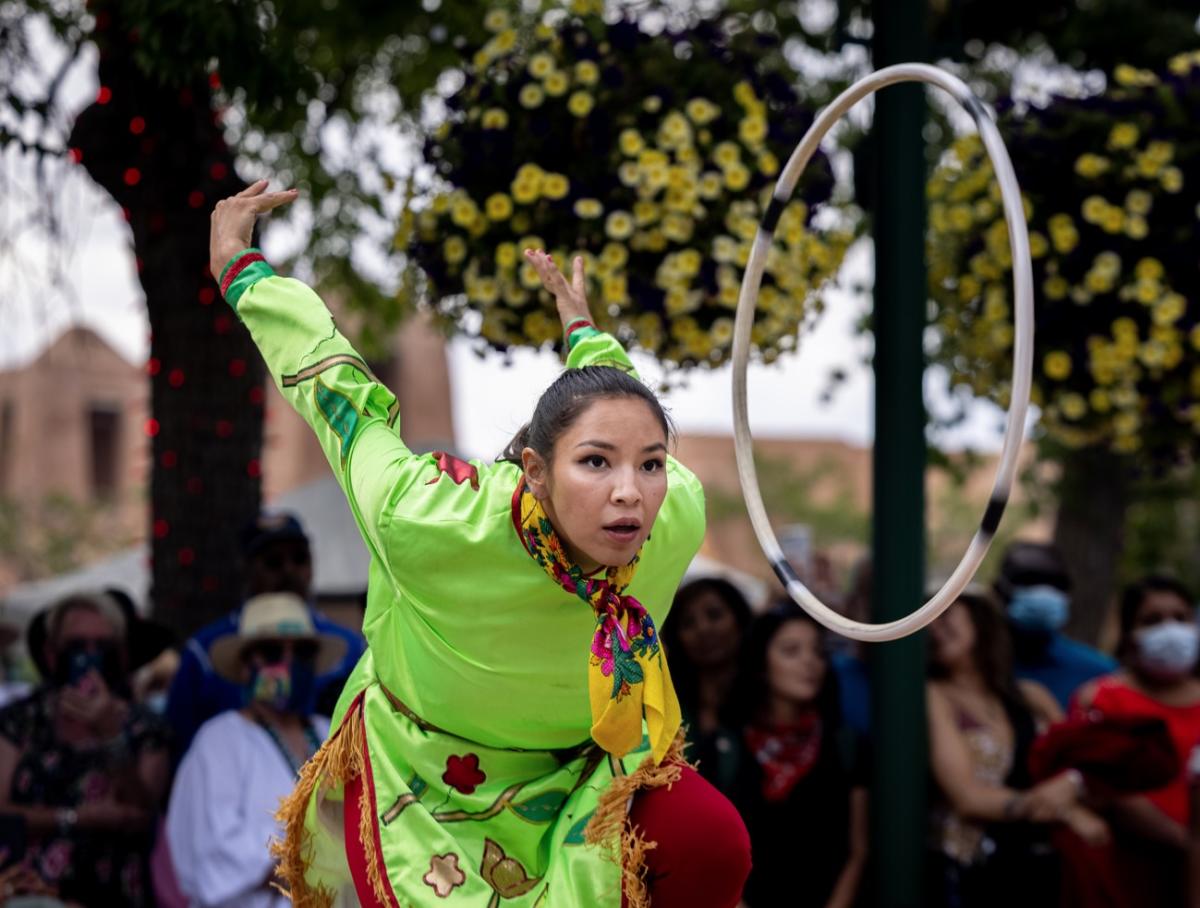 ShanDien Sonwai LaRance (Hopi, Tewa, Navajo and Assinaboine) from Lightning Boys performs on the Plaza during Indian Market's weekend entertainment (Photo: Tira Howard)

2. Native Performances on the Santa Fe Plaza and Cathedral Park
During the Saturday and Sunday markets, take a moment to pause from your browsing and enjoy the music, dances, comedy, and storytelling shared by Native American performers, including the Lightning Boy hoop dancers, Red Feather Woman, and Adrian Wall on the historic Plaza's gazebo and at the Cathedral Park stage. Free to all!
---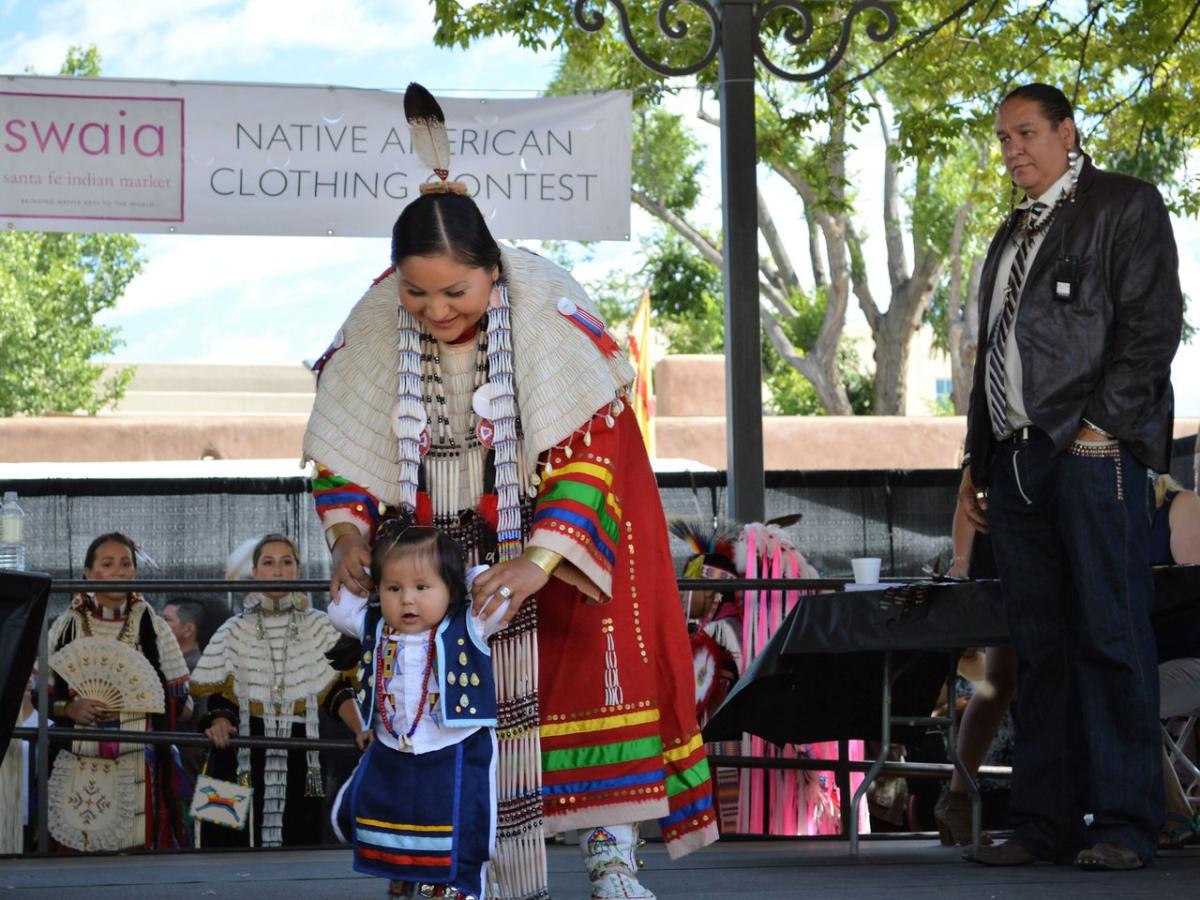 3. Native American Clothing Contest on the Santa Fe Plaza
This Market favorite is sure to delight all. From 9 am to 1 pm on Sunday, August 20, come see the contests (men, women, and youth) compete for ribbons and prize money with a wide array of handmade traditional regalia and clothing from North American Indigenous Nations. Free to all!
---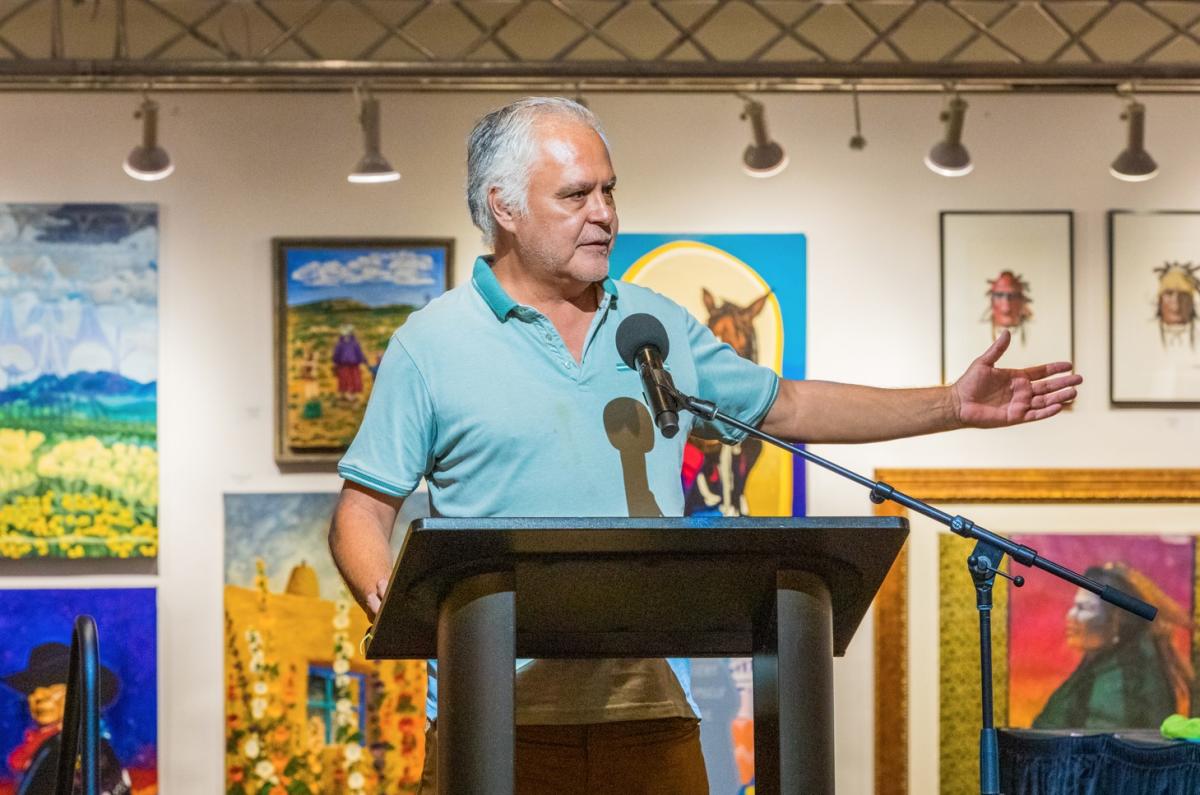 B2022 Best of Show Winner: Potter Russell Sanchez (San Ildefonso) (Photo by Shayla Blatchford for SWAIA )

4. Friday's Best of Show and Classification Ceremony and Luncheon
Sponsored by JoAnn and Bob Balzer and celebrating the top artists of the year in all 10 juried market categories, this exclusive, SWAIA members-only event begins at 11:30 am with an awards ceremony for Best of Classification winners and the Best of Show winner. (Don't be left out—it's easy to become a member!) You will glimpse a stunning preview of the year's entries from all classifications. The ceremony is followed by a luncheon at 1 pm for Best of Show and Best of Classification winners, their guests, and ticket holders, sponsored by the Institute of American Indian Arts in the Santa Fe Community Convention Center courtyard. Click here for tickets. 
---
Award-winning Native artwork on view in advance of the weekend markets (Daniel Nadelbach Photography for SWAIA)

5. Friday's Sneak Peek and General Preview of Award-Winning Art
Friday afternoon (from 2 to 4 pm), members get an opportunity to see the best of Indian Market art in a sneak peek after the Best of Show Awards ceremony. From 4 to 6 pm, it's the public's first opportunity to see this award-winning art during the General Preview. Both opportunities take place in advance of the Saturday and Sunday markets. Click here for tickets to both events.
---

Gala at the Santa Fe Community Convention Center (Photo by Shayla Blatchford for SWAIA)  

6. Saturday's SWAIA Gala Reception, Fashion Show, and Live Auction
The SWAIA Gala, sponsored by the San Manuel Band of Mission Indians, takes place in the Santa Fe Community Convention Center and is your chance to bid on some of the most sought-after pieces of the Market via an exciting live auction. Attendees will enjoy a lavish cocktail soirée with an eclectic tasting menu. They'll also be treated to a Fashion Show, featuring new collections from select Indigenous fashion designers, including Tracy Toulouse, Rebecca Baker-Grenier, Elias Not Afraid, and Clara McConnell of Qualluq. Click here for tickets.  
---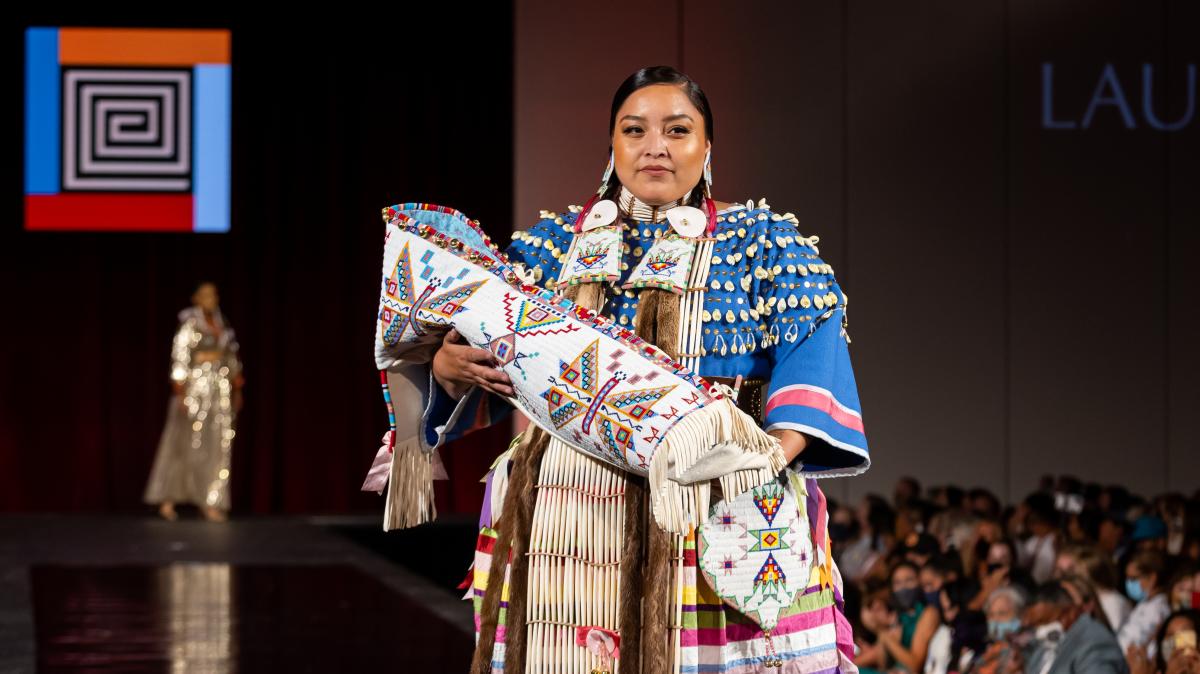 Models showcasing Indigenous fashion designer Lauren Good Day's fashion (Tira Howard Photography)

7. Sunday's Indigenous Fashion Show
The annual Indigenous Fashion Show, from 3 to 4 pm, showcases cutting-edge collections from six premier North American Indigenous fashion designers (Jamie Okuma, Orlando Dugi, Pam Baker, Dusty LeGrande of Mobilize, Jontay Kham, Lauren Good Day, and Jason Baerg) and is a highly popular event. Click here for tickets. For more information, read our recent blog, The Art of Indigenous Fashion at Santa Fe Indian Market. 
---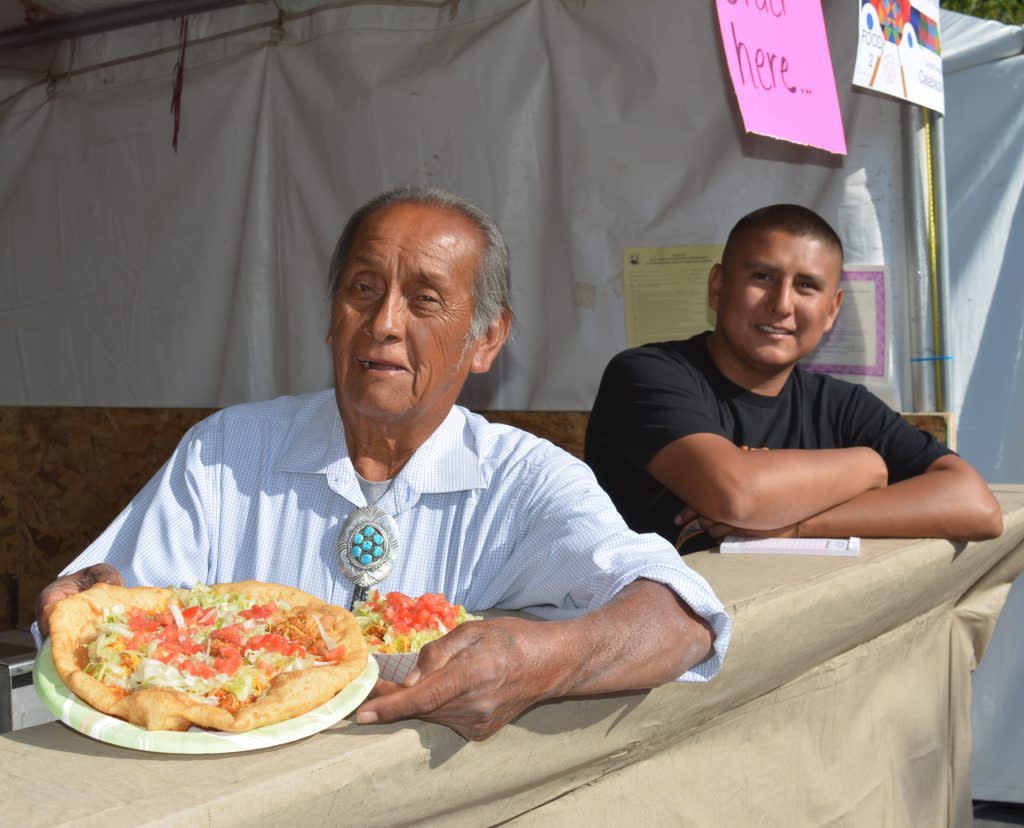 Indigenous food vendors sell traditional specialty foods 

8. Native Food Vendors
A visit to Indian Market would not be complete without sampling some of the amazing Native American homemade cuisine. Enjoy a variety of traditional specialties such as Indian Fry Bread, Frito Pies, roasted corn on the cob, turkey legs, Pueblo stews, and more! 
---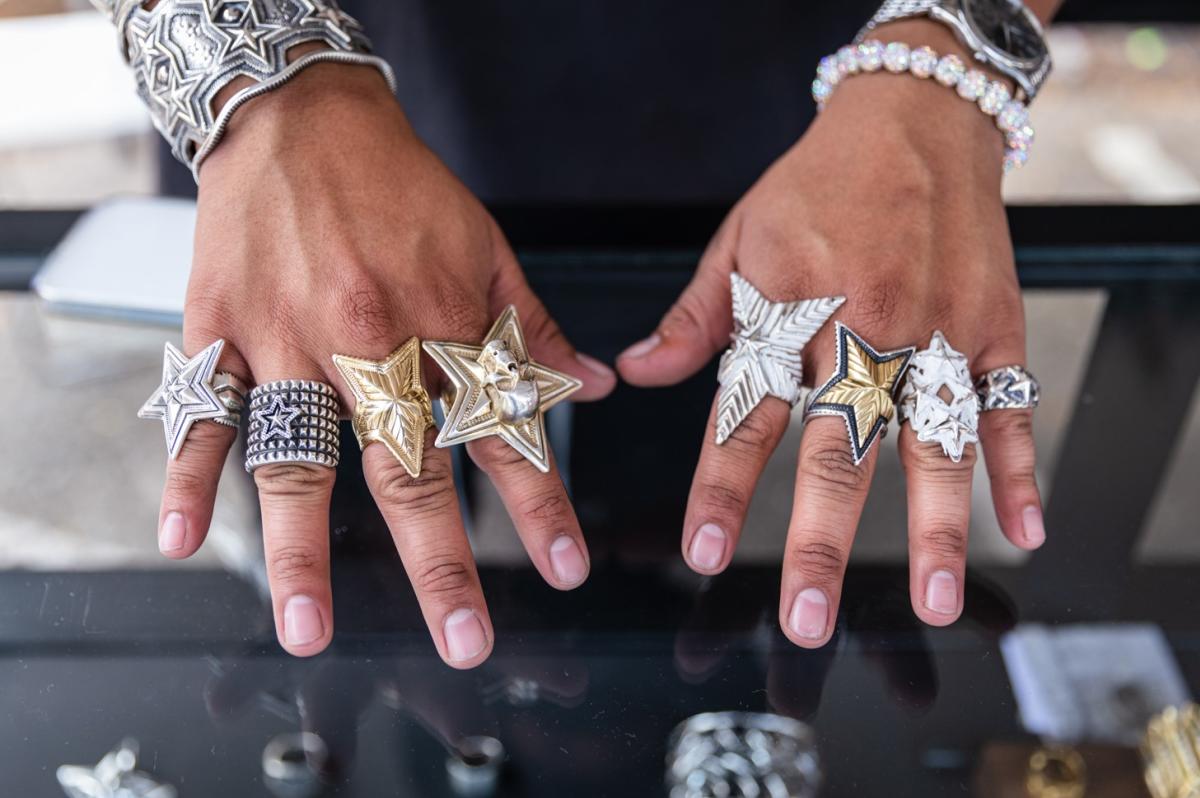 Silver and Gold jewelry by Cody Sanderson (Photo Shayla Blatchford for SWAIA) 
 
9. Other Opportunities to Enjoy Native Arts and Culture
Naturally, the allure of Santa Fe Indian Market also attracts several other Indigenous shows. You can find free, open-to-the-public displays of Indigenous art in a variety of galleries and pop-up style shows. For more unique Native art, visit the nearly 600 artisans at Free Indian Market, which is hosted outside at the Federal Courthouse park on Paseo de Peralta and the Pathways Indigenous Arts Festival, held at Buffalo Thunder Resort & Casino, August 18–20. Also, the Institute of American Indian Art's Museum of Contemporary Native Arts is free from 5–7 pm Friday, August 18 and the 19th and 20th, and hosts many related events, including the 2023 IAIA Recent Graduate Art Market, featuring 20 artists' works, held under the museum's portal on Saturday and Sunday.
---
Get a taste of The City Different! Order your Official Santa Fe Visitors Guide now or browse our deals and specials to help you plan your next trip to Santa Fe.