Note: This blog was written by Chase Daniel, architectural and interior photographer based in Austin, Texas, in partnership with Steller and TOURISM Santa Fe.
My wife, Lauren and I recently took a trip to Santa Fe, and we want to share our amazing experience with you. Our long weekend in Santa Fe was packed with the perfect variety of fun, relaxation and adventure! We'd never been but are so happy to have gotten the opportunity to visit. Santa Fe has so much to offer—gorgeous sunny blue skies, hiking, biking, spas and springs. Around the city we found adobe buildings, rich multicultural history, artisan markets and shops, plus incredible food and drinks. 

Cristo Rey Church and Santa Fe homes seen on our bike ride
We arrived on Thursday after a quick flight into Albuquerque and rented a car to enjoy the scenic easy drive to Santa Fe. (The train could also be a fun option as the city is definitely walkable for most activities and a quick Uber ride could get you to the further destinations.) We stayed at Hotel Santa Fe  and were immediately impressed by our spacious Hacienda. Everyone was so helpful and kind, but we also had access to a butler, which was such a nice personal touch. It is the only Native American-owned hotel in Santa Fe and features incredible award-winning authentic art throughout the beautiful space.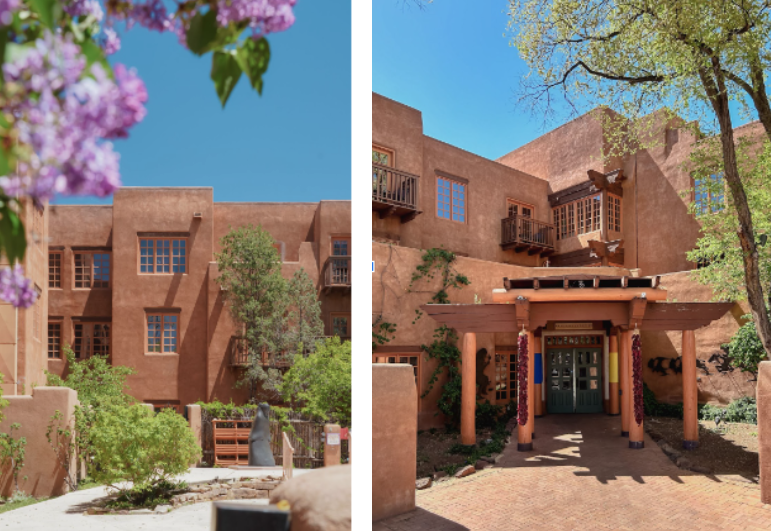 Hotel Santa Fe
After settling in, we walked across the street to the Railyard to have a cocktail at As Above, So Below. It has an eclectic, cozy vibe and a diverse and seasonal cocktail menu, which sold us. They distill their own vodka and gin! We enjoyed the Thai Tea Gin Cocktail with coconut cream and cardamom bitters and the delicious Underwood Martini, which was a twist on a dirty with umami tincture and a candy-glazed mushroom. Both were absolutely delicious.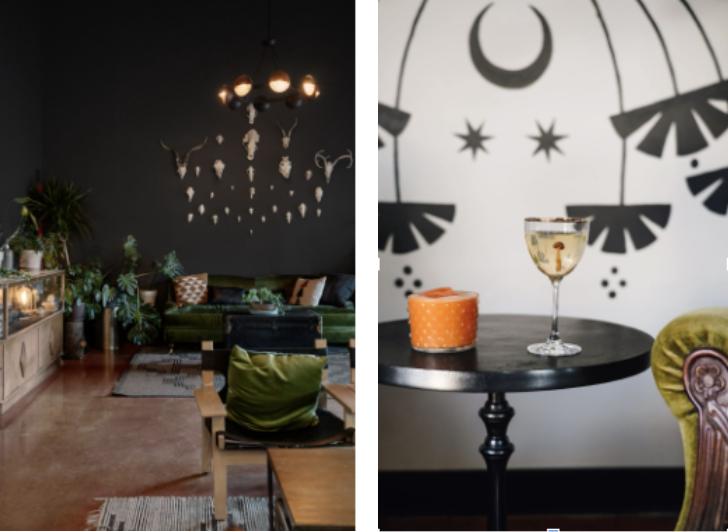 As Above So Below
We walked across the street to Opuntia for dinner. We loved the view overlooking the Railyard as we enjoyed casual and delicious dishes from this spot. They seemed to have seasonally inspired menus with a variety of options, including vegan and gluten-free. They had a variety of teas and drinks. It would be great for breakfast or lunch as well.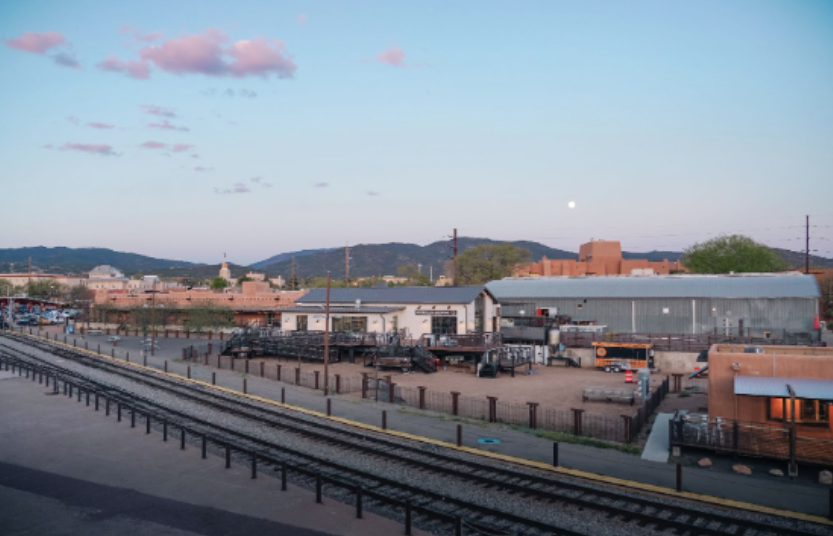 View from Opuntia
Friday we woke up excited for the day and headed out to take the City Different E-Bike Tour by Heritage Inspirations. My wife was pretty apprehensive about being on a bike for a few hours, but the E-bikes made the biking part a breeze and our tour guide was informative and fun. We loved winding through the neighborhoods, seeing the expansive beautiful skylines, and exploring the galleries on Canyon Road.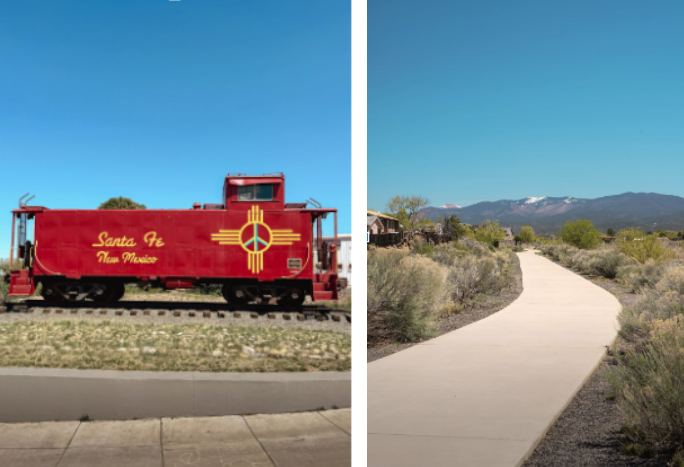 Salvador Perez "Train" Park and River Trail seen from our bike ride
Since it was Cinco de Mayo (and my wife conquered her fear of biking), we headed straight to Coyote Cantina for rooftop margaritas and some Southwest-inspired cuisine. The atmosphere was lively and fun with music playing and people buzzing around. Our favorite dish was the Griddled Corn Cakes with jumbo prawns, chipotle butter and salsa fresca.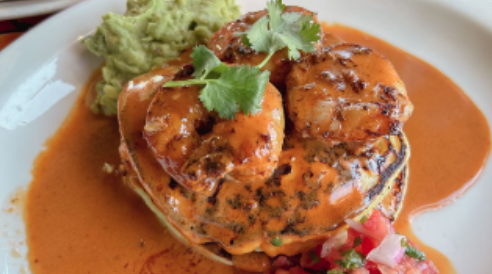 Meal at Coyote Cantina
There are so many great shops in the area, so we decided to walk around. We particularly loved meeting the artisans in front of the Palace of the Governors and seeing their work, which you can do every day because of the Native American Artisans Portal Program, which welcomes 23 federally recognized tribes, Pueblos and Nations to sell and display their handmade items. Since its founding in 1909, the New Mexico History Museum has worked to protect and promote traditional Southwestern Native Americans arts and crafts, including pottery, some textiles and jewelry made of traditional materials such as turquoise, coral, and silver. My wife got a gorgeous silver cuff with a turquoise stone as a memento of our trip.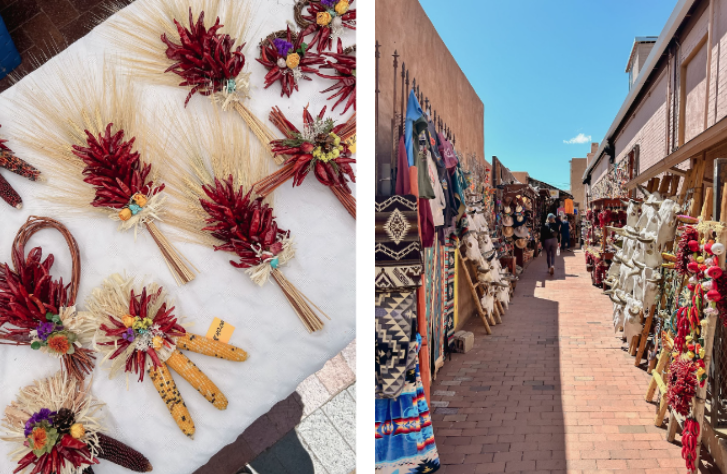 Shopping in Santa Fe
After shopping, we took a break back at the hotel before dinner at Paloma, which was one of the highlights of our trip! We sat on the patio because it was gorgeous weather, and to our pleasant surprise, there was a live mariachi band. Between the incredible atmosphere, the mezcal offerings and of course the tasty Mexican-inspired menu, it was a dinner for the books.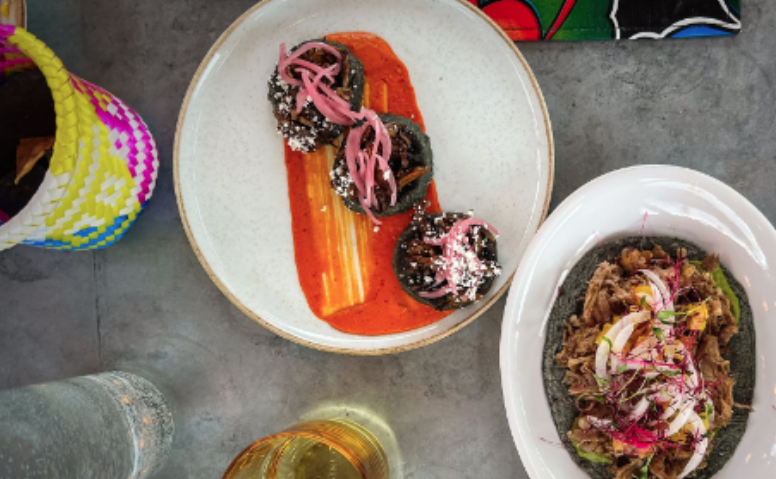 Meal at Paloma
Saturday morning we walked over to Crash Murder Business, whose menu is filled with unique drinks and the vibe was the perfect way to start the day. Then just a few blocks away, the Santa Fe Farmers' Market, which was so fun. The vendors offer fresh produce, meat, snacks, bread, chiles (fresh, dried and powdered), authentic artisan pieces and more. We loved walking the market and tried a few food items, including some unique blue corn donuts from Whoo's Donuts.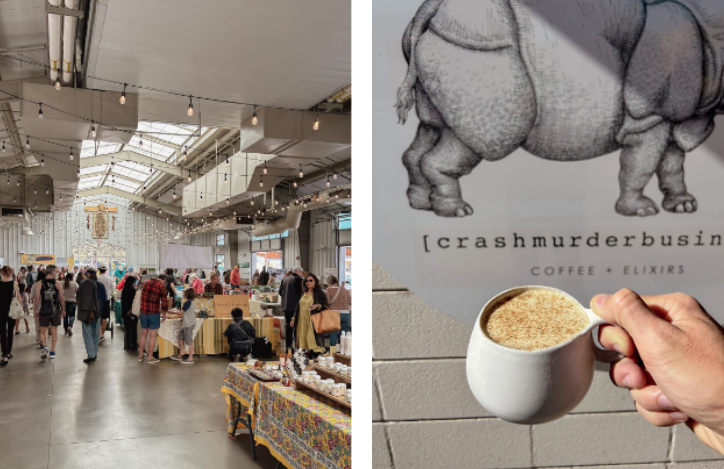 Santa Fe Farmers' Market and crashmurderbusiness
After our morning adventure we choose Counter Culture for a delicious light bite for lunch. And then we kept heading south just a few more minutes to Meow Wolf, which is a unique art experience. I am not joking when I say this place blew us away! We had an absolute blast exploring the different rooms and interacting with the space.  It was a never-ending maze of incredible artistry combined with mind-bending strange. Be sure to buy tickets online in advance.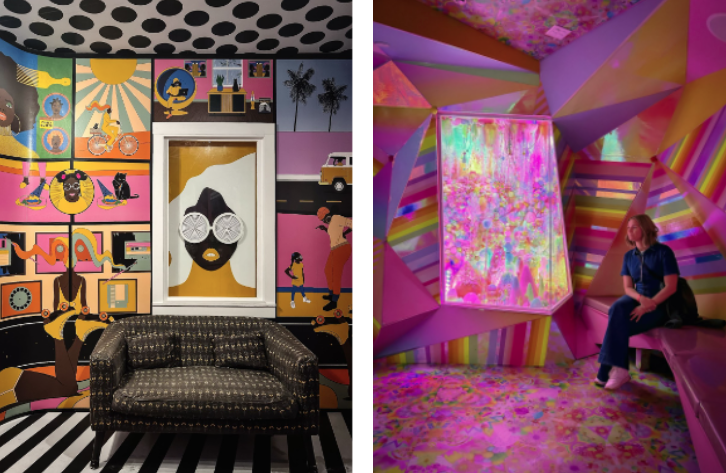 Meow Wolf
For dinner we enjoyed The Compound which is a gourmet restaurant in an old adobe home designed by artist Alexander Girard. It's definitely a more traditional upscale dining experience—the food did not disappoint. We highly recommend the Lobster Salad! All in all, it's the perfect spot to enjoy a lovely, quiet meal.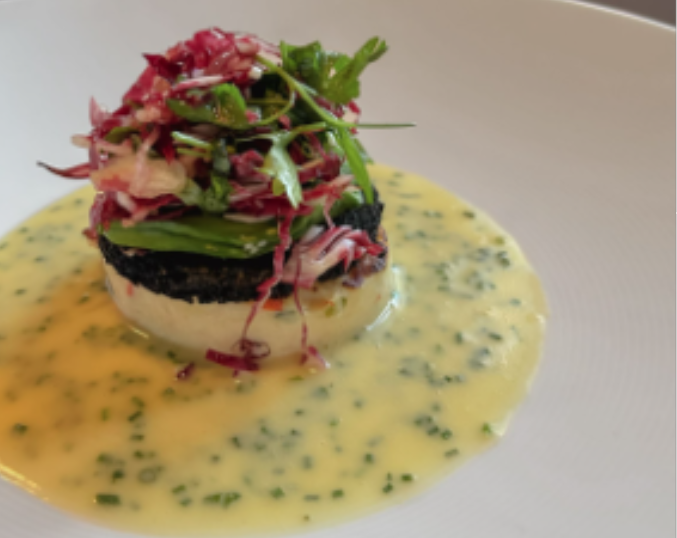 Meal at The Compound Restaurant
Some other spots we'd recommend checking out are, Modern General for lunch or breakfast, Tonic for cocktails, Canyon Road for beautiful unique works of art, Radish & Rye for incredible food and whiskey, hiking Picacho Peak or really any of the beautiful trails in the area, breakfast at the Teahouse, or visiting the Loretto Chapel to learn about the miracle staircase.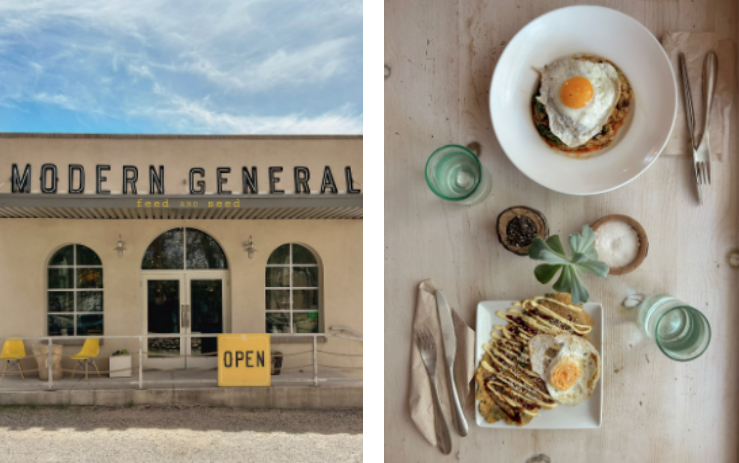 Modern General
So, how's that for a great weekend of cuisine, art, history, and culture in the Southwestern hub of Santa Fe, New Mexico? Here's hoping our itinerary offers you some inspiration!
---
Order your Official Santa Fe Visitors Guide now or browse our deals and specials to help you plan your next trip to Santa Fe.