Who doesn't love a Happy Hour? A dedicated time to score incredible values on food and drinks and the opportunity to sit among a boisterous mix of visitors and locals is always a treat. Our lengthy roundup of happy haunts, listed alphabetically, range from casual to fancy, each offering a great special to make your late afternoon and evening hours that much more fun! 
---
Agave Restaurant & Lounge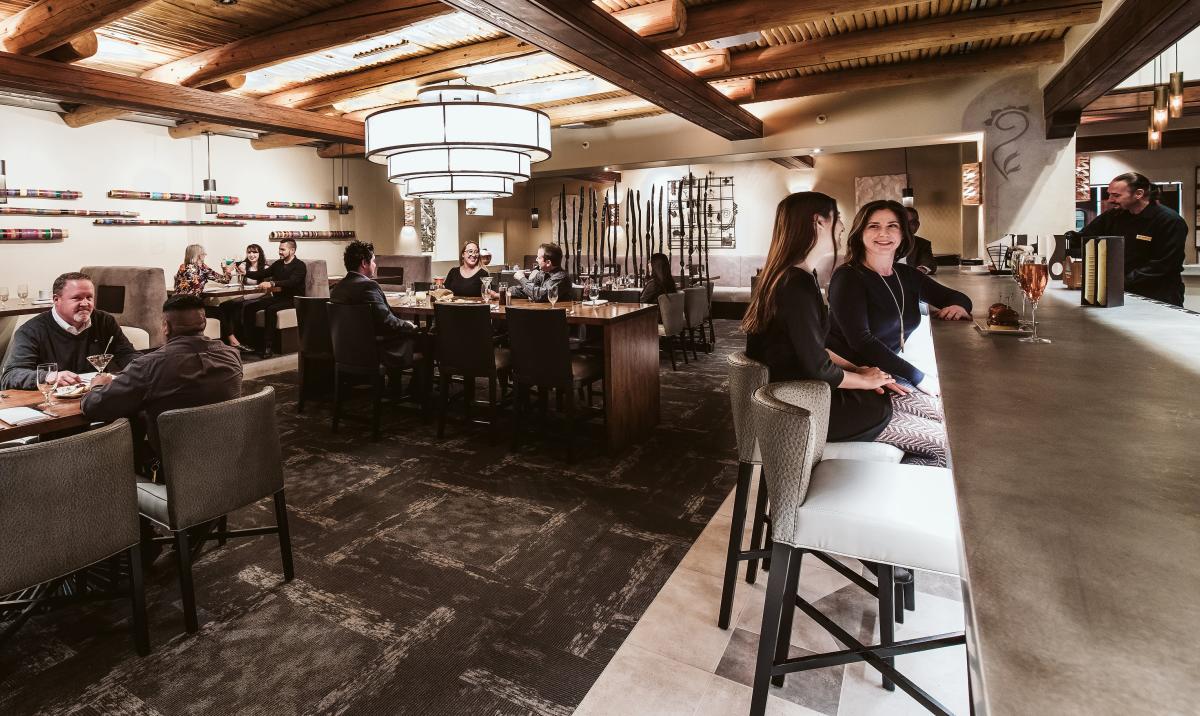 Agave is hip and modern with an elegant nod to the Southwest. The low lighting and deep tones of wood and leather are inviting and relaxing. Located inside the Eldorado Hotel, this place is perfect for a big group with its vast and varied seating areas. Happy Hour is offered daily 4 to 6 pm and includes $1 off draft and bottled beer, $5 house wines and cocktails, and a tasty selection of hearty, half-off apps including flatbreads, mac 'n' cheese, and the Chef's Board.
---
Andiamo!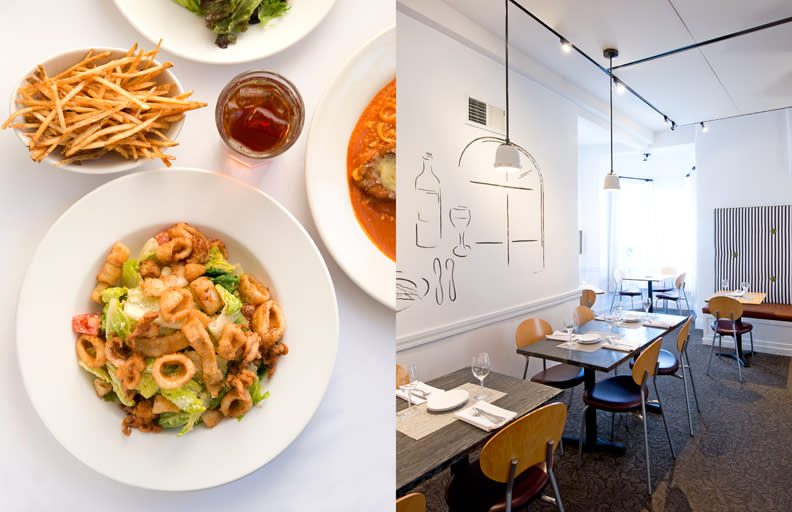 Dishes in this mission-style bungalow (circa 1880) are Italian inspired. Ensconced in the Railyard District, Andiamo! has a daily Happy Hour (4:30–6 pm), offering $2 off wines, $1 off beer & appetizers, including Crispy Polenta and Flash-Fried Calamari. You'll love the intimacy of the sweet gathering spot.
---
Chile Line Brewery and Lino's Trattoria and Pizzeria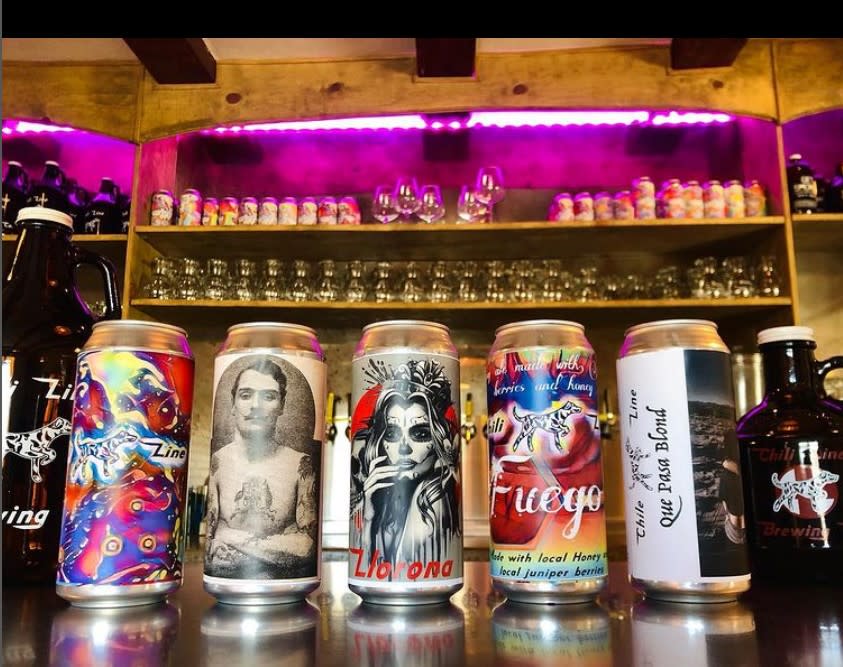 Family owned and operated Chile Line Brewery and Lino's Trattoria and Pizzeria serve Northern Italian cuisine and handcrafted beer, brewed onsite. Conveniently located on Guadalupe Street near the downtown Plaza, the establishments offer a daily Happy Hour from 3 to 6 pm with half-off bar food specials. Pull up a seat at the bar or check out the patio for a casual, friendly, locals' scene.
---
Cowgirl BBQ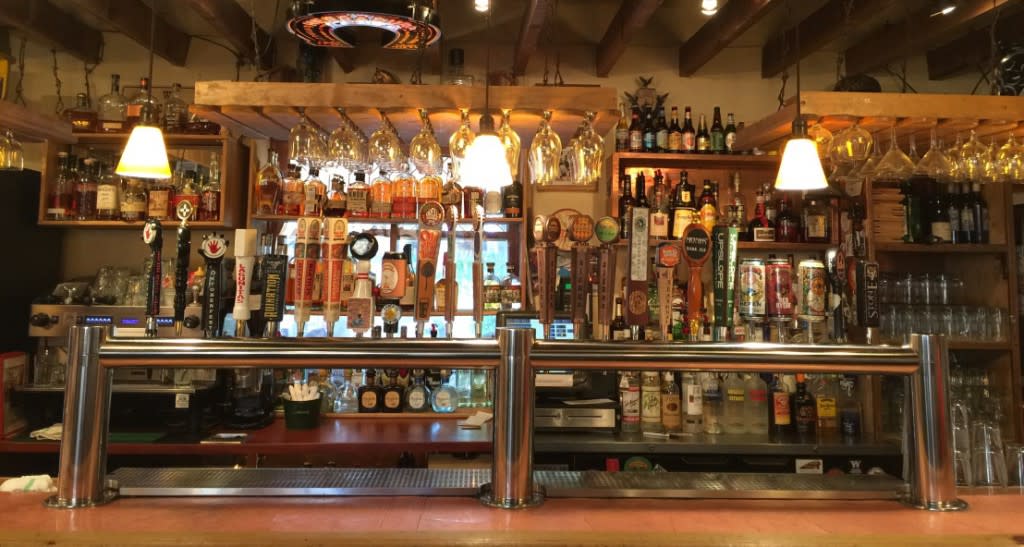 A must-stop if you desire a casual and lively setting, popular with visitors and locals alike. The Cowgirl BBQ waitstaff are easy to identify, dressed head to toe in Western wear. Weekdays from 3 to 6 pm, enjoy discounts on all draft beers, house margaritas, well drinks, wines by the glass, and seasonal drink specials. There's also a great bar menu, which includes chile cheddar fries and chicken wings. Families are encouraged to check out the Kiddy Korral in the back.
---
Dinner for Two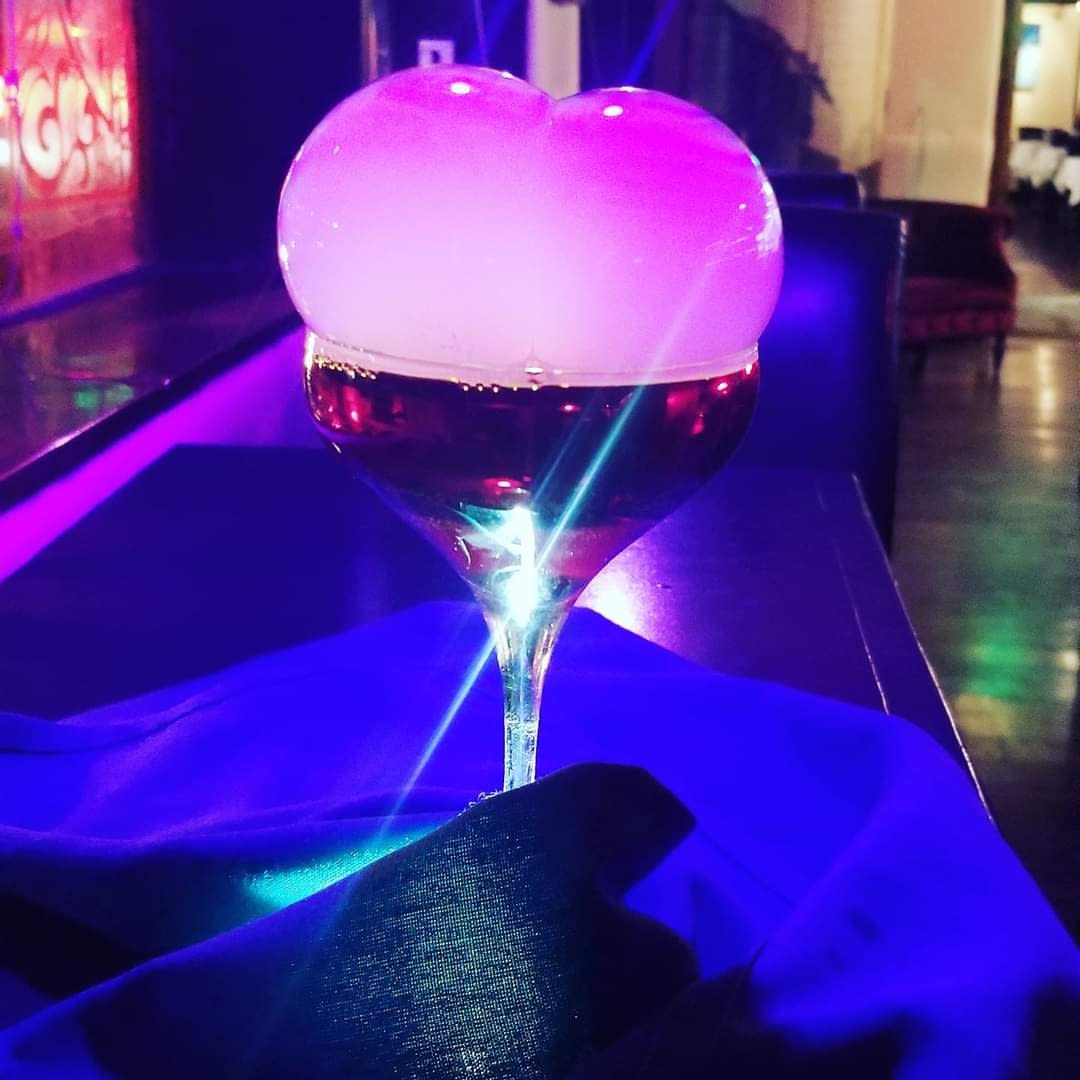 Don't let the name of this groovy establishment fool you. More than two are welcome at Dinner for Two—in fact, the more the merrier on their swinging umbrella-ed patio or in their swanky bar and intimate dining room. The Happy Hour menu is offered daily from 4–6 pm and you'll want to return again and again to try the variety of dishes from $7 to $9, including Mussels in Heirloom Tomato Broth and drinks from $5 to 8, including the Love Bubble Margarita.
---
Dragon Room at the Pink Adobe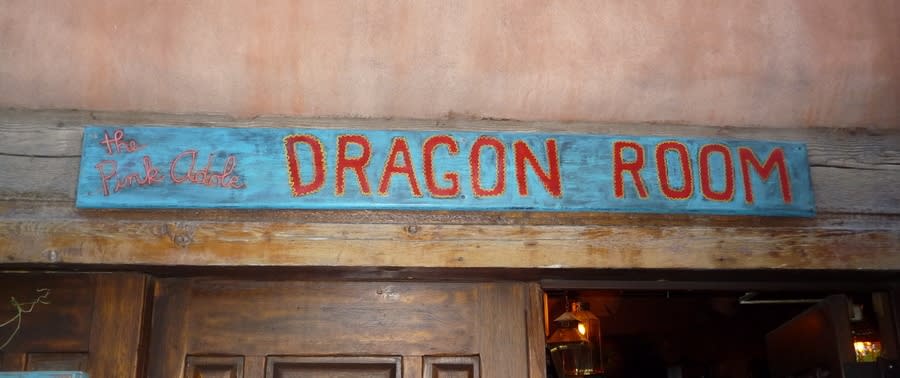 One of Santa Fe's best known and oldest haunts is the Pink Adobe's Dragon Room. It has stood the test of time, serving locals and visitors for decades. This watering hole contains all the rustic elegance Santa Fe charm is known for. Order yourself a drink and then you'll find yourself striking up a conversation with colorful locals. They might even share a tale or two of a bygone era when the Pink's legendary founder, Rosalea Murphy would sit in her corner table and invite strangers to her table and break the bread. The Dragon Room is located at 416 Old Santa Fe Trail and their Happy Hour runs from 4 to 7 pm. The magic number is $5 for house wines, well drinks, margaritas, and a Santa Fe signature—the Trio, a tasty trifecta of chile con queso, salsa, and guacamole, served with chips. Other bar food is 15% off! 
---
El Farol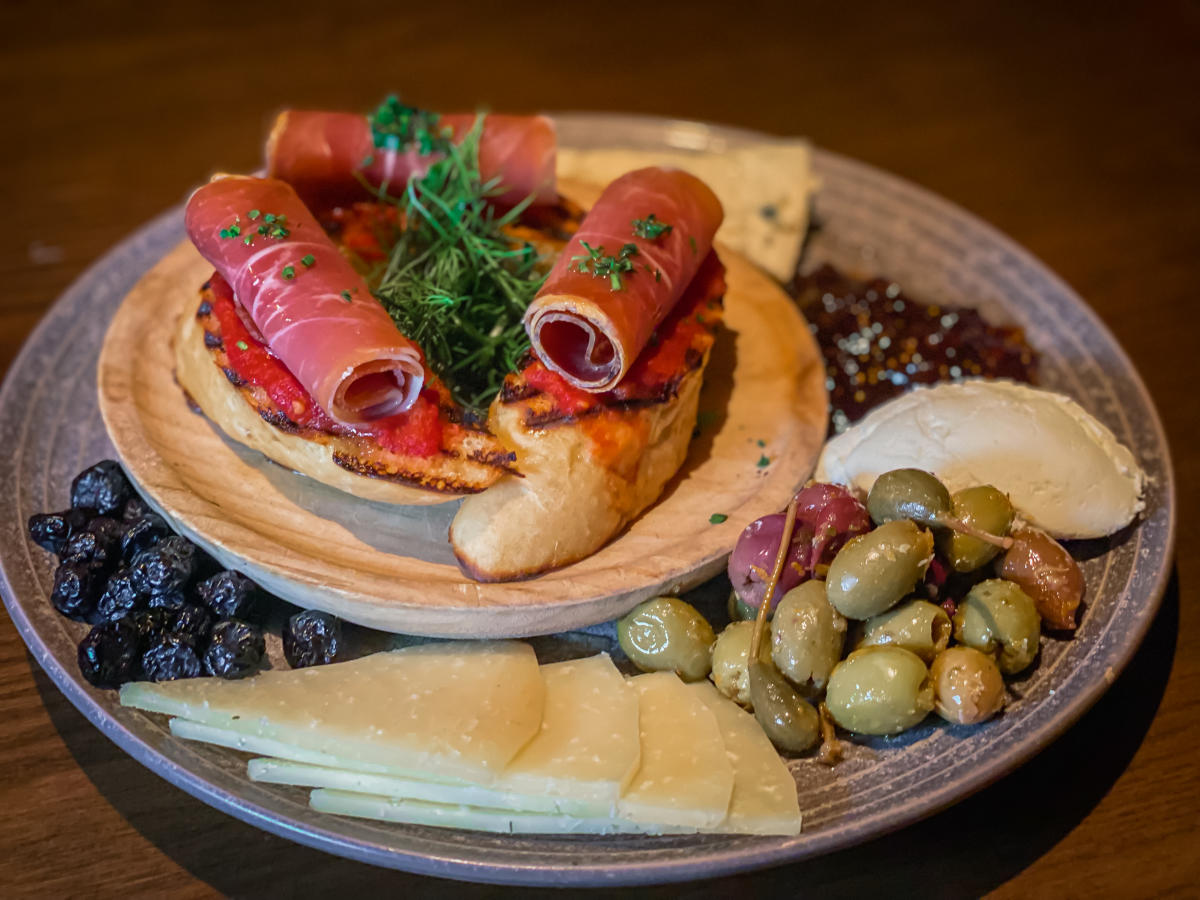 A welcoming spot since 1835—let that year sink in! Featuring traditional Spanish tapas and world-renowned flamenco dinner show performances, El Farol is also said to be, "...one of the best bars on earth!" by The New York Times. So get to the best bar on earth for Happy Hour, daily 3–5 pm. Enjoy $7 tapas, such as Patatas Bravas and Coles de Bruselas and wash them down with a $4 glass of sherry, local draft beer for $5, wines for $7, or a house margarita for $8. 
---
Hidden Mountain Brewing Co.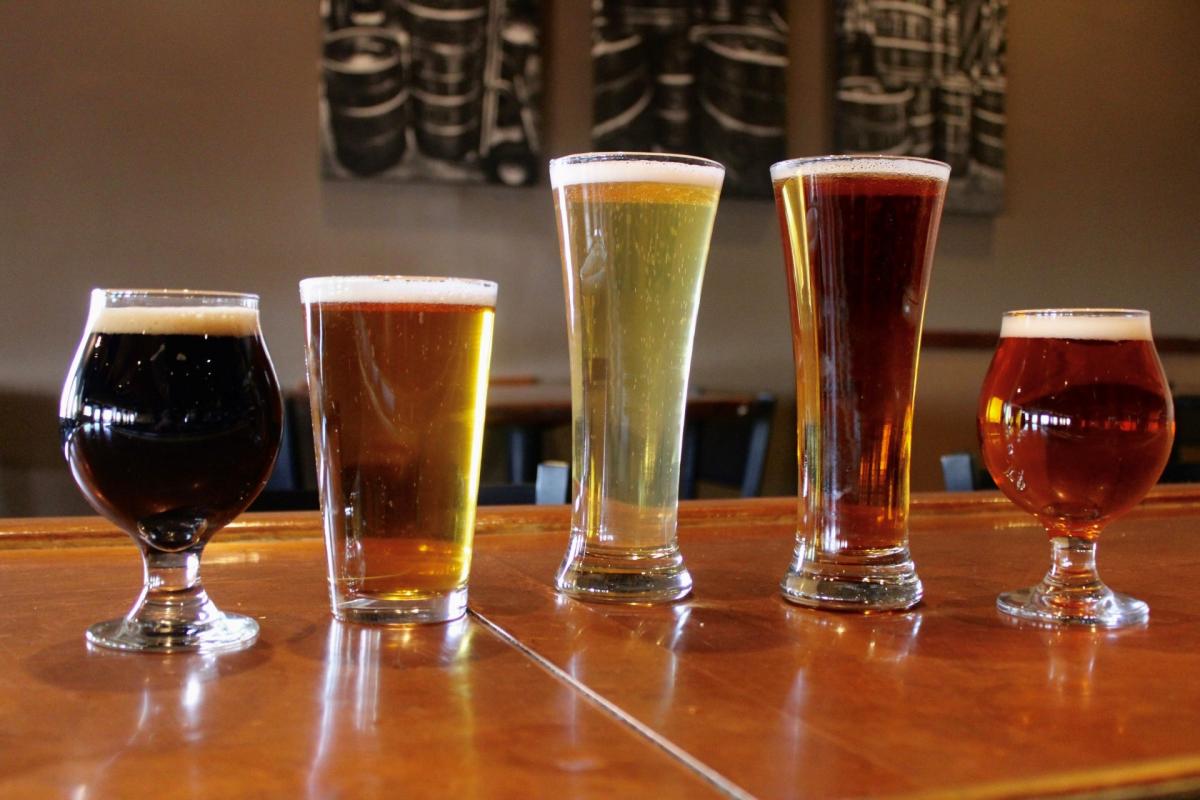 Monday through Friday, from 3–6 pm, try a newer establishment on the Southside of town called Hidden Mountain Brewing Co. Their handcrafted signature beers are only $5—there's a Mexican Lager, an Oatmeal Stout, and a Feathers' Brown Ale, named after their buddy Feathers. House wines and margaritas are $8 and the reduced price menu is comfort-food forward with calamari, mac n cheese, nachos, and more. 
---
La Boca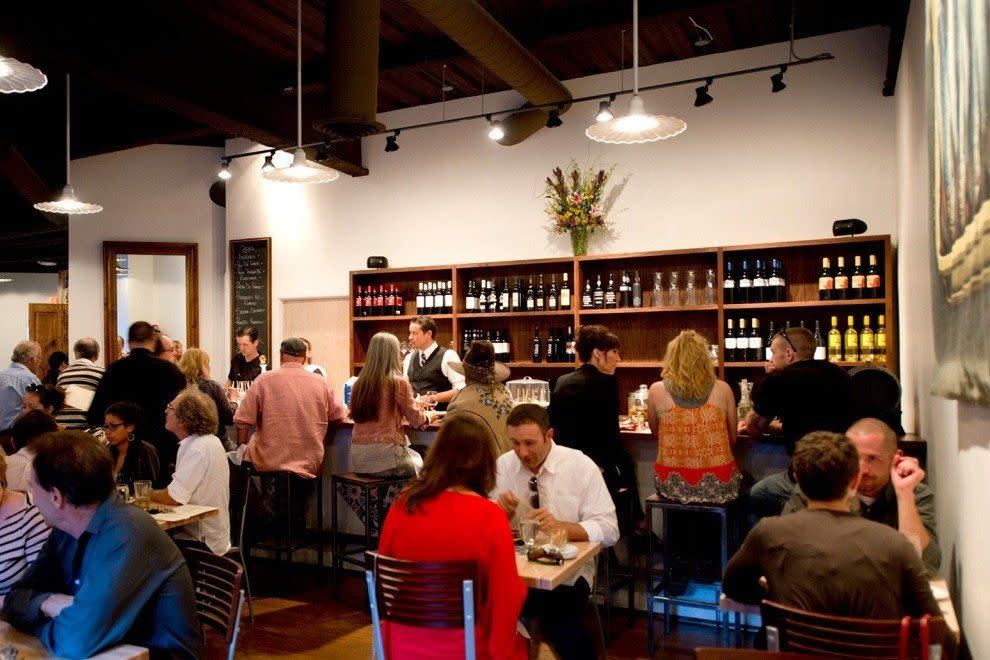 Another must-do Happy Hour is at La Boca, where a lively scene takes place from 3 to 5 pm, Wednesday through Sunday. Experience the specially priced renowned tapas, including Gambas Al Ajillo, Mejilloones, and Alcachofas. To accompany these, consider the fresh sangria that this award-winning restaurant is known for. With its simple, unpretentious decor and intimate seating, La Boca is all about quality ingredients, adventurous flavors, and a taste sensation. You'll fall in love with their modern Spanish cuisine and generous hospitality. 
---
The Living Room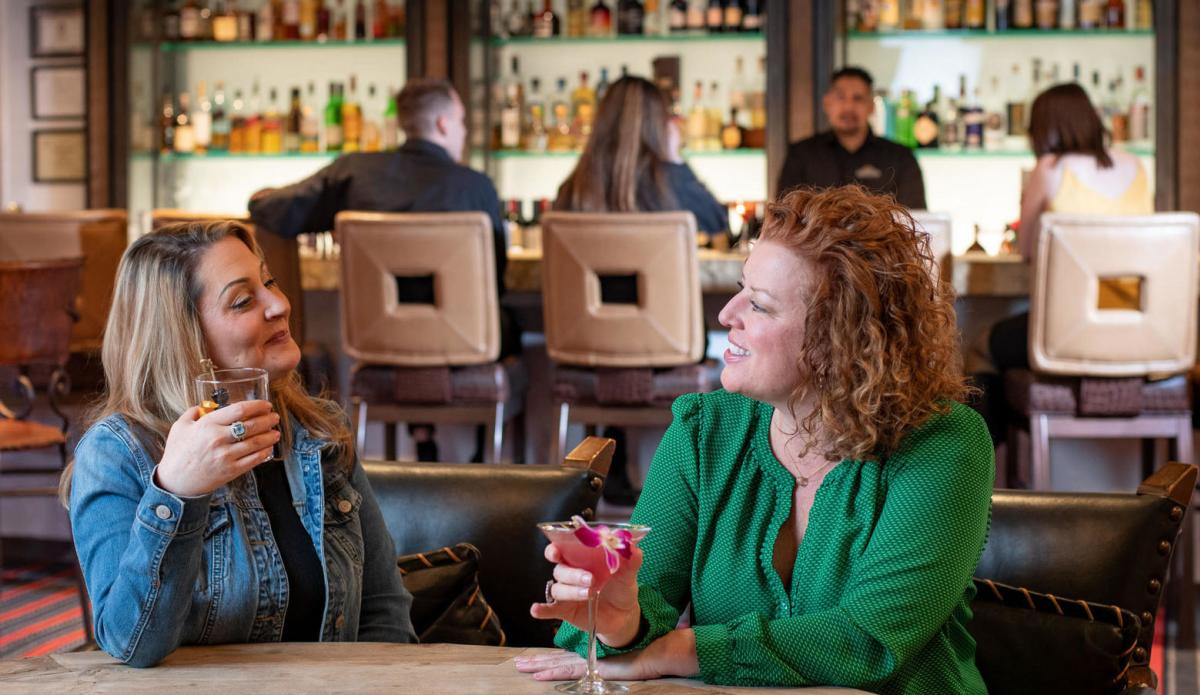 Who can resist a spot called The Living Room? This cozy, yet spacious, well appointed, yet casual option can be found at the Inn and Spa at Loretto. If you enjoy the bustle of a popular hotel, you'll love to be catching up with friends just off the lobby. In addition to bites like Beer-Battered Tacos and Loretto Sliders for $9, take advantage of a $6 well drink, $1 off any beer, and $5 wines daily from 4 to 6 pm in The Living Room.
---
Osteria D'Assisi Ristorante Italiano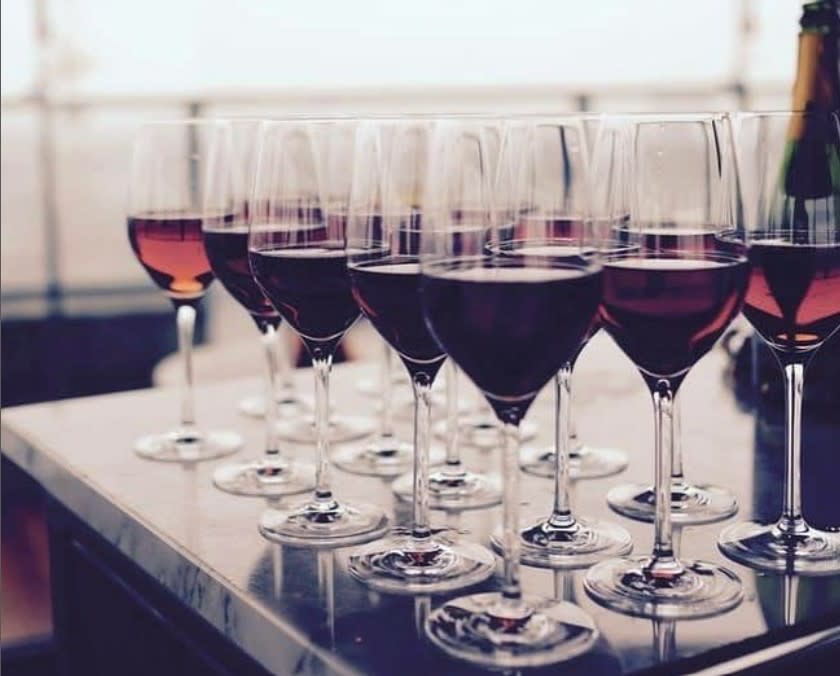 Opened in 1995, Osteria D'Assisi Ristorante Italiano is named after the town in Italy where Saint Francis, the patron Saint of Santa Fe, was born. In this authentic Italian restaurant, just off the historic Plaza in downtown Santa Fe, enjoy a daily Happy Hour from 4:30–6 pm with select wines by the glass and margaritas for $9 and choose from several reduced price appetizers, like bruschetta, calamari, or caprese. You can't go wrong in this elegant, white-tableclothed establishment, whether on the charming shaded patio, in the bar, or dining room.
---
The Pantry Rio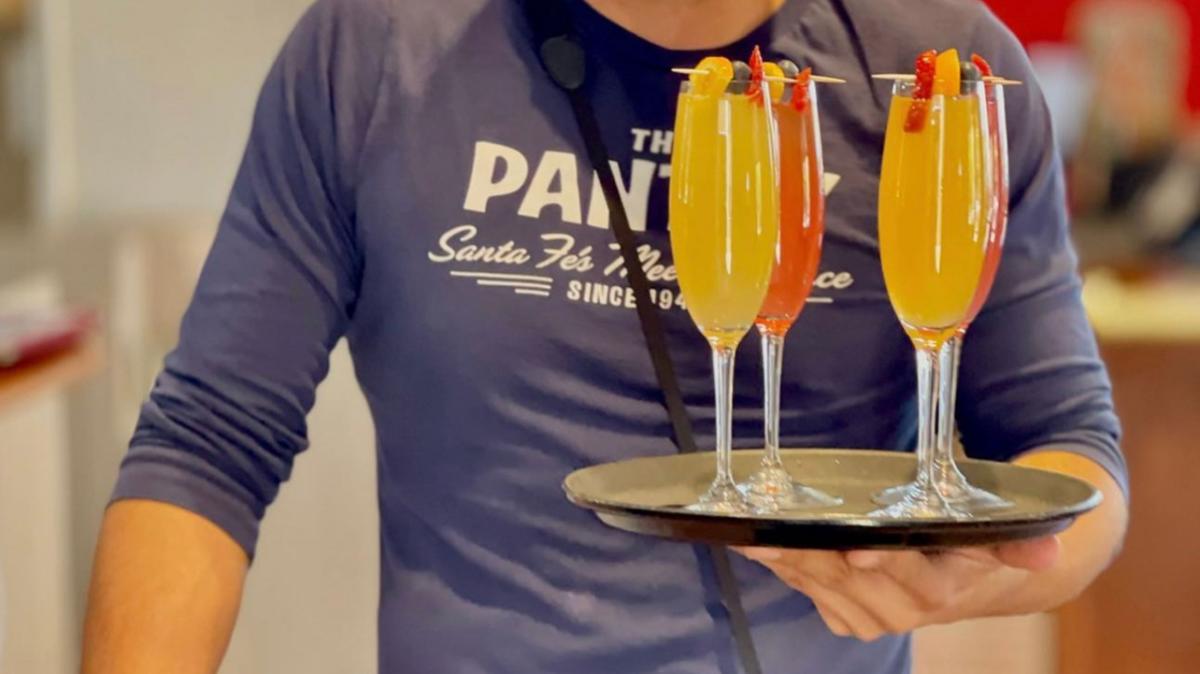 This beloved locals' restaurant now has a location downtown along the Santa Fe River (get it, Rio!?), and you are not only invited for breakfast, lunch, and dinner, but Happy Hour, too, from 3 to 5 pm daily. Enjoy half-off appetizers and drinks on The Pantry Rio's charming patio or in the sunlit dining room.
---
Pranzo Italian Grill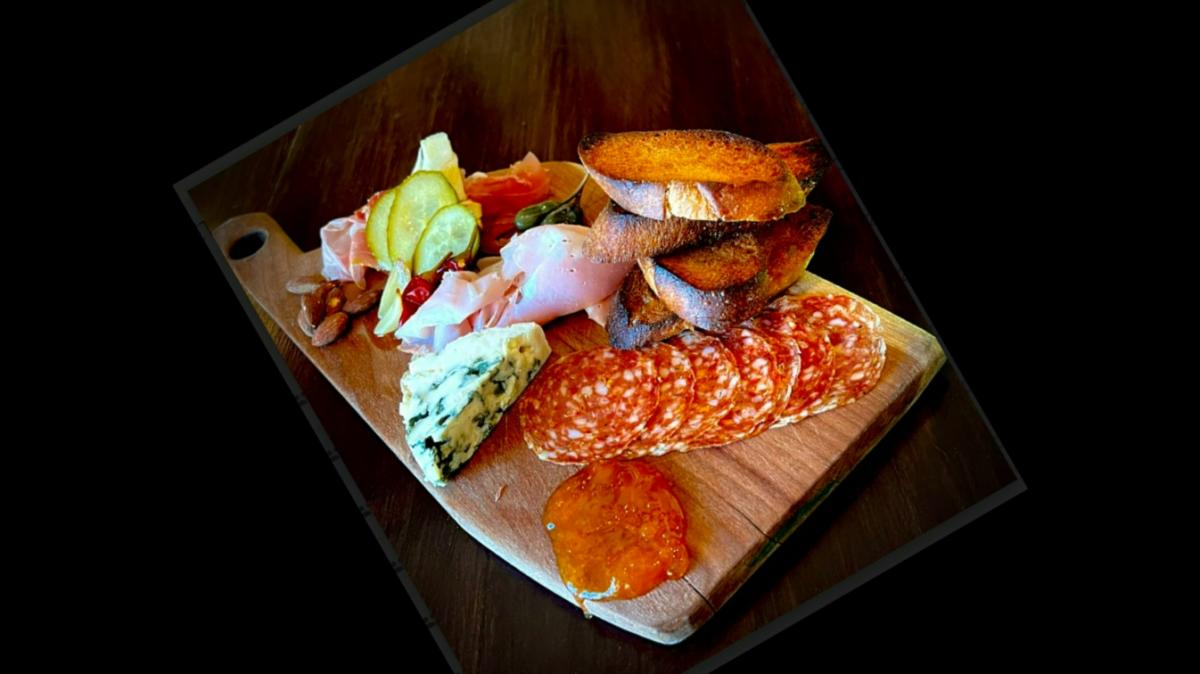 Daily from 4 to 6 pm, you can gather round the bar or at a nearby table in this sunlit corner restaurant conveniently located at the edge of the historic Santa Fe Plaza. There's a patio and off-street parking. An institution in Santa Fe since 1987, Pranzo is consistently excellent and welcoming. You'll love the wine selection, the antipasti, pizzas, and more.
---
The Ranch House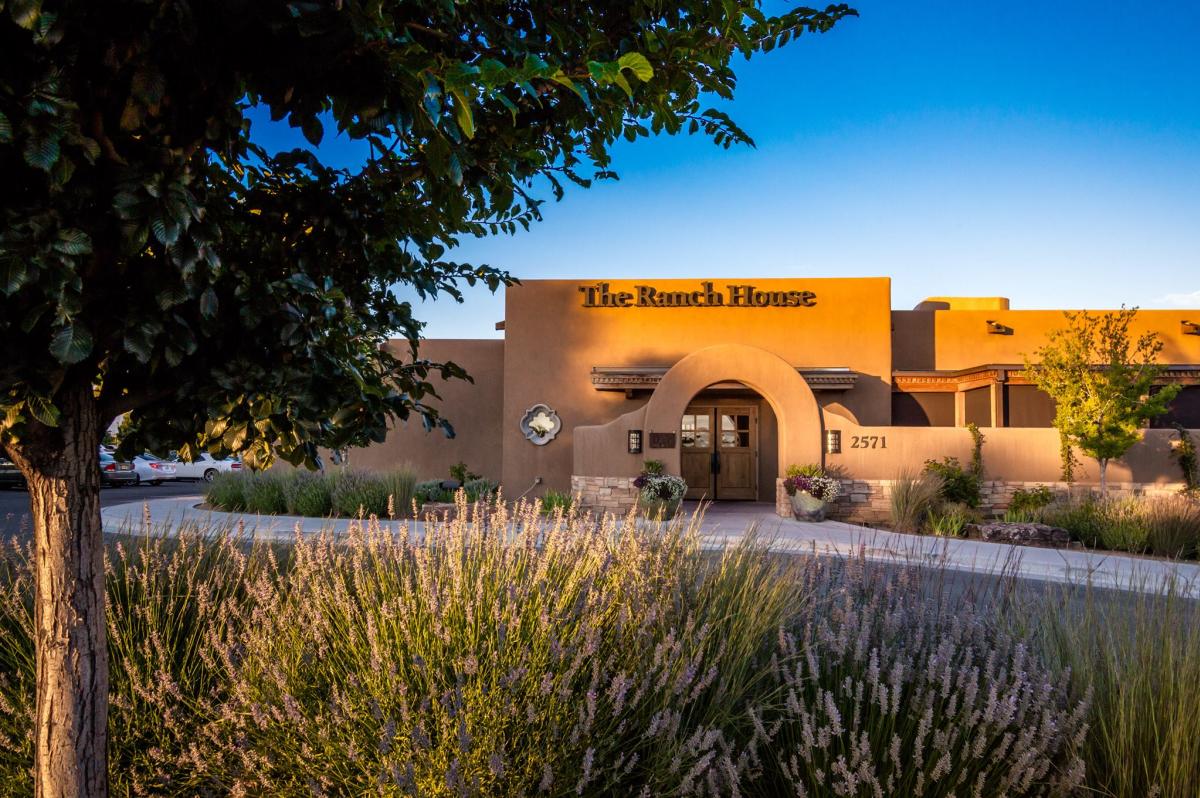 Some know it as a great BBQ joint, and it certainly is, but you can also enjoy a daily Happy Hour from 3 to 6 pm. The family-friendly atmosphere at The Ranch House welcomes all on the burgeoning Southside of Santa Fe. Take advantage of the fun bar setting, complete with large televisions or pick a spot on the patio. Enjoy $6 food specials, $5 wines, $6 well drinks and margaritas, $1 off draft beers, and the special and intriguing $7 Cucumber Crisp.  
---
Rio Chama Prime Steakhouse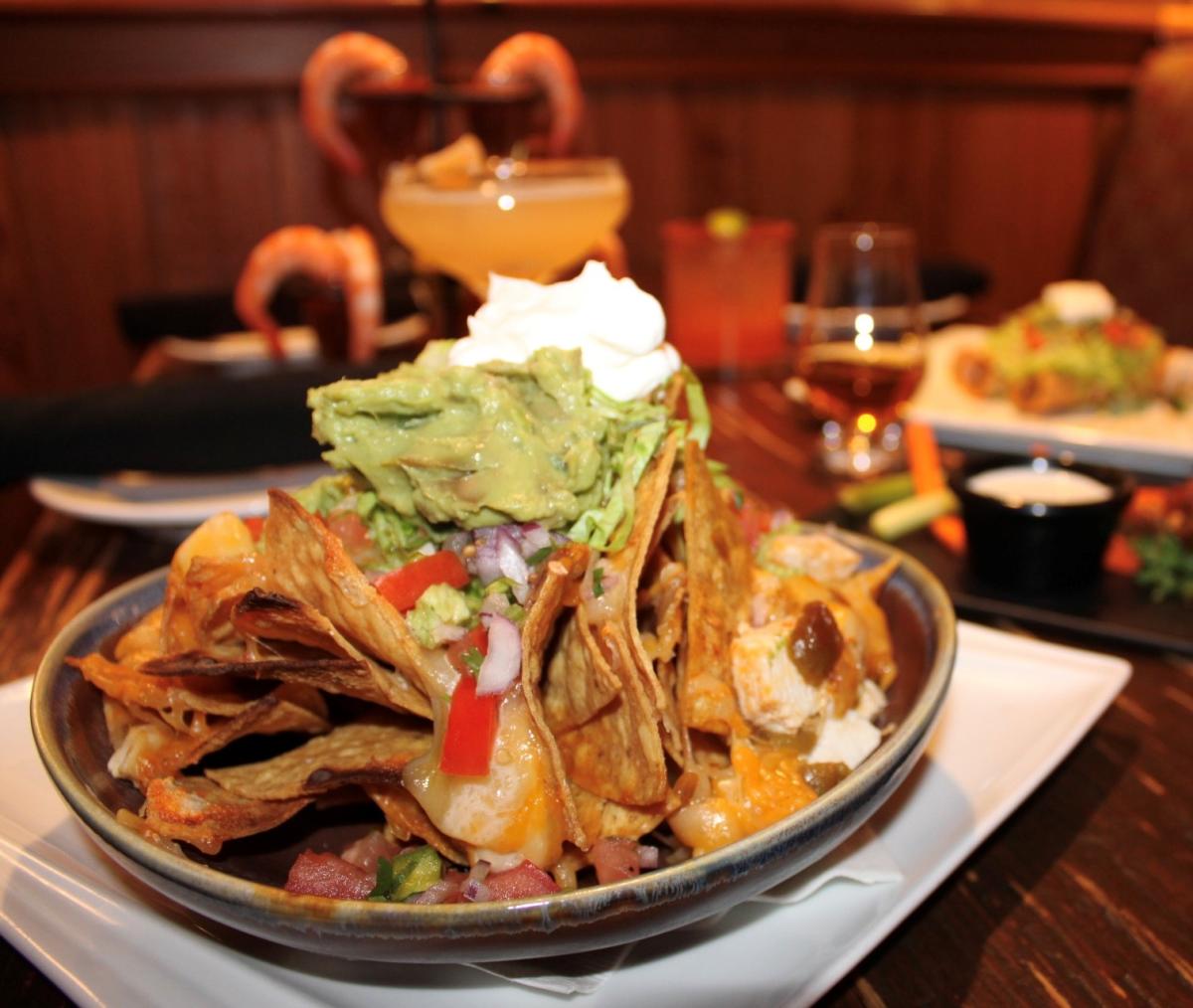 Located in the historic downtown area, Rio Chama is one of those tried-and-true establishments—you just cannot go wrong. The dark-paneled cave-like atmosphere is a great getaway. Cozy up by the fire, grab an intimate booth, or take a seat 'round the ample bar and watch a game or two. Monday through Friday from 3–5 pm enjoy $3 off the bar menu and special prices on fun select cocktails, beer, and wine.
---
Rooftop Pizzeria & Draft Station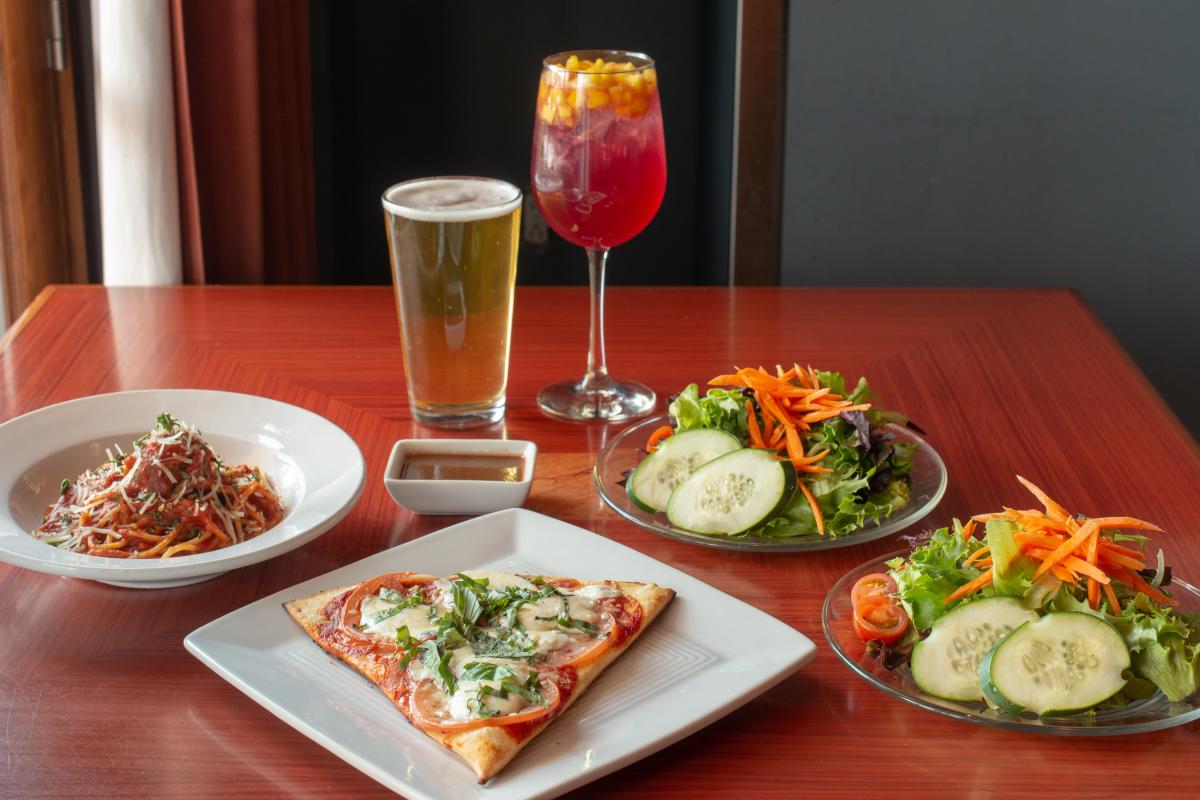 Yes, this is two super cool spots in one. The rooftop quality grants you great mountain and city views from a location above the historic Santa Fe Plaza, and the drafts are vast and various. Daily from 3 to 5 pm at the Rooftop Pizzeria & Draft Station, enjoy $2 off all drafts, $1 off wine, and $2 off breadsticks and bruschetta. All handcrafted cocktails are $10. Grab a spot on the deck, imbibe, and watch the world of The City Different unfold.
---
SkyFire at Bishop's Lodge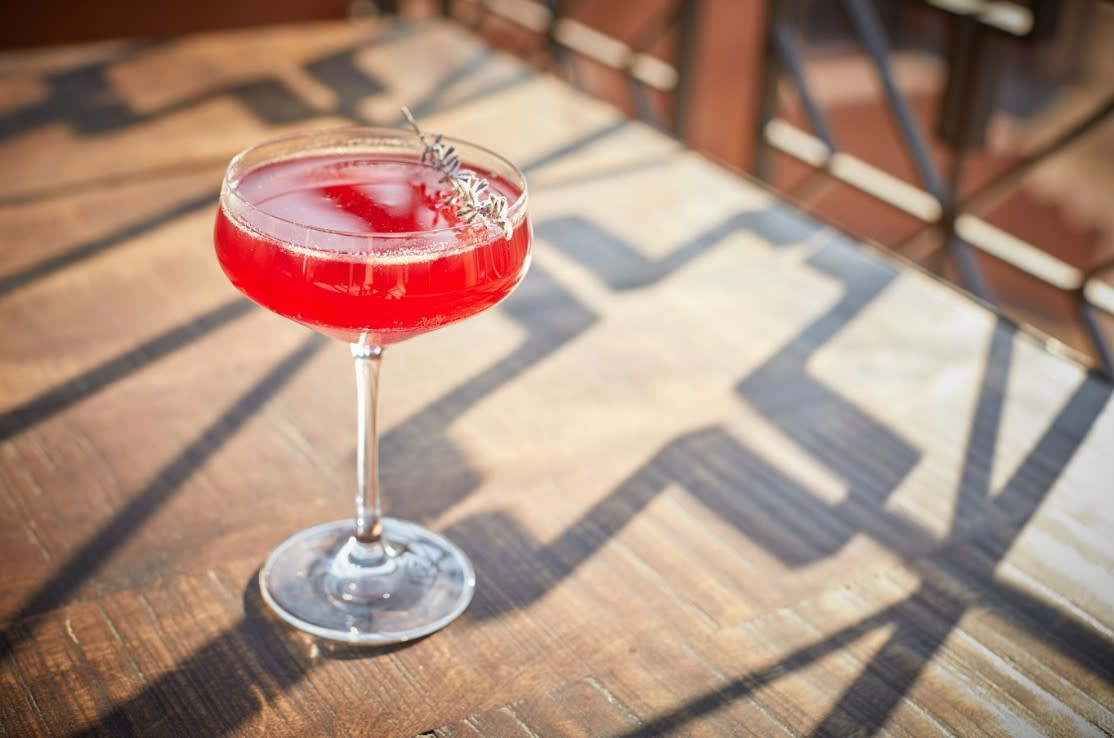 Weekdays from 2 to 5 pm, SkyFire welcomes you to relax amid rugged mountainside views on the property of Auberge Resorts' Bishop's Lodge, a Santa Fe landmark settled more than 150 years ago by its first archbishop Jean Baptiste Lamy. Their answer to the Happy Hour is a generous three called Bishop's Hour. Specials include margaritas, a curated list of wines by the glass, and 50% off the lounge food, including Shishito Peppers and Shrimp Empanadas.
---
Terra at Four Seasons Rancho Encantado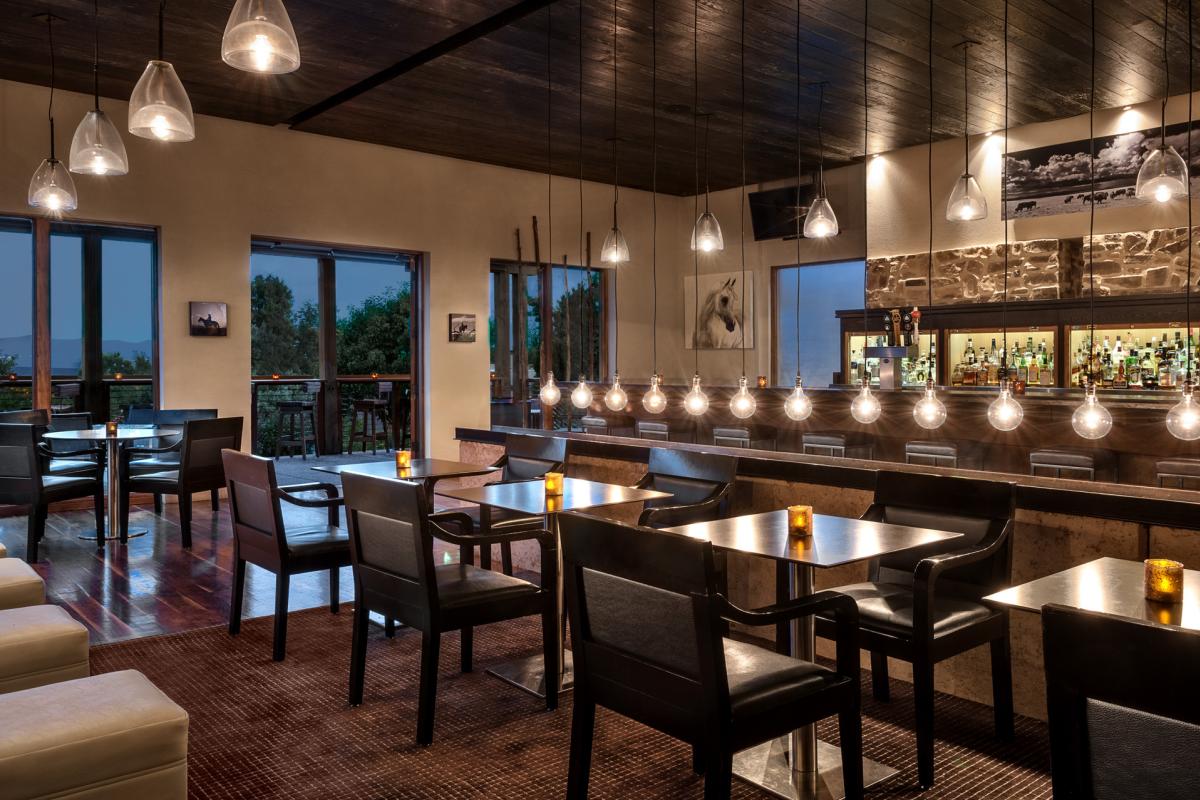 At the Rancho Encantado Happy Hour in the Terra bar, enjoy the luxury of a world-class Four Seasons resort. Just a beautiful 10-minute drive from downtown Santa Fe, the bar at Terra Restaurant welcomes you for Happy Hour daily from 3 to 5 pm with a choice of well-priced exquisite light fare, fun cocktails, and beer and wine specials. 
---
Santa Fe sits at 7,000 feet above sea level which makes it a high altitude mountain town and the physical effects of alcohol can be more dramatic here. You'll want to be cautious with your alcohol intake, especially for the first few days of your trip. Stay hydrated with water and bienvenidos!
---
Get a taste of The City Different! Order your Official Santa Fe Visitors Guide now or browse our deals and specials to help you plan your next trip to Santa Fe.