[blog_cta type="guide" text="Order My 2018 Santa Fe Travel Guide" date="Santa_Fe_County_Food_Stops"]
Winter in Santa Fe offers the perfect time to tantalize your taste buds in one of the world's culinary capitals. After a day of outdoor adventure, spa-going, shopping and more, relax over celebrated cuisine in revered restaurants. You'll savor unique northern New Mexican fare as well as creative contemporary cuisine and ethnic foods from far-flung places. Here are four must stop food spot recommendations to whet your appetite.
Izanami
Unwind at Izanami, perched high in the mountains with stunning valley views. Situated four miles north of the Santa Fe Plaza, this casual Japanese gastropub is part of Ten Thousand Waves, a Japanese-style spa resort. Izanami focuses on seasonal small plates emphasizing organic, sustainable, local and fresh ingredients as well as some 80 varieties of artisanal sake.
Start with a cheese and sake pairing then try smoked pork ribs with sweet chile glaze and ginger, parsley peanut sauce. Watch as Wagyu beef ishiyaki is cooked at your table on a hot stone, served with flavorful Japanese condiments. End with yuzu crème brûlée and fresh berries or house-made green tea ice cream.
Insider Tip: In January and February 2018, Izanami is hosting 37 Days of Sake, in honor of Ten Thousand Waves' 37th anniversary. Pick up a Sake Passport and have it stamped each time you visit the restaurant. Earn enough stamps and receive a complimentary dinner.
El Nido
For a slice of history, take a short scenic drive to the quaint village of Tesuque, where El Nido has drawn diners for decades. The adobe building housed a roadhouse in the 1920s, followed by a dance hall and later a restaurant that appealed to locals, movie stars, vaunted artists and other celebrities. El Nido closed a few years ago but new owners recently revived it, bringing back the popular oysters, steaks and salmon tradition. The wood-fired steaks are sublime, paired with a signature sauce—black truffle demi-glace, chianti sugo, Dijon whiskey, or green peppercorn. The wood-fired pizzas are delicious, too. Don't miss the house-made pastas, including Garganelli al Trapanese, a combo of cherry tomatoes, arugula-almond pesto, a cream sauce and Parmesan.
Insider Tip: Grab a seat at the chef's counter to watch the action at the rotisserie/grill station. Or, request a table in front of a cozy fireplace, where you can warm up from winter's chill.
Cafe Fina
While exploring nearby Pecos National Historical Park or shopping in Eldorado, check out Café Fina, a neighborhood favorite serving daily brunch all day long. Feast on huevos motuleños, an unforgettable combo of over-easy organic eggs, sautéed bananas, black beans, local feta, peas and red or green chile. Corncakes with chipotle marinated shrimp are equally memorable and everyone loves the Cloud Cakes, ricotta pancakes with fresh berries and maple syrup. You'll rave about the Reuben sandwich, too. Cafe Fina also produces irresistible bakery items from scratch, including bacon date scones, muffins and pies of the day.
Insider Tip: Beat the breakfast and lunch crowds and head to Cafe Fina for dinner instead. The slightly more-upscale menu includes fried Washington State oysters, a Thai chicken noodle bowl and Lasagna Bolognese. Served Thursdays through Saturdays.
El Parasol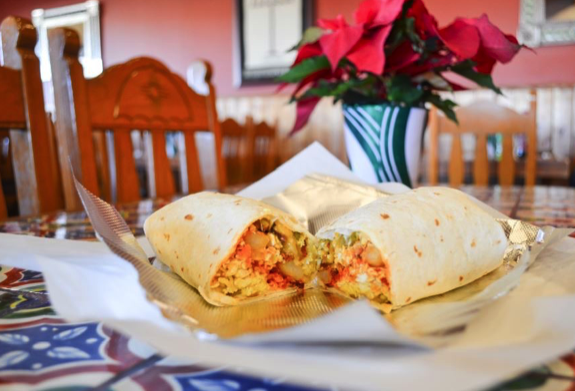 The tastes of Northern New Mexico and Mexico are served at El Parasol. (Photo courtesy of Santa Fe County)El Parasol, a longtime local's favorite, has been serving traditional Northern New Mexican and Mexican fare for breakfast, lunch and dinner since 1958. The authentic, affordable food, made from treasured family recipes, includes handmade tamales, tacos, burritos, quesadillas, posole and more. For half a century, the restaurant has been written up in Bon Appétit, Gourmet, The New York Times and other publications. Try a regional specialty such as green chile stew or carne adovada burrito, filled with red chile-braised pork. For dessert, enjoy biscochitos, the official state cookie. El Parasol has three Santa Fe County locations to choose from: In Pojoaque located on Cities of Gold Road, in Santa Fe on Cerrillos Road, and Santa Fe South on Dinosaur Trail Road.
Insider Tip: El Parasol holds a coveted spot on New Mexico's Green Chile Cheeseburger Trail and Breakfast Burrito Byway, assembled by the New Mexico Tourism Department and reflecting residents' favorite places to relish these iconic state foods.
Don't forget to mark your calendars for Santa Fe Restaurant Week 2018. This annual foodie favorite takes place Sunday, February 18 to Sunday, February 25. Discover even more must-try food spots in Santa Fe in the [blog_link url="https://santafe.org/Visitors_Guide/index.html" text="2018 Santa Fe Travel Guide" date="2017-01-16"].  Please be sure to check out the [blog_link url="https://santafe.org/Visiting_Santa_Fe/Specials/" text="Deals and Specials" date="2017-01-16"] Santa Fe  has to offer to help you plan the perfect restaurant getaway!
The blog was written in partnership with [blog_link url="https://santafe.org/" text="TOURISM Santa Fe" date="2017-01-16"] and [blog_link url="http://www.santafenmtrue.com/"  text="Santa Fe County" date="2017-01-16"].