Note: This blog was written by author Sarah Osman for Matador Network in paid partnership with TOURISM Santa Fe. Updated February 2023.
Santa Fe has always lived up to its nickname, "The City Different." The nation's oldest capital is filled with history, art, museums, and some of the best food in the country. At the same time, it's an outdoor adventure hub, sitting at 7,000 feet in the foothills of the Sangre de Cristo Mountains.
You'll probably feel a little dizzy when you get here, and that's not because of the elevation. There are a million things to do! Well, we've done the hard work for you and broken out four very different Santa Fe itineraries—all you have to do is choose your favorite and strike out into town.
---

Itinerary #1: Foodie odyssey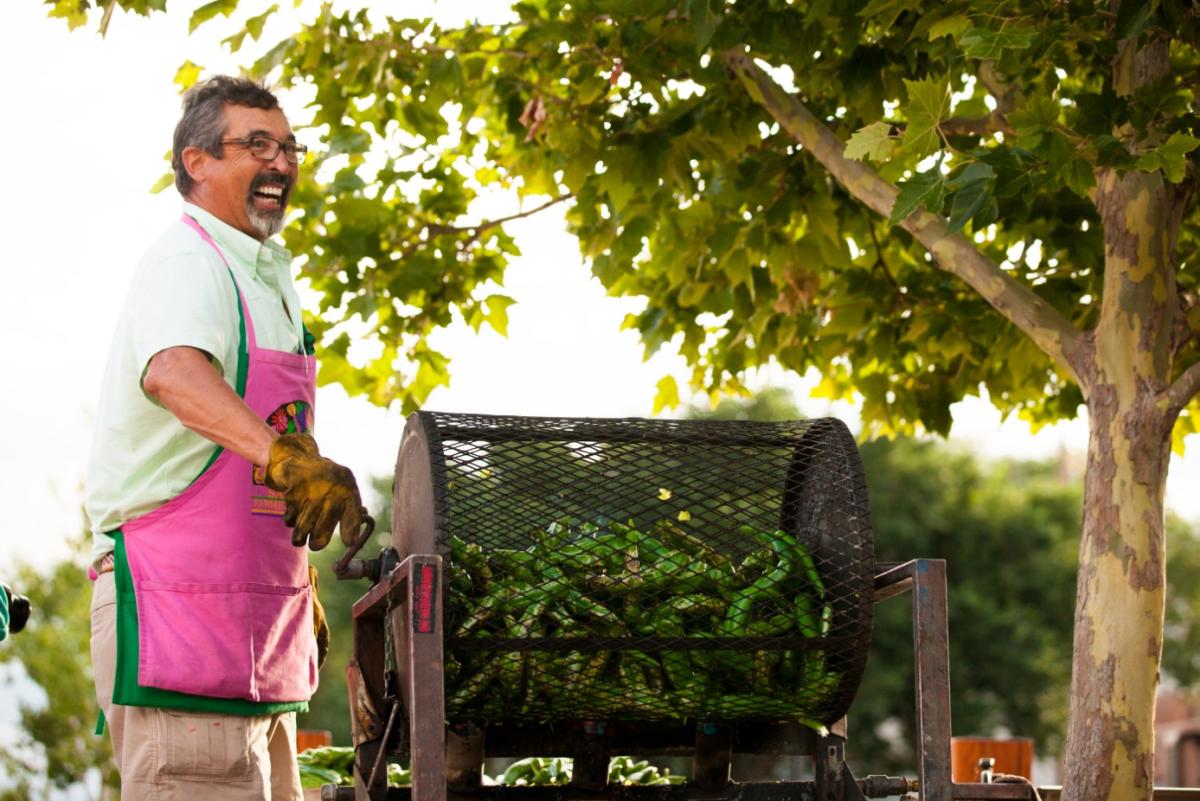 If you always seek the latest restaurants or adore authentic regional fusion cuisine, then you are in the right place! Santa Fe is known for its delicious bites, in every corner of the city, sunrise to sunset.
Breakfast
The most important meal of the day is breakfast, so start bright and early at The Pantry. Since 1948, this OG crowd pleaser has been a locals' go-to, but now everyone has the option to enjoy two additional locations: The Pantry Rio (downtown) and The Pantry Dos (Southside). Choose a location and this is when and where you start living your best life. The breakfast burritos are legendary, and this is a good spot to learn the difference between red and green chile (though know that both, aka "Christmas," is always a valid option).
Lunch
Venture to the city's outskirts and hit up Horseman's Haven. Adjacent to a gas station, yes, the exterior does look a bit questionable. But that's part of the mystique. Step inside and you'll find a fun cowboy motif and some of the best green chile cheeseburgers in town. If you live for spice, be brave and try the level two green chile. ("Level two" must be short for level 2,000—it's not for the faint of heart.)
Dinner
It has to be Tomasita's, a Santa Fe staple that knocks traditional New Mexican cuisine out of the park. A bit fancier than the two stops above, Tomasita's is known for (among many other things) their margaritas and is a popular stop on the Santa Fe Margarita Trail. After dinner, stay on theme and head over to Del Charro for the aptly named Santa Fe Trail Margarita. Two down, 40+ awesome margs to go!
Other options
If you ever start to tire of New Mexican food, bookmark Harry's Roadhouse. Like Horseman's Haven, it's a bit of a jaunt from downtown, but the drive is worth it. Harry's is known for their buffalo burger, but the pizza, catfish, ribs, and vegetarian "Buddha Bowl" don't disappoint.
Of course, planning your own food tour can be overwhelming—especially in a city like Santa Fe. Take a peek at the Official Santa Fe Dining Guide, updated annually, and explore various menus. Or know that you can simply be led by one of the great food tour operators in town: Check out the Santa Fe School of Cooking, Food Tour New Mexico, or Wander New Mexico and taste the best of Santa Fe by district: the Plaza, Canyon Road, the Railyard, or downtown (for epic street eats). Expect to spend anywhere from two to five hours indulging. 
---
Itinerary #2: Arts & culture adventure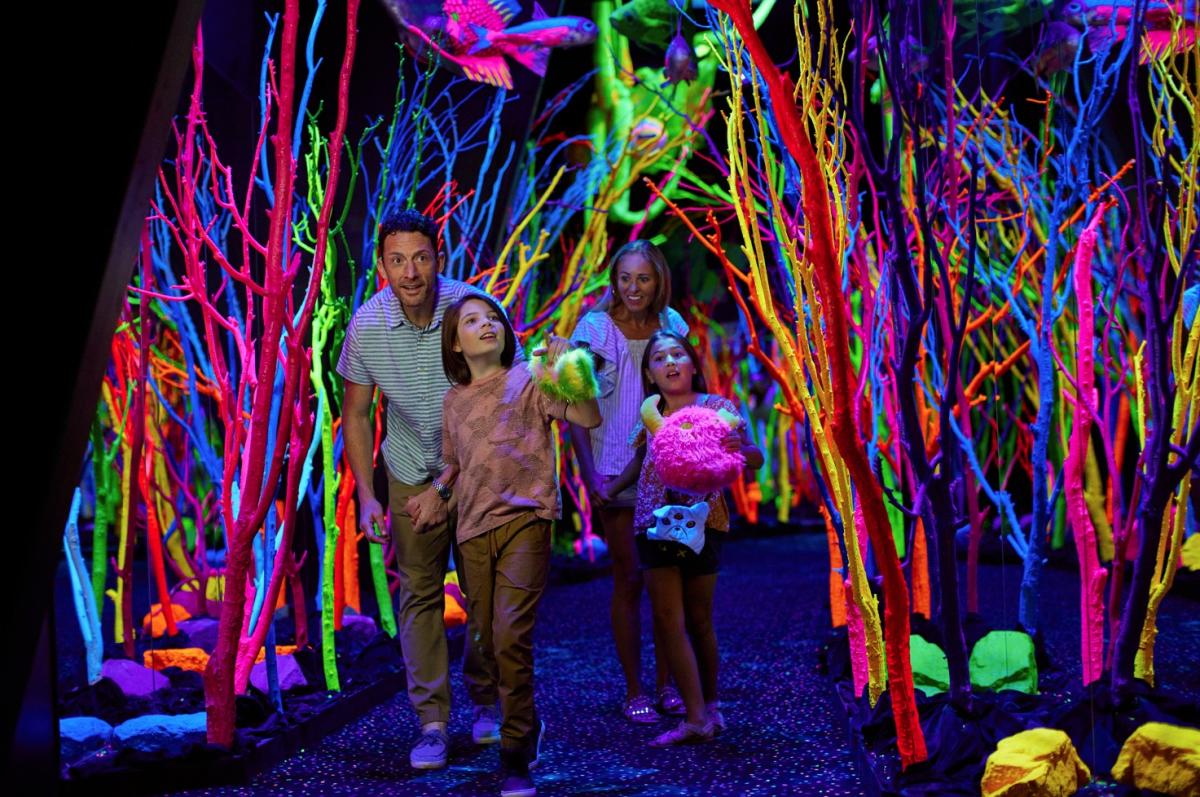 Santa Fe is one of the largest art markets in the country, which should tell you something about the abundance of art in the city. Galleries and museums dominate the map, and art markets routinely populate the streets, especially in the summer. Where do you even begin? Follow the itinerary below to see the best of the best.
Stop #1
To put your artsy adventure on the right footing, begin with Meow Wolf. Born in 2008 as an art collective, this is one giant interactive art experience. Its first permanent exhibit, the House of Eternal Return, is a multilevel mystery house of more than 70 touchable art rooms, complete with secret passages and portals to other worlds. Meow Wolf has become so popular that it's expanded into other cities, but it's best to experience the OG!
Stop #2
Once you've returned to this dimension, it's time to take in the splendor of Santa Fe Plaza. The focal point of town, the Plaza itself is a work of art, and each of the buildings fronting it are picturesque examples of the Santa Fe Style, a combination of Pueblo-Spanish and Territorial architecture—quite a few house art galleries, too.
Stop #3
Less than a block east of the Plaza is the IAIA Museum of Contemporary Native Arts, the only museum of its kind in the country. Then, amble across the street to the The Cathedral Basilica of St. Francis of Assisi, a monumental house of worship that's been featured in a handful of films and was rebuilt in 1714 after the Pueblo Revolt.
Stop #4
The heart of Santa Fe's art scene is situated along Canyon Road, an easy walk southeast of the cathedral. The narrow, winding one-half-mile street is home to more than100 different art galleries. Wander in and out of those with works that interest you, be they traditional Western art, abstract contemporary, or anything in between.
Tip: If trying to visit 100+ art galleries sounds overwhelming, seek the Santa Fe Art Tour, where a guide will take you on a curated, best-of tour of Canyon Road.
Stop #5
With four museums and the Santa Fe Botanical Garden, Museum Hill should command an entire day's itinerary (or more). Between the Museum of Spanish Colonial Art, the Museum of International Folk Art, the Wheelwright Museum of the American Indian, and the Museum of Indian Arts & Culture, there are hundreds of thousands of artifacts to connect you to the city's Indigenous history. The museums usually open around 10am—get there early to make a day of it.
Tip: Lunch at the Museum Hill Cafe, where there are great views from the patio, is a must.
Bonus
If you happen to be in Santa Fe around Labor Day, you must go to the Burning of Zozobra. Started in the 1920s, the popular city event celebrates the burning of a 50-foot-tall groaning puppet (Zozobra) and the kicks off the Fiestas de Santa Fe. The entire town gathers to watch the burning of their collective gloom as Old Man Gloom writhes to a soundtrack that envelops the city. There is perhaps no single itinerary item more uniquely Santa Fe.
---
Itinerary #3: Shopping spree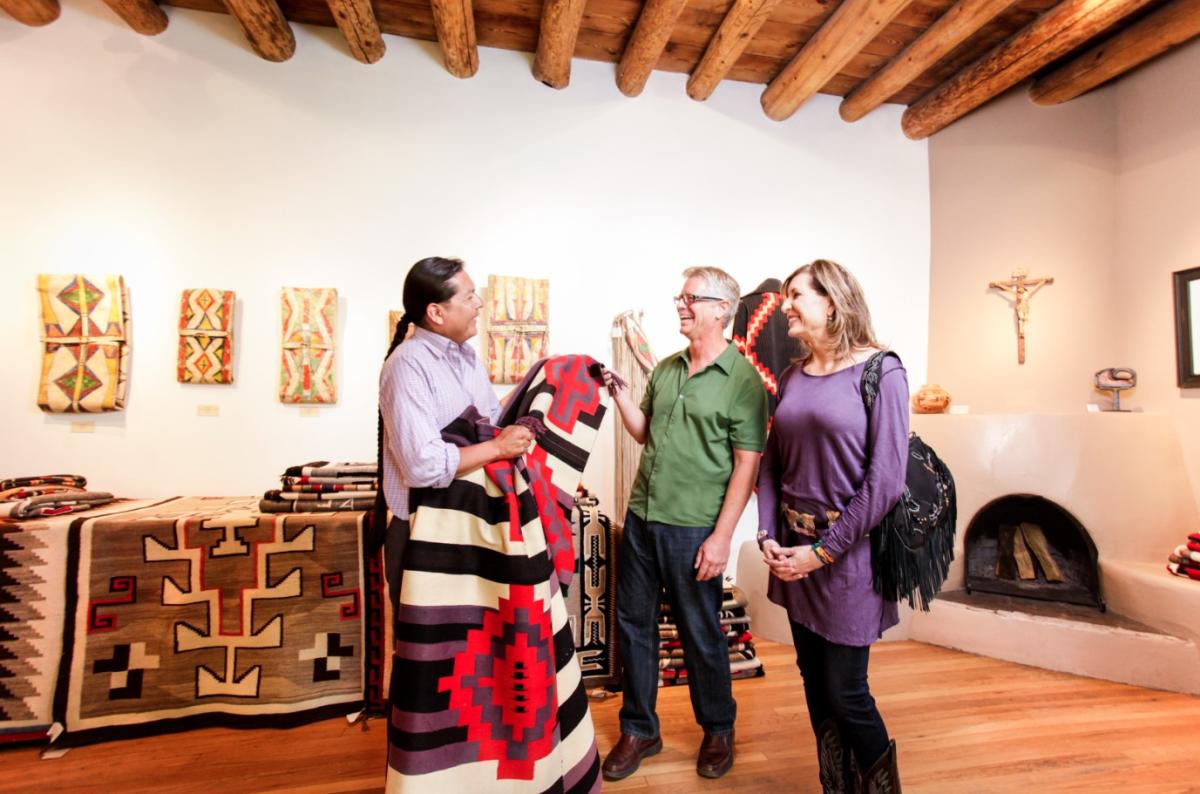 Just as Santa Fe has all manner of foods to sample and art to experience, the city offers tons of options for those looking for the perfect souvenir. You won't need much help to find the turquoise piece or cowboy belt buckle of your dreams, but those aren't the only keepsakes available. Like many attractions in Santa Fe, most shops are located downtown and around the Plaza, but you'll also be rewarded for venturing further afield.
For jewelry
No matter where you go or what you do, it's hard to pass up the opportunity to purchase some stunning Santa Fe jewelry. Malouf on the Plaza works with local and Native American artists—by shopping here, you're supporting the local economy and getting some cool (read: 100% legit) pieces in the process. The store also sells weavings and clothing.
And then there's the ineffable Shiprock. It's perhaps the best Native American gallery in the nation, and good luck not wanting to touch everything. The jewelry, of course, is exquisite, but you'll likely also be wowed by the earthen pottery, basketry, and the intricately designed Navajo rugs and blankets.
For consumables
Chocolate lovers should beeline it to Kakawa Chocolate House, where their passion is authentic and historic drinking chocolates elixirs. All treats are created by hand, one small batch at a time and completely preservative free.
If you fancy yourself a chef, visit the Santa Fe Olive Oil & Balsamic Co. Right in downtown, this small shop is home to a smorgasbord of olive oils and balsamic vinegars (including "New Mexican specialties"). There's a tasting room, too, where you're invited to go nuts.
Chef-status or not, everyone should scope out the Santa Fe Farmers' Market, if for nothing else but the scent of fresh-roasted chile, piñon, and breakfast burritos. It's been running since 1968, and you'll find it open and bustling Saturday mornings all year long in the Railyard.
For the kids
If you're shopping for little ones (or, hey, if you're an adult with a kid-like spirit!), make a stop at Doodlet's. Also located downtown, Doodlet's is home to stuffed animals, dinosaur toys, greeting cards, folk art, and Christmas ornaments. This is a fun one for just wandering around (though we bet you'll probably cave to something).
For everything else?
It's difficult to pinpoint exactly what type of shop Jackalope is. Some may interpret it as a nursery, others as a pottery store, and others may see it as an ode to its namesake (jackalopes are mythical rabbits with antlers). The easiest category to put Jackalope under is "homeware," as the store sells an eclectic mix of rugs, vibrant pottery, furniture, New Mexican culinary ingredients, and oddball gifts. Even if you don't plan to buy a thing, Jackalope is another fun store to wander aimlessly around and get a good chuckle out of. Just about 10 minutes drive from downtown.
---
Itinerary #4: Outdoor rush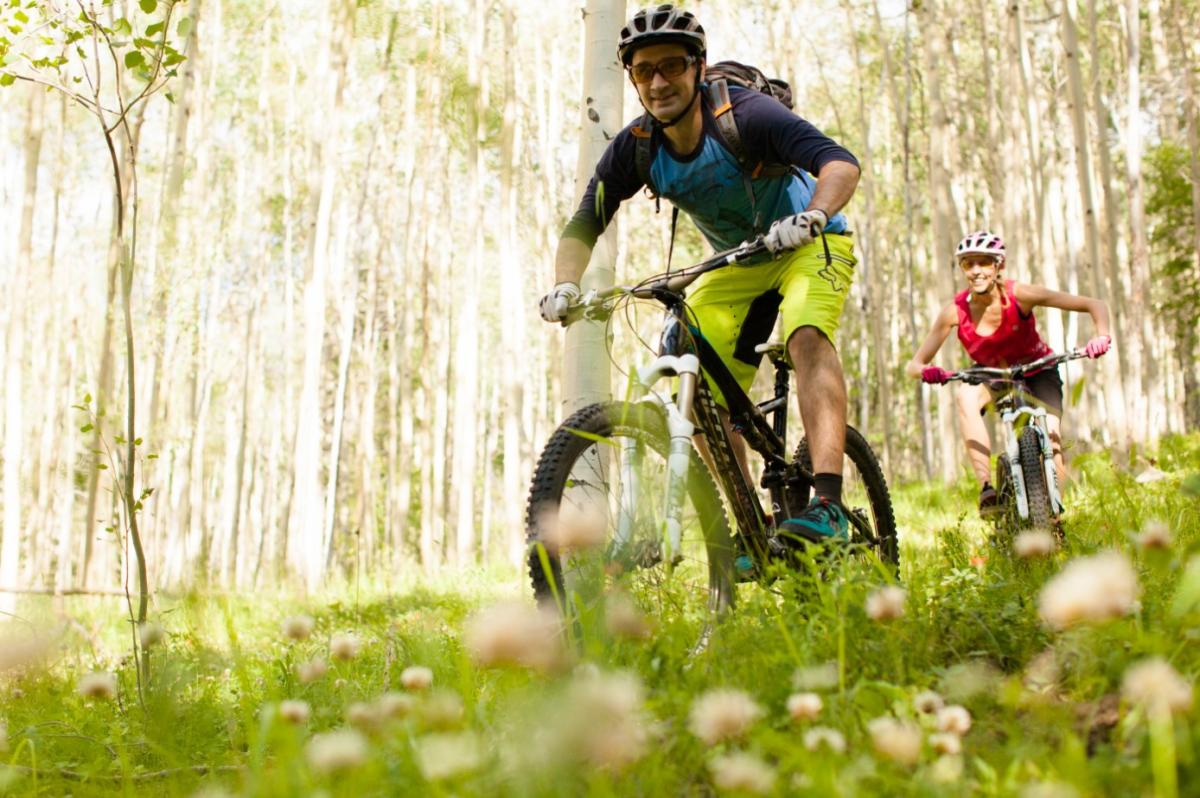 Thanks to 320+ days of sunshine, as well as four distinct seasons, Santa Fe is an outdoorsy city any time of year. Exactly what to explore, though, depends on when you visit. Here are some recommendations.
Snow sports
Contrary to popular belief, Santa Fe does get snow—and quite a lot of it. Located just a half hour from the center of town is Ski Santa Fe, where you can ski, snowboard, or safely watch your friends from the warmth of the lodge. Expect a fair amount of powder during a season that typically lasts from December to April.
Hiking
When the weather warms up in the spring, Puye Cliff Dwellings is a fascinating place for a hike. You'll need two things for this adventure: a car to get there and a guided tour to explore the site—self-guided options are very limited in order to protect the area's landscape and culture. You'll see a mix of cliff and cave dwellings as well as early Pueblo architecture. (Note: You can visit in winter; it'll just be chillier than in the spring or summer!)
There's quite a bit of hiking that's closer to Santa Fe, too. Access to the Santa Fe National Forest is minutes from downtown and is great for hiking, camping, and, in some areas, fishing. It's worth an exploration any time of year, but the absolute best time to visit is in the fall when the aspens change color and the forest turns to a blend of vibrant yellows, reds, and oranges. On the outskirts of the forest, you'll find the Dale Ball Trails, which are superb for hiking, running, and biking. These are a bit closer to the city and can be accessed year-round.
City parks
In Santa Fe proper, there are two extensive parks: Railyard Park and the Santa Fe Railyard sit right in town and are home to contemporary art, restaurants, shops, and markets (many events take place here as well). Cross of the Martyrs, meanwhile, overlooks the entire city from its vantage point just northeast of the Plaza. It's roughly a 20-minute hike to the top (involving a lot of steps), but your effort is rewarded with an awesome spot to watch the sunset or escape the bustle of the city.
Day/weekend trip
If you need a chance to catch your breath amid all these outdoor adventures, it's easy to slow down at Santa Fe's top-tier spas. Ojo Santa Fe Resort is just one local hot spot that's mastered the art of tranquility. It's set in 70 acres of wetland—ciénega in Spanish—and these natural springs fill the repose pools. (You can even drink the fresh spring water straight from the tap.)
An outdoor soak could be all you need to feel rejuvenated, though the resort also offers a sweat lodge, multiple trails, and even snuggles with puppies. Whatever you decide to experience, you'll be somewhere inspired in The City Different.
---
Blog courtesy of Matador Network