Hikers have long known the joys of exploring the majestic Sangre de Cristo Mountains and Santa Fe's other scenic surroundings, and many reference the trail guide on Santa Fe Conservation Trust for inspiration. In recent years, Santa Fe's reputation as a mecca for mountain bikers has taken off. The area now draws cyclists from around the country in search of thrilling high mountain trails and breathtaking views. Road cyclists also roll in from near and far. They tour our scenic byways and some sign up to compete in our annual Santa Fe Century ride, a popular event since 1985.
Nearly 25 miles of mountainous majesty are yours to explore on the Dale Ball Trails, named after a Santa Fe local who not only conceived of the system, but who was instrumental in the design and construction, including the work with private landowners and government agencies to secure the land. This extensive network of high-elevation mountain trails wind their way through the famous foothills of the Sangre de Cristo Mountains, pass through juniper forests, and cross seasonally dry creek beds revealing rock gardens resembling Zen formations. Along the way, the panoramic views are simply stunning. Popular with runners, hikers, snowshoers, and mountain bikers, the trails cover a wide swath of terrain that overlaps Santa Fe County, the City of Santa Fe, and the Santa Fe National Forest. A good place to begin is in the parking lot located at the intersection of Hyde Park Road and Sierra del Norte. Trail maps are planted at critical junctions, so you can plan your route and always know where you are!
Hop on the 15-mile Santa Fe Rail Trail for a ride straight into railroad history, not to mention beautiful countryside. This multi-use trail parallels Santa Fe's railway line, which runs between the Railyard and the historic railroad town of Lamy, the closest Amtrak stop. The trail is paved for 3.5 miles between downtown and the Rabbit Road access point. The path accommodates bike commuters as well as hikers and runners. At Rabbit Road, the trail turns to dirt. This is where the real adventure begins. Bordered by juniper and piñon trees, the trail takes you up and down small hills with scenic views in every direction. It's perfect for runners, hikers, and cyclists of all levels and popular with families, too, because it's challenging but not demanding.
---
La Tierra Trails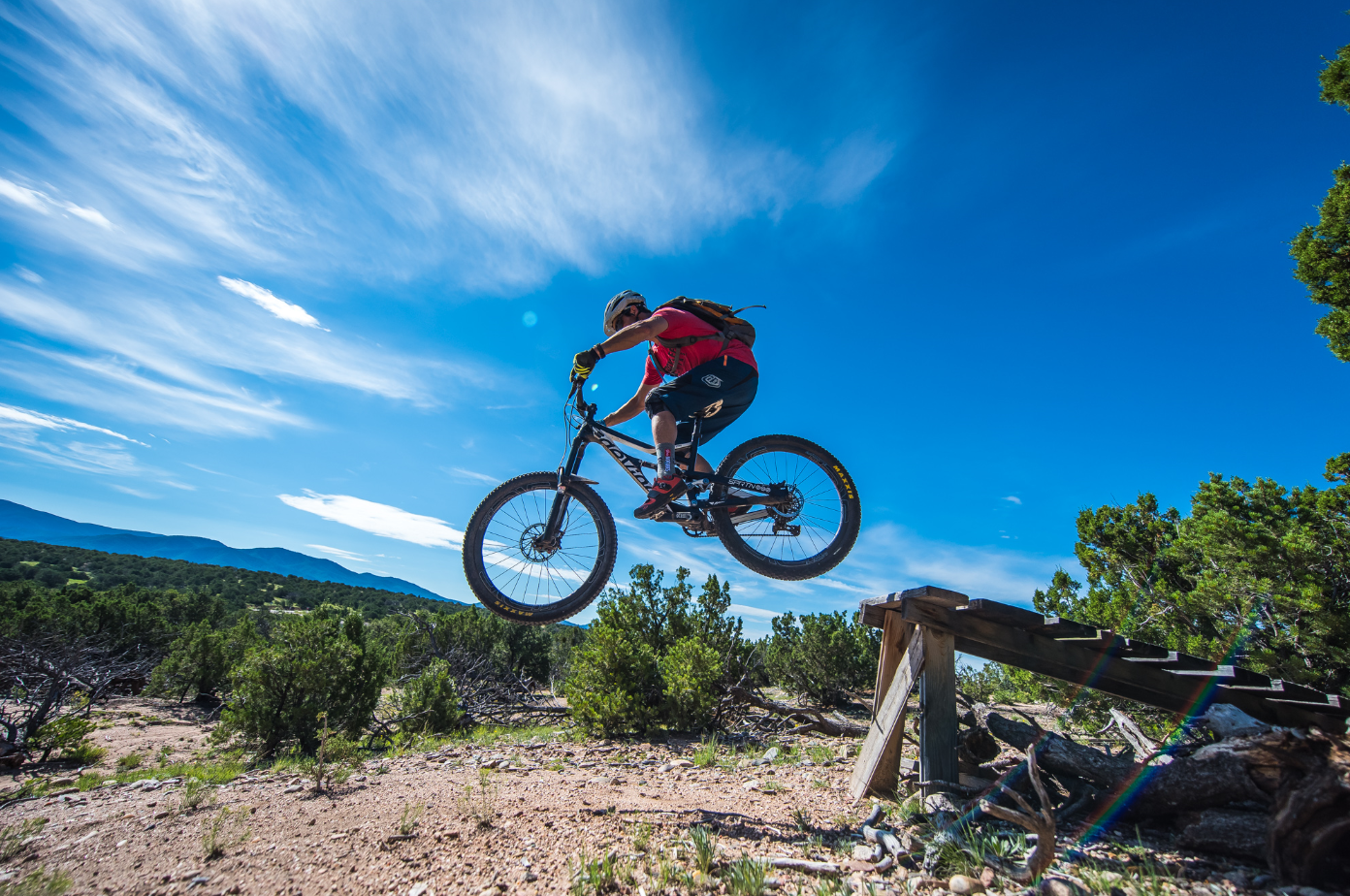 Northwest of the city lies the ample La Tierra Trails, with more than 25 miles devoted to biking, hiking, running and even horseback riding. This maze-like network of single-track and double-track trails leads you through some of the best biking terrain in the area. Mountain bikers of any level can ride La Tierra's rolling terrain and fast single-track trails with relative ease. Or, ramp things up on the marked technical trails or at the designated technical parks, where you can try out jumps and other freeride skills. Park at any of the three trailheads: La Cuchara (spoon), Frijoles (beans) or Calabasas (squash), acquaint yourself with the map, and then head out on the trails where you can expect wayfinding plaques at critical junctions. 
---
So now that you have the inside scoop on Santa Fe's dynamic mountain biking culture, you're ready to hop on the trails and embrace your inner pedal persona. Both on and off the bike, Santa Fe offers wonders few places can top. We have amazing mountain trails, ranging from leg-wearying to laidback. And once you have biked up an appetite, try our New Mexican cuisine, along with a refreshing accompaniment from our craft beer scene.
---
Get a taste of The City Different! Order your Official Santa Fe Visitors Guide now or browse our deals and specials to help you plan your next trip to Santa Fe.