The City Different attracts seekers of all kinds and many come to draw and bathe in the energy from our ancient pueblos and sacred ruins, vast starry skies, restorative hot springs, and awe-inspiring natural surroundings. Santa Fe's clean air, abundant outdoor recreation, and farm-fresh food attract a healthy circle of yoga-loving souls. With yoga studios tucked all over our beautiful city, yoga-minded individuals can find a class any day of the week.
So check out Santa Fe's truly rejuvenating yoga studios and instructors during your visit to The City Different. Here are several to encourage you to follow your yoga bliss.
---
Yogihiker
Have you ever been intrigued by the thought of combining two activities such as yoga and hiking? Well, thanks to Stacy Kinsley and Yogihiker, you can bring two enriching experiences together for a Santa Fe outdoor adventure that will feed your yoga soul. There are three types of trek-stretching outings, with a traditional yogi hike averaging anywhere from 2.5 to 3 hours. Each of the yogi-hikes begins at a trailhead close to town but far enough away so you will feel you've experienced something different. One option includes a healthy picnic lunch—the others heighten your appetite, so you'll want to have a plan once you arrive back in town.
---
BODY
Are you testing the yoga waters? BODY offers a range of classes for the beginner, as well as the intermediate and advanced yogi or yogini. You might try Elemental Flow, an all-levels' class, designed to increase strength, flexibility, and awareness, in which practitioners are encourage to make individual adjustments. Or the "everyone's welcome candlelit" class called Glowing Vinyasa, which incorporates a modern, intelligently sequenced flow and traditional wisdom. During your stay, check out some of the other yoga classes offered at BODY, including a variety of Vinyasa classes as well as Yin and breathing-focused yoga.
---
Thrive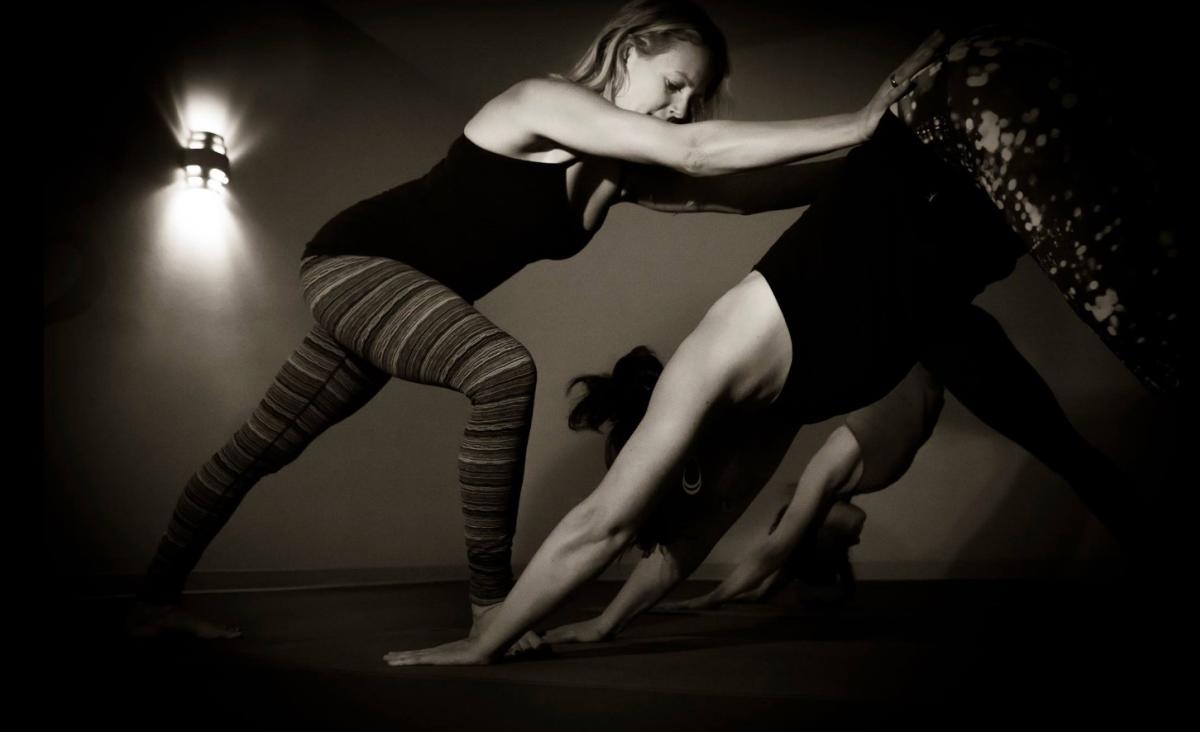 (Photo courtesy of Santa Fe Thrive)

If you prefer hottish yoga, then Santa Fe Thrive is your yoga connection (though the studio does offer non-heated classes). The yoga studio at Thrive prides itself on having state of the art equipment to create the cleanest, healthiest, most fun heated (75 degrees F) yoga experience in Santa Fe. The studio also has a custom-built, heating, humidifying, and air purifying system which aids in preventing students from feeling dizzy or light headed. Combine your yoga in various formats, including Yin and Thrive Fusion, which incorporates Pilates and HIIT, with some cycling and you'll be in love with the way you feel for days. Yoga mats and towels are also available for rent. There are even private showers.
---
 YogaSource
With a long history of improving the alignment and peace of mind of hundreds of Santa Feans, YogaSource is an energetic and lively center for yoga practice and study in the Southwest. The studio offers more 50 classes per week to students at every level of practice.
In addition to their weekly classes, which include interesting elements like tarot, myofascial work, and Patanjali's yoga sutras, they also offer Series classes and Workshops in all aspects of the yoga practice—topics cover beginner and advanced studies as well as providing special classes for those with injuries or medical conditions.
---
Prajna Yoga

Prajna Yoga offers some of the finest yoga education in the United States, including offer yoga immersions, in-depth study programs, and retreats. The heart of the Prajna Yoga practice involves asana with a focus on internal alignment, mindfulness, and flow. They emphasize anatomical study with a focus on structural integration. Through meditation and study of the "three jewels"—the Buddha, the Dharma, and the Sangha—they encourage an embodied wisdom. You'll see why Prajna Yoga practice supports internal transformation at the deepest level.
---
 Santa Fe Community Yoga
For more than 25 years, Santa Fe Community Yoga has provided affordable, high-quality yoga and holistic healing to the people of Santa Fe. With nearly 30 instructors, they have a wide selection of yoga styles and levels. Their classes offer a safe and comfortable space to explore both the general aspects of yoga and the more subtle energies that exist within the practice of yoga. Santa Fe Community Yoga also supports and manages a Yoga in Schools program.
Namaste.
---
Get a taste of The City Different! Order your Official Santa Fe Visitors Guide now or browse our deals and specials to help you plan your next trip to Santa Fe.