Performing Arts

Santa Fe is one of the country's oldest and most beautiful cities with some of the most dramatic sunsets in the world, so it's only natural to find a diverse and dynamic performing arts scene here. Audiences are wowed just about every night of the week.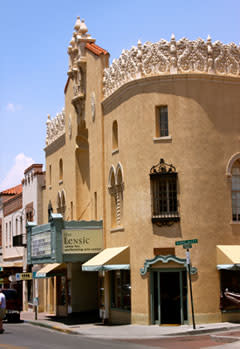 With everything from theatrical productions and ballet performances to classical concerts, global music jams and slam poetry competitions, Santa Fe's performing arts hold center stage. Our year-round calendar spotlights international and local stars. You'll enjoy famous actors, opera singers, classical musicians, jazz quartets, bands playing blues, folk, country and rock, modern dancers, native storytellers and other gifted performers.

The Santa Fe Opera continues to bring opera stars and audiences from around the world each summer for one of the country's most cherished opera seasons. The city also hosts annual music festivals throughout the year that feature established and emerging musicians and singers from around the world. Santa Fe's own gifted groups of community musicians and choral groups perform year-round as well.

On any given night in Santa Fe, you might see an elite group of Chinese acrobats, a whimsical troupe of Santa Fe circus performers or a beloved Broadway musical. Enjoy a stirring concert put on by the Santa Fe Chamber Music Festival, the New Mexico Jazz Festival or a festival devoted to the traditional music of New Mexico's Rio Grande region. Watch the heated artistry of flamenco dancers accompanied by Spanish guitar music, performed by Entreflamenco or the Juan Siddi Flamenco Theatre Company. Take in a stellar production of a well-known play or a world premiere of a work by an emerging playwright. Actors travel from around the world to perform here and we also have vibrant community theater groups featuring talented Santa Fe actors.

With more than a dozen venues, from historic theaters to outdoor stages, glorious churches and museum spaces, Santa Fe truly is a performing arts center.