Do you want to experience December differently this year? Then plan a visit to The City Different. Santa Fe never looked prettier dressed in all her holiday color and lights! Add to that a town nestled in historic traditions, then throw in some snow, mix in a bit of annual celebration and voila!  You have the perfect Santa Fe winter holiday getaway! It's our good fortune to have a myriad of festive events that spotlight a different kind holiday season. Bright blue skies with crisp frosty air and ski ready landscape? Got it. World-renowned regional cuisine? Always. Holiday music and performing arts? Hello! We've got it all. Here are a few of the top December events taking place in The City Different.
Santa Fe Artists in Residence
November 1, 2019 - February 29, 2020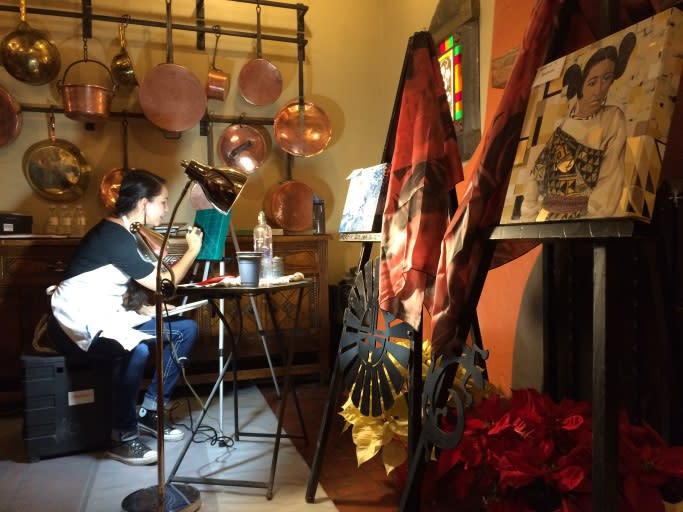 All winter long, artists create their masterpieces in our hotels and galleries. Get a first-hand look at their creative process and be sure to take a piece home with you!
---
GLOW
November 30 - December 31, 2019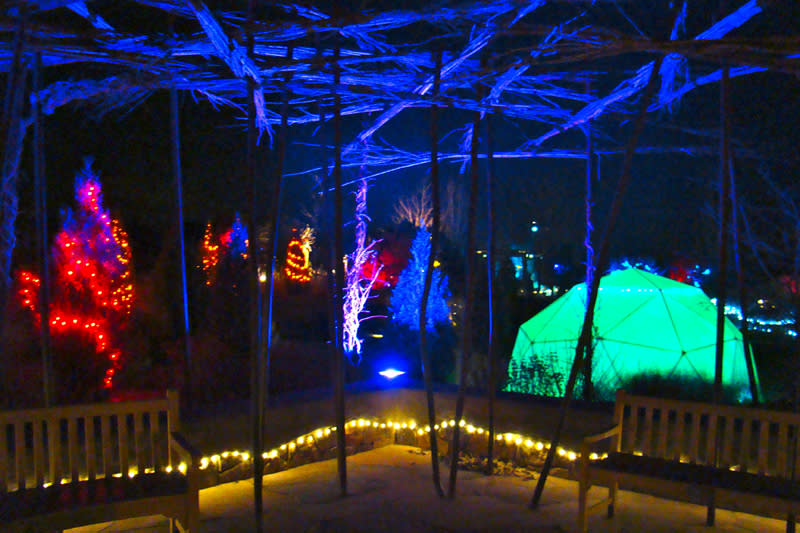 Light up your holiday season with GLOW – Cosmic Nights! This annual event features thousands of twinkle lights and beautiful large scale light installations all aglow throughout the Santa Fe Botanical Garden. Enjoy live music, festive beverages, and meet Santa with the kiddos (12 and under get in free!). GLOW opens on November 30 and runs through December 31, 2019.
---
Christmas at the Palace
December 13, 2019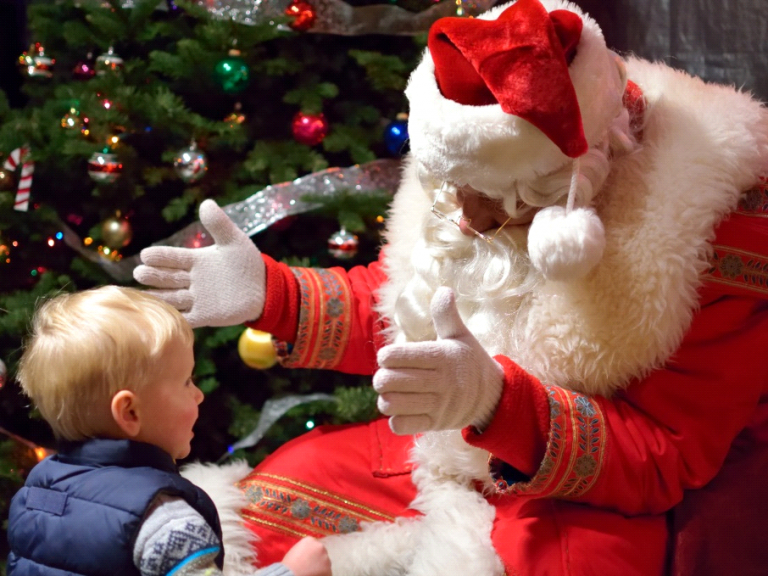 Did you know Santa Fe has its own Palace? The Palace of the Governors that is, which distinguishes Santa Fe with the oldest continuously operating government building in the United States. On December 13, 2019, the annual celebration, Christmas at the Palace, takes place in the magical setting of this venerable historic compound on the Santa Fe Plaza from 5:30 to 8:00 p.m.
The Palace welcomes revelers to an old-fashioned holiday party that honors the holiday traditions of the Pueblo people and the Spanish settlers. Settle in with a cup of hot cider for the music and merriment of the evening. The History Museum and Palace will close at 3 p.m. to prepare for this event. Enter through the Palace at 105 W. Palace Ave. The History Museum will remain closed during the event.
---
Santa Fe Winter Indian Market
December 14 & 15, 2019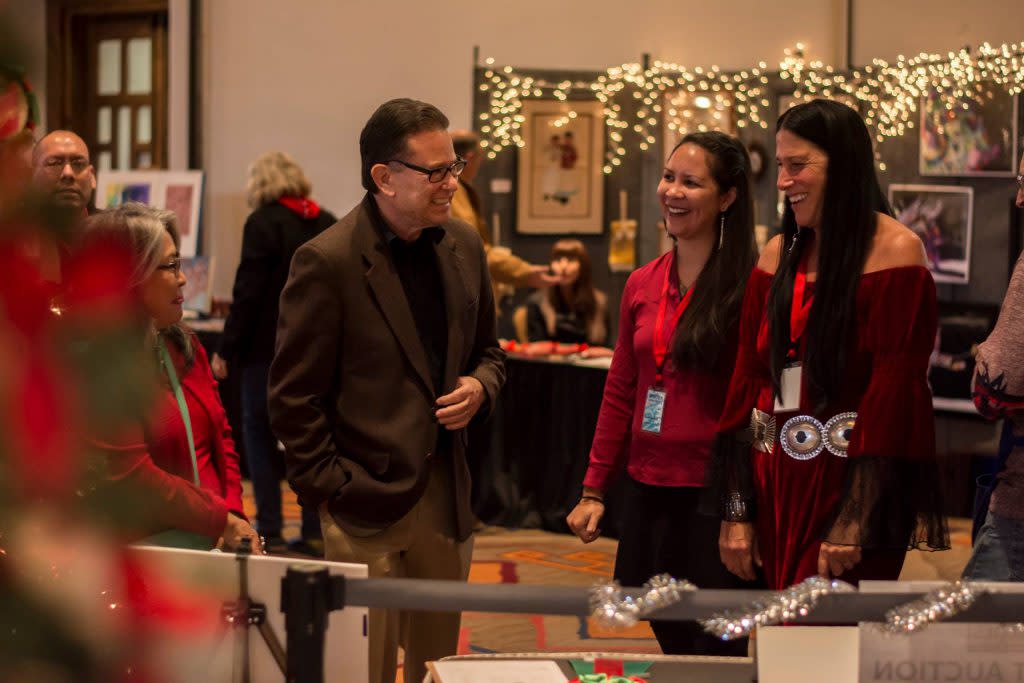 Do your holiday shopping with native artists, in a festive environment at a downtown Santa Fe landmark. The SWAIA Winter Indian Market is an annual holiday art show that will be held on December 14, 2019 from 9 a.m. to 5 p.m. and December 15, 2019 from 10 a.m. to 3 p.m. at La Fonda on the Plaza hotel. This year the Winter Indian Market includes 150 Native artists selling jewelry, pottery, paintings, weavings and much more; a fabulous silent auction; live music and dance round out the festivities.
---
Desert Chorale Winter Festival
December 14 – 22, 2019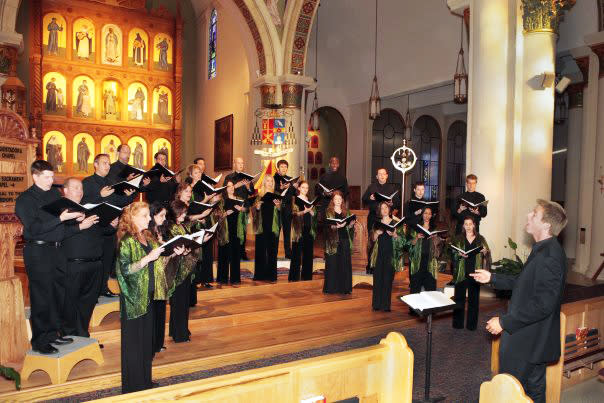 The renowned choir presents a series of concerts, including carols and lullabies from Ireland, Scotland, Wales, and other Celtic lands. Concerts take place December 14 – 22, 2019 at the United Church of Los Alamos, Immanuel Presbyterian Church of Albuquerque, Cristo Rey church, and the Cathedral Basilica of St. Francis of Assisi.
---
Las Posadas
December 8, 2019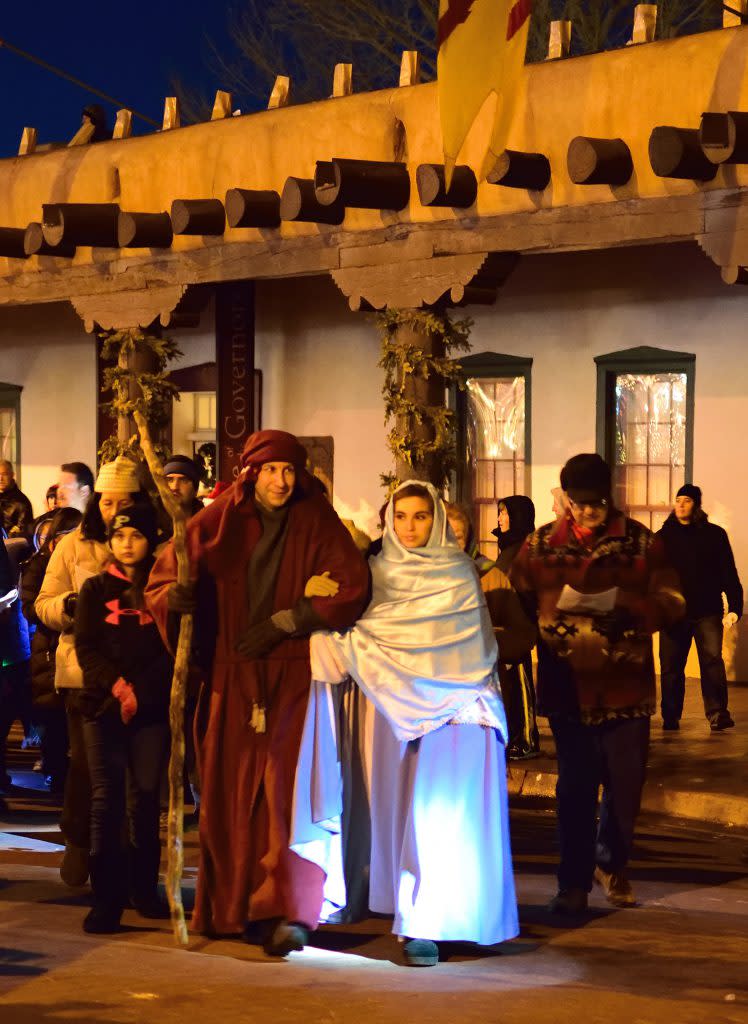 Hosted by the New Mexico History Museum, Las Posadas is a re-enactment of the legendary journey of two exhausted travelers on their way to Bethlehem. Visitors are invited to join the candle-lit procession following the young couple around the Plaza as they seek shelter for the night. At the conclusion, everyone comes together at the Palace of the Governors for cookies and cider before heading back to their own beds for the night. Don't forget to wear warm clothing! This time honored event takes place on December 8, 2019 at 5:30 pm.
---
A Baroque Christmas
December 19 – 24, 2019
For over 30 years Santa Fe Pro Musica has performed "A Baroque Christmas" which is a Santa Fe favorite during the holidays. The Santa Fe tradition returns to the beautiful Loretto Chapel and will have performances from December 19 through  December 24, 2019. Clara Rottsolk, soprano and Marguerite Krull, soprano will be the featured vocalists.
---
Canyon Road Farolito Walk
December 24, 2019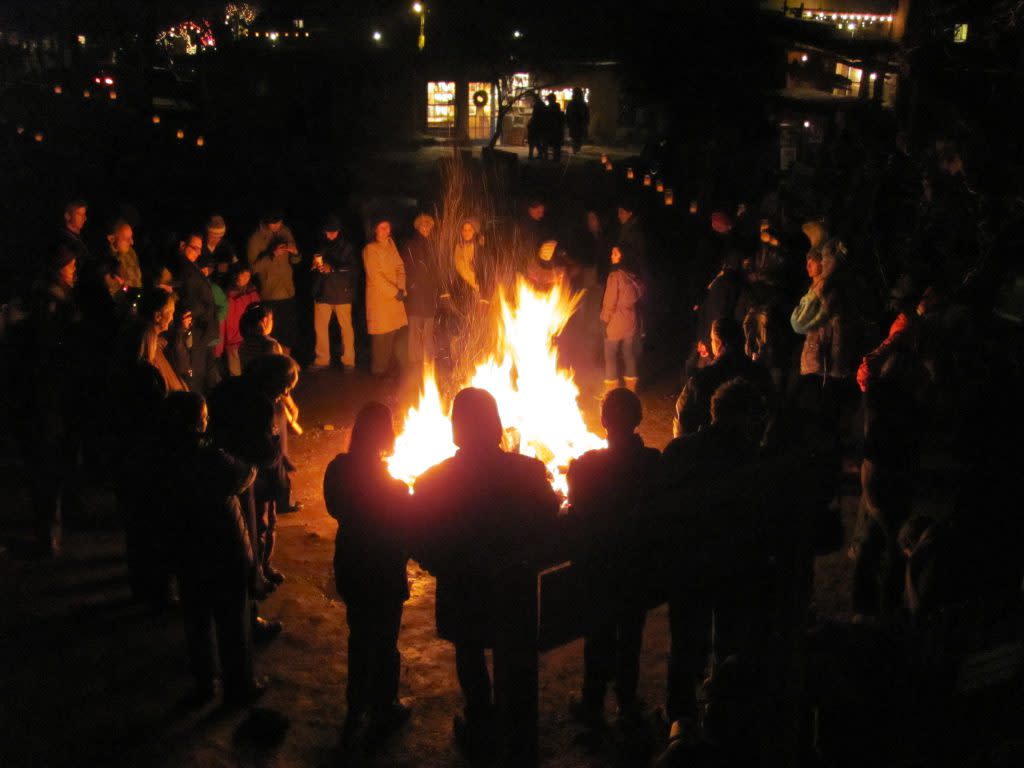 One of Santa Fe's most beloved December events, the Canyon Road Farolito Walk, lights up the hearts and souls of thousands who stroll the iconic road on Christmas Eve. While touring Christmas lights is a tradition everywhere, the experience is totally unique in Santa Fe. After all, how many towns commit hours of preparation to creating an awe-inspiring display for just one night? The annual walk leads you from the Santa Fe Plaza to the surrounding historic neighborhoods. This night is a truly magical and breathtaking experience you do not want to miss. The event takes place on December 24, 2019.
---
Christmas Eve at Picuris Pueblo
December 24, 2019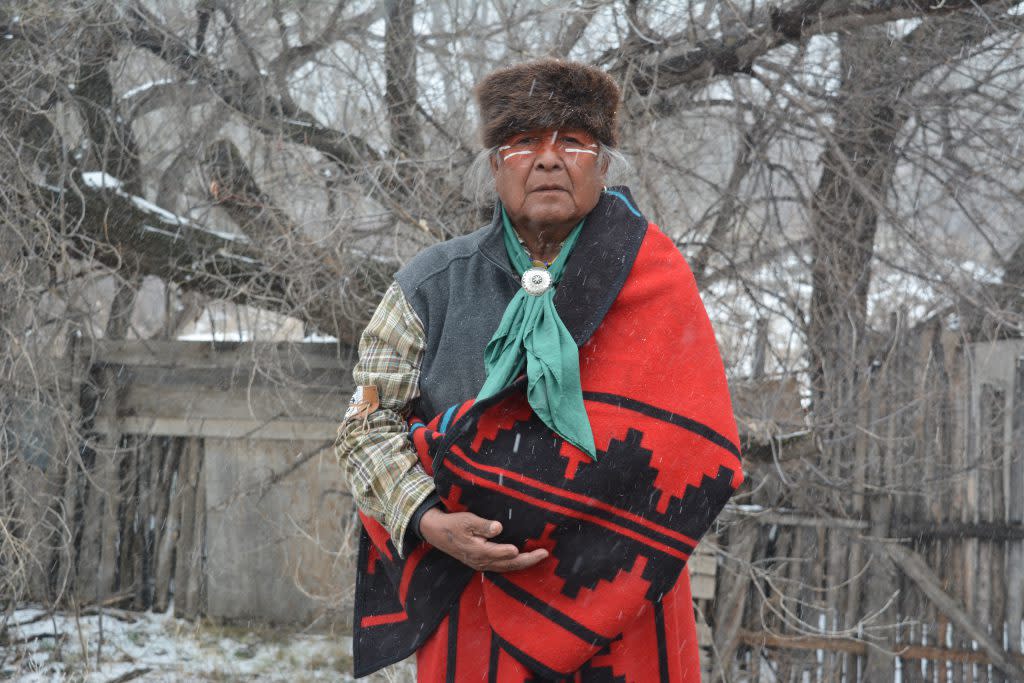 Embrace the region's rich Native American culture at sundown on Christmas Eve with a torchlight Procession of the Virgin at Picuris. Learn more about the holiday season events at the Northern New Mexico Pueblos here.
---
New Year's Eve on the Plaza
December 31, 2019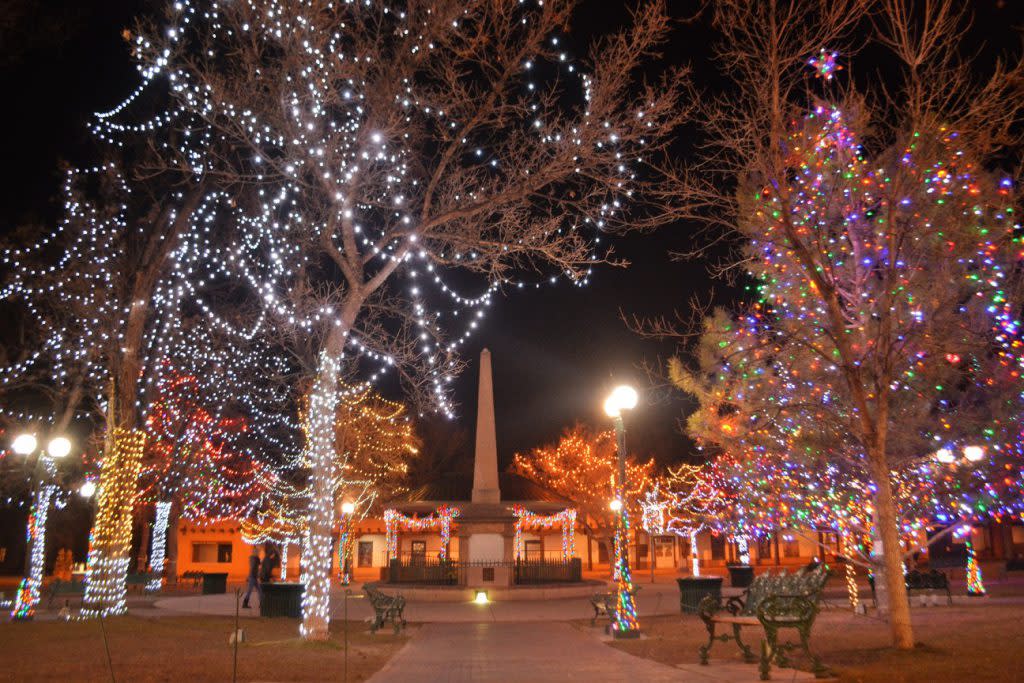 Santa Fe is set to ring in the new year on the Santa Fe Plaza! There will be live entertainment, and a digital media display will countdown to 2020. The Kiwanis Club of Santa Fe will provide hot chocolate and biscochitos, along with a memorial banner for all to write down their hopes and dreams for a Prospero Año Nuevo. Check out New Year's Eve for more information.
---
Discover a December different when you spend the holidays in Santa Fe—they are truly filled with magic and good cheer here. Bring a friend or family, or just give yourself the unique gift of a Santa Fe holiday that'll be a heartfelt memory. Make your December getaway even more special by checking out our [blog_link url=" https://santafe.org/Visiting_Santa_Fe/Specials/" text="Deals and Specials" date="December_Events"].