Santa Fe is known for a range of New Mexican flavors that add to the city's unique culture. Whether you're a dessert enthusiast, a lover of spicy foods, or an all-around foodie, Santa Fe is the place for you. The City Different is blessed with food traditions as ancient as the cultures that settled here so long ago, and we honor our past each time we celebrate with these delicious meals, treats, and flavors. While home cooks have perfected their own versions of these recipes, you can find extraordinary renditions at most Santa Fe restaurants because so many wonderful chefs have made Santa Fe their home, and in the process, have enhanced our food culture in unexpected, wonderful ways. 
---
BISCOCHITO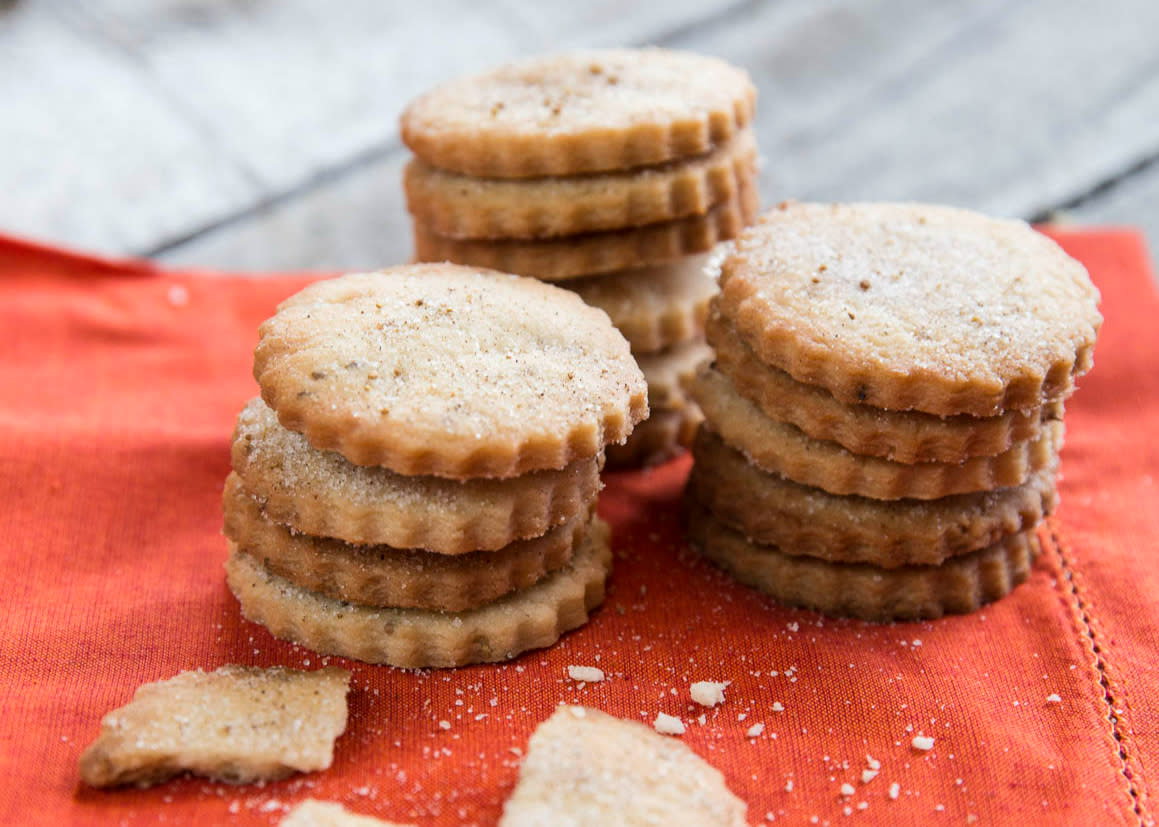 New Mexico was the first state in the US to have an official state cookie, designated in 1989. No other state has the subtly sweet anise-flavored sugar cookie we call a biscochito—or bizcochito.
Heritage recipes are guarded closely and released with Grandma's admonitions on ingredients and technique. Traditionally made with lard, which some still consider superior for results (but you can easily bake with butter!), biscochitos are the perfect treat for anytime. Their light flavor and delicate sweetness never overpower after a meal. With a cup of coffee, they make a surprisingly delicious breakfast; or with a glass of milk, a simple midnight snack. Come holiday season, you'll see a preponderance.of these at parties and events. Like basic sugar cookies, they are pretty darn easy to make—check out this biscochito recipe from our resident James Beard Award cookbook author Cheryl Jamison.
---
FRITO PIE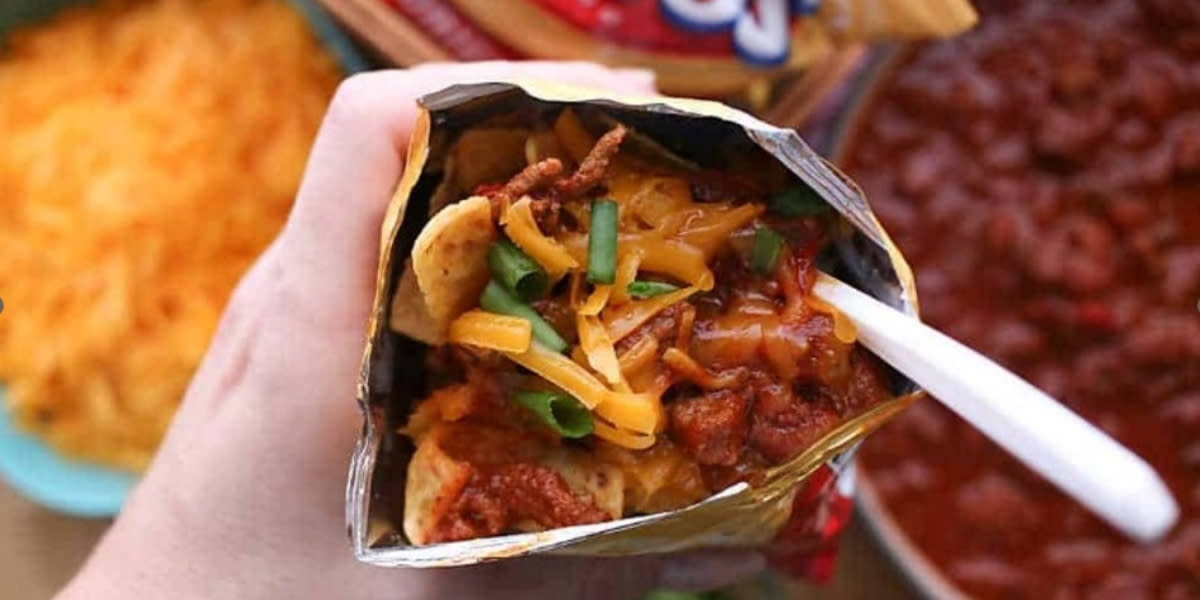 What's better than a delicious meal you can easily take on the go? Frito Pie has been a beloved classic of Santa Fe's cuisine since the 1960s. Also known as a walking taco or frito boat, Frito Pie consists of a Fritos corn chip base, topped with New Mexico chile (find recipes here), beans, cheese, lettuce, tomato, onions, and spicy ground beef or turkey.
The Five & Dime General Store located on the Santa Fe Plaza, is home to one of the original Frito Pies. Every morning they cook from scratch chile con carne made with red chile and ground beef. The traditional Frito Pie is served right from the Fritos bag, a perfect snack to bring on a stroll around Santa Fe's historic Plaza. However, if you're looking to dine in, countless Santa Fe restaurants serve it as a delicious sit down meal as well.
---
GREEN CHILE STEW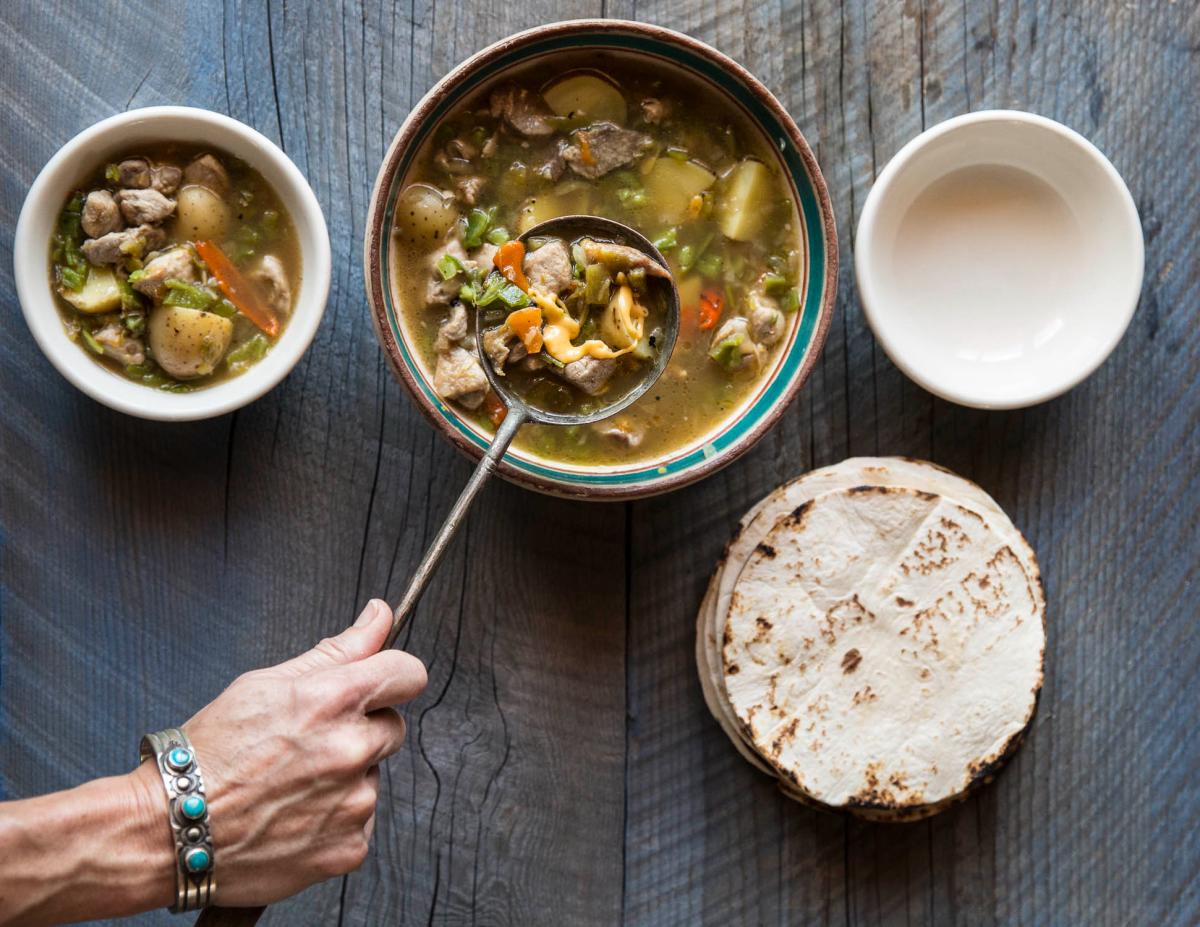 There is one thing that is always in both the locals' freezer and refrigerator, and that's green chile. In the fall and winter seasons, multiple bags of roasted, peeled, and frozen pods await their transformation into green chile stew. Add a little of this, a little of that, and it's dinner!  
Like all stews, our Santa Fe versions developed as an inexpensive way to make a little bit of meat go a long way by adding the humble combo of potato and onion to expand the portfolio. The traditional stew combination of meat (usually pork or beef, but chicken is common, and turkey is a seasonal treat) and vegetables is cooked low and slow until the meat is tender. Of course, vegetarian options are always delicious as well! 
---
POSOLE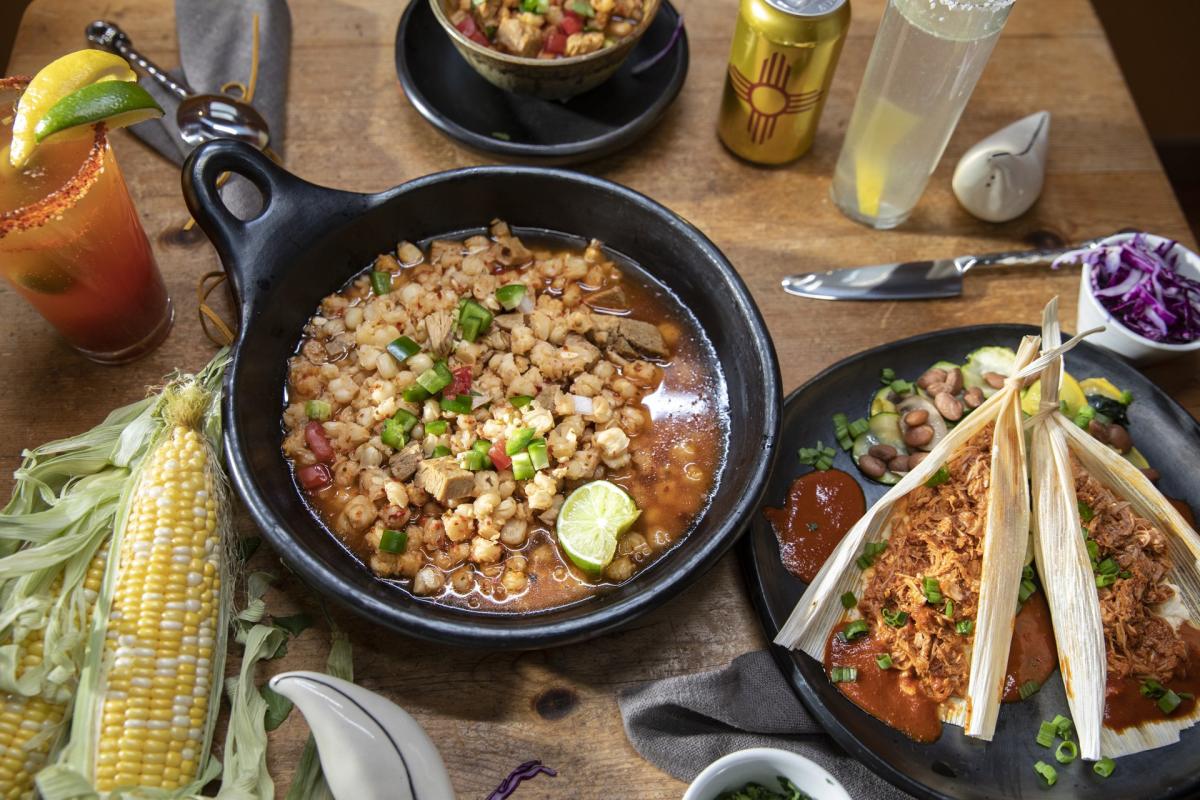 Corn meant so much to the Indigenous cultures of the New World, and posole (also spelled pozole) is yet another iteration of this critical crop. Maize, the ancestor of today's corn, was considered a sacred plant by the Northern hemisphere's ancient inhabitants prior to Old World colonization, and was featured at rituals and special occasions. In preparation for posole, the corn kernels are dried after the harvest and then soaked in a lime solution and hulled before being combined with meat (typically pork), garlic, onions, red chile, and a variety of spices. Of course, it's always the chef's privilege to improvise!
Traditionally served as a Christmas Eve meal, a pot of posole simmering on the stove in advance allows a family to participate in the Canyon Road Farolito Walk without fretting about dinner. Or it's a great Sunday evening meal, perfect for larger, extended family gatherings as it just seems to give and give! Try this posole recipe from our resident James Beard Award cookbook author Cheryl Jamison.
---
SOPAIPILLAS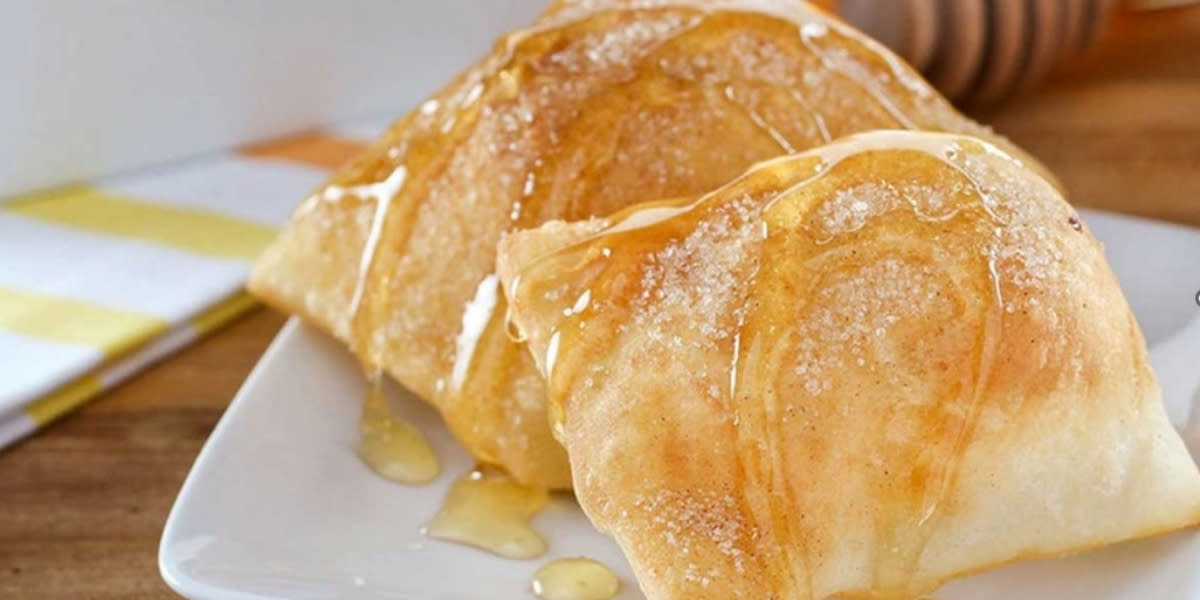 What might one say is the perfect pillowy, fried dough treat? A sopaipilla comes to mind for us New Mexicans. And lucky enough, a basket of fresh sopaipillas are a staple at most every New Mexican restaurant.  
Sopaipillas are a fried pastry bread that were most likely created right here in New Mexico close to 200 years ago. Some like their sopaipillas drizzled with honey as a sweet treat, while others think of them as the perfect way to soak up New Mexico chile. Or, enjoy a sopaipilla for dinner, stuffed with beans, cheese, chile, and more! Regardless of how you choose to try the delicious Santa Fe staple, you'll fall in love with the soft, fried goody. 
---
TAMALES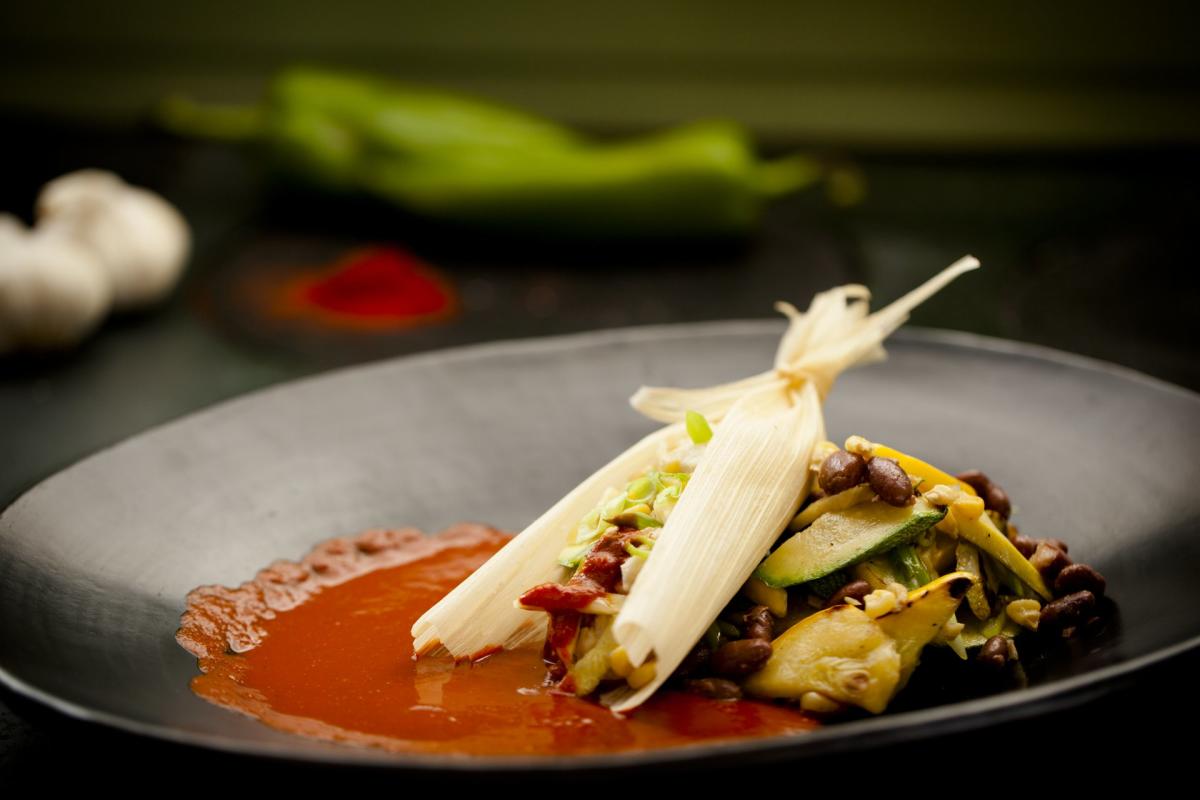 Originating in Mesoamerica BC, tamales were an easy, portable food for hunters and travelers, and they fed the armies of these ancient cultures long before Spanish conquistadors landed in the New World. The Mexican tradition of serving tamales at Christmastime migrated north to New Mexico and has become an annual delight to which we Santa Feans look forward, whether it's Grandma leading the assembly line in her kitchen, or dining at one of our favorite Santa Fe restaurants. 
Fillings range from classic pork and red chile to a variety of vegetarian inventions, and Santa Fe home cooks experiment with whatever leftovers are sitting in the fridge. Surrounded by a soft, creamy cornmeal casing and steamed inside a cornhusk, a tamale is gustatory greatness in a small package. You can order your tamales topped with red or green chile, or do as the locals and request "Christmas," which means you'll get them with both red and green chile on top!
---
Get a taste of The City Different! Order your Official Santa Fe Visitors Guide now or browse our deals and specials to help you plan your next trip to Santa Fe.