Santa Fe's eateries take full advantage of The City Different's great outdoors with special alfresco dining spaces for at least 6 months out of the year. To take in the earth, sky, and open air in Santa Fe, just grab a seat at one of the distinctive restaurants on this list. Buen provecho!
---
Compound Restaurant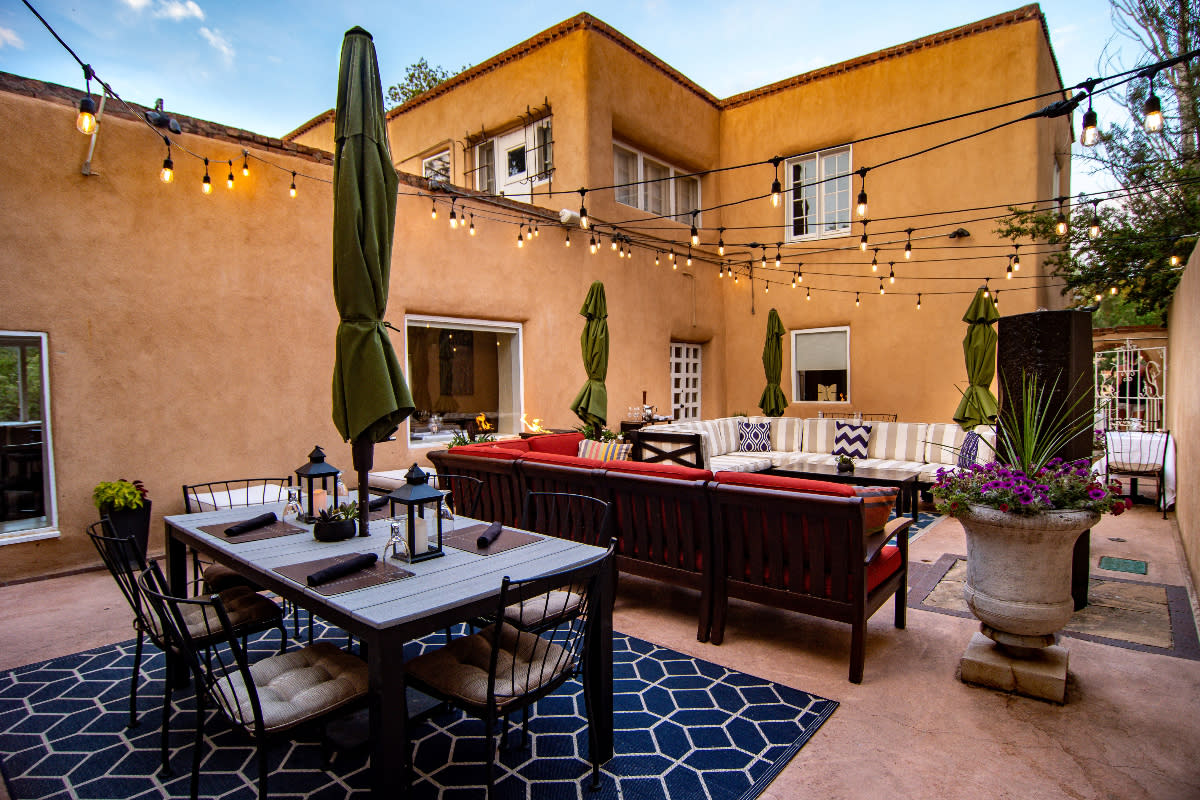 You've your choice of patios when dining at the venerable Compound Restaurant, owned and operated by Mark Kiffin, 2005 James Beard Award winner for Best Chef of the Southwest, and all are exquisite. Surrounded by old-growth trees, abundant flowers, and tasteful furnishings, you may not want to leave. 
This spot is a must for its elegant, yet comfy vibe, its seasonal, farm-fresh contemporary menu, and its award-winning global wine program, featuring more than 400 selections. Say yes to all lobster dishes, the gazpacho, the Chicken Schnitzel, any or all desserts, Make sure to ask about the building's 250-year-old history and keep your eye out for the various artists represented, including Dan Namingha and Allan Houser. 
---
Coyote Cantina on the Rooftop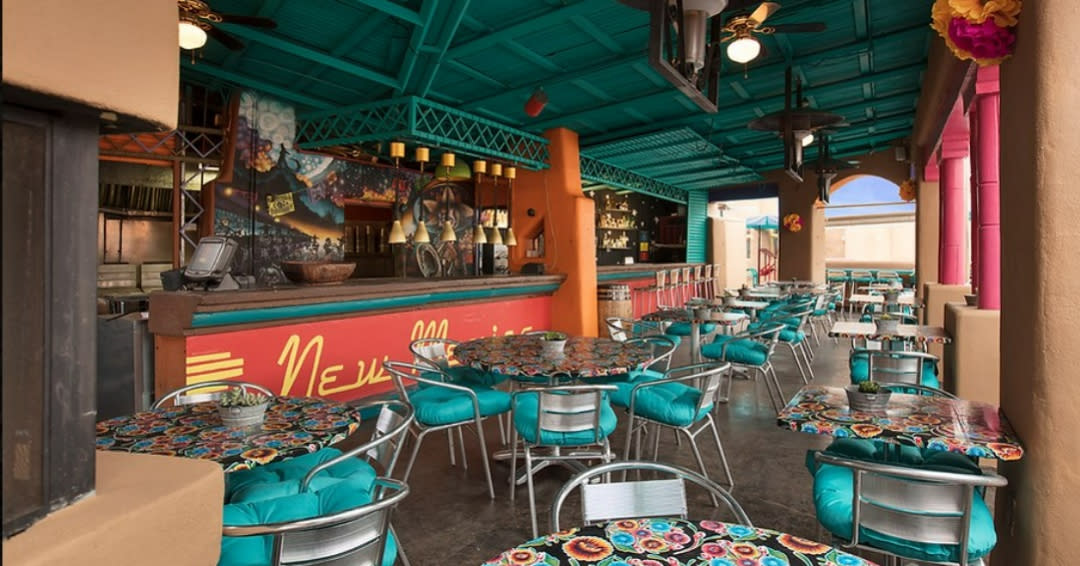 Photo: Coyote Cantina on the Rooftop
The Coyote Cantina on the Rooftop is the wild child to its companion restaurant, Coyote Cafe, a wine-sipping, lobster-tail-eating kinda place. Up on the second-story Rooftop Cantina, you can expect the margaritas and the conversation to flow amid street-art murals and brightly patterned oilcloth-covered tables. Glass garage doors roll open to the elements and a deck overlooking Water Street, just a block from the Santa Fe Plaza.
This relaxed, vibrant joint has a menu to match its atmosphere, with dishes like the green chile cheeseburger piled high with onion rings, bacon, and a fried egg; and the often underrated but locally loved Frito pie, with corn chips smothered in red chile beef, beans, cheese, and all that comfort-food goodness you keep coming back for in Santa Fe. Across town, you'll find the Cantina's sister restaurant Santacafé, more of a wine-sipping, lobster-tail kinda place, which has an elegant courtyard patio!
---
Luminaria Restaurant & Patio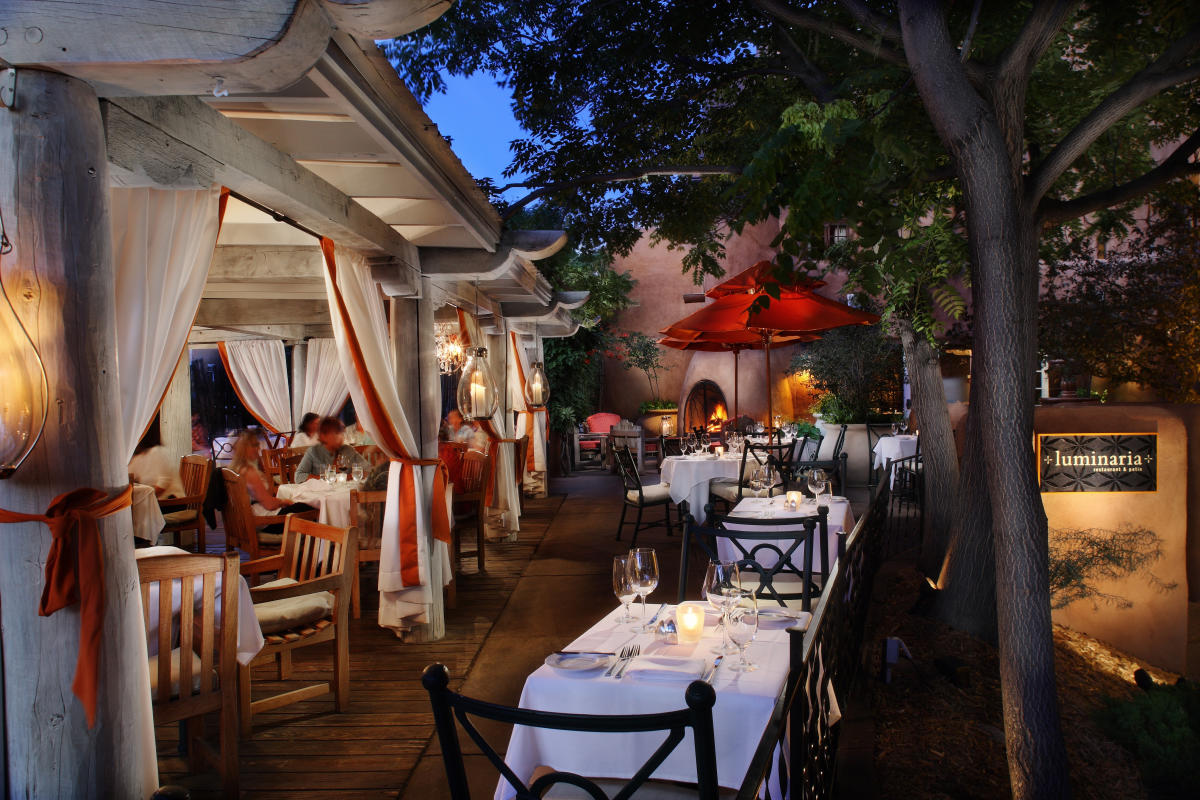 The outdoor dining space at Luminaria Restaurant & Patio is sandwiched between two striking Santa Fe sights. Quite naturally, the patio extends from the four-story Pueblo-inspired architecture of its accompanying hotel, the Inn and Spa at Loretto, and abuts The Loretto Chapel in all of its Gothic glory, modeled after Paris' Sainte-Chapelle.
With views of both design marvels, Luminaria feels globally inspired. Yet an horno-style fireplace reminiscent of the traditional ovens used in New Mexico's Pueblos roots the patio in the Land of Enchantment—especially when it roars with roasting piñon logs on cooler evenings. Down-home dishes, like chips and guacamole or quesadillas, get upscale, imaginative twists here, matching the simple grandeur of the space itself. There's something for everyone and the patio is open for every meal, even brunch!
---
Restaurant Martín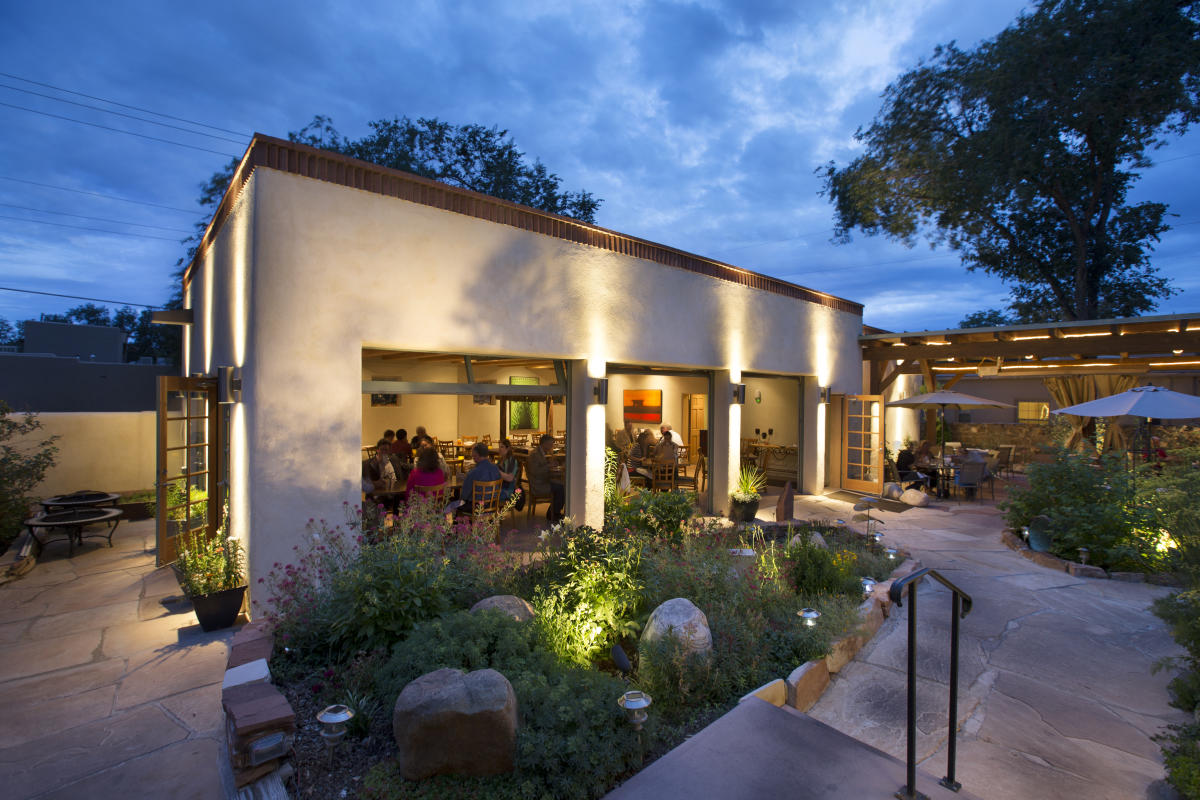 Photo: Kate Russell

Owner/chef Martín Rios spent two decades coming up through the ranks of Santa Fe's fine-dining scene, beginning as a 17-year-old dishwasher. Now, at the helm of his eponymous bistro, he's a multi-time James Beard Award semifinalist in the Best Chef of Southwest category. Rios is considered absolute star among Santa Fe chefs.
The evolving menus at Restaurant Martín are refined yet approachable as Chef Rios draws on global ingredients, his Guadalajara, Mexico roots, and his training. The intimate restaurant opens up to an outdoor flagstone patio and a walled, xeriscape garden. You'll feel completely comfortable in this elegant, yet cozy setting, as if you are in the home of a friend. 
---
The Teahouse and El Farol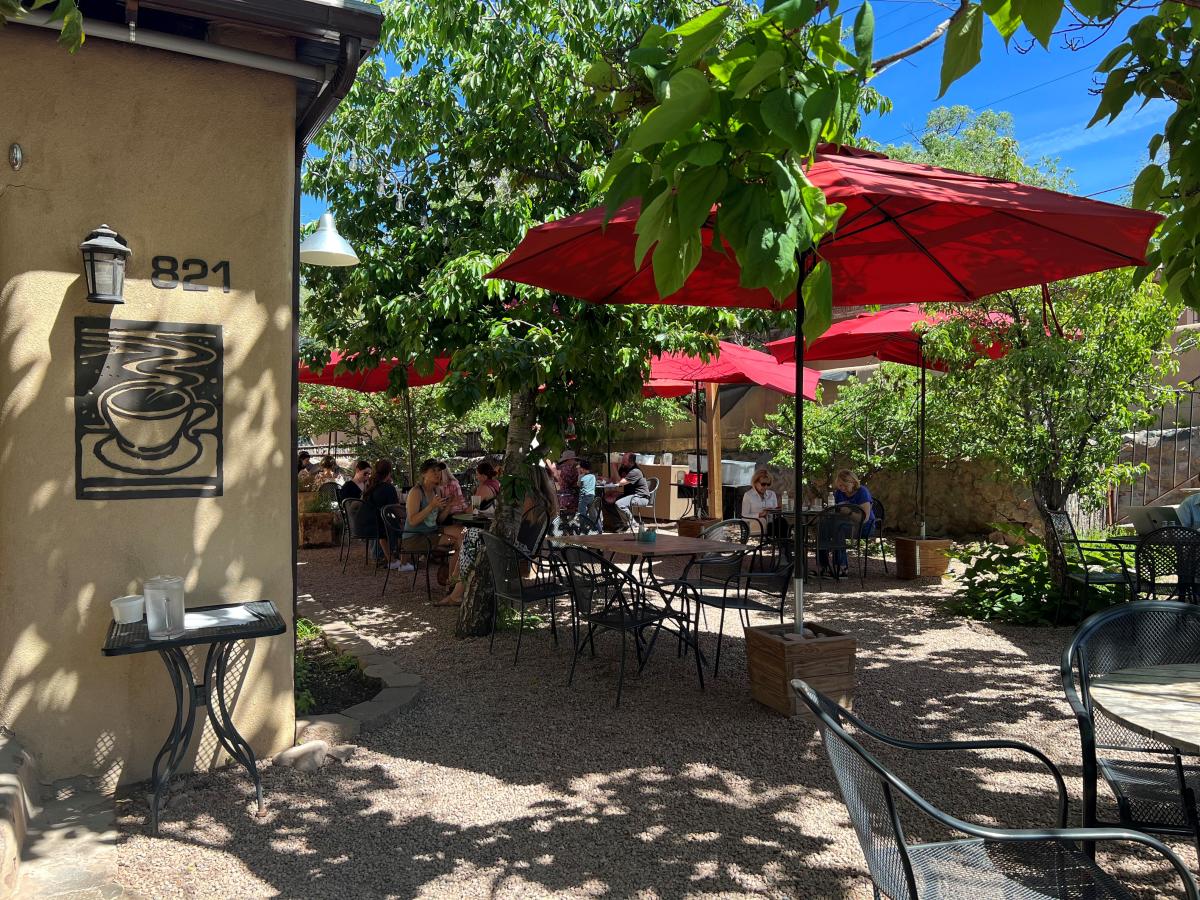 Photo: Monica Walsh

About a hundred galleries and boutiques pepper Santa Fe's Canyon Road, creating a diverse catalog of browsing and shopping destinations that will require more than one afternoon of your time. The historic stretch was once entirely residential, and by the early 20th century housed a variety of artisans, but it's now best known for its many internationally renowned galleries.
The Teahouse Santa Fe embraces this history, offering art collectors a shady, Zen-like spot to rest on their intimate red umbrella-ed patio. Diners can sip loose-leaf teas from China, Indian, Japan, and Sri Lanka, as well as closer to home. The menu also delivers light bites, from breakfast scones to lunch salads, paninis, and sandwiches. And across the street, the very same owner takes care of the legacy at El Farol, born in 1835. Their generous, private patio offers a cool respite, complete with a miniature waterfall and multiple umbrellas. Quench your thirst here with any number of beverages from "one of the best bars on earth" (New York Times) and refulel with a vast ans tasty traditional Spanish tapas menu. 
The Shed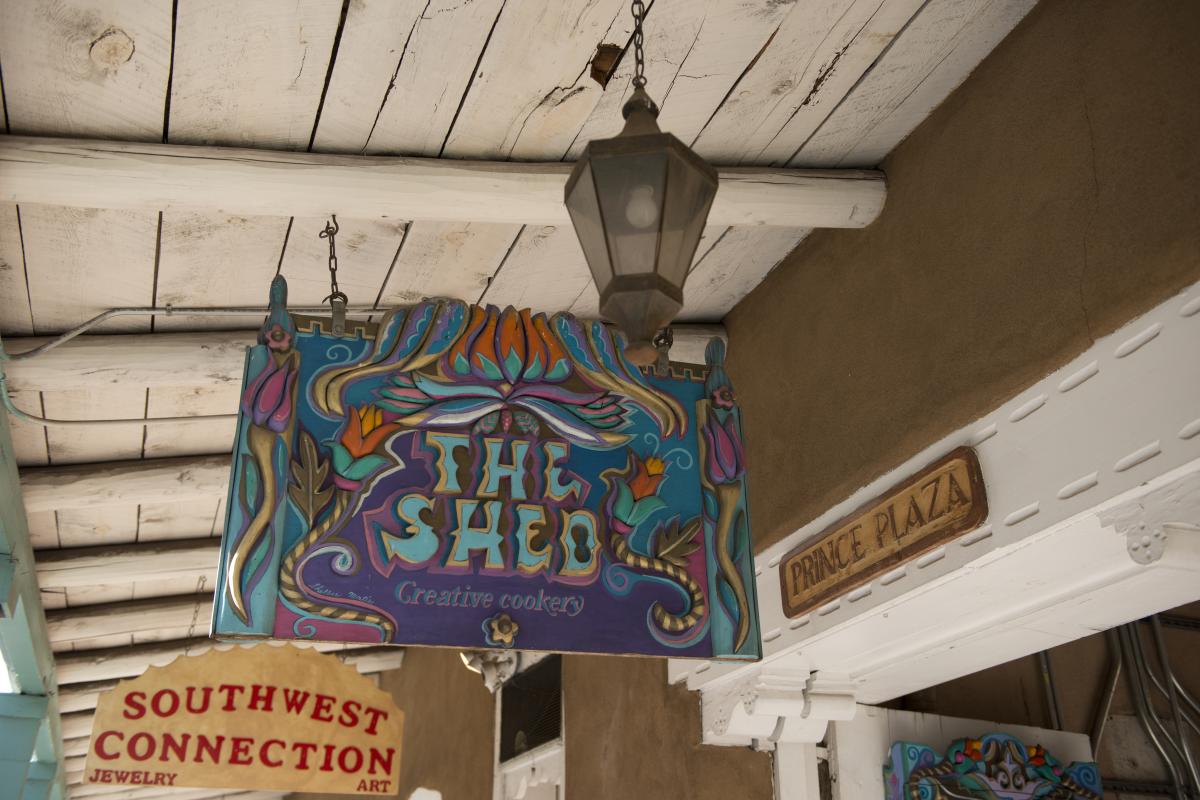 The City Different takes its red and green chile seriously, with various versions topping, slathering, and smothering many dishes around town. But The Shed is a consistent favorite when it comes to locals' discriminating chile palates. This family-owned restaurant has been going strong since 1953 and serves its classic New Mexican dishes on Palace Avenue, just east of the Santa Fe Plaza. It's particularly known for the red chile enchiladas made with blue corn tortillas.
The Shed operates in a nine-room rambling adobe dating to 1692 (that's Santa Fe for you!). Diners may also choose to eat outside, on Prince Patio, the sunny flagstone courtyard in front of the hacienda that earned its name from Governor Bradford Prince in 1879. Just across town The Shed's sister establishment La Choza Restaurant is equally popular and also sports a patio! (Did you know? La Choza means The Shed in Spanish!)
---
Terra Restaurant
Photo: Four Seasons Resort Rancho Encantado

A 15-minute drive from the Santa Fe Plaza delivers diners to the Four Seasons Resort Rancho Encantado Santa Fe and its Terra Restaurant. The setting is The City Different's outskirts, in the foothills of the Sangre de Cristo Mountains, where piñon trees are more numerous than people.
Terra's patio offers prime sunset viewing—from this vantage point, you can watch the Sangres earn their name as the alpenglow colors their peaks. Upmarket dishes draw from local ingredients and influences, such as piñon-crusted lamb and green chile-bison stew.
---
The Anasazi Restaurant, Bar & Lounge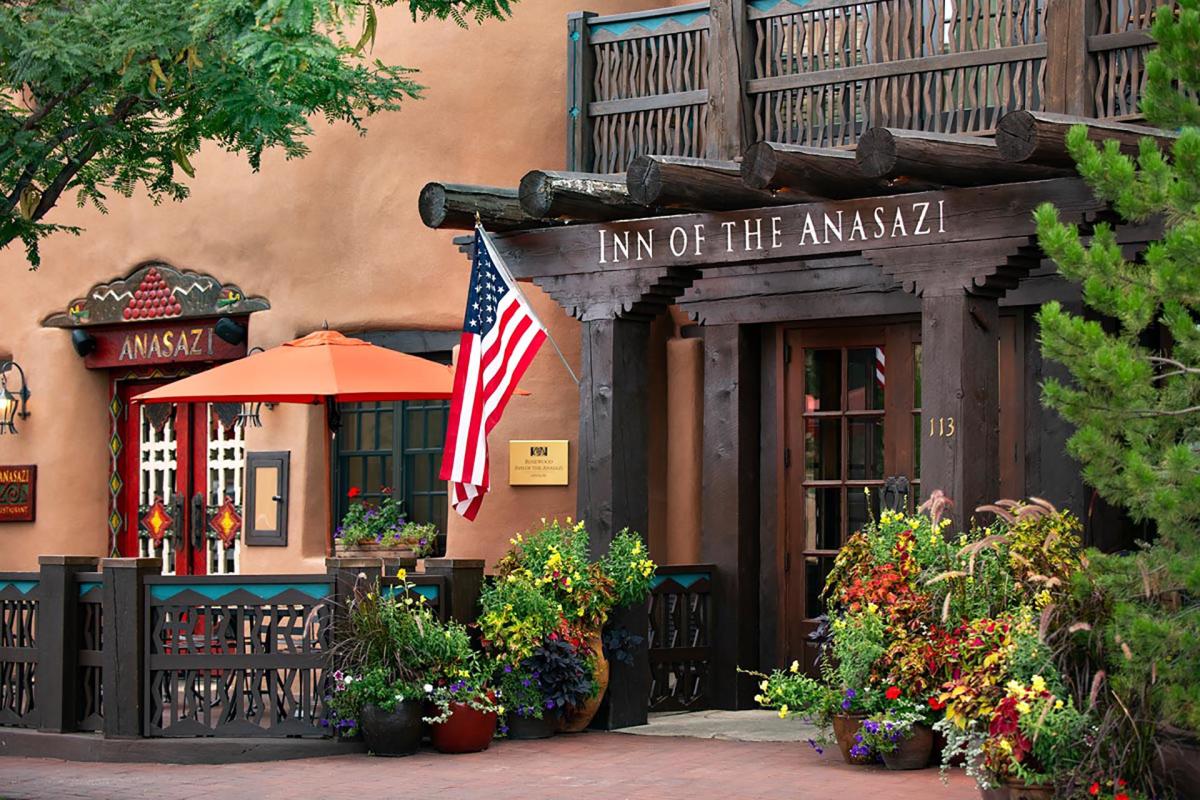 People watching is on the menu as much as dinner at The Anasazi Restaurant, set within the Rosewood Inn of The Anasazi. The earthen-hued patio edges Washington Avenue, one of the arteries to and from the Plaza, just a few steps away.
The restaurant's highly desired location puts diners in the center of the action during several of The City's Different's top art markets and celebrations, including the Santa Fe Indian Market and Traditional Spanish Market. (Reservations are a must during these events.) Meanwhile, its contemporary American menu showcases elevated local flavors, with many ingredients sourced from area farmers and purveyors. If you like tequila and mezcal, don't miss their Agave Tasting. 
---
La Casa Sena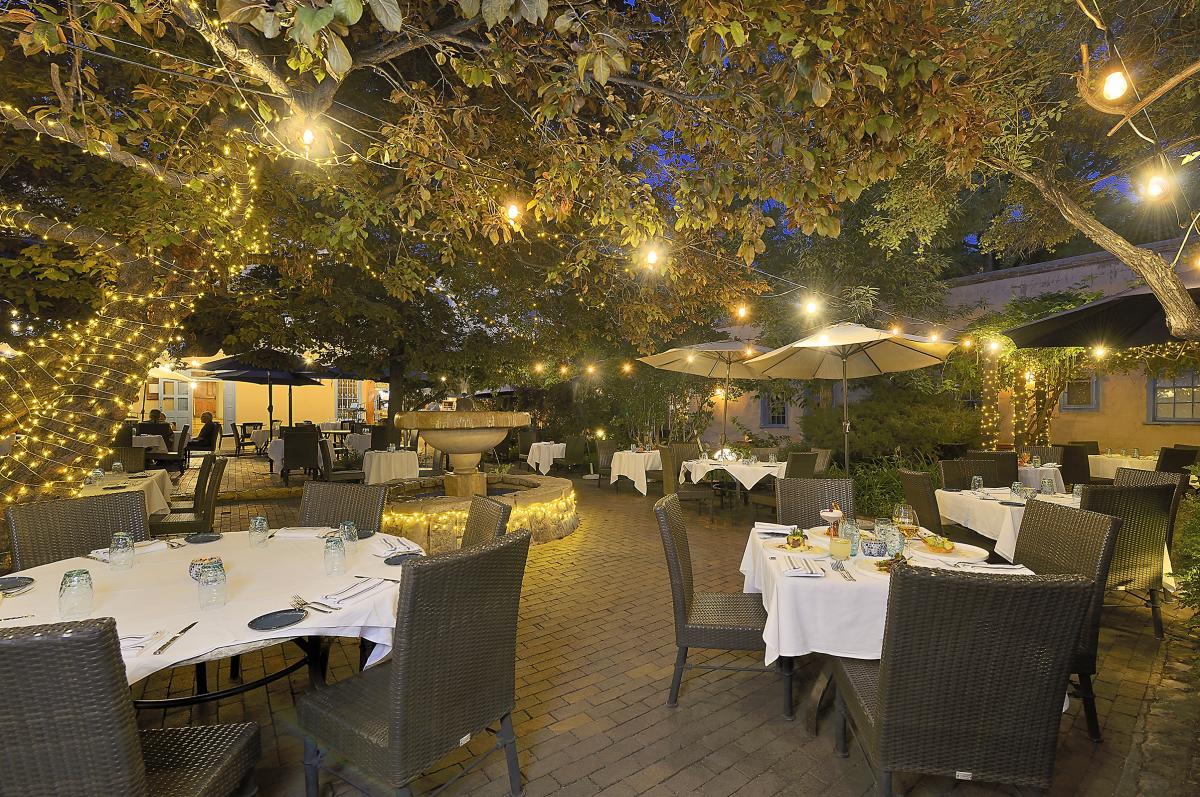 Photo: La Casa Sena

Tucked away in an enchanting courtyard in the middle of the bustling historic Plaza area, La Casa Sena is named after its original owners whose 33-room hacienda, dating to 1864, inspired the name. Enjoy a Meditteranean menu here on their romantic and iconic patio. Some nights, listen for jazz from resident Club Legato. 
---
Whatever restaurant you choose, whether it's a New Mexican comfort classic or a fine-dining standout, you'll also be fortunate to enjoy the outdoors at these impeccable Santa Fe spots. Check out our Dining Guide for more great ideas.
Get a taste of The City Different! Order your Official Santa Fe Visitors Guide now or browse our deals and specials to help you plan your next trip to Santa Fe.
Note: This blog was written by author Ashley M. Biggers for Matador Network in paid partnership with TOURISM Santa Fe.