September in Santa Fe is a magical time. The smell of green chile roasting fills the crisp mountain air, while the aspens turn golden and shimmer with the breeze. Temperatures begin to drop, but the autumn event season really begins to heat up! Here are several of The City Different's can't-miss September events.
---
99th Annual Burning of Zozobra
September 1, 2023
The Burning of Zozobra is a unique cultural event that takes place the Friday of Labor Day weekend at the green and lush Fort Marcy Park, just steps from downtown Santa Fe. The wailing, mythical creation is the legacy of local artist Will Shuster, who could likely not have imagined that the original 6-foot effigy he burned in his backyard in 1924 would become a 50-foot marionette and an annual source of community release and rallying.
Filled with paper "glooms"—expressed regrets and fears, divorce papers, speeding tickets, photos—by young people and adults alike, Zozobra is unable to cast a spell of darkness over Santa Fe for long. You watch and groove from a spot on the Fort Marcy Park grass as he burns in a musical, ritualistic, orchestrated ceremony, and with him, all woes—until at least the following year! Read more via our blog.
This year, 2023, the ongoing Zozobra Decades Project, an annual journey through successive decades of Zozobra's existence, celebrates the music of Millennials. the 2000s and 2010s!
The Kiwanis Club of Santa Fe has managed the pageantry since 1964, and the proceeds support area children's programs. More information, including tickets, merchandise, how and where to submit your gloom at Burn Zozobra. 
---
311th Fiesta de Santa Fe
September 2–10, 2023


If there's one tradition that captures the spirit of Santa Fe, it's the annual celebration, Fiesta de Santa Fe. This event is the longest continuously running celebration in the US! With the Mariachi Extravaganza, the Burning of Zozobra, concerts, culturally rich music performances and food booths, beloved and time-honored parades—Desfile de Los Niños (aka, The Pet Parade) and Desfile de la Gente (aka Historical/Hysterical Parade)—as well as arts and crafts markets, and more, Fiesta de Santa Fe embraces The City Different's complex past and present and is a feast for all of the senses.
---
20th Annual Fiesta de los Niños
September 2 & 3, 2023

The City Different's living history museum El Rancho de las Golondrinas presents cultural events to give visitors a sense of life in New Mexico in the 18th and 19th centuries. Bring the whole family to the 20th Annual Santa Fe Fiesta de los Niños, where the kiddos can participate in hands-on activities like learning how to grind corn, make candles and ropes, spin wool, and much more. Enjoy youth performances and great food and drink.
---
17th Annual New Mexico Jazz Festival
September 7–30, 2023

A robust offering of more than 20 major touring artists, including NEA Jazz Masters and respected New Mexico-based jazz, international, rhythm & blues and Latin music practitioners promise to make the 17th Annual New Mexico Jazz Festival one of the best yet. This feat of collaborative between two of the most respected non-profit jazz presenters in New Mexico, Outpost Performance Space and the Lensic Performing Arts Center, features concerts and events in Albuquerque and Santa Fe, as well as affiliated events in Taos. Don't miss your opportunity to jazz out!
---
Green Chile Cheeseburger Smackdown
September 9, 2023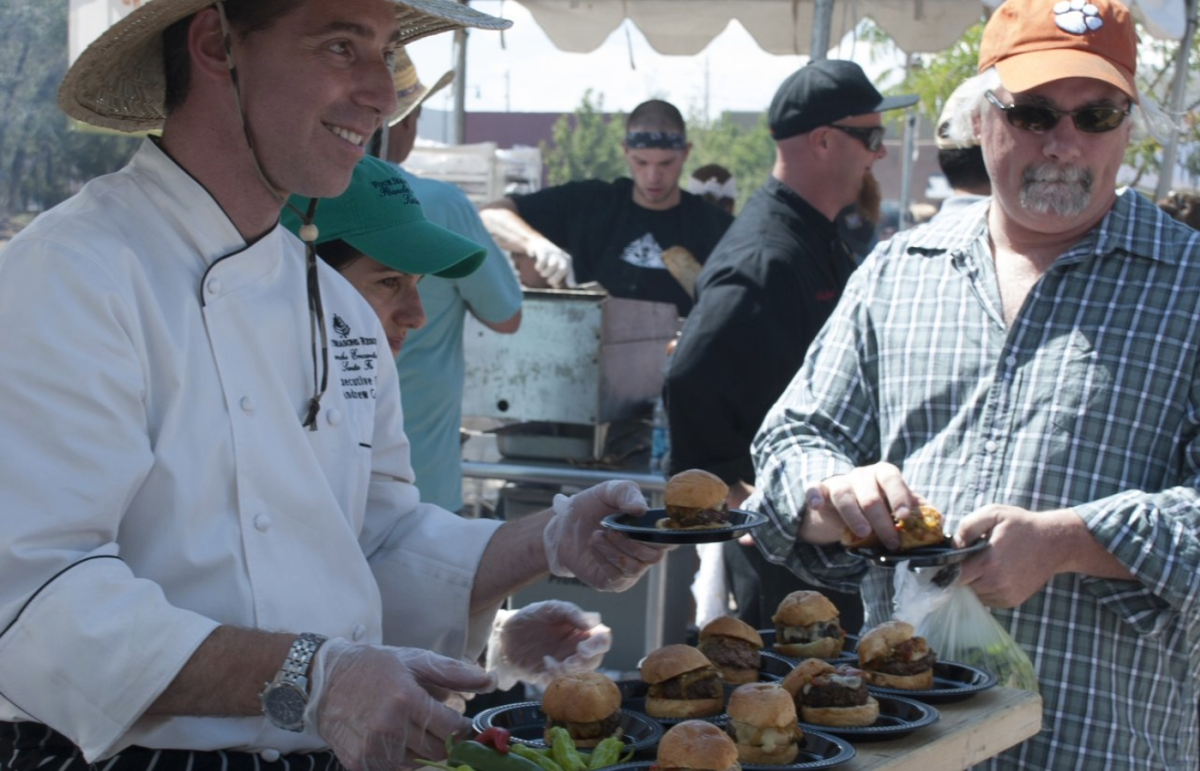 It's the battle of the burgers as the 7 chef/restaurant finalists go head to head to see who will win this year's best green chile cheeseburger title. Your host is the Santa Fe Brewing Company, selling you cool suds to go with your burger taste test. The event sells out each year, so make sure to purchase your tix soon! If you don't make it, you can still enjoy great burgers from either of the Santa Fe finalists: Luminaria Restaurant & Patio and Rio Chama. Who will win the Green Chile Cheeseburger Smackdown title in 2023?
---
The Santa Fe Symphony 40th Season Opener
September 10, 2023


The Santa Fe Symphony & Chorus opens their 40th season at The Lensic, The City Different's historic performing arts center with a program titled A Showcase of the Stars. This magnificent event showcases the talent of its Symphony Orchestra and renowned pianist Anne-Marie McDermott, who will perform Prokofiev's Piano Concerto No. 3. The concert also features one of Mozart's greatest compositions and perhaps a fitting one for this particular year—his 40th Symphony. For more information, visit The Santa Fe Symphony. 
---
Local Restaurant Harvest Celebration 
September 12–14, 2023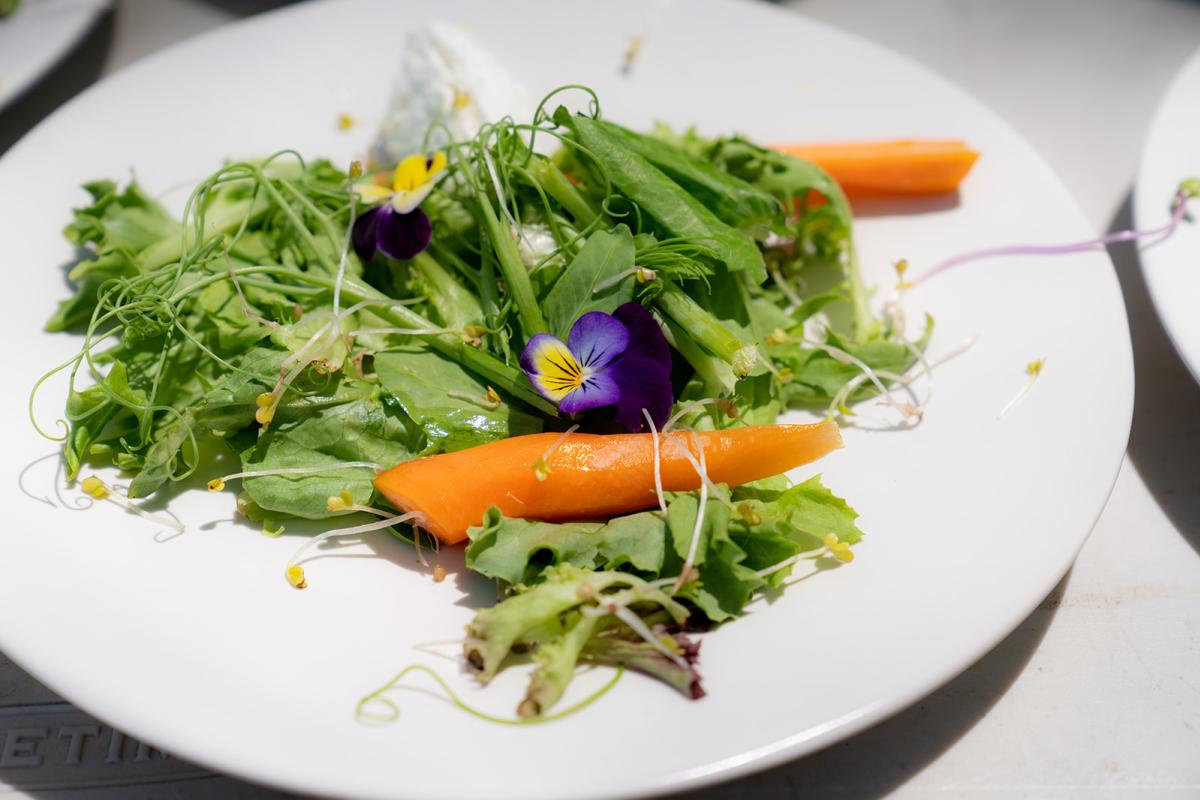 In its inaugural year, the Local Harvest Restaurant Celebration, brought to you by the Santa Fe Farmers' Institute, invites you to celebrate the beautiful and enduring relationship between small-scale farmers and ranchers in Northern New Mexico and Santa Fe chefs and restaurants. Make a reservation for lunch or dinner at various restaurants that source fresh menu ingredients from local small-scale independent producers. What could be tastier or more gratifying? 
---
Fall Activities at Ski Santa Fe
September 16–October 15, 2023, weekends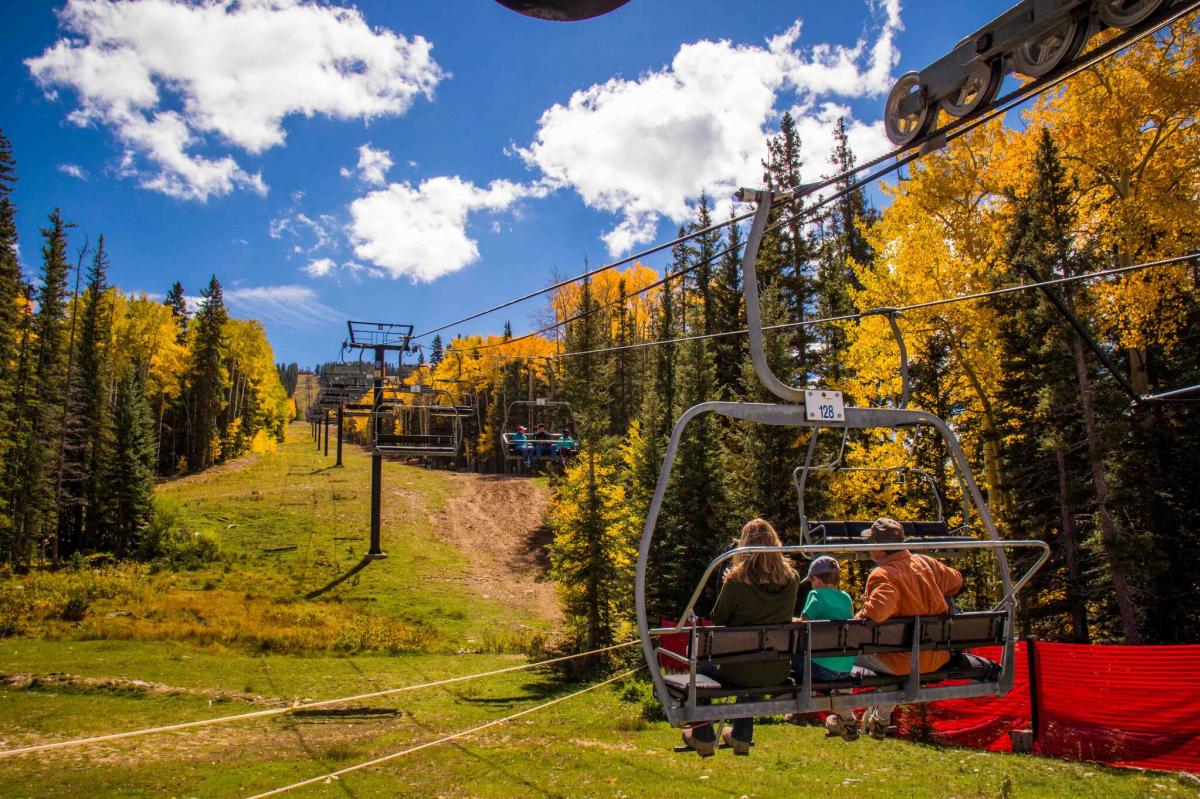 Saturdays and Sundays in September through Balloon Fiesta week, Ski Santa Fe will run their Super Chief Quad chair for scenic rides through the aspens. Also enjoy live music, an 18-hole disc golf, a classic car show, art-making, refreshments, including a tasty grill and beer garden on the lodge deck, and more. Visit Ski Santa Fe to learn more. (And season passes go on sale for the 2023 –2024 ski season on September 1!)
---
15th Annual Santa Fe Renaissance Faire
September 16 & 17, 2023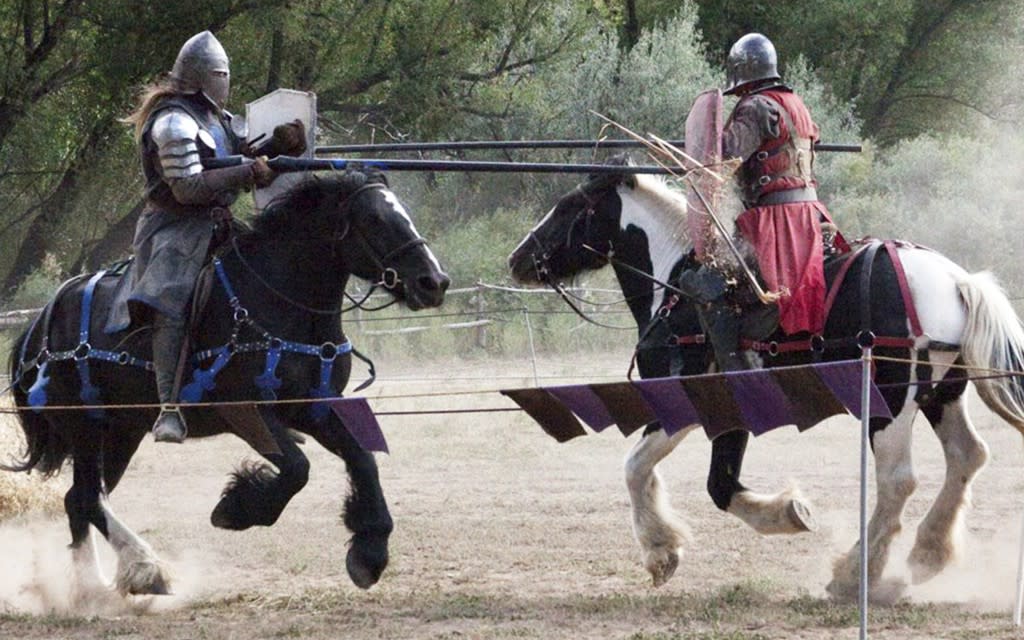 Photo courtesy of El Ranchos le las Golondrinas

Costume up and immerse yourself in a majestic journey back in time at the utterly transformed El Rancho de las Golondrinas. Travel with the fairies to their enchanted village, cheer on the knights of the Order of Epona, play in the kids' game area, try delicious era food and drink, including turkey legs, all things made with apple, mead, and ale, dance to the stylings of local musicians, giggle in awe at the acrobatic magic of the Clan Tynker troupe, and buy unique arts and crafts at New Mexico's premier Renaissance Faire.
---
Opening of the Vladem Contemporary
September 23, 2023

The New Mexico Museum of Art (NMMOA) Vladem Contemporary opens as a newly reimagined venue to showcase and house contemporary art from the collection of New Mexico Museum of Art in the Santa Fe Railyard District. Vladem Contemporary has the capacity and the means to present cutting-edge contemporary art. Various programs designed to engage directly with artists aim to deepen the connection with art and artists living and working in the state of New Mexico. Go see the debut exhibition, Shadow and Light, which celebrates the famed New Mexico light that has attracted artists and photographers for centuries. Runs through April 2024 and features regional, national, and international artists. 
---
32nd Annual Santa Fe Wine & Chile Fiesta
September 27–October 1, 2023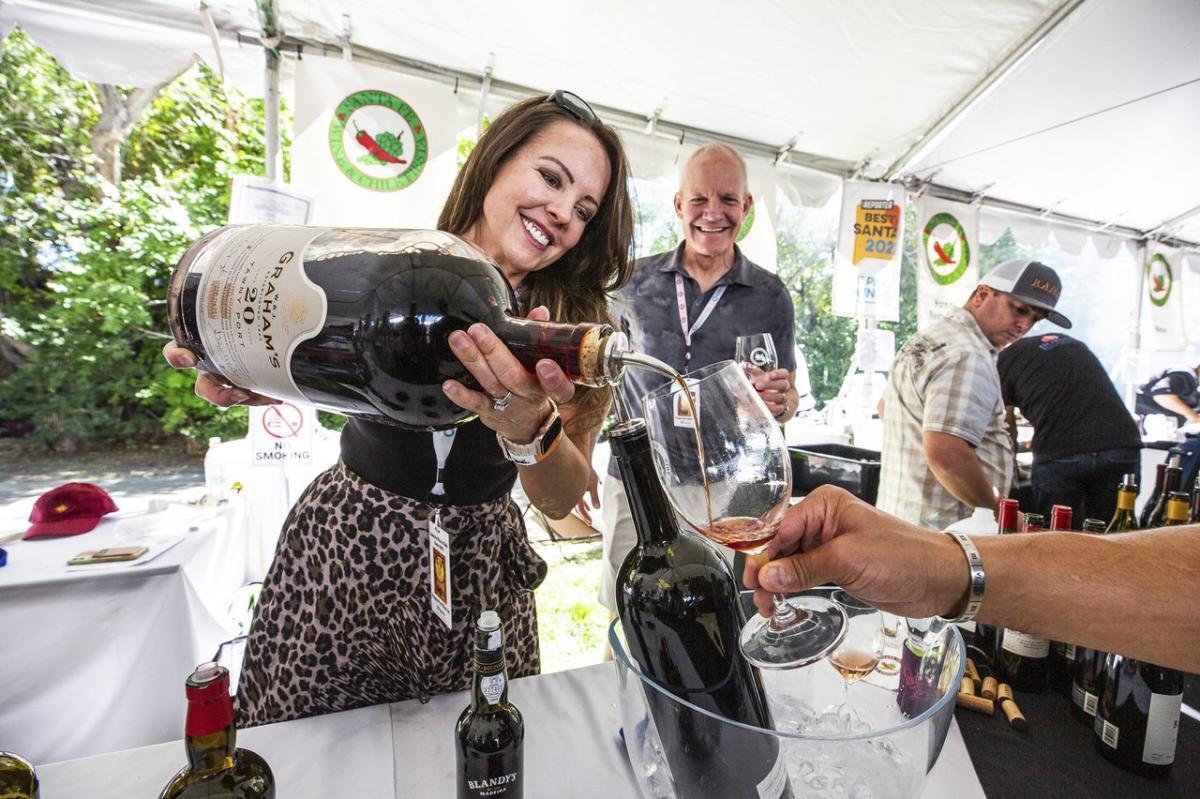 The illustrious Fiesta, in its 32nd year, just ranked #7 in USA TODAY's 10Best Readers' Choice awards for Best Wine Festival. Get your tickets to find out why! Ninety worldwide wineries partner with 70 of The City Different's best restaurants in a weeklong celebration of food and wine, featuring cooking demos, seminars, winery luncheons and dinners, a gravel bike ride and golf tournament, and more. Don't miss the Grand Tasting on the grassy lawn of Magers Field Park, just steps from downtown, where you'll sample both exquisite cuisine from participating restaurants and esteemed vintages from worldwide wineries. Another crowd-pleasing event is Chile Friday, a tasty tribute to New Mexico's signature heat in the form of delicious bites from 20 culinary establishments paired with refreshing local craft beers and Patrón, Herradura, El Tesoro, and Maestro Dobel margaritas.
---
Concerts at the Santa Fe Opera
Throughout September 2023

Lila Downs and Angelique Kidjo

The Santa Fe Opera just keeps a-rocking through September—not with operatic superstars, but with some of the most interesting musicians of this time, including Bonnie Raitt (Sept 3), Lyle Lovett (Sept 17), and Lila Downs and Angelique Kidjo (Sept 23). There's not a bad seat in the architecturally spectacular open-air amphitheater, so get your tickets now to one of these popular performances, made even more special by the sweetness of an autumn evening. 
---
Art Tours & Markets
Throughout September 2023
Image courtesy of Eldorado Arts & Crafts Association

If you know one thing about Santa Fe, it's that the art never stops, which is a big reason why The City Different is recognized internationally as a top art market in the United States. Santa Fe absolutely delivers as THE destination for world-class visual and performing arts, with a long tradition of also celebrating, supporting, and economizing local artists' creative life and process. As of 2021, Santa Fe is among 49 Creative Cities that belong to the UNESCO (United Nations Educational, Scientific, Cultural Organization) Crafts and Folk Art assembly of communities that are "driving innovation, investment, and prosperity in a range of arts and creativity." 
Not only can you purchase pieces from world-renowned artists, but you can mingle with the aspiring ones from Northern New Mexico. Be sure to check out the Northern New Mexico Fine Arts and Crafts Guild (September 23 & 24, 30 & October 1) in the Plaza-adjacent Cathedral Park and the Santa Fe Society of Artists (September 2 & 3, 16 & 17, 23 & 24, 30 & Oct 1), multiple tents inhabiting a convenient parking lot off of the Plaza. Or go afield and take yourself on a studio tour, where you can be with artists in the very spaces where they create their works! You'll fall in love with the journey, the destination, and the event at the Taos Studio Tour (Labor Day Weekend), the High Road Artisans Studio Tour (September 16 & 17 and 23 & 24), as well as the Turquoise Trail Studio Tour (September 16 & 17 and 23 & 24) and the Eldorado Studio Tour (September 23 & 24).
---
Get a taste of The City Different! Order your Official Santa Fe Visitors Guide now or browse our deals and specials to help you plan your next trip to Santa Fe.