Spring warmth has taken hold, flowers are in bloom across The City Different, and the calendar is filled with special events—it must be May in Santa Fe! Memorial Day weekend—the unofficial start to summer—is near and now is the time to begin planning a getaway to Santa Fe. Here are 7 May events in Santa Fe to include in your vacation plans.
The Santa Fe Margarita Trail Turns 6!
5 Stamps = Margarita Trail T-shirt

10 Stamps = Provisional Member to the Margarita Society 

15 Stamps = Full Member to the Margarita Society (invitations to special events, seminars, tastings)

20 Stamps = Signed copy of The Great Margarita Book

30 Stamps = Margarita Bartender Kit

​​Complete the Entire Margarita Trail = VIP Margarita Package

12th Annual Folk Art Flea, May 6

Purchase a donated folk art treasure—textiles, clothing, ceramics, masks, wood carvings, paintings, sculpture, jewelry, and more from around the world—at the Folk Art Flea on May 6 out at the Santa Fe Rodeo Grounds. Your take-home treasure will help support educational programs and exhibitions at the Museum of International Folk Art in Santa Fe, whose mission is to shape a humane world by connecting people through creative expression and artistic traditions. The museum holds the largest collection of international folk art in the world, numbering more than 130,000 objects from more than 100 countries
10th Annual Canyon Road Spring Art Festival, May 13
The Canyon Road gallery scene comes alive on Saturday, May 13 for the Canyon Road Spring Art Festival, as dozens of artists display their work and demonstrate their techniques in every imaginable medium as a part of a "paint out" or demonstration-style event on the iconic art road. Collectors will have the rare opportunity to meet artists and ask questions during a daylong festival. Individual galleries feature rich programs of complimentary special events, art tours, artist demonstrations, and more at myriad locations along the road. 
Santa Fe International Literary Festival, May 19–21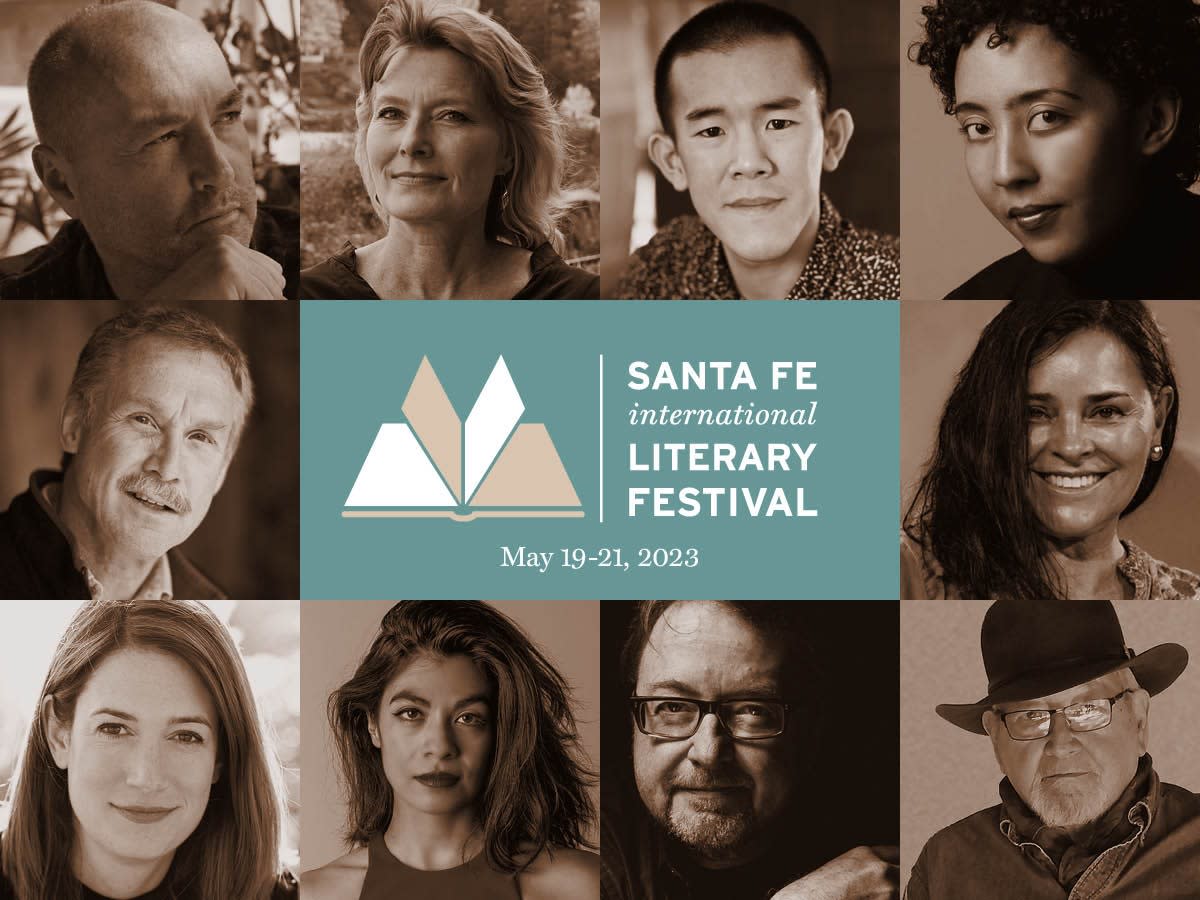 World-renowned authors and thinkers join passionate readers at the 2nd annual Santa Fe International Literary Festival, May 19–21, to create meaning and embrace community in these times of extraordinary change. "In a world convulsed by conflict, and where tolerance is in short supply, books are banned, and truth is under assault, the Festival is a light against the dark, where words matter and our shared humanity is celebrated." Join the celebration by purchasing your tickets NOW!
The lineup is literally full of literati: John Irving, Jennifer Egan, Gillian Flynn, Diana Gabaldon, Ed Yong, Luis Alberto Urrea to name a handful.
Join for the entire weekend, which includes large and small lectures and conversations, tastings with celebrated culinary folk, evening receptions, youth poetry slams, and more. Kickoff is Friday evening, with author Colum McCann.

Santa Fe Century, May 20 & 21
Do you love distance riding and the camaraderie of fellow cycling enthusiasts and fans? Then plan your visit during one of the most popular cycling events in Santa Fe, the Santa Fe Century presented May 20 and 21. Riders of all ages and abilities are invited to participate along a variety of routes, ranging from 20 to 106 miles, both Saturday and Sunday, that include the historic Turquoise Trail and the old mining towns of Madrid and Golden, as well terrain with striking scenery, including the Ortiz Mountains, the Galisteo basin, and Rowe Mesa. There's truly something for everyone, including kids, with timed and untimed rides on gravel and road terrain. Did we mention outstanding food stops along the way? The start and finish is at the ever-popular and convenient Railyard Park.
 
Native Treasures Art Market, May 27 & 28
The Native Treasures Art Market, Santa Fe's only museum-quality Indian art show and sale is May 27 and 28 in the Santa Fe Community Convention Center. The weekend's events include an in-person art market showcasing jewelry, pottery, sculpture, two-dimensional art, fashion, carvings, basketry, beadwork, and textiles from more than 150 Native American artists, each of whom is selected by the Museum of Indian Arts and Culture. Many of the artists at Native Treasures are included in the museum's permanent collection. By attending, you will be supporting your favorite artists and the Museum of Indian Arts and Culture at the same time. A Night Market kicks off the weekend on Friday, May 26 at 5 pm.
Northern New Mexico Fine Arts & Crafts Guild, May 27–29