Native American Art
Southwest Indian Arts and Crafts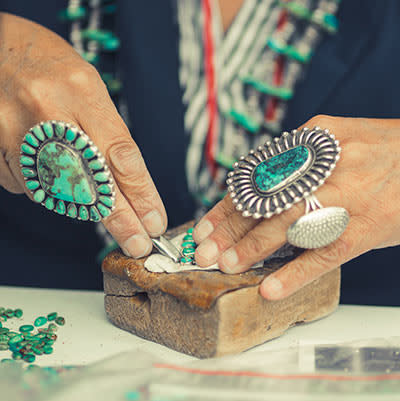 Native Americans of the Southwest create many varieties of stunningly beautiful arts and crafts and carry on their artistic traditions by passing them on generationally. Many of the items they make are functional and tied to seasonal celebrations and ceremony. Because Native people are spiritually oriented, their art often contains symbols and signs of their beliefs, dreams, and visions. Honoring their ancestors in everything they do is also extremely important, as is their reverence for nature.
Turquoise and coral, which often represent the sky and earth, are among the many precious stones used in Southwest Indian jewelry and adornments. Gemstones all have meaning and significance, for example, in promoting health, happiness, protection, and good fortune, as do the designs in which they are set.

Therefore, when you buy an elegant turquoise and silver bracelet, a delicately painted ceramic pot, or an intricately woven basket or blanket from a Native American artist, you'll take home a piece of art, literally rooted in an ancient history.

Nomadic pre-historic Indians first inhabited our region thousands of years ago. Their descendants began to establish villages between 1200 and 1500 B.C. The Pueblo peoples' early ancestors made blankets, baskets, clothing, headdresses, tools and more, using materials found in nature, including yucca, wood, stone, animal skins, and cotton. They transformed clay of many colors, collected from the earth, into vessels for cooking and storing food, and wore gemstones, feathers, furs and shells.

Today, Native people still make fine pottery, clothing and baskets that are sold in stores, galleries, and arts and craft shows, and also used for practical purposes at home. For example, pottery is for both everyday use such as cooking and serving, but also for display. The clothing and regalia they make can be anything from a regular outfit, such as an embroidered dress or a ribbon shirt for a dance day, to an elaborately decorated war bonnet, full of feathers and delicate beadwork, worn as part of ceremony.

When the Spanish explorers arrived in the 16th century, followed by the Spanish settlers in the early 17th century, the Pueblo people struggled to maintain their independence. Despite the Pueblo revolt in 1680, followed by the Spanish re-conquest in 1692, contact with another culture led Pueblo artists in new directions. They combined, for instance, the turquoise they considered sacred with silver to create their now-famous jewelry after the Spanish and South American indigenous peoples introduced silver mining and silversmithing to the Southwest. Just one example of Spanish influence in Native American jewelry is the use of the Naja, which has the shape of an upside down horse shoe, and is one of the most prevalent designs you will find in traditional silver jewelry, including the classic squash-blossom necklace.

The railroad arrived in Santa Fe in 1880, bringing with it a steady stream of tourists seeking Native American art. Pueblo artists responded, creating unique items intended for the tourist market. A group at Tesuque Pueblo, for example, invented Rain Gods, whimsical clay figures that railroad passengers eagerly bought as souvenirs. In 1964, Helen Cordero of Cochiti Pueblo produced another popular clay figure, the Storyteller, inspiring hundreds of potters from other pueblos to work with the image, too. But no Pueblo artist of the 20th century has achieved more fame than Maria Martinez, the San Ildefonso potter, who pioneered the now famous black-on-black pottery in the early 1920s with her husband, Julian. Her pieces remain highly coveted.

Each tribe is known and recognized for their particular type of outstanding arts -- for example, Zuni for inlay and pin-point design jewelry, Navajo for classic heavy-duty Concha belts, and Jicarilla Apache for basket-weaving, just to name a few. Specialty items such as stone Zuni carved fetishes and Hopi Katsina dolls are also found in many stores and galleries throughout the Southwest. The dolls, made from natural materials, are decorated with masks and costumes to represent the Katsina spirits and are very special in many Pueblo cultures. They also help children of the tribe learn tribal ceremonies and they are very popular collectors' items.

Santa Fe's reputation as a center for Native American art expanded yet again when the Institute of American Indian Arts (IAIA) opened its doors in 1962. Today, the thriving arts institution and museum serves students from across the U.S., representing over one hundred tribes, and continues to inspire and infuse Santa Fe with new artistic energy and creative talent, as well as year-round programming and exhibitions.

Many contemporary artists continue to work with the same traditions and tools as their ancestors, producing award-winning pieces exhibited in Santa Fe museums and sold in shops, galleries, at the Palace of the Governors portal, and at the annual Santa Fe Indian Market. Others embrace a contemporary approach, blending time-honored techniques with cutting-edge mediums, and even reviving old traditions with new vision. However they are made, each piece reflects the vibrant history, rich culture, and innate skill of our valued Native American artists and neighboring tribal communities.

Visiting the tribes directly offers opportunities to meet skilled artists who carry on the traditions and techniques of their ancestors in making pottery, jewelry, weaving, sculpture, embroidery, painting, basketry and other art forms. Visitors always find it very special to talk to artists in person and learn about the arts and crafts from the creator as well as buy directly from them, which adds meaning and can be more affordable that buying retail.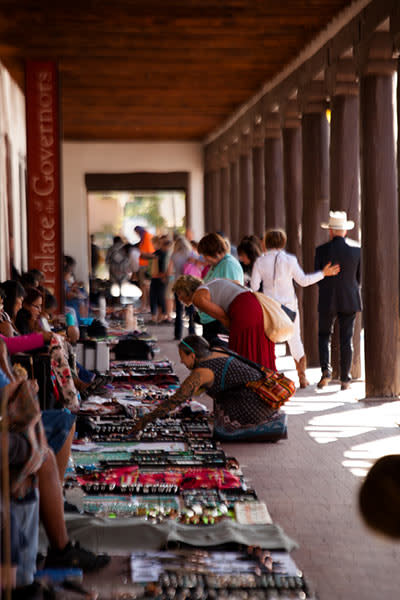 Authenticity and Shopping for Native American Art
The federal Indian Arts and Crafts Act was passed in 1990 with the mission of protecting artists and consumers.  It is a truth-in-advertising law designed to prevent misrepresentation in the marketing and sale of Indian Art. Selling art as "Native American" if it is not Indian-made is prohibited. 

Shopping for Native arts and crafts can be a very enjoyable experience but buyers should always be cognizant of authenticity, if that is what they are looking for. Even the most knowledgeable and sophisticated consumers can be duped by fakes on occasion. Art dealers should be able to provide the provenance of each piece they sell, as well as the tribal affiliation of each artist.

It is a fair request to ask for documentation of heritage and materials used in writing, especially if it is a major purchase, as it is your right to ask for verification. All products must be marketed by shops and dealers truthfully, and there should be no misrepresentation in terms of origin.  Buying from a reputable dealer is recommended to avoid fraudulent sales and items made buy non-certified or non-Native artisans.

There are some important definitions that buyers and collectors should be aware of. Indian "handmade" and "authentic" Indian arts and crafts refer to traditional or contemporary art that is made not using machinery, but instead by hand, by a member of a federally recognized tribe. Indian "crafted" art, refers to items that are not handmade, but at least partially made using machinery, or using non-Native labor.

Therefore, if one is seeking authentic Indian art, it is important to purchase handmade. Whether you are buying through a dealer or directly from an individual vendor, you can request written validation of "handmade" on your receipt. Furthermore, most Native American fine art is identifiable by the artists hallmark clearly stamped or engraved somewhere on the artwork, as opposed to items that might be mass-produced or machine made, so keep an eye out for those signature staples of authenticity.

Dealers are also obligated in New Mexico to disclose if any products use "treated" material, such as reconstituted, stabilized, or synthetic gemstones. For example, there are several different types of turquoise and other gemstones on the market, used in jewelry and other ornamentation. Consumers often ask if turquoise is "real," but the best question to ask is if it is "natural," which implies untreated, and is more valuable.

"Natural" stones come directly out of the mines and, other than carving, are not treated or enhanced in any way after being removed from the earth. It is estimated that only about 15 percent of turquoise from mines is strong enough to be used without treatment of some kind. Stones are often treated to improve color, increase density, and highlight matrix (veining), which all can add value to appearance and price. Sometimes it is very difficult to distinguish enhanced gemstones, so it is recommended, once again, to purchase from an experienced dealer who can guide you, or buy direct from the maker, to ensure authenticity and peace of mind.

It is important to remember, as an added benefit, that when you buy high-quality authentic Indian-made arts and crafts, you will not only feel confident in, and cherish your purchase, but you will be helping to preserve Native culture and traditions by sustaining Native American art.