Visiting Tribal Communities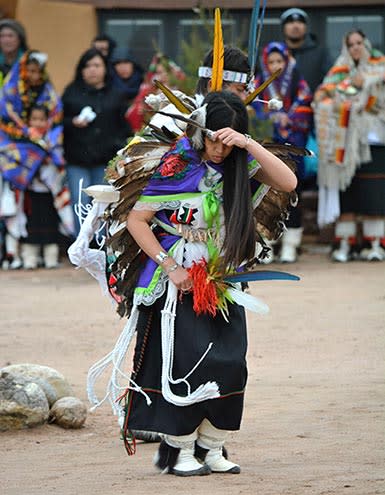 Native American people are traditionally welcoming and generous, especially on the days when the communities are open to the public for social dances (i.e. Feast Days). There are etiquette guidelines, however, that should be followed to avoid violations of their customs or misunderstandings.
There are also some basic rules for courteous behavior when attending ceremonial dances and feast days that should be observed. The first is to realize that the dances are religious in nature and not staged performances. They should be observed with respect and quiet attention. Talking or asking questions of dancers or non-dance participants should be avoided. Applause after dances is not appropriate. On feast days, when many families open their homes, to accept an invitation to eat is courteous but you shouldn't linger or offer more than heartfelt thanks for the hospitality. To offer gifts or contribute food items can be appropriate, but it is most often considered offensive to offer money.

Tribal communities have strict rules about taking pictures and making sketches and recordings while visiting their communities. Best to find out in advance about the permits, fees and restrictions at each community you plan to visit and whether photography, sketching or recording is prohibited. Even after you've obtained a permit, you should always ask permission before taking an individual's picture and make sure that your photography doesn't interrupt or interfere with dances. Remember that pictures are for private use only and may not be reproduced or sold without written permission from the tribe and the person(s) in the photograph.

Here are additional recommendations to ensure that your visit is enjoyable for everyone involved:
Use the visitor center if there is one, or tribal administration office—normally a building at the center of the community—as the first point of contact. Call ahead as necessary. Remember that both are closed on Feast Days or if there has been a death in the community.
Observe all rules and regulations of the individual pueblos. Check websites for protocol and etiquette guidelines for each tribe. Pay attention to and obey all signs and do not enter off-limit areas. If an entry road is blocked off, that means do not enter.
Photography is most often forbidden in tribal communities, who reserve the right to confiscate cameras if someone is breaking the rules. In the case when photo permits are available, make sure to observe the guidelines for sharing photos. Most often photos are not allowed to be used for commercial purposes. When taking photos of tribal members, always ask permission first and ask their names.
Follow all traffic, parking and speed limit signs.
Homes are private. Do not enter without an invitation.
Do not climb walls, rock formations, or other structures such as ruins as they may be hundreds of years old and easily damaged.
Kivas--religious centers—and graveyards are not to be entered by non-Native people.
Please control children and make sure that they are respectful.
Stay in the immediate village area, do not wander.
Do not ask a lot of questions as that might be considered impolite or invasive.
Do not pick up, remove or disturb any artifact or objects such as pottery shards, plants, rocks, feathers, or animals. Not only is this considered disrespectful, it might be against the law.
Do not bring alcohol, weapons, drugs or pets into tribal communities.
Be polite, considerate, and respectful of others culture. Do not be loud or boisterous.

Enjoy your visitǃ