History
PUEBLO PEOPLE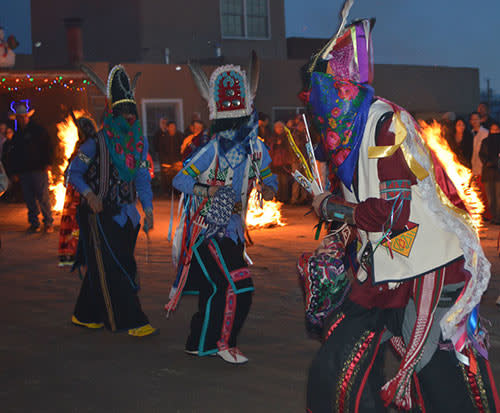 New Mexico's 19 Native American Pueblos are some of the oldest tribal communities in the country. While there are commonalities between the Pueblos, each one is a unique, independent, self-governing entity where contemporary residents continue to observe the time-honored traditions, beliefs and practices of their ancestors.
The Eight Northern Indian Pueblos lie between Santa Fe and Colorado in majestic mountain landscapes. Pueblos are all open to visitors seeking a meaningful experience of Pueblo culture and traditions, however this might be limited to certain times, dates, and events.

Contemporary Pueblo people are descendants of ancient Native Americans who once inhabited Bandelier National Monument and Chaco Canyon in New Mexico, Mesa Verde in Colorado, Kayenta in Arizona, and other parts of the Southwest. The first American Indians who lived in the Southwest arrived between 12,000 to 30,000 years ago when the American continent first became inhabited, travelled to this region from Siberia across the Bering Sea, according to archaeologists.

As nomadic people, they hunted and gathered food for thousands of years until some 1,500 years ago they developed agricultural techniques and put down permanent roots, establishing settlements of multi-storied dwellings made of adobe—earth mixed with water and straw. As they became fully reliant upon farming for subsistence, their cultures were eventually characterized by relatively large, sedentary societies that included social or religious hierarchies.

Between about 1300 and 1600, increasing aridity and the arrival of hostile outsiders accelerated the pace of change. Armed conflict and drought redirected Ancestral Pueblo efforts from artistic development to survival. Rituals designed to ensure rain increased in importance and are portrayed in wall paintings and pottery.
SPANISH CONTACT
When Spanish explorers first arrived in New Mexico in the 16th century, they encountered these Native American settlements in the fertile Rio Grande Valley region and called them Pueblos, the Spanish word for "town" or "village." The Pueblo people subsequently lost land to Spanish, Mexican and U.S. governments but many of their villages remain in their original locations.
The Spanish also brought with them their Roman Catholic religion along with Mission churches. Missionaries traveled to this new territory to bring their faith to the Native American peoples living there, converting many. However, Native beliefs and customs persevered and became intertwined with those brought by the Spanish colonists. The Pueblo-style Mission churches are still a cornerstone of each village and their architecture helped give birth to Pueblo-revival style architecture, which can be found in present-day Santa Fe.Each Pueblo also has a Patron Saint that is celebrated on the annual "Feast Day," which honors ancient Pueblo traditions and heritage as well as commemorating Catholic saints with a holy day. Every Feast Day starts with a Catholic Mass and includes traditional dances, cultural activities, food, and arts and crafts vendors, and even carnivals. Each dance and ceremony tells a different story and serves a different purpose. Many relate to seasonal cycles, bringing rain and an abundant harvest.

Feast Days provide an annual opportunity for tribal members to come together in a renewal of their language, culture and religion, and the public is welcome. Pueblo families prepare a variety of stews, traditional dishes, breads and desserts to share with their visiting guests. These are very joyous, celebratory occasions. While most Pueblo people are known for their warm hospitality, it is best to be invited into a home to eat, which often happens if you are in attendance, if not in advance.Attending ceremonial dances or feast day celebrations can also present non-Native visitors an inspirational opportunity to experience the many ways that modern day Pueblos retain close connections to their rich past and to the cyclical rhythms and patterns of nature. You should always be sure to know about proper Etiquette before you attend events.
APACHE
Northern New Mexico is also is home to the Jicarilla Apache Nation, whose capitol is Dulce, just south of the Colorado border. The forested landscape is full of natural resources and wildlife. The Jicarilla Apache originally lived a semi-nomadic existence in the Sangre de Cristo Mountains and plains of southern Colorado and northern New Mexico.

They lived a relatively peaceful life for years, traveling seasonally to traditional hunting, gathering and cultivation along river beds. The Jicarilla learned about farming and pottery from the Puebloan people. Today, tribal have members transitioned from a semi-nomadic lifestyle and are now supported by their oil and gas, casino, forestry, ranching and tourism industries on the reservation. The Jicarilla continue to be known for their pottery, basketry, and beadwork.

The Mescalero Apache Reservation is located in southern New Mexico near Ruidoso. The Mescalero people were nomadic hunters and gatherers and roamed the Southwest. They were experts in guerrilla warfare and highly skilled horsemen. The women were known for their ability to find and prepare food from many different plant sources. The people were given the name "Mescalero" because they gathered and ate the mescal plant.

The Fort Sill Apache Tribe is comprised of the descendants of the Chiricahua and Warm Springs Apaches who lived in southwestern New Mexico, southeastern Arizona and northern Mexico until they were removed from their homelands and held as Prisoners of War by the United States from 1886–1914. Today's Fort Sill Apache Tribal members are descendent from 81 former Prisoners of War who received allotments in Oklahoma after their release. The Federally recognized reservation is located at Akela, New Mexico in the heart of its historic aboriginal territory.
NAVAJO
The vast Navajo Nation represents spans western New Mexico, portions of Arizona, and Utah. Famous colorful rock formations, canyons, and buttes, such as Shiprock, Monument Valley, Canyon de Chelly, Antelope Canyon, and Window Rock (the Capitol), are popular destinations for visitors. Navajo arts, such as blanket and rug-weaving, and sand-paintings, are staples of the culture, and are parts of the spiritual life and lifeblood of the Navajo economy, as well as being favorites among collectors. The Navajo are also well-known for their silver belts and jewelry, including naja and squashblossom designs. They first learned to work with silver from Mexican traders and artisans.