Pueblos, Tribes and Nations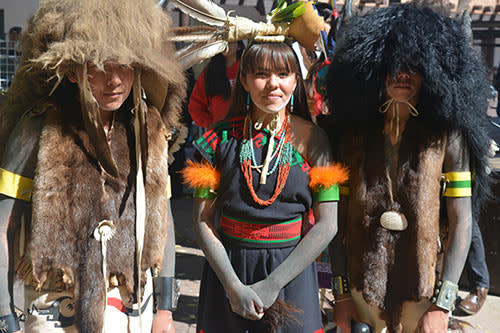 American Indians inhabited New Mexico long before Spanish contact in the 1500s, and their timeless culture, traditions, arts and beliefs continue to enrich the state today. Several Pueblos are easily accessible from Santa Fe, and can make for a wonderful day or half-day outing during your stay in Santa Fe. There are eight Pueblos going north, between Santa Fe and Taos, and there are scenic views to enjoy along the way.
When visiting the Tribes, Nations and Pueblos of New Mexico, you should remember that each community is sovereign, meaning "self-governing," with its own rules and regulations. Before visiting one of the tribes, you should call ahead to make sure they are open for visitors and to confirm what areas and events are open to the public, offering visitors opportunities for learning about and enjoying the culture and customs, as is appropriate. Please observe tribal protocols and etiquette for each community.

Download the schedule of Pueblo Feast Days and Tribal Celebrations.